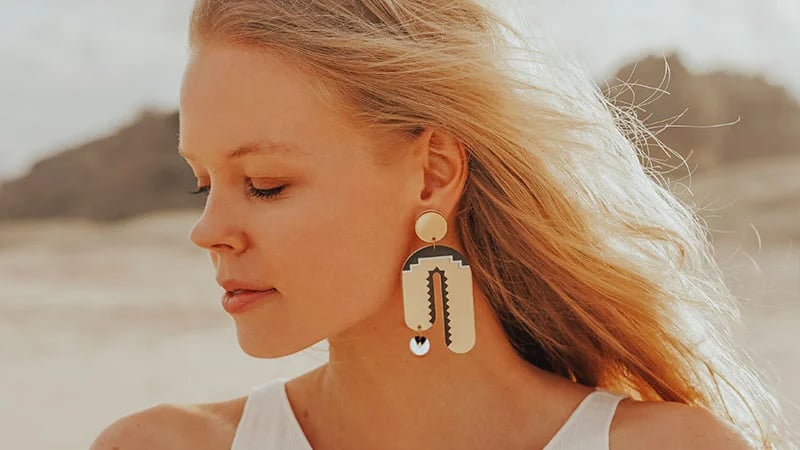 Earrings are an excellent addition to any stylish outfit. They are a brilliant way to show off personality, add a bit of sparkle, or just round out an already incredible ensemble. Resin, acrylic, and clay are excellent materials for designers and artists to work with when making earrings. The level of creativity, detail, and character achieved with these mediums is limitless. We've rounded up our favorite brands that are investing their time and energy into making stunning resin, acrylic, and clay earrings.
1. Dash of Gold
Dash of Gold, is based in Australia's beautiful Byron Bay. The vibrant coastal town provides plenty of inspiration for each design. Select from a range of resin earrings or an exclusive collection of one-off clay pieces. Shop for bright and colorful sea-inspired designs or sleek, stylish options featuring a gold, white, and black monochromatic palette. Not only does the brand make stunning earrings, they care about the environmental and community footprint. Small-batch manufacturing, FSC certified boxes, reusable cotton pouches, and compostable satchels are just the start. They also partner with i=Change, to allow customers to shop with purpose. Every sale contributes $1 to one of three charities — Protect a Woman, Feed Aussies in Crisis, or Clean the Sea — all of which align with the company values.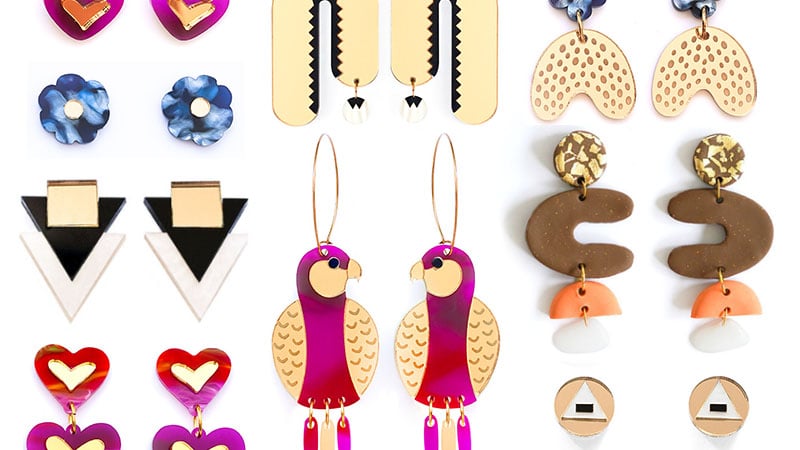 2. Amir Slama
Take inspiration from the bright colors of South America with a pair of resin earrings from Brazilian designer Amir Slama. He's known for his use of luscious jeweled hues and bright summer shades. When it comes to the earring designs, they're cute and eclectic, featuring details such as flowers, fruit, chains, hearts, and jewels. They're a party on your earlobes! Rock a pair of these with your bikini at the beach or a light summer kaftan, and you're sure to make a stylish statement.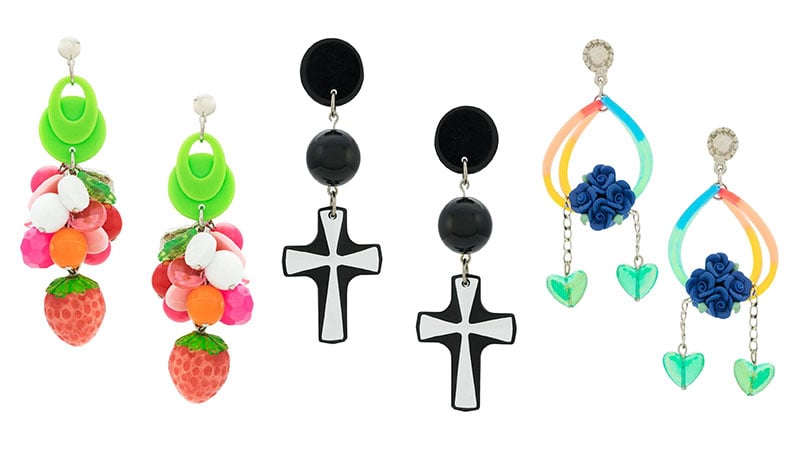 3. Aurelie Bidermann
Aurelie Biderman is a French jewelry designer who has been making wonderful pieces since 2004. She takes inspiration from dreamy destinations like the Amalfi Coast, the Luxembourg Gardens, and the alleys of Montmartre. The result is bohemian and relaxed designs with natural elements like leaf motifs and precious gems. In addition to her resin use, she incorporates luxury touches of gold, silver, and leather for a polished and refined feel. Each piece is the perfect inclusion to a coastal-chic wardrobe.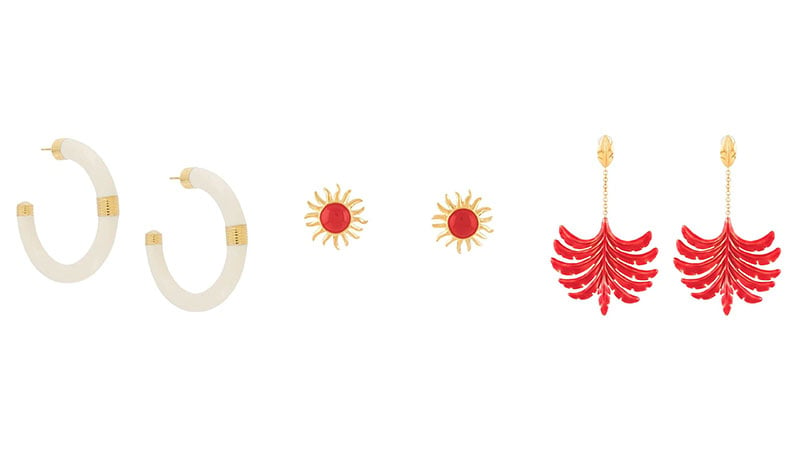 4. Bitte and Danke Jewellery
Bitte and Danke Jewellery is based in Berlin's funky Kreuzberg neighborhood in Germany. While Liza, the founder, considers tassel jewelry her signature look, she's just as inspired with her clay earring collection. Ideas regularly strike in the late evening as she's drifting off to sleep. Expect to find pretty pastels and deep jewel tones, accompanied by touches of gold and pearls. Liza also makes every piece at her home studio, where she also spends time with her partner and a poodle.
SHOP: Bitte and Danke Jewellery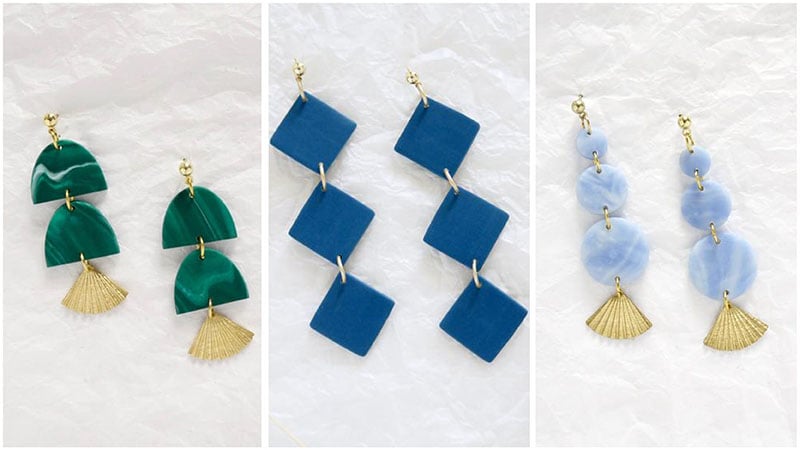 5. Elle Creates Studio
Discover an array of mixed clay earrings at Elle Creates. Everything is lovingly handmade in Stamford, in the United Kingdom. A muted color palette showcases pretty pastels, earthy reds, mottled neutrals, and splashes of black. Some of the more eye-catching styles include line-drawing faces and Venus in Love female figures. Plus, there are also flowers, geometric shapes, carved details, and simple studs perfect for everyday wear.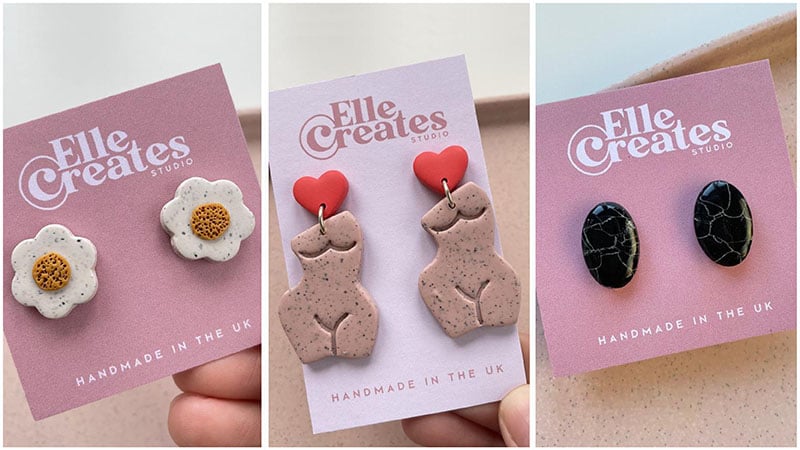 6. Eshvi
Add a statement pair of earrings to your accessory collection with one of these resin and enamel designs from Eshvi. The brand is bold, fun, and modern. Natia Chkhartishvili & Tamar Svanidze founded the brand in 2012 in London, and the essence behind it is "the happiness in you." As such, every pair of earrings aims to bring happiness into your life through joyful embellishment. Look for plenty of celestial-inspired elements like stars and moons, as well as cheeky touches like sexy red lips.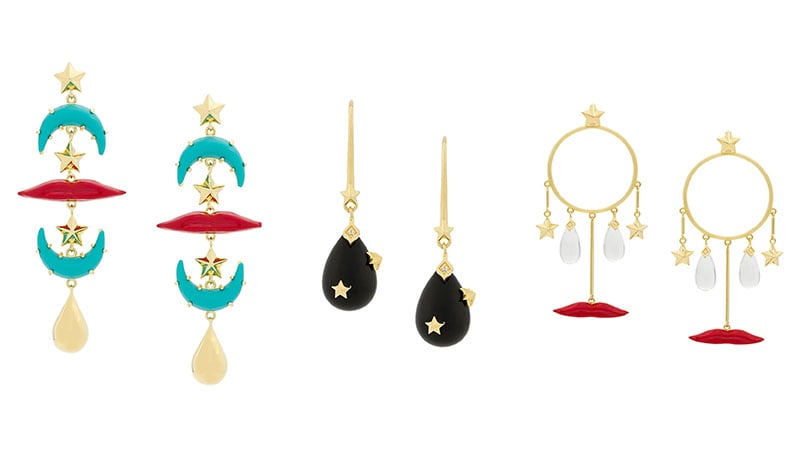 7. Karen Horn Fine Art
Spread some sparkle by rocking a pair of resin earrings from Karen Horn Fine Art. Her entertaining designs range from mixtapes and palm trees to love hearts and flowers. Glitter is part of the signature look, with the sparkly stuff accenting most designs. If you're looking for a more elegant option, check out the selection of styles that contrast deep navy and black against gold-leaf suspended in clear resin. It's an enticing effect that's a sophisticated alternative to glitter without losing the shine.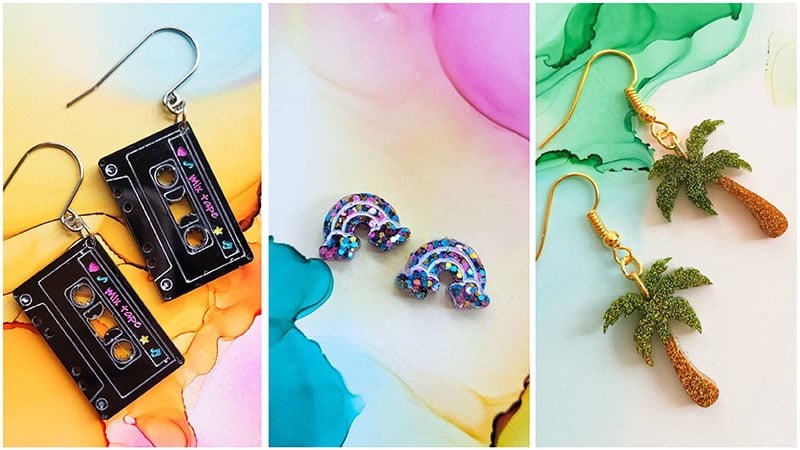 8. Margate Bound
Grace Gummer is the face behind Margate Bound. She's based in the United Kingdom, in the seaside town Margate. The offering includes colorful, eclectic designs, sweet and pretty pastels, and a few beautiful gold-painted options for special occasions. Every pair is slow made by hand, showcasing a unique character in each one. Grace is also a full-time graphic designer but runs her jewelry brand on the side as a creative outlet to help her slow down and appreciate the beautiful things in life.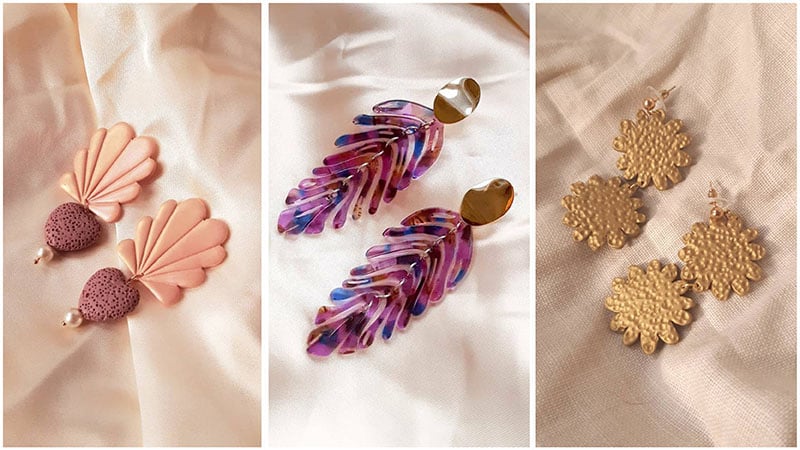 9. Made at 6pm
Enjoy the earthy tones and intricate designs from the Singapore-based clay earring brand Made at 6pm. Inspiration comes from small everyday things – the sun rising over the mountains, the sound of the wind, or even a tropical fruit breakfast. Choose a pair of pretty pastel flowers, detailed fruit-based spreads, or expertly woven rope balls. Other designs feature terrazzo style-marble finishes, unique materials such as woolen balls, and always elegant pearl details. You can see and feel the love and hard work put into every piece out of this studio.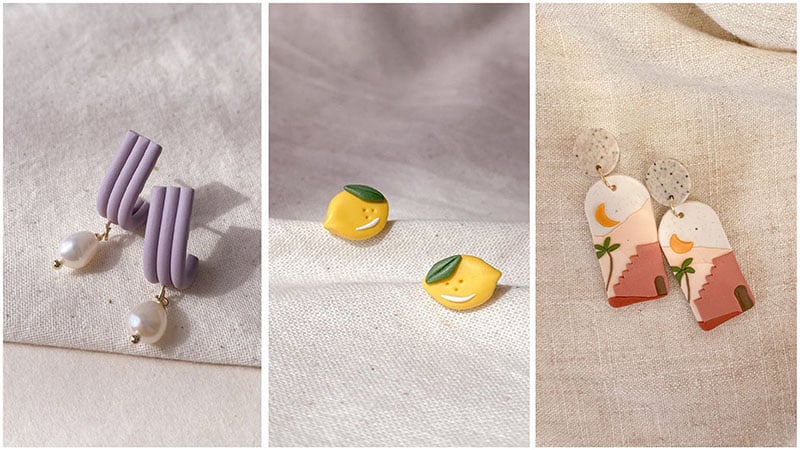 10. Mignonne Gavigan
Pick up a beautiful, distinctive pair of earrings from New York designer Mignonne Gavigan. She began her career designing for leading fashion houses before launching her eponymous brand. The playful aesthetic lets couture become wearable and redefine the meaning of statement jewelry. Natural elements such as flowers and feathers feature predominantly, as do luxurious shades of bronze, gold, and black. Resin is just one material that Mignonne uses. Others include beads, plated metals, pearls, and textiles.
11. Oddspark
Oddspark is all about fresh, fun, colorful designs that add a little spark to your day. Designer Tiffany Hancock works with laser-cut acrylic to create each handmade piece. Based in Brisbane, Australia, much of her inspiration comes from the natural world. Her collection features plenty of native Australian plants, like the flowering gum, golden wattle, and waratah. Other Aussie icons include the stag beetle, and birds like the sulfur-crested cockatoo, and murder of the skies – the magpie. Finally, potted plant earrings are perfect for any obsessed plant parent, while other fun varieties include out-of-this-world alien ships and sparkly confetti bursts.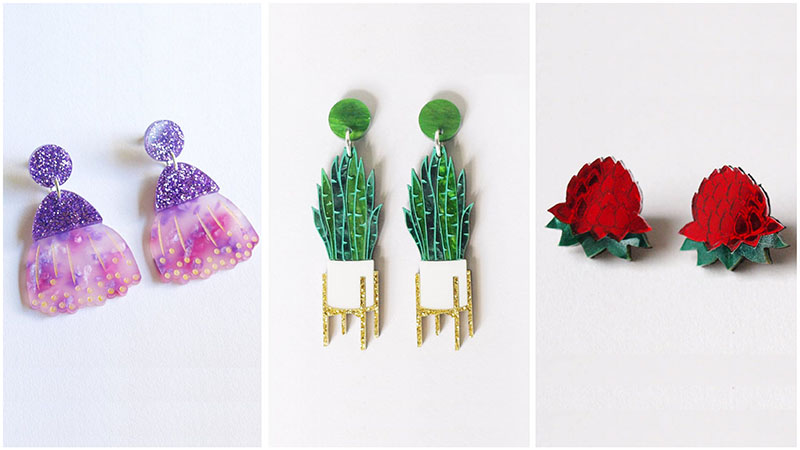 12. Pepper You Studio
The clay earrings from Pepper You Studio are little pieces of art for your ears. Jade Golding runs the brand from her studio by the seaside in Brighton, England. The beautiful collection of detailed designs has a palette of soft neutrals, warm tangerines, and deep, sensual evergreens, all enhanced with accents of gold. Sustainability is just as important to Jade as her art. Consequently, everything is made in small batches to reduce waste. She also donates a portion of every sale to the Eden Reforestation Projects, which plants trees to restore healthy forests and livelihoods.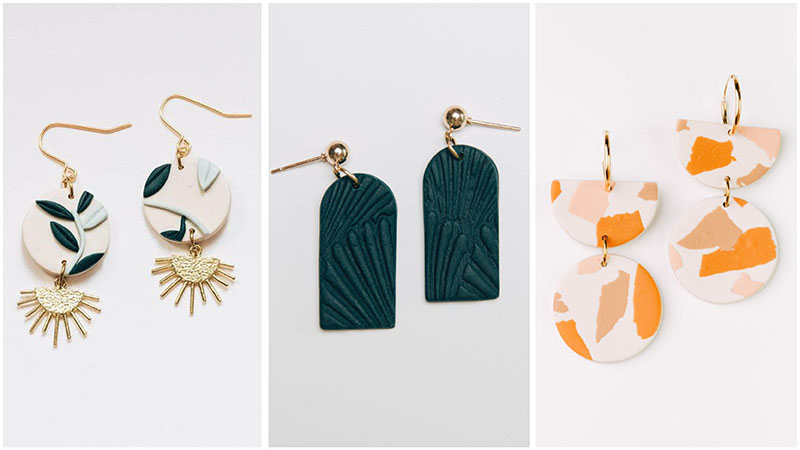 13. Clay and Co Earrings
Discover a range of mindfully made jewelry at Clay and Co Earrings. The polymer clay acts in striking contrast to the brushed bronze that features in many designs. Plant parents will love the stylish options with monstera leaves and floral designs. Meanwhile, if you're into more of an artsy vibe, the line-style face collection is an excellent choice. Lastly, if you like to keep your lobe adornments uncomplicated, choose one of the three-circle drop earrings with graduated shades of navy or pretty pastels.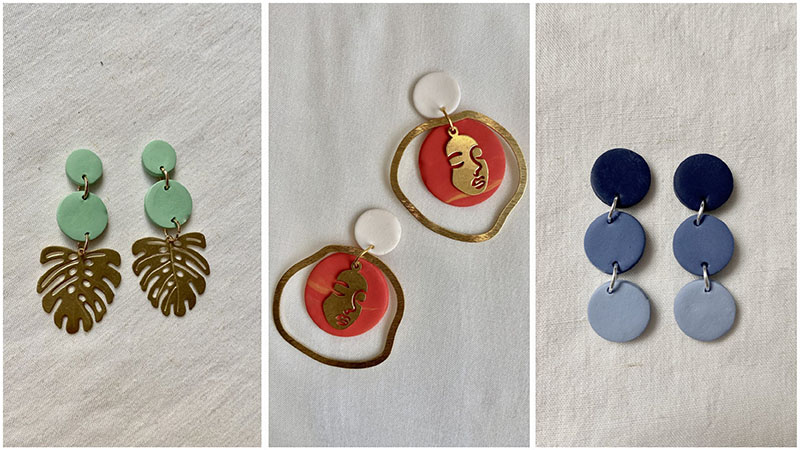 14. Cult Gaia
Cult Gaia started as an accessories brand and is now a complete lifestyle company encompassing beautiful clothing, shoes, jewelry, and accessories. Founder Jasmin Hekmat is based in Los Angeles and draws inspiration from women and nature. Her range of acrylic hoop earrings is classic and a little vintage. They're the ideal choice for warm summer evenings, as they make a statement without taking over.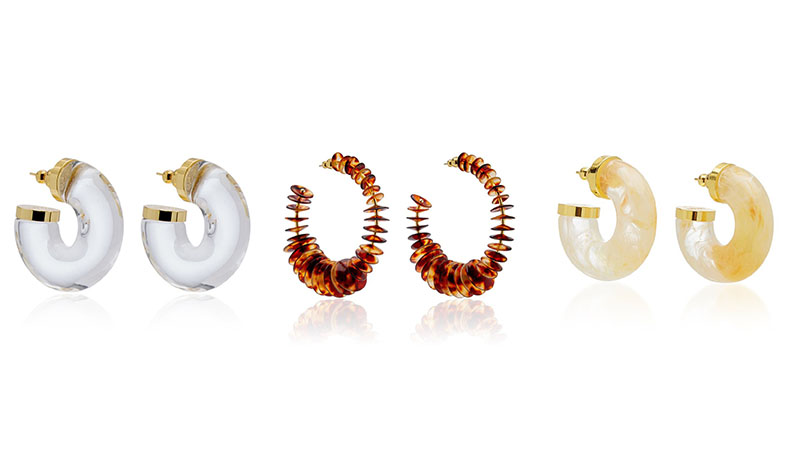 15. Pepper and Pink Co
Boho babes will love the clay earrings from Pepper and Pink Co. It's run by designer Emily Mory, who lives in North Carolina in the United States. Much of her inspiration comes from nature in the form of flowers, plants, butterflies, and the seasons. Choose the perfect pair of warm-toned leaf earrings for fall, or opt for intricately designed floral options in bright summery pinks and oranges. If you're into house plants and succulents, there are also a few options that absolutely will be your cup of tea. Alternatively, there are some more simple, everyday designs, including colored hoops, simple drops, and abstract shapes.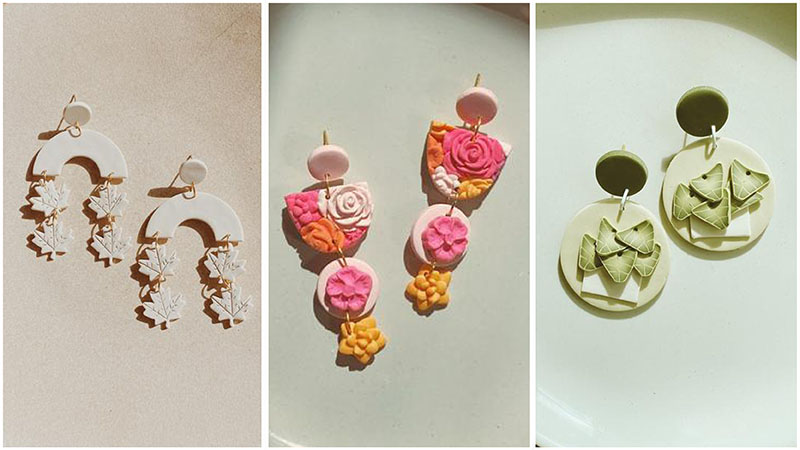 16. Stof Studios
It's sexy and a little bit strange at Stof Studios but in the best way possible. These laser-cut acrylic earrings are reminiscent of comic and pop art, with a fun twist and quirky vibe. Head out of this world with some glittery planets, or opt for some abstract wiggle earrings that come in various colors. There are also lips, eyes, and a set of "Boots Were Made for Walking". Whatever you choose, you're sure to have the compliments rolling in.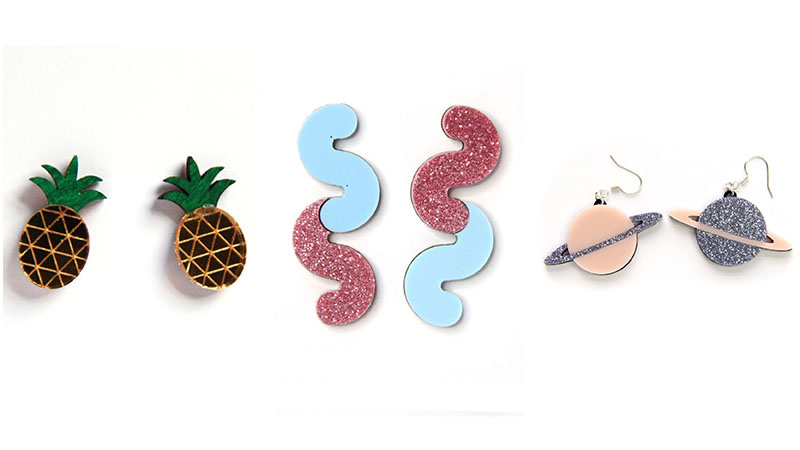 17. Two Birds Norfolk
It's bright, iridescent, and shiny at Two Birds Norfolk. Designer Hannah uses laser-cut acrylic in all her designs, ranging from raindrop clouds and lunar designs to plant mum monsteras and pretty pink love hearts. The laser-cut technique ensures the cleanest edges on every lovely pair. Best of all, if you can't decide what one to choose, purchase a mystery box! Hannah will then take the hard work out of selecting and send you three surprise earrings all beautifully packaged up.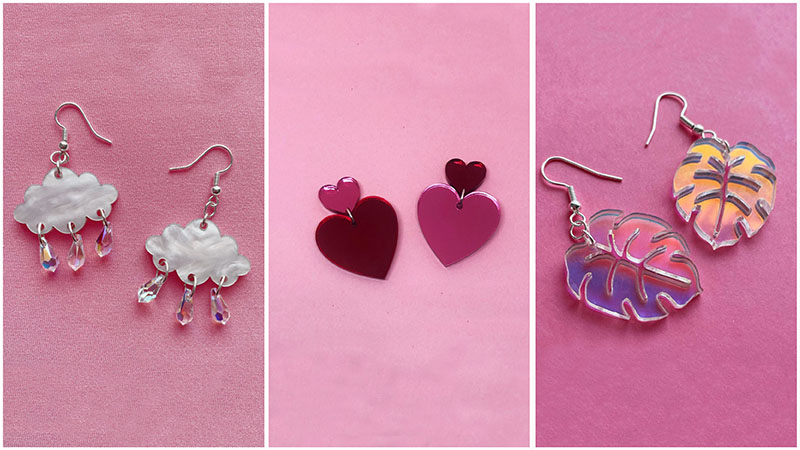 18. Tuscany Sun Studio
There are nearly 200 earring styles for sale in Tuscany Sun Studio's Etsy store. They use a variety of materials, including beads, pearls, gemstones, and sterling silver. However, the majority of the beautiful earrings are made with polymer clay. It just goes to show how diverse and creative clay earrings can be. An array of abstract shapes make a brilliant statement and allow for stunning color combinations. The palette is down to earth, featuring plenty of nudes, warm browns, off-whites, deep blacks, and pastel olive greens.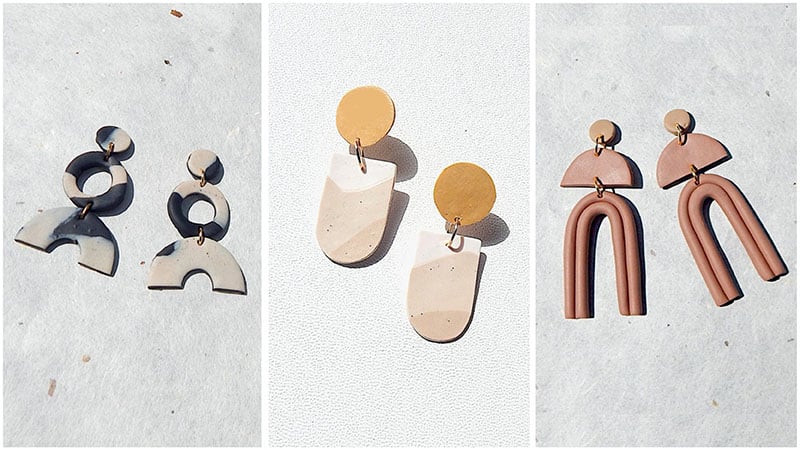 19. Valet Studio
Dig the 90s' vibes of the resin earrings from Valet Studio, run by Sydney entrepreneur Ana Piteira. She takes inspiration from childhood memories of rummaging through her grandma's jewelry box. Every piece is fun, effervescent, and colorful, with cool retro vibes. You can also shop for a range of hair clips, bangles, and rings to accompany the earrings.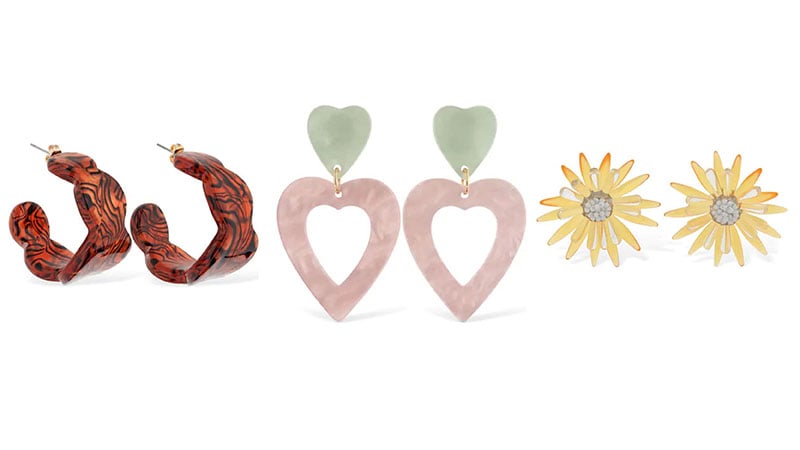 20. Velvet Orange Designs
The polymer clay earrings from Velvet Orange Designs are genuinely stunning. Each pair is thoughtful, intricate, and incomparable in the attention to detail. Select from flower-adorned snakes, elaborate landscapes, hand-painted people, and abstract designs. Adding to the authentic and natural appeal of the brand is the color palette. It uses earthy tones of orange, brown, white, black, green, and mauve reminiscent of sunsets over a desert landscape. The woman behind the company is Aliza Cochran, who makes all her orders by hand from her home in Indiana, United States.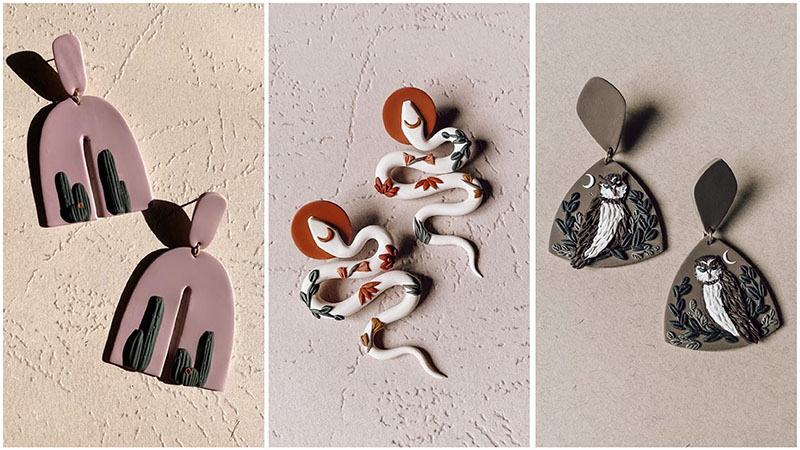 SUBSCRIBE TO OUR NEWSLETTER
Subscribe to our mailing list and get interesting stuff and updates to your email inbox.