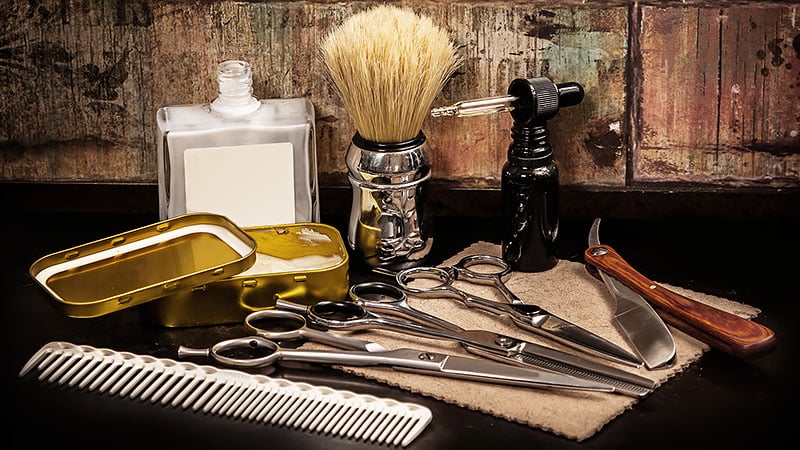 The Trend Spotter is supported by its audience. When you purchase through links on our site, we may earn an affiliate commission. Learn more
There are few things every true gentleman should own, and a good beard grooming kit is definitely one of them. A beard can absolutely up your masculine look, but if it's not well kept, clean, and tidy, you could end up looking more disheveled than dapper. So to keep your dashing aesthetic in check, you shouldn't be afraid to give yourself a manly manicure once in a while using one of these beard grooming kits for men.
RELATED: 27 Best Beard Styles for Men
1. Rapid Beard

Grooming & Trimming Kit
From long, short, thick, thin, coarse, and even tangled facial hair, Rapid Beard's grooming kit is ideal for every man. The extra-sharp barber scissors will make trimming and shaping your mane as easy as the balm, wax and oil make styling. Containing soothing argan oil, jojoba oil, and Vitamin E oil, your skin will also receive a nourishing and revitalizing treatment. All products in this set are also fragrance-free and are gentle enough that they won't cause any adverse reactions.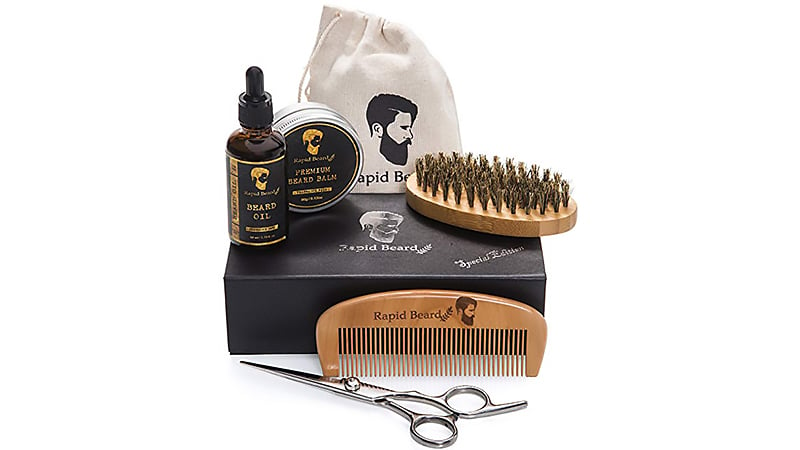 2. Fullight Tech Beard Grooming Kit
Give your facial hair the ultimate treatment with this six-piece bread grooming kit by Fulllight. The perfect gift for the guy in your life, it comes in a premium box including all the brand's best products. From beard oil to scissors, you will have everything you need to keep your whiskers neat and tidy. All the products in the set are completely fragrance-free with the growth oil containing soothing vitamin E and tea tree oil providing your mustache with natural shine and hydration. The nourishing balm will also have your beard looking lush and healthy.
3. Vetyon Premium Beard Grooming Kit
Vetyon is so confident that this will be the best beard kit you ever used they are offering a 100% money-back guarantee. So, you really do have nothing to lose by giving this set a go. Their grooming tools are made from 100% natural ingredients and are ergonomically designed with a grip that allows for just the right amount of firmness. This means you can effectively remove, trim, and style hair without causing any irritations. It is also specially designed to fit in your pocket; this means you can meet all your grooming needs on the go.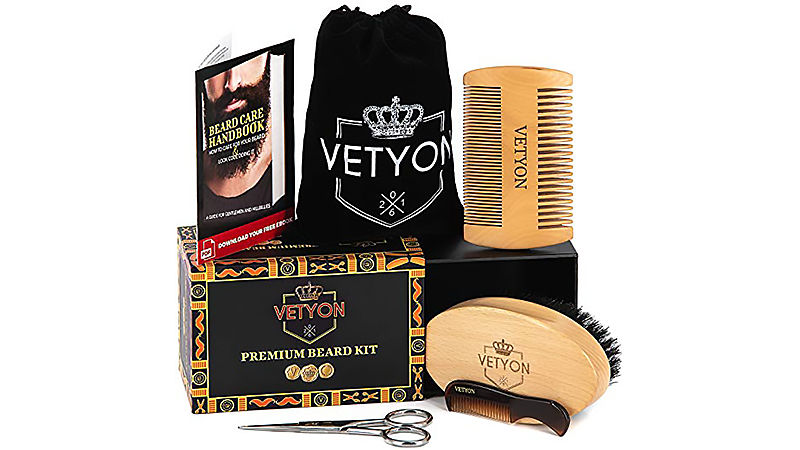 4. Maison Lambert Ultimate Beard Grooming Kit
Firstly, this comes in a super classy wooden cigar box which not only means there's no extra wrapping required, but it will also make for a stylish storage box when it's unpacked. Or, if you want to keep your products in it, it will look great on your basin or bathroom shelf. This fancy box includes organic beard balm, organic beard shampoo, and a wooden beard comb. They also throw in a natural body soap, free of charge. Completely hypoallergenic and artificial fragrance-free, pure essential oils are used to create a subtle, yet pleasing scent that isn't too overpowering. All Maison Lambert products are also cruelty-free and contain no parabens, sulfates, dyes, or toxins.
5. Alpha Vikings Complete Beard Grooming Kit
From 5 0'clock shadow to a sleek moustache or a full-on Viking beard, this grooming kit will get the job done. Its complete range of grooming tools and accessories will have you trimming, shaping, and styling your beard like a professional barber. In fact, the kit comes complete with a pair of ergonomic barber's scissors to help you cut your facial hair with perfect symmetry. The comb and durable bristle brush will also help to swiftly remove knots, keeping your mane smooth and tangle-free. It also features a nifty beard bib to help minimize the mess, making cleaning up as easy as the trim.
6. Fullight Tech Essential Beard Grooming Kit
With 100% natural ingredients, Fulllight's products are perfect for all skin and hair types. Style and soften your locks with the leave-in conditioner, while the luxurious beard wash will leave your facial hair clean, fresh, and strong. Add some shine with the mustache oil and keep your mane in place using the balm. From softening, nourishing, moisturizing, cleansing, conditioning, combing, and styling, this has all you need to get that dapper and clean-cut look.

BUY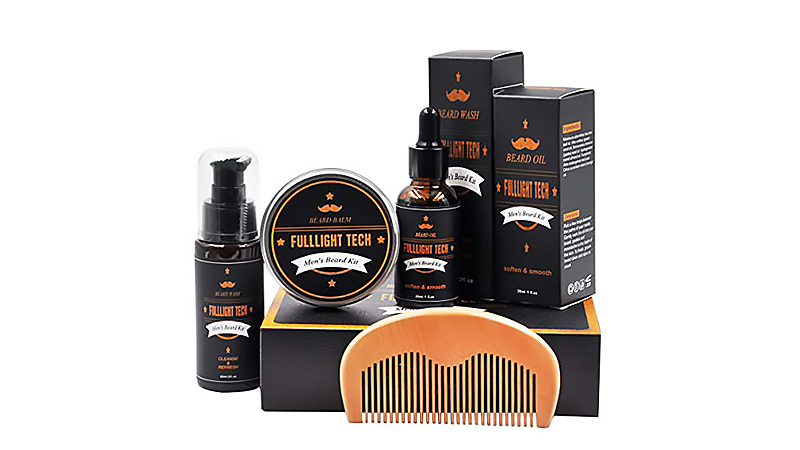 7. Isner Mile Beard Grooming Kit
Containing natural and organic ingredients this seven-piece bread grooming kit has all the tools and products to fulfill your daily styling and beard care needs. The luxury premium gift box contains beard conditioner balm, a revitalizing beard conditioner oil, a beard brush, a comb, and mustache scissors. Each accessory and product work together to keep your beard hydrated, moisturized, silky soft, healthy and groomed all day long. The organic and natural ingredients make products suitable for all skin and hair types, no matter how sensitive.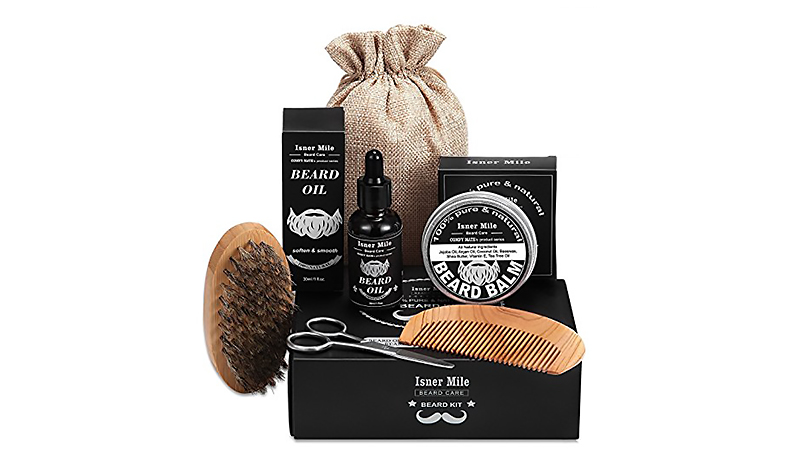 8. XIKEZAN Grooming & Trimming Kit
Tame your mane with Xikenzan's bread grooming kit, containing a wood palm brush, scissors, comb, balm and beard care oil. The ultimate set to keep your beard polished and well maintained, this also contains products with ingredients that will hydrate and nourish your skin. This will prevent any irritations and rashes caused by your facial hair or shaving. All products are 100% natural and contain no harmful ingredients, so it is perfect if you have sensitive skin or just prefer kinder brands.
9. DapperGanger Beard Grooming Kit
DapperGanger has become particularly popular in the beard grooming kit market. This is because of their stellar reputation for creating practical and functional products. What's even more impressive about this range is that all of the products are 100% vegan and organic. This comprehensive kit comes with full-sized organic bottles for beard oil, beard balm, and beard wash. It also includes a metal beard comb that doubles as a bottle opener and a pair of stainless steel grooming scissors that will give you a clean, true cut every time. It also comes with a handy canvas travel bag which alone would set you back around $30.
10. Mountaineer Brand Beard Grooming Kit
Mountaineer Brand's beard grooming kit contains all you need to keep your facial hair smooth, clean-cut, and healthy. Although the name suggests a rugged or unkempt look, we assure you that Mountaineer's grooming range will give you a lush and refined beard, while also being decidedly masculine. Their beard grooming kit includes beard oil, beard balm, beard wash, and a military-style (oval) beard brush and comes in a cool burlap bag. All products are also 100% natural containing zero nasty chemicals. While not fragrance-free, the scents are subtle and fresh including grapefruit, lime, and fir needle.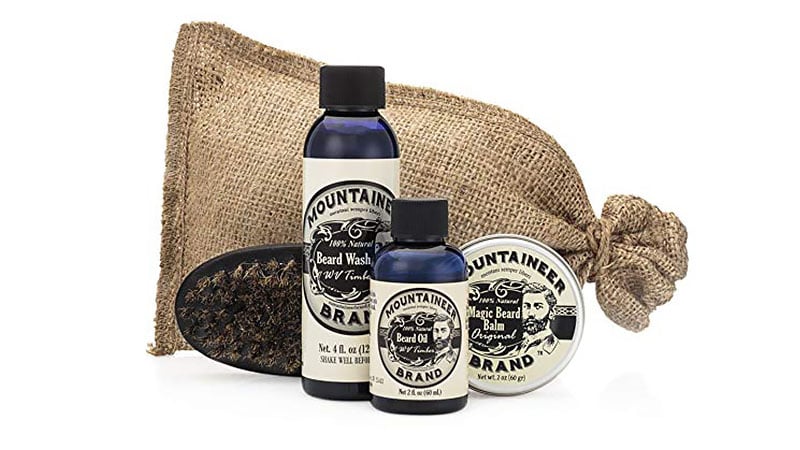 FAQs
What is the best beard grooming kit?
The best beard grooming kits include Rapid Beard Grooming & Trimming Kit, Fullight Tech Beard Grooming Kit, and Vetyon Premium Beard Grooming Kit.
Do beard kits actually work?
Beard kits are great because they come with all the essentials for a perfectly groomed beard. Mostly they include a brush, comb, scissors, oil, and balm or wax for styling. That way, you can brush, cut, and style your beard with ease.
How do I start grooming my beard?
There are a few key steps to a well-groomed beard. First, you need to keep it clean, washing it regularly. Then when it's dry, use a brush or comb to detangle it and get out any knots. Ideally, you should trim your beard every couple of weeks, depending on the length. If you're new to beard grooming, it's best to head to a trusted barber the first few times to see how a professional does it. Alternatively, there are lots of great YouTube tutorials for trimming different shapes and lengths. Finally, finish with beard oil or balm for moisture and hold if using the balm.
Do beard softeners work?
Beard softeners like oils and balms do work by adding moisture to both the hair and skin on your face. Nourishing ingredients such as argan oil, vitamin E, lanolin, and shea butter hydrate the hair shaft, as well as your face, which in turn helps reduce itchiness and irritation. You just need to remember to use them daily for the best results.
SUBSCRIBE TO OUR NEWSLETTER
Subscribe to our mailing list and get interesting stuff and updates to your email inbox.