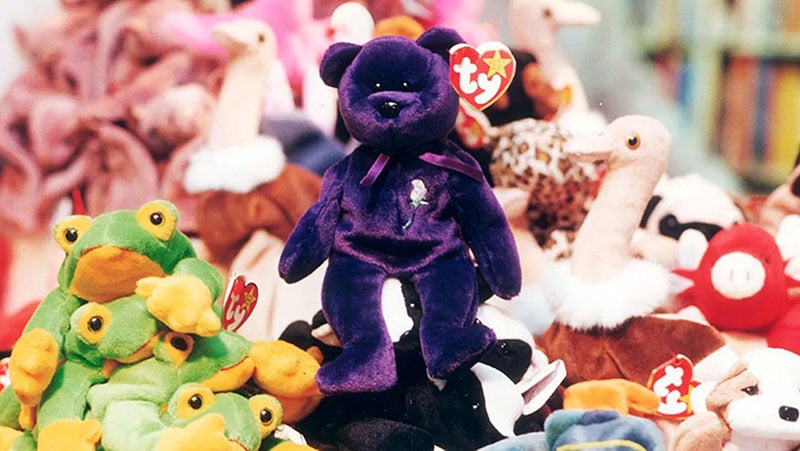 Kids (and adults) of the 90s are sure to remember the craziness over Beanie Babies! These pellet-stuffed toys were made by Ty Inc. and targeted kids with pocket money. However, the limited runs, "retirement" of characters, and select distribution channels created a sense of rarity and a whole lot of hype. They became serious collector items. Now, in 2023, people who've held onto their collections might be looking at a small fortune worth a few thousand dollars. Beanie Babies from exclusive events, the Original Nine designs, first-generation releases, and even toys with tag errors can fetch a pretty penny in the collector's market. Of course, any lucrative market also comes with its fair share of counterfeits, scams, and fakes, so buyers beware! In this guide, we uncover the most expensive Ty Beanie Babies' and explain what their worth and value are.
Ty Beanie Babies Value
| Beanie Babie | Value |
| --- | --- |
| Large Wallace and his Squad | $600,000 |
| Princess the Bear | $500,000 |
| 15-inch Peace bear and 9-inch Peace, Ringo and Bones | $159,000 |
| Bubbles | $129,000 |
| Piccadilly Attic | $125,000 |
| Valentino the Bear | $42,000 |
| Mitya Bear (2017) | $27,500 |
| Iggy the Iguana | $15,000 |
| Punchers The Lobster | $10,000 |
| Mcdonald's International Bears | $10,000 |
| Halo the Bear | $7,500 |
| Peanut The Elephant (Royal Blue) | $7,000 |
| Gobbles the Turkey | 6,750 |
| Snort the Red Bull | $6,000 |
| Patti the Platypus | $6,000 |
| Peace the Bear | $5,000 |
| Nana the Monkey | $4000 |
| Employee the Bear | $3,000 |
| Mystic The Unicorn | $2,700 |
| Chef Robuchon Bear | $2,500 |
| Quackers The Duck (without wings) | $1,800 |
| M.C. Beanie (brown nose) | $1,500 |
| Hong Kong Toy Fair Bear (2010) | $1,500 |
| Hong Kong Toy Fair Bear (2017) Pink | 1,500 |
| Bones The Dog | $1,400 |
| Leo High School Set | $1,400 |
| Cubbie The Bear | $1,400 |
| Coral Casino Bear | $1,259 |
| #1 Bear | $1,200 |
Ty Beanie Baby Worth & Price Guide
Beanie Baby value and pricing is a hot topic. While some Beanie Babies are listed for extraordinary amounts (such as $500,000 for the Princess Diana Bear), the prices actually paid are much more reasonable. However, it's still a massive increase from the original price of around five dollars. Low production numbers, event-exclusive releases, and first-generation original Beanie Babies are the rarest and tend to fetch the highest prices. However, demand and prices can vary from year to year, depending on the ongoing popularity of different designs. This list is compiled from the 2023 Beanie Babies Price Guide, which uses the latest research and experience to help you value your Beanie Babies.
1. Large Wallace and his Squad – $600,000
This enormous 15-inch Peace bear and its 9-inch counterpart are among the top three priciest beanie babies globally. Selling them as a set is the most obvious choice, promising a significant sum of cash. These bears stand out with their vibrant psychedelic colors and both feature the iconic peace symbol, making them a perfect addition to any serious collector's assortment.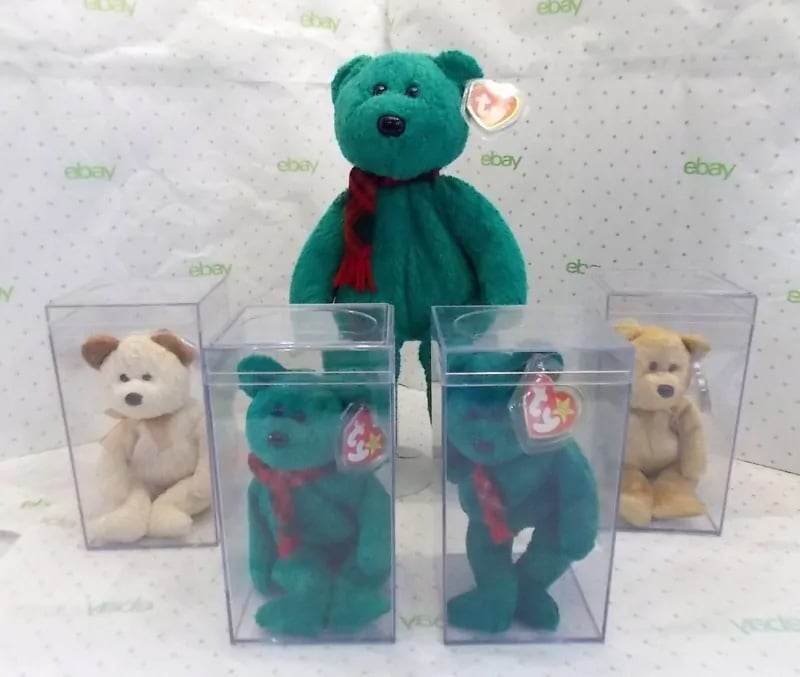 2. Princess the Bear – $500,000
Princess the Bear, one of the few beanies linked to a tragic historical event, was created by Ty as a tribute to the late Princess Diana. This special bear aimed to inspire the beanie community to support the Princess's memorial fund. With a purple body and a white rose adorning its chest, this beanie is exceptionally scarce and typically commands a price of approximately $500,000.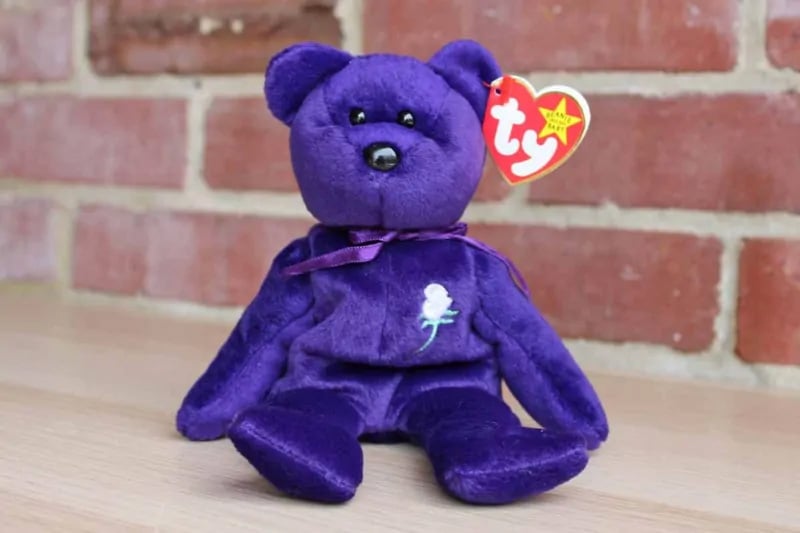 3. 15-inch Peace bear and 9-inch Peace, Ringo and Bones – $159,000
This colossal 15-inch beanie Peace bear and its 9-inch counterpart rank among the top three most expensive beanie babies globally. Selling them together would be the most lucrative choice, as it offers the opportunity to earn a significant sum of money. Both bears feature distinctive psychedelic colorings and proudly display the peace symbol, making them a noteworthy addition to any serious collector's assortment.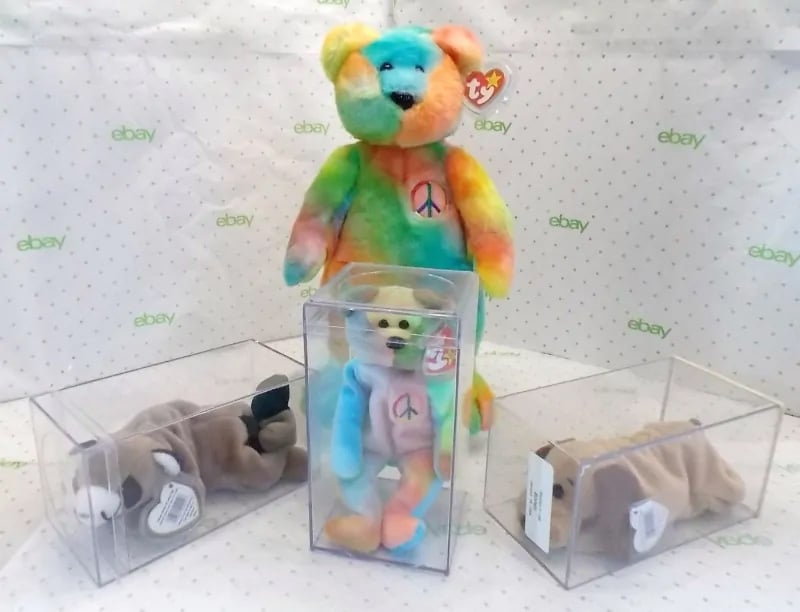 4. Bubbles – $129,000
Released in 1996, Bubbles quickly gained immense popularity. It underwent several updates and modifications, but unfortunately, some introduced errors. As an illustration, the third-generation Bubbles had a mismatched thread color in its mouth, while the fourth-generation Bubbles had incorrect tush tags. These errors unintentionally added value to Bubbles, particularly the ones with the 1996 tush tags mistakes, making them highly sought after.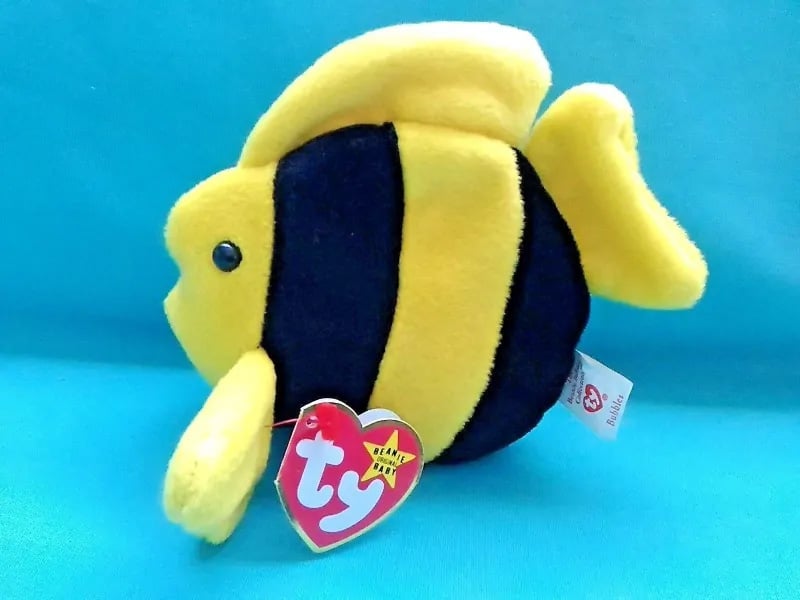 5. Piccadilly Attic – $125,000
Piccadilly Attic, a clown beanie bear, might be deemed "scary" by many kids. But if you look beyond the fright, you'll discover a collectible that's hard to resist. While clowns may not be every child's cup of tea, Ty's decision to create Piccadilly Attic has proven to be a smart move. In fact, lucky owners are now reaping the benefits as its value has skyrocketed in recent years!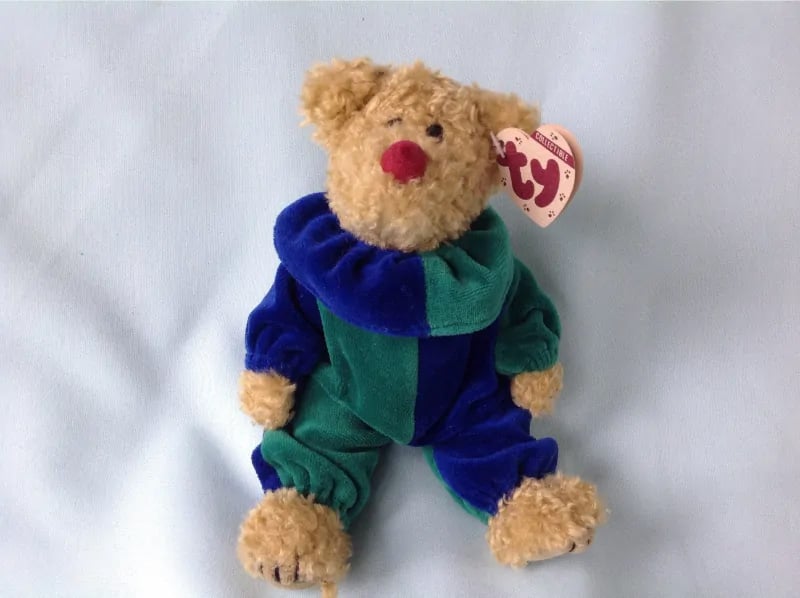 6. Valentino the Bear – $42,000
Valentino the Bear is arguably the most elegant-looking of all the bears, with his beautiful color and subtle embellishments. Interestingly, there was a specific batch of Valentino bears that had their names misspelled on the tag, which makes them even more valuable. If you're lucky enough to come across one, you could potentially sell it for around $42,000!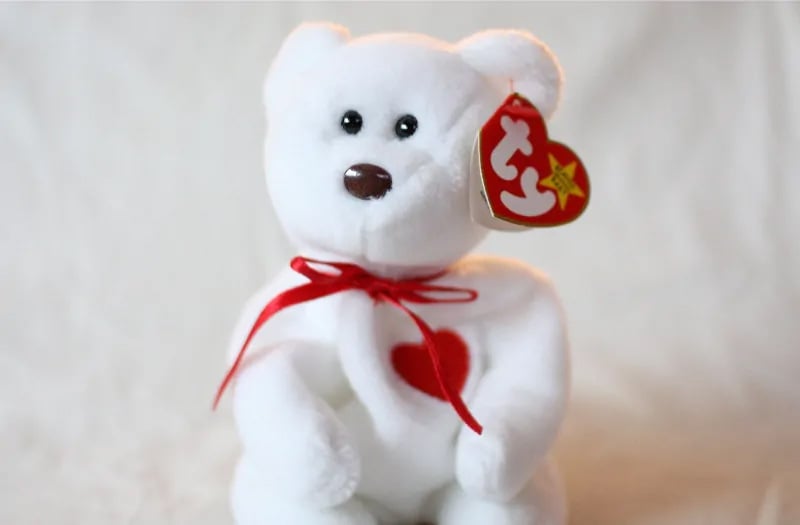 7. Mitya Bear (2017) – $27,500
Making its debut at the Russia Toy Fair in March 2017 is Mitya, a cute red bear whose birthday is September 26, 2017. Its poem, translated from Russian, reads, "I will give you joy and bring good luck!". An authenticated edition of this Beanie Baby could reach prices in the thousands.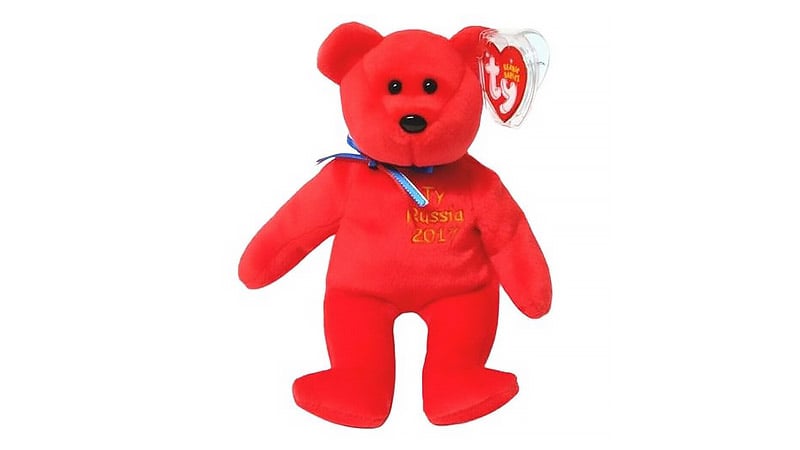 8. Iggy the Iguana – $15,000
Iggy the Iguana is one of the most expensive beanie babies, and it has undergone various design variations throughout the years. Some Iggys have a tongue sticking out, while others come in rainbow or dark blue colors. The tags are placed in different locations, such as the spine, hand, or foot. These beanie babies have gained immense popularity among collectors due to their diverse colors, styles, and characteristics. If you happen to find one with a missing print inside the tag, hold onto it because it's worth a fortune!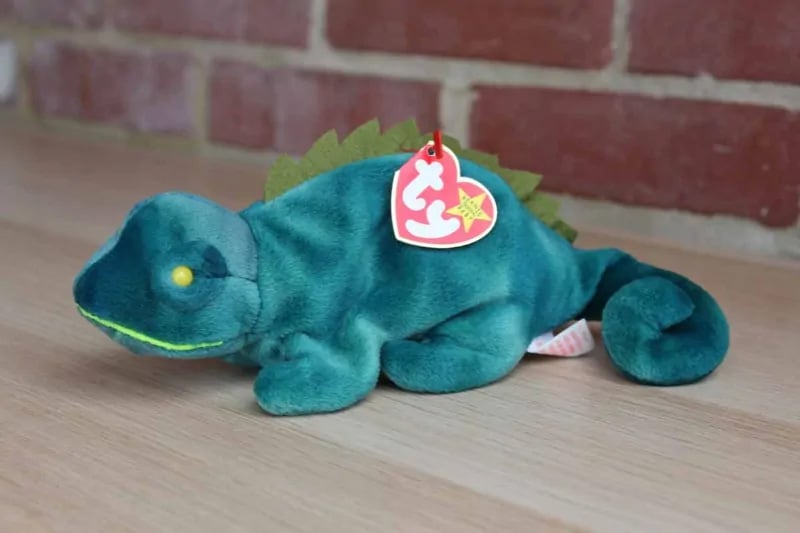 9. Punchers The Lobster – $10,000
Punchers the Lobster is a rarity because it was supposed to be Pinchers. This Beanie Baby was released in January 1994 but was decommissioned very quickly due to the name error and replaced with the correctly spelled label. The misspelling, however, makes it much more rare and valuable!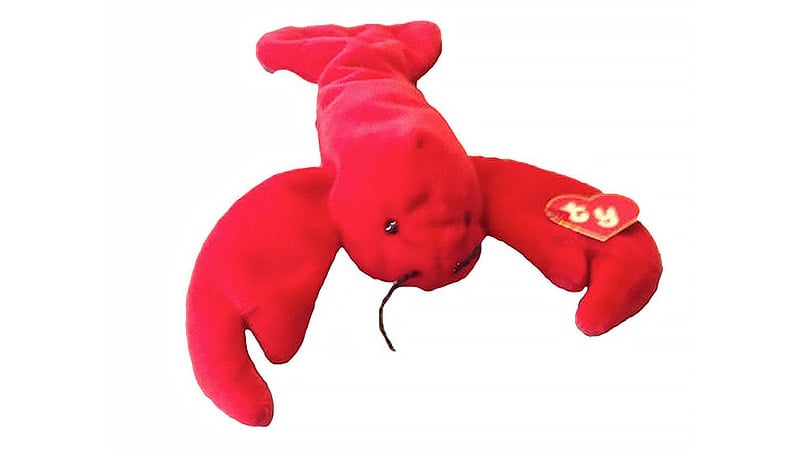 10. Mcdonald's International Bears – $10,000
During the 1990s, McDonald's decided to capitalize on the immense popularity of small beanies and introduced their own version called "Teenie Babies." Although these miniature beanies hold no value today, the exclusive line of bears created by McDonald's remains highly sought after. The McDonald's-exclusive Teenie Beanie Babies consist of four bears representing different countries: Britannia from Britain, Maple from Canada, Erin from Ireland, and Glory from the U.S. If you happen to have one of these rare bears in its original packaging, you could potentially fetch $10,000!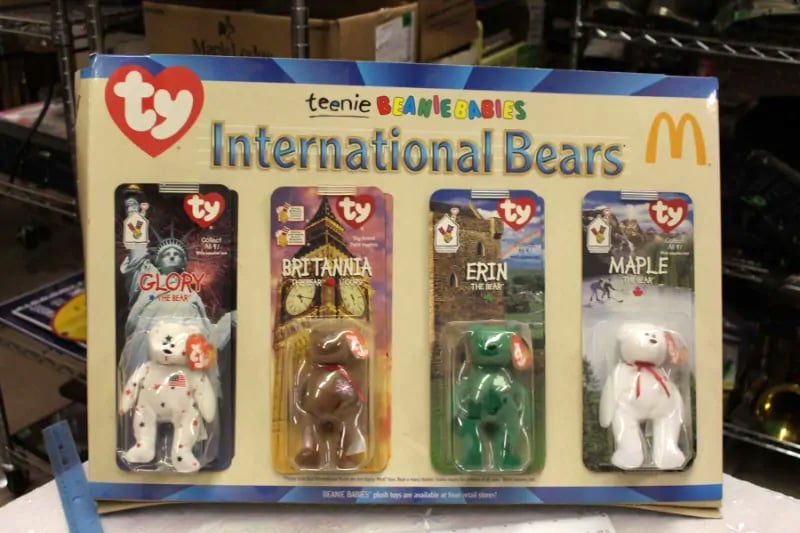 11. Halo the Bear – $7,500
Halo the Bear earns its spot as one of the most expensive beanie babies on our list. As one of Ty's first special edition bears, it represents a guardian angel with its gold wings and halo. If you manage to find a 1998 version with a white star printed on its fur or one with errors on the tush tags, you might be in for a profitable surprise. Furthermore, if you come across one with a Korean tush tag and noticeable variations in their eyes and nose, you could be looking at an even higher value!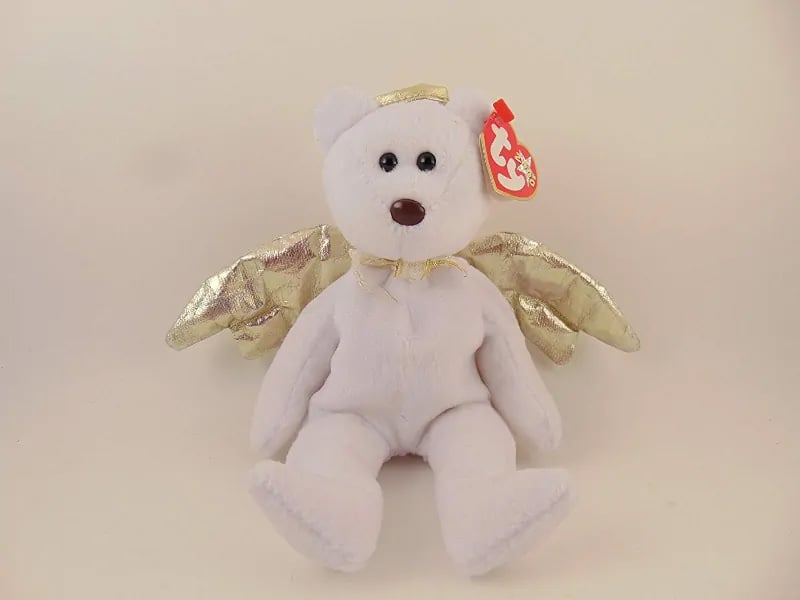 12. Peanut The Elephant (Royal Blue) – $7,000
One of the rarest Beanie Babies is the Royal Blue Peanut the Elephant. It was only in production for four months as its dark shade was a production error, and it's also one of the most counterfeited Beanie Babies around. As such, it's essential to look for authenticated version before buying.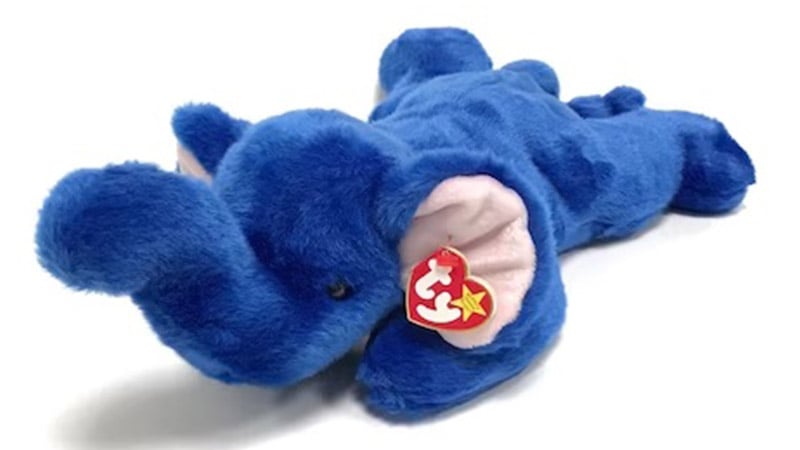 13. Gobbles the Turkey – $6,750
Gobbles the turkey, a like a fair few beanie baby produced in 1997, exists in different variations. Some versions feature a double or single-layer felt waddle, while the attachment of tail feathers varies in height. This beanie baby holds the potential to be valuable, depending on certain factors like proper placement and tag errors.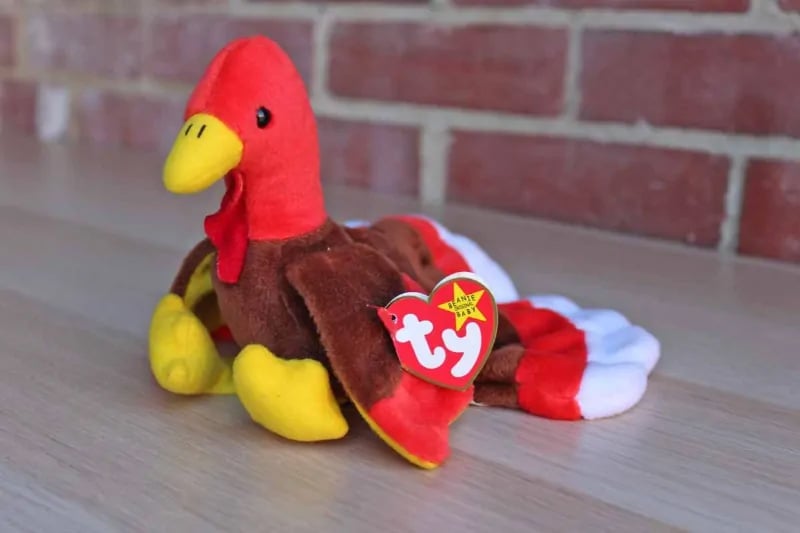 14. Snort the Red Bull – $6,000
In 1997, Ty encountered a copyright infringement lawsuit for one of their popular beanie babies named Tabasco. As a result, they made the decision to rename it "Snort the Red Bull" in order to evade any potential penalties. Visually, it closely resembles the original Tabasco version and holds the same value. These can often be found for sale on various online auction platforms at a price similar to what was mentioned earlier, although there is a possibility of coming across an even more favorable deal.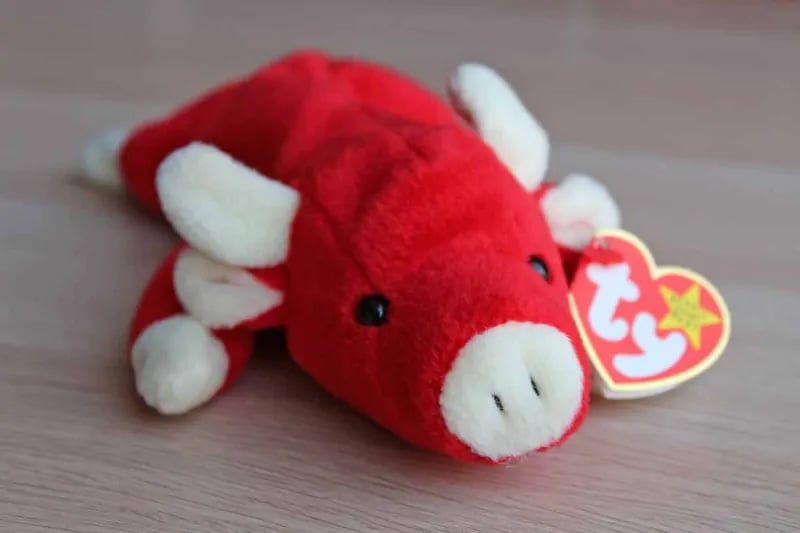 15. Patti the Platypus (deep fuchsia) – $6,000
Like Brownie the Bear, Patti the Platypus in Deep Fuchsia was one of the first Beanie Babies and was made in 1993 for the Gatlinburg Show. Patti actually has four different color releases, including the first Deep Fuschia, Raspberry, Magenta, and Fuschia, the most common Patti and latest release.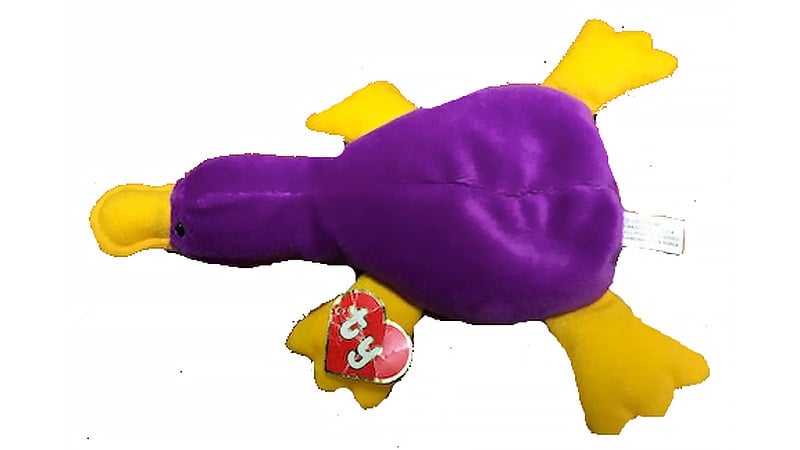 16.Peace the Bear – $5,000
Introduced in 1997 and discontinued a mere three years later, Peace the Bear became a coveted collectible. During a baseball game featuring the Oakland A's and Boston Red Sox, it was distributed as a promotional item. Identifying an original bear is easy due to the uniqueness of each tie-dye color scheme and the presence of an embroidered peace symbol on the chest. However, stumbling upon one without the peace symbol is a stroke of luck, as they are exceedingly rare!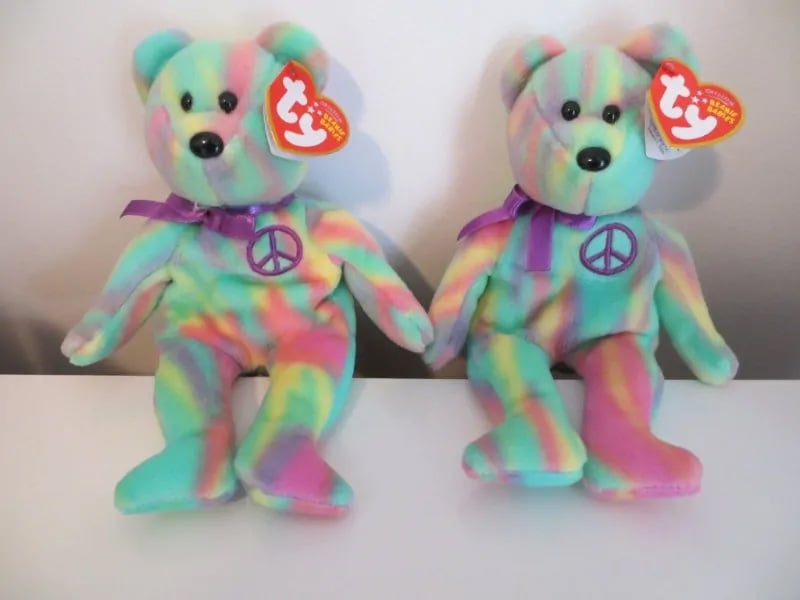 17. Nana the Monkey (later as "Bongo") – $4000
Renaming of Beanie Babies happened a few times, including to Nana, who was introduced in 1995. He was renamed Bongo rather quickly, meaning there were only a few swing tags with the original name. Even more valuable, though, are the tags that had a Bongo sticker placed over them or one with sticker residue.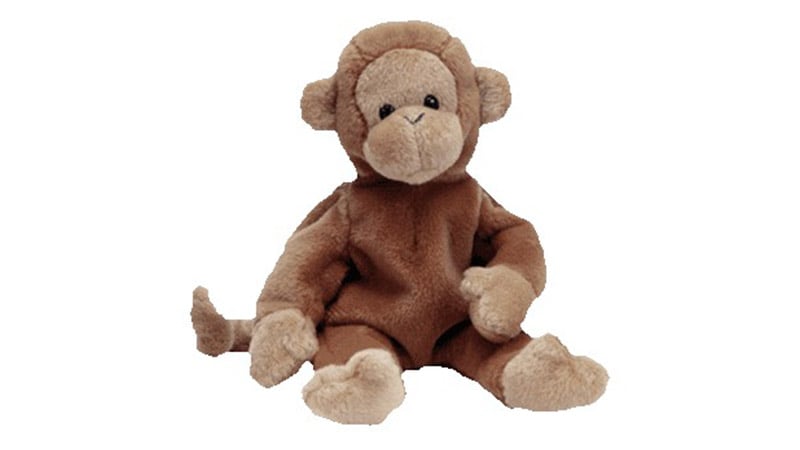 18. Employee the Bear – $3,000
In 1995, Ty, Inc introduced Employee the Bear as a token gesture to their sales representatives. Only 300 bears were produced, with approximately half wearing a green ribbon and the other half wearing red. The bear's distinct bright violet color and magenta threading make it unique and highly desirable. It's worth noting that all the bear's tags are sewn in, and there are no hanging tush tags.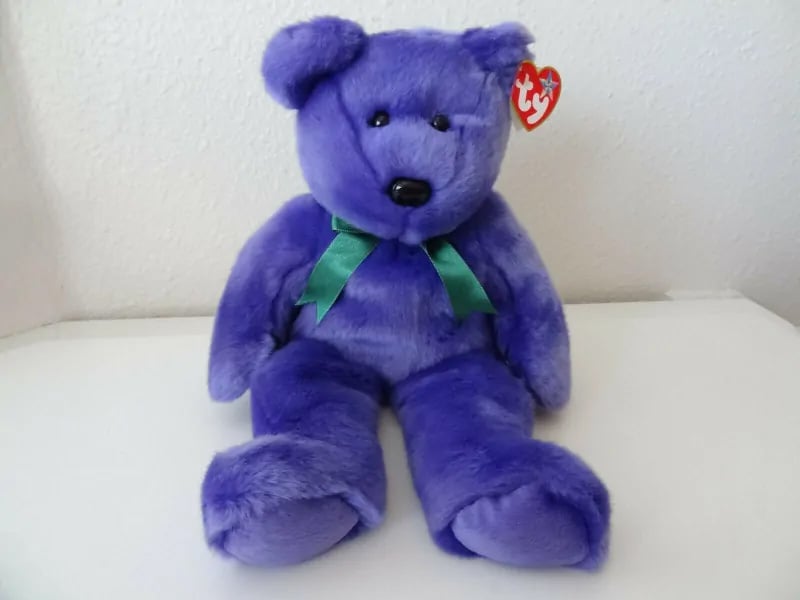 19. Mystic The Unicorn (tan horn, fine mane) – $2,700
There are different versions of Mystic the Unicorn; however, the first featured the tan horn and fine mane. To tell the difference between the fine and coarse mane, look for at least 20 strands of white yarn in the tail. It was released in 1994 and is the rarest edition of this cute Beanie Baby.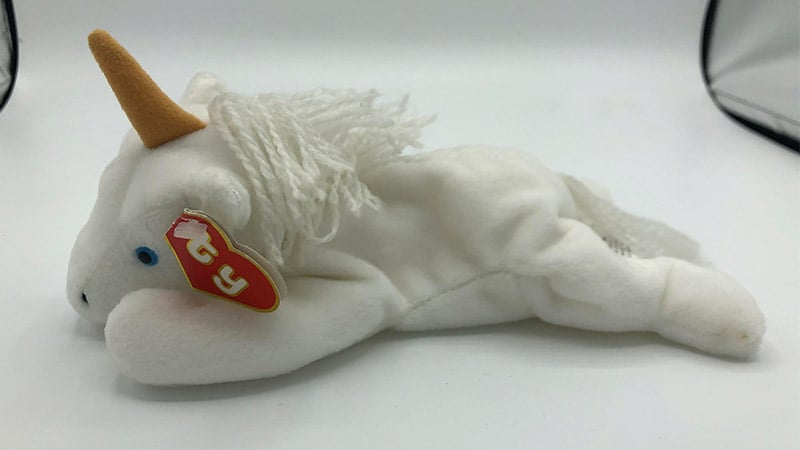 20. Chef Robuchon Bear – $2,500
The Chef Robuchon Beanie Baby is one of the most valuable items, especially if you get the one with the case and invitation. Approximately 200 of these event-exclusive designs were manufactured for the 2006 opening of the New York Four Seasons' L'Atelier Restaurant and sent to journalists, chefs, and selected guests.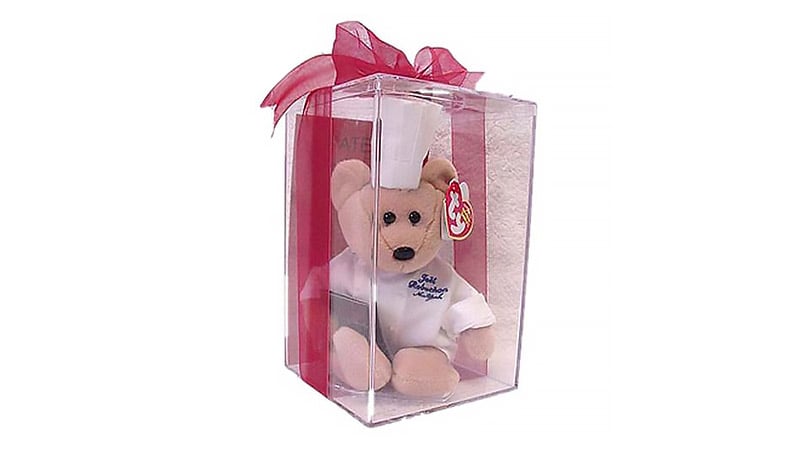 21. Quackers The Duck (without wings) – $1,800
Poor little Quackers didn't get to fly very fair upon his release in June 1994, as he didn't have any wings. This model retired in January 1995, and later generations featured wings. As such, this is a rare Beanie Baby and worth a decent amount in mint condition.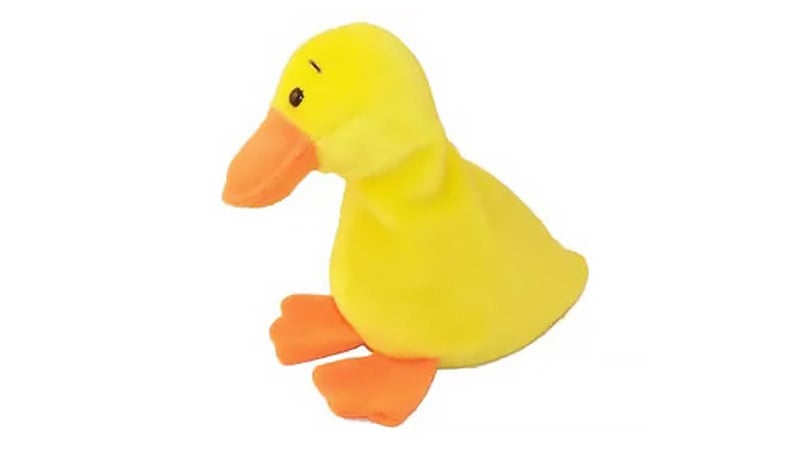 22. M.C. Beanie (brown nose) – $1,500
Ty released the M.C. bear in collaboration with MasterCard in 2001, and it was retired a year later. It features brown fur and a brown nose with the MasterCard logo. Ty also released a black nose option at the same time.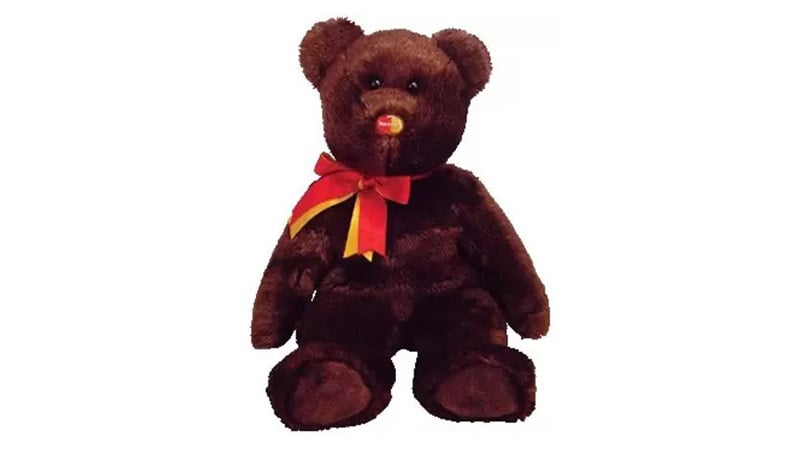 23. Hong Kong Toy Fair Bear (2010) Red – $1,500
Another event exclusive is the Red Bear from the 2010 Hong Kong Toy Fair. It was a thank you for attending and features a yellow ribbon with "Hong Kong 2010" in red print. It also doesn't have a tush tag, which makes it even more unique.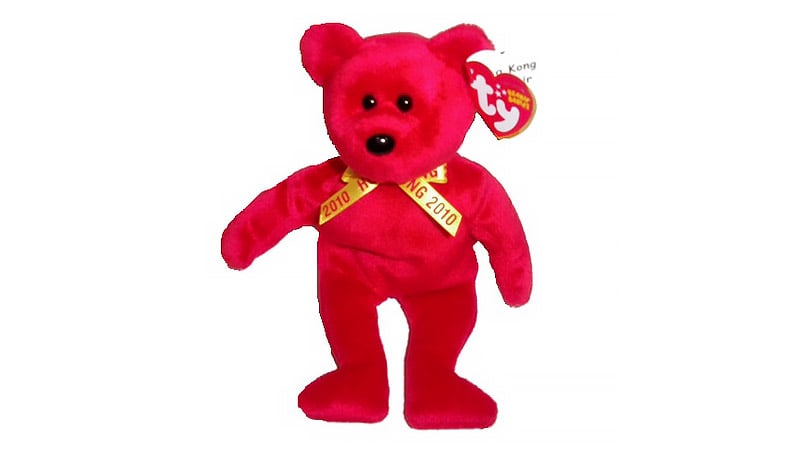 24. Hong Kong Toy Fair Bear (2017) Pink – $1,500
Like the original 2010 Hong Kong Toy Fair, later designs were also rare and valuable. The 2017 show has two editions – a sparkly pink bear and a light brown bear. Both featured "HKTF 2017" embroidered on the chest and were gifted to attendees of the showing.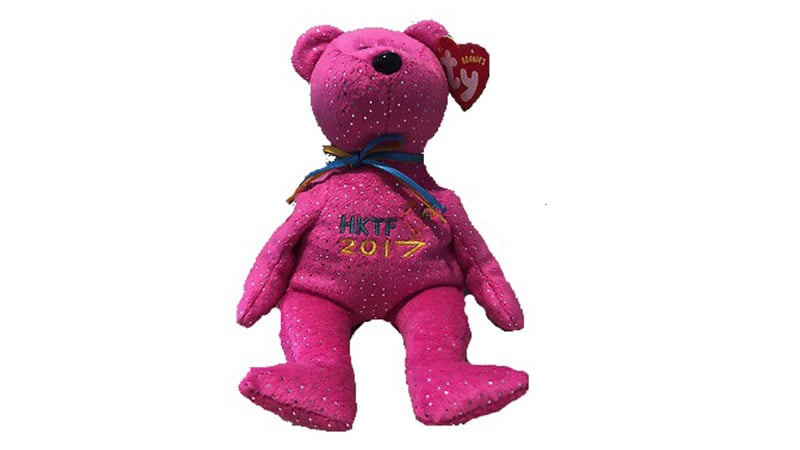 25. Bones The Dog – $1,400
Dogs indeed are a man's best friend, meaning Bones is a popular Beanie Baby for collectors. He had a nearly four-year run from 1994 to 1998, featuring five generations of swing tags and six generations of tush tags.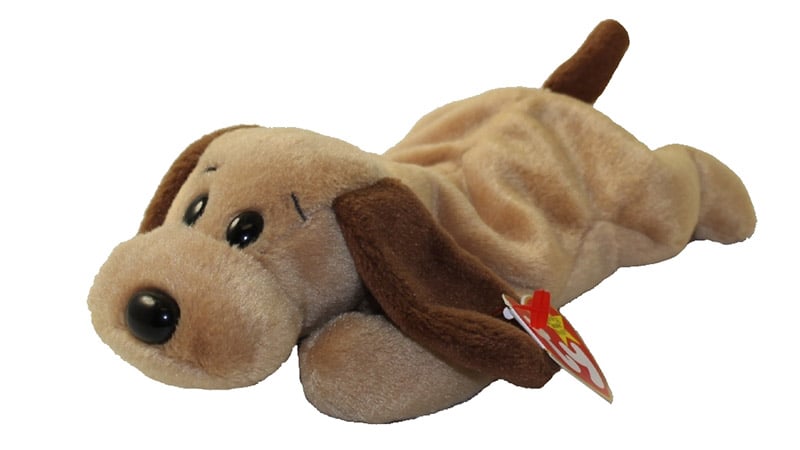 26. Leo High School Set – $1,400
Created for a Leo High School Chicago fundraiser, this full Beanie Baby set features two lions plus a football and two cushions. One of the lions is orange and black, the other is a golden tan, and both feature the letter "L" embroidered on the right foot and chest.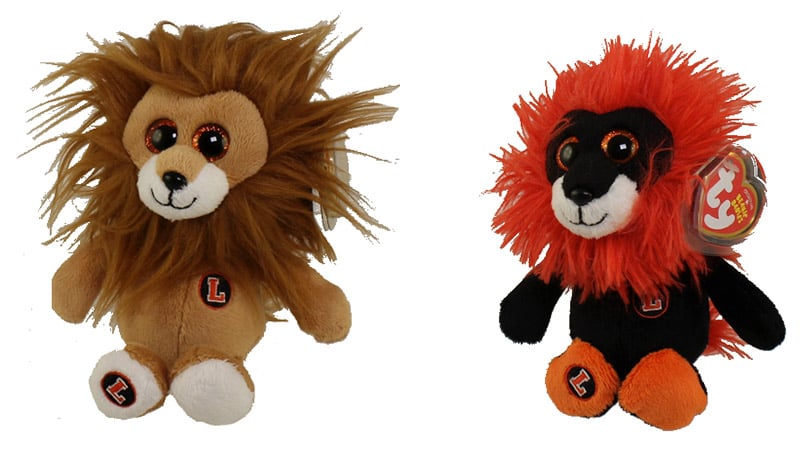 27. Cubbie The Bear – $1,400
As a member of the Original Nine Beanie Babies, Cubbie the Bear is a valuable collector's item. However, because this design was renamed from Brownie, it's not worth quite as much as its predecessor, even though it's identical. You can only tell the difference by looking at the tush tags.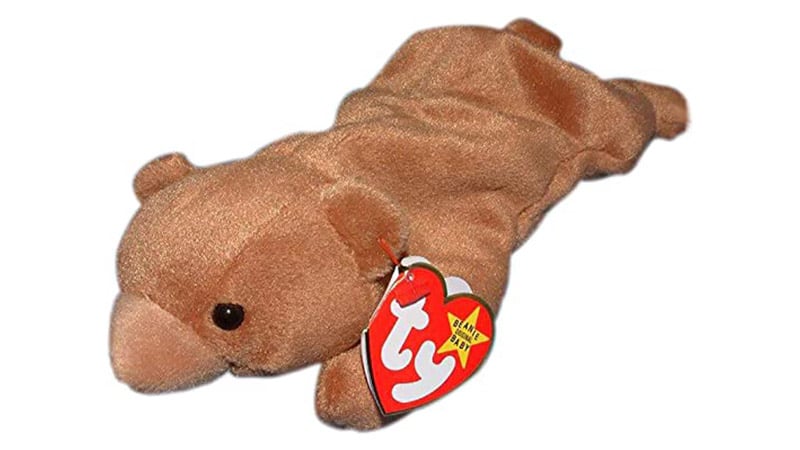 28. Coral Casino Bear – $1,259
If you were a Coral Casino Club member at the Santa Barbara Biltmore Hotel in December 2001, you're probably the lucky owner of a Coral Casino Bear Beanie Baby. Only 588 of these dinner party gifts were made, with each swing tag signed and numbered by Ty Warner himself.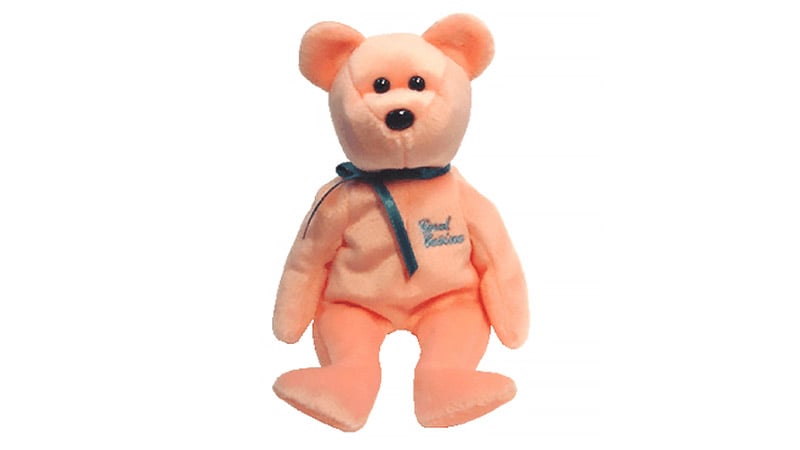 29. #1 Bear – $1,200
Many of the rare Beanie Babies were gifts for Ty sales representatives, including the #1 Bear. It launched in 1998 to celebrate several billion dollars worth of sales and retired on the same day of its release. The company made only 253, and each one is hand numbered.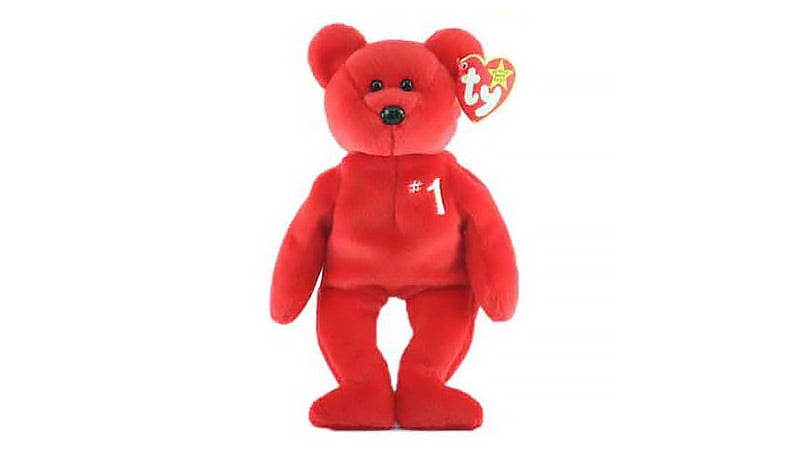 30. Tilden High School Set – $1,200
This set of eight items, including five mascot devils, two cushions, and a plush football, helped raise scholarship money for Tilden High School in 2014. It was part of company founder Ty Warner's community service, teaching the high school kids to design, produce, and market a new product.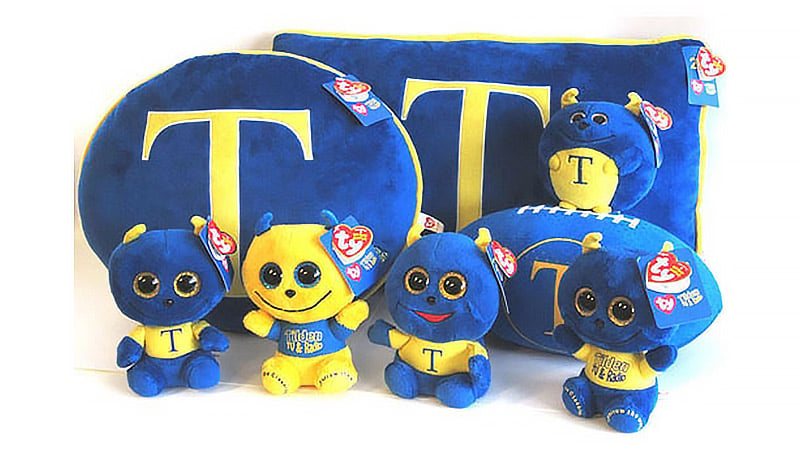 31. Libearty Bear – $1200
All-American Beanie Baby Libearty is the first to wear a flag. The release was in 1996, to coincide with the Atlanta Summer Olympics, and some of the tags featured the word Olympics. However, the word was scratched off or covered on many of the tags due to copyright issues.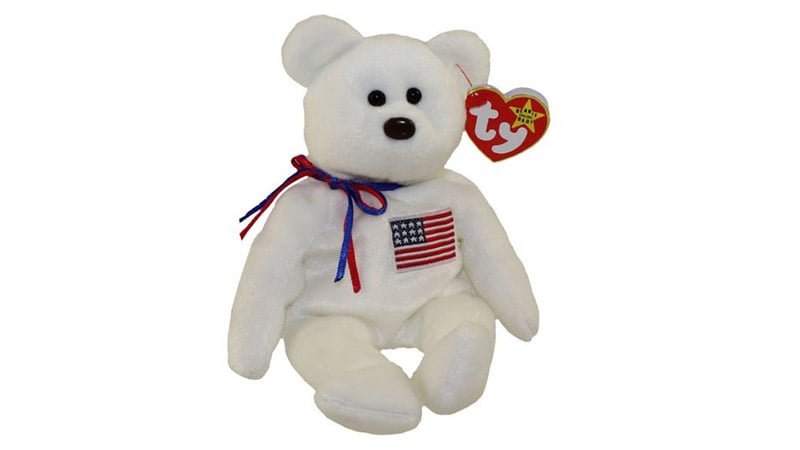 32. Peking The Panda – $1,100
Monochromatic darling Peking the Panda first appeared in June 1994. It has only first, second, and third generation swing tags and first gen tush tags. The date of his retirement is January 7, 1996.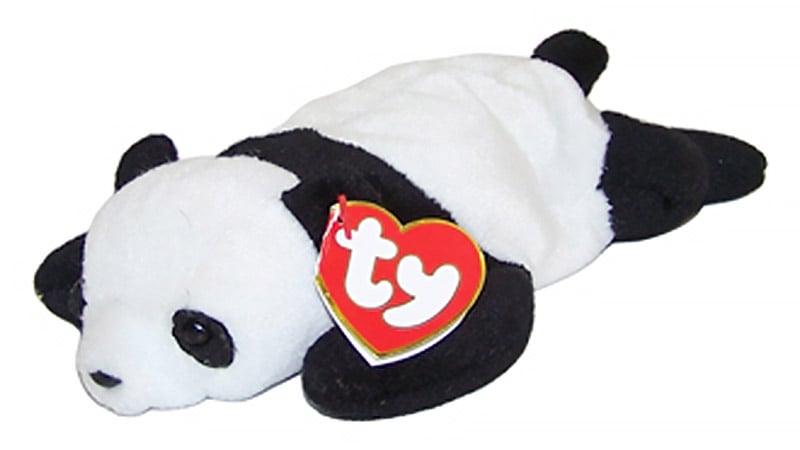 33. Humphrey The Camel – $1,000
Released in 1994, Humphrey the Camel had a production run of only 25,000, a relatively small number, and was one of the first designs to retire. Consequently, this makes him more rare but also regularly counterfeited. Spot a fake by checking for solid black eyes, not two-toned.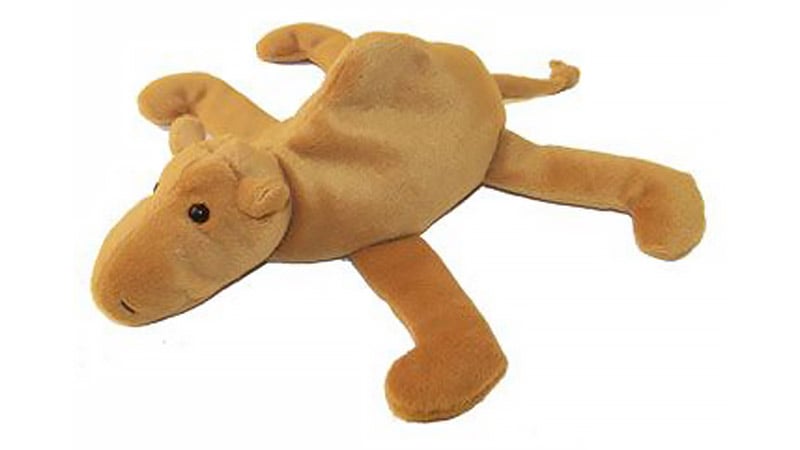 34. Hong Kong Toy Fair 2018 Dog – $1,000
In 2018, the Hong Kong Toy Fair's Beanie Baby was a cute sparkly dog. It has a white underbelly, paws, and nose, with gold eyes and a matching gold tag on its collar featuring "HKTF 2010". Like the other Beanie Babies from the fair, it was only available to attendees at the event.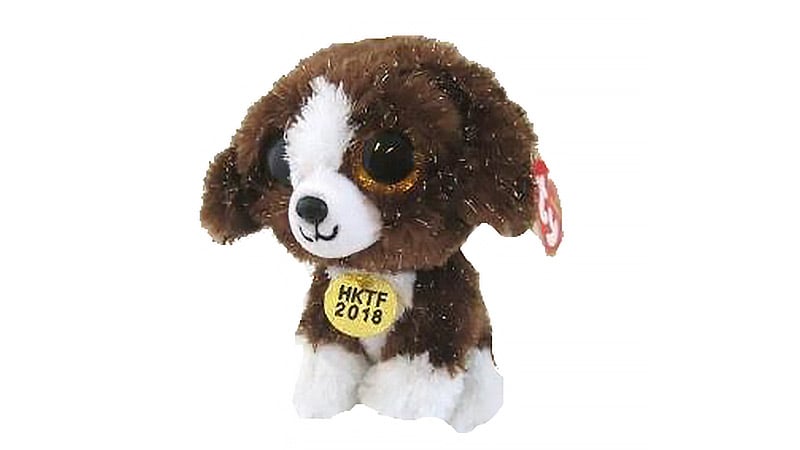 35. Chilly The Polar Bear – $1,500
Chilly the Polar Bear is a cutie with smooth white fur and black button eyes. As a more valuable design with early generation swing tags, it's more commonly counterfeited. Keep an eye out for orange-red tags and a dirtier colored white fabric to spot the fakes.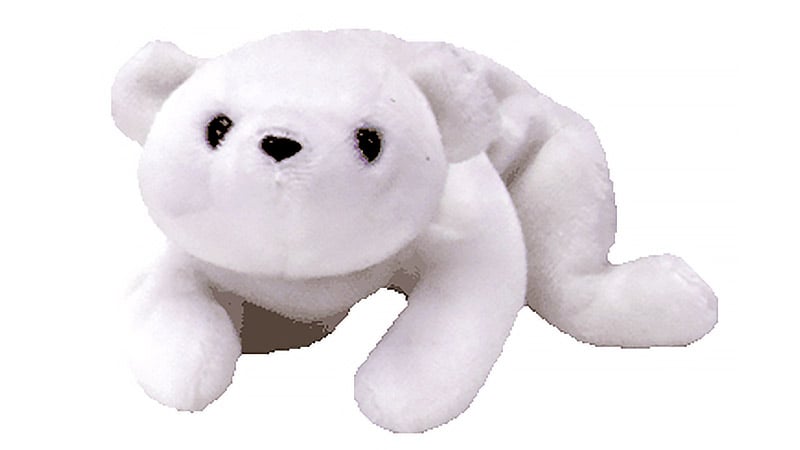 36. Ally The Alligator – $1,400
You'll snap up a great collector piece if you can get your hand on a first-generation Ally the Alligator. It first hit the market in June 1994, before retiring in 1997. The design feature black button eyes and green and brown scaly pattern.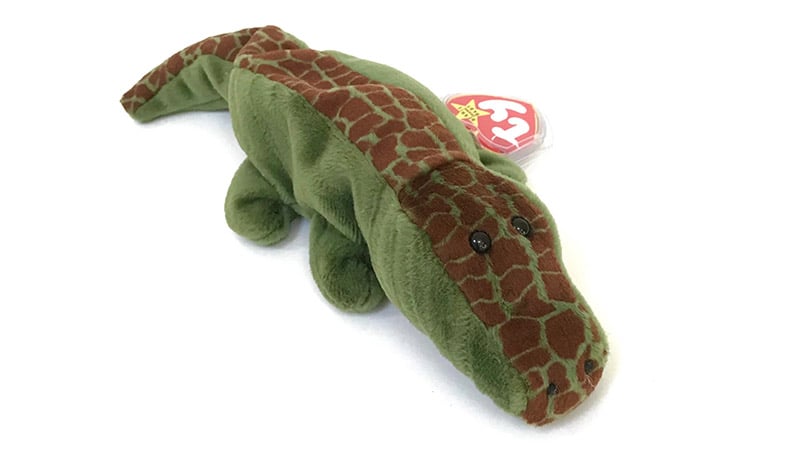 37. Teddy The Bear (brown, old face) – $1,000
Bears were a typical design for Beanie Babies, and Teddy is a throwback design featuring a more pointed face, which was common among older, traditional teddy bears. This design has six colors, including brown, jade, cranberry, magenta, violet, and teal; however, brown is the rarest.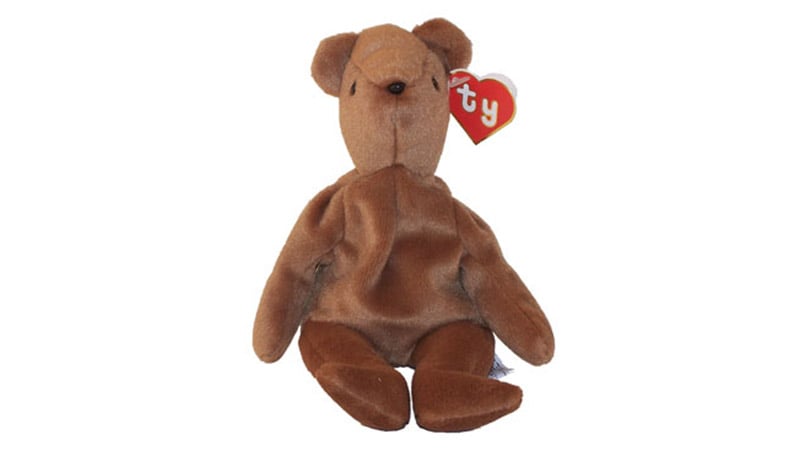 38. Slither The Snake – $1,100
The first snake Ty produced was this little guy called Slither, with production running from 1994 to 1995. It's another design that's regularly counterfeited, so look for a lighter yellow belly, wavy body, small black button eyes, and a larger forked red tongue.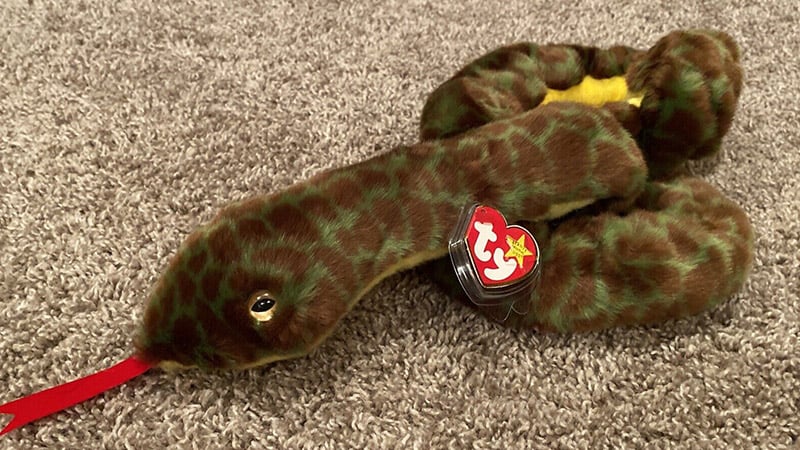 39. Spot The Dog (no spot) – $1,100
Spot the Dog, ironically, in the first generations, didn't actually have a spot. He was part of the Original Nine Beanie Babies and was produced for only a few months in 1994 before retirement. There have been reproduced versions both with and without a spot.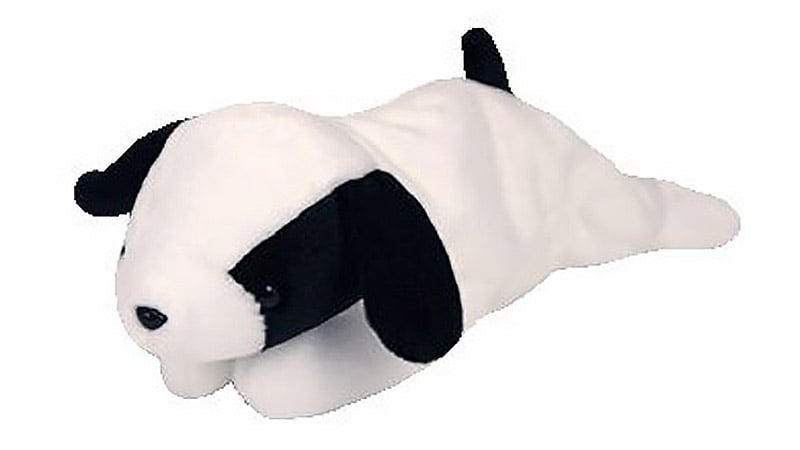 40. Squealer The Pig – $1,000
Rounding out the most valuable Beanie Babies is Squealer the Pig, another member of the Original Nine. This pink porker was incredibly popular and launched in 1994. He didn't retire until 1998, giving him the longest production time of the group.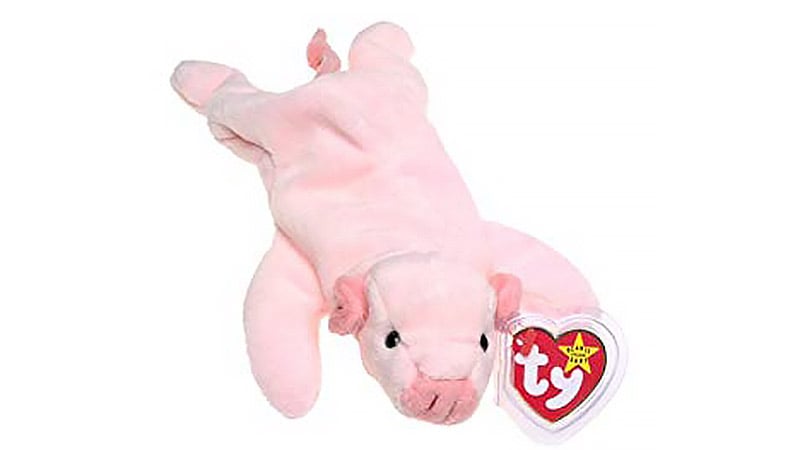 How to Buy and Sell Beanie Babies
If you're considering selling your Beanie Babies or are in the market to buy, several factors contribute to the value of these collectors' items. This includes how rare the design is, if it's been looked after, what kind of tags and stuffing it has, and where you're trying to sell or buy.
Condition
Like selling anything, the better the condition of your Beanie Babies, the more they're worth. Conditions range from mint, which fetches the highest price, down to damaged or played with toys, which won't be worth much at all in the selling market. Knowing what condition your Beanie Baby is in can help you understand the value of your toy and what price it might achieve.
Mint: Mint-condition toys look brand-new, with no signs of wear. They'll also have the swing and tush tags intact, without damage, creases, or marks. These fetch the highest prices.
Near Mint: Toys with slightly bent or worn tags but are otherwise in perfect condition are considered near-mint and might get 80–90 percent of the mint value.
Excellent: Beanie Babies whose tags are creased or worn but the toy is still perfect are considered excellent and can fetch 65–75 percent of the mint price.
Very Good: If your Beanie Baby is perfect, but the tags are very worn, damaged, or missing altogether, it's very good and might get 40–50 percent value.
Damaged or Played With: Finally, played with or damaged Beanie Babies with signs of wear on both the toy and tags are worth five to 25 percent of the total value (though they have probably provided infinite value in the form of lasting childhood memories!)
Rarity
One of the core marketing strategies of Ty Beanie Babies was to create scarcity and urgency. The company did this by limiting production runs, releasing different 'generations' and 'retiring' designs, meaning there would only be a limited and finite number available. They would announce soon-to-be retired Beanie Babies, new releases, and limited edition toys online, encouraging the hype (and, in some cases, hysteria). They also tended to distribute to smaller retailers rather than bigger chains. Combined, these elements mean some toys are much rarer than others, giving them more value. Finally, the presence of design or spelling errors on both the swing and tush tags also adds to the rarity of specific designs.
Sales Location
There are plenty of places you can buy and sell Beanie Babies, from sites like eBay and Etsy to dedicated auction houses or websites specifically for Beanie Baby collectors. It can be quicker and easier to sell your toys on the more prominent online sites or at garages sales. However, you're more likely to get a better price if you're explicitly targeting collectors, as they're more likely to see and understand the value of certain Beanie Baby designs.
Tags
Beanie Babies come with two tags – the swing tag and the tush tag. The former is the heart-shaped red tag that displays the Ty logo. Depending on when they were released, there are multiple 'generations' of these tags, with varying designs. Often they contain information like the model name, number, Beanie's date of birth, and in some cases, a poem. Errors in these tags help identify different releases and add to the rarity and value. Meanwhile, the tush tags also come in different generations. These contain information like the materials used, copyright, place of manufacture, age limits, and care instructions. They also sometimes contain errors that add value.
Stuffing
One of the signature elements of Beanie Babies is the use of pellets for stuffing rather than fiber filling. The original releases from 1993 used PVC Pellets; however, Ty Inc switched to P.E. pellets in 1998 in an effort to be more environmentally friendly. As such, fewer PVC designs are available, making them rarer and therefore more valuable. You can check what stuffing your toy has by looking at the tush label.
Counterfeit and Scams
When adding to your Beanie Baby collection, you want to watch scams and counterfeits. Counterfeits became common in the 90s when popularity surged. There are plenty of online resources to help you determine if an item is fake or not. You can check the tags for signs, look for details like mismatched eyes, or placement of iconic elements such as emblems or embroidery. Another way to spot fakes online is to look deeper into the seller. If they don't have many reviews or you can't see the sales history, steer clear. Additionally, if the same photos are used across multiple listings or the item has been listed numerous times, it's more likely to be dodgy. Lastly, if the price seems excessive compared to other listings, it's also likely to be questionable.
Where to Shop For Beanie Babies
Since many Beanie Babies are no longer in production, you can't just pop to your local store to grab one. If you're looking to buy or sell rare and valuable Beanie Babies, there are plenty of avenues to explore, from online stores to local marketplaces and even vintage stores.
eBay
eBay is one of the most commonly used sites for buying and selling collector's items like Beanie Babies. It gives you access to a large customer base and worldwide market. If you're buying, make sure you check sold prices rather than just take the listed price at face value. This better reflects what customers are actually paying rather than what sellers are hoping for. You'll also need to check for unscrupulous fake buyers who purchase their own listings for inflated prices. Then, if you're selling, it is a little more hands-on, requiring photos, a good description, authentication where required, and organizing postage. Of course, you'll also need to pay eBay fees for selling on their platform.
Etsy
Another great online platform is Etsy. This allows you to build a brand and tailor your shop to a particular demographic – in this case, Beanie Babies. You will pay a listing fee and commission as a seller, with listings expiring after a few months. Like eBay, you will need to look after the photos, descriptions, shipping, and customer questions. However, it's a worldwide marketplace, giving access to plenty of customers and sellers. You can also pay a small fee to promote your products, which can be helpful in a saturated market.
Craigslist & Facebook Marketplace
If you prefer to buy and sell locally, then Craigslist and Facebook Marketplace are excellent options. They let you tap into a local market, which is great if you want to avoid excessive shipping fees. Plus, listings on both platforms are free. Similar to Etsy and eBay, you will need to manage the selling and advertising yourself, taking the pictures, and writing descriptions. As a buyer, it's a great option if you know there's someone in your area who collects and sells Beanie Babies, and there can be less competition for items.
Local Antiques Shops
Another excellent method for buying and selling Beanie Babies is through a local antique shop. You can sell your items to the shop, and then the shop sells them on to new owners. While it's a simple and hands-off approach, you might not get top dollar for your items, as the store needs to be able to mark it up to cover costs and make a profit. You should also look for a shop that offers similar items to what you're selling. For example, if they specialize in furniture, they're unlikely to want to purchase collector toys.
Beanie Babies FAQs
Are beanie babies worth anything?
You probably won't be able to retire on your Beanie Babies, but there are specific designs that can be worth a few thousand, including rare, exclusive, or first-generation toys in mint condition. However, in general, most Beanie Babies haven't appreciated quite like the hype of the 90s led many to believe. 
Which Beanie babies are worth selling?
Some of the most valuable Beanie Babies include Chef Robuchon Bear, Mitya Bear, M.C. Beanie, Peanut The Elephant (Royal Blue), and Quackers The Duck (without wings). They will need to be in mint condition and authenticated to attract the best price. 
Princess Diana Beanie baby worth?
The Princess Diana Beanie Baby has reportedly been listed for up to half a million dollars. However, recently sold listings show prices from as little as a few dollars to a couple of hundred dollars. There are a few for $10,000, but these look like questionable sales designed to influence market prices. 
Ty Beanie Baby worth?
The Ty Beanie Babies that were all the rage in the 90s can be worth anything from a few dollars to a few thousand dollars, depending on the design, generation, and condition.
Who owns the most expensive beanie baby?
It's unclear who owns the most expensive Beanie Baby. If a Princess Diana Bear legitimately sold for $500,000 or Large Wallace and his Squad for $600,000, it's a person with a lot of cash to indulge their collection!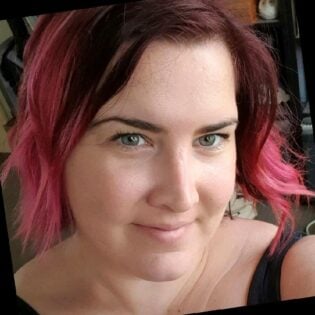 Alexandra Linde is an experienced writer holding a bachelor's degree in Journalism. She is the owner of Alexandra McKiterick Creative and has expertise in travel, fashion, fitness and lifestyle. Alex has previously written for Flightcenter, Travello, and Backpacker Deals.
SUBSCRIBE TO OUR NEWSLETTER
Subscribe to our mailing list and get interesting stuff and updates to your email inbox.