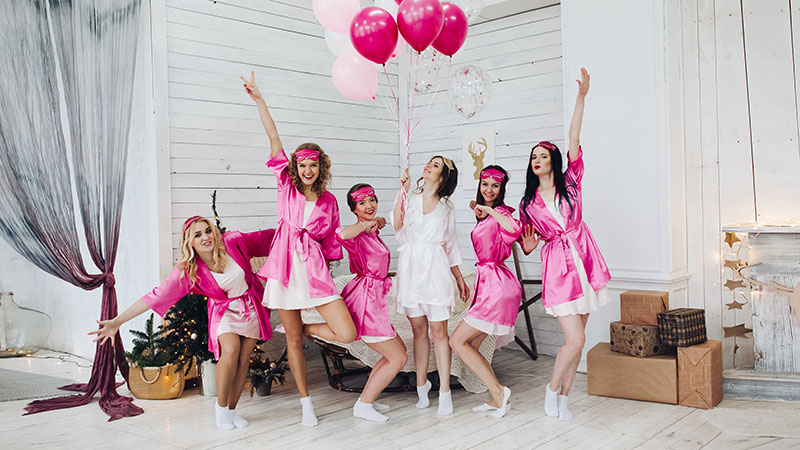 A bachelorette party is the ultimate celebration of your soon-to-be-married friend. It's often considered the last hurrah and closing of the chapter on "single girl life." Of course, it helps mark a brand new adventure too! Host the perfect event with these ideas for destination, theme, activities, and games, so your bride and all her guests have the best time and make memories for a lifetime.
What is a Bachelorette Party?
A bachelorette party, sometimes also called a hen's night, is a celebration honoring a bride-to-be. It's typically a gathering of her closest female friends, with the intention to mark the end of an era as an officially unattached lady and toast to a new chapter of her life. Depending on the bride and her interests, this event can range from a quiet and sophisticated morning tea to a wild night on the town complete with exotic male dancers.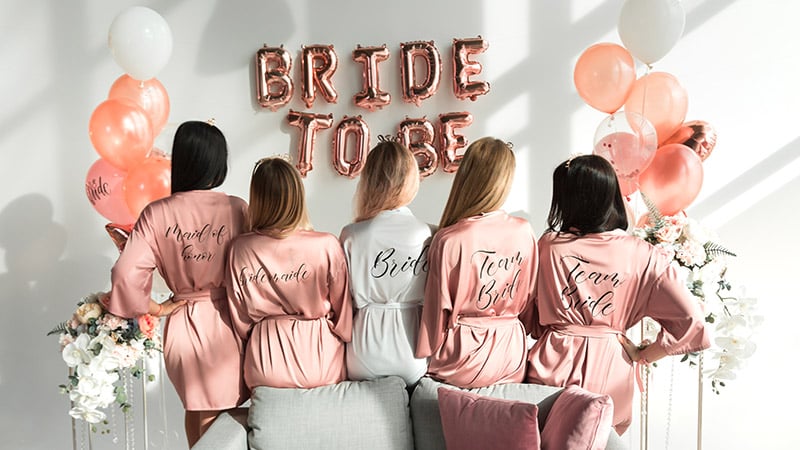 How to Plan a Bachelorette Party
While a lot of planning goes into a wedding, the bachelorette party is one of the few things the bride doesn't have to organize. This responsibility usually falls to the bridal party, with the maid of honor taking the lead. The bride will often have some input on the guest list and what kind of activities they do or don't want. Beyond that, their involvement is limited. Usually, the event is held a month or two out from the wedding day. When inviting guests, you'll need to let them know the group activities planned, the location, the approximate budget and what that covers, and a final RSVP date.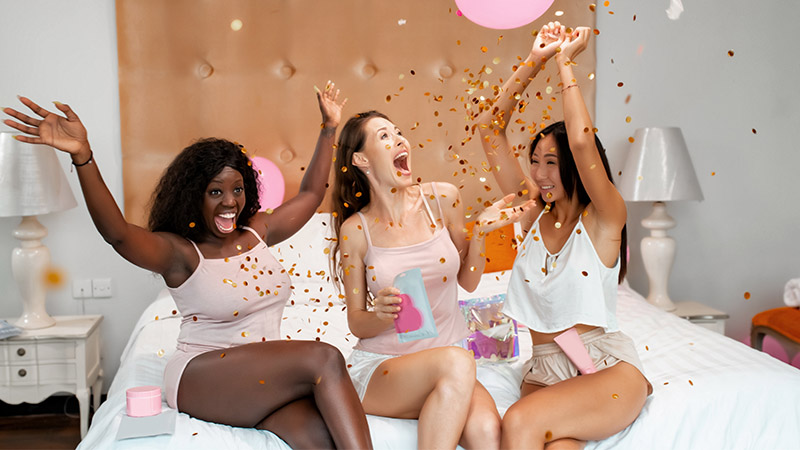 Who Pays for Bachelorette Party?
In most cases, attendees will pay for themselves, as well as contribute to cover the cost for the bride. Occasionally, the bridal party alone might pay for the bride, but the other guests are welcome to buy her a drink on the night. However, if it's a destination bachelorette party, the bride will generally cover some of her own expenses, as flights and accommodation plus activities will cost more. When planning a bachelorette party, it's essential to be conscious of people's budgets so that the bride's guests can attend without financial stress.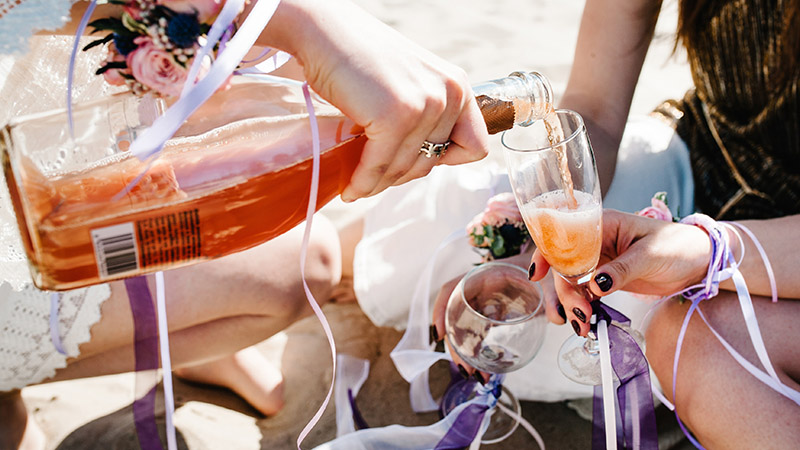 Who to Invite to Bachelorette Party?
The people invited to a bachelorette party will depend on the bride and the kind of party planned. In general, it will be the bride's side of the bridal party and her closest female friends and family members. However, there's no rule to say that no boys are allowed, so again, this depends on the bride's wishes. If it's a destination bachelorette, the guest list might be smaller, but if it's a nice dinner or a day of fun activities, the invite list might be larger.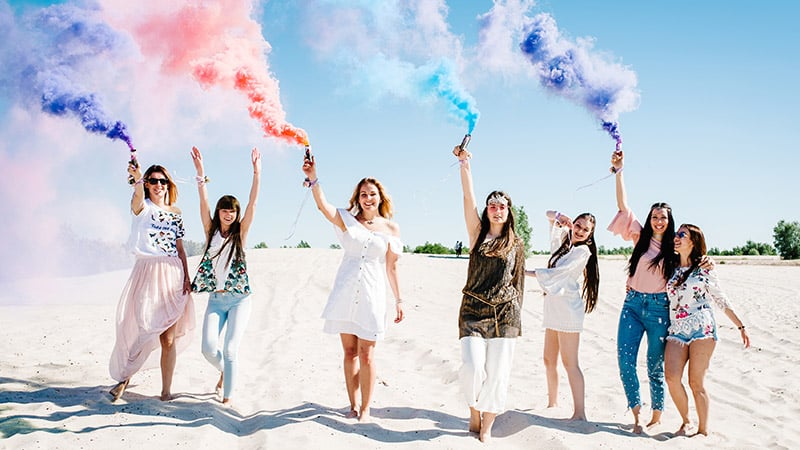 Bachelorette Party Destinations and Places
If you're going to host a destination bachelorette party, some cities just do it better. Spread across the United States, these places have plenty of activities, culture, nature, food, and nightlife to create the most epic celebration for your bride.
Los Angeles
The City of Angels is a wonderful destination for a bachelorette party. You can go celebrity spotting around Hollywood, hit the beaches of Santa Monica and Malibu, or indulge in some designer shopping on Rodeo Drive. The city is also home to an abundance of day spas and health retreats. Plus, there's an incredible food scene from Michelin star fine dining restaurants to delicious street food. Meanwhile, LA has more museums and theatres than any other U.S. city. Choose from venues like The Getty, Los Angeles County Museum of Art (LACMA), and Walt Disney Concert Hall. Finally, head outside on one of the many hiking or biking trails, take a horse ride around the hills or watch the sunset from the coast.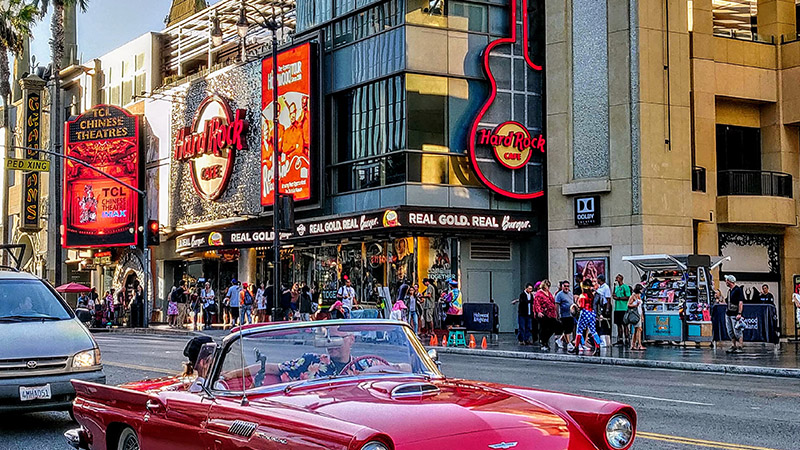 Nashville
If your bride loves music, there's no better destination for a bachelorette party than Nashville. Catch some country music at the iconic Grand Ole Opry, dance until your feet ache at a Honky Tonk, or hear up and coming songwriters at Bluebird Cafe. Other excellent after-dark activities include rooftop wine bars, craft breweries, late-night restaurants, and, of course, low-and-slow barbecue joints. During the day, make the most of the art scene, visit one of the many museums, or catch a home game of a local NHL, NFL, or baseball team.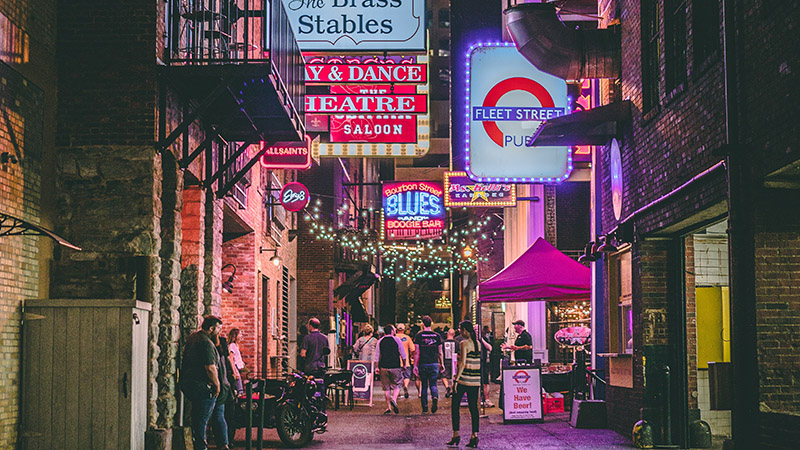 Chicago
Situated on the banks of Lake Michigan, Chicago is another excellent destination for an epic bachelorette party. Discover wonderful live music, including jazz and blues, catch a cabaret show, or sip classic cocktails at a hidden speakeasy. Chicago has all the components of a great night out. During the day, soak up some sunshine with a lake cruise, explore the many local parks, or grab tickets to see the Chicago Cubs at Wrigley Field. You can also visit museums and galleries such as the Field Museum, Art Institute of Chicago, or Museum of Science and Industry. Finally, round out a wonderful weekend with some shopping or a visit to Navy Pier, which really comes alive during the summer.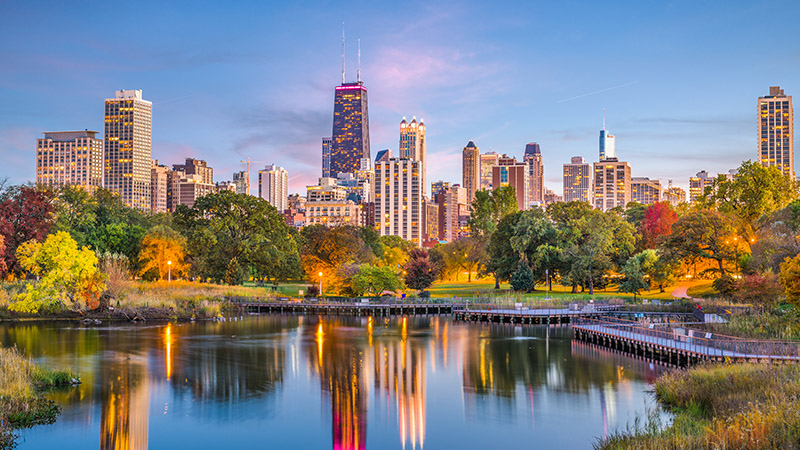 Las Vegas
Perhaps the most infamous party destination in the United States, Las Vegas has all the ingredients for a memorable bachelorette party. Whether you stay on The Strip or Downtown, there is plenty to keep your bride-to-be entertained. While Vegas is known for its casinos, if gambling isn't your cup of tea, catch a show at one of the incredible hotels. See performances from Cirque du Soleil, resident pop stars, or even a cheeky Magic Mike Live performance. There's also a brilliant food scene, endless rooftop bars to take advantage of the Nevada sun, and lots of shopping. You could even get some ink to commemorate the trip. Another option is to venture outside the city limits. Visit the awe-inspiring beauty of the Grand Canyon, marvel at Hoover Dam and Lake Mead, or go hiking in Red Rock Canyon National Park.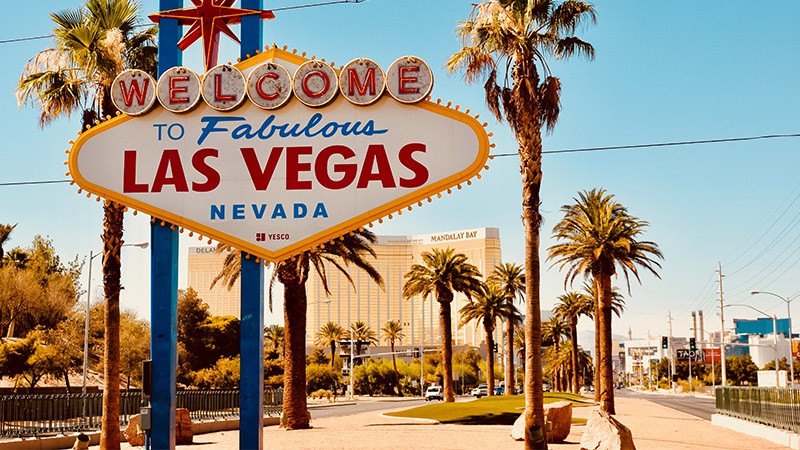 NYC
In the city that never sleeps, you're sure to be able to plan the best bachelorette party. New York City is iconic for so many reasons – the Statue of Liberty, Rockefeller Centre, Central Park, and the Empire State Building. Of course, there are also all the famous museums and galleries, plus endless opportunities to shop up a storm. Make the trip extra special and book a Sex and The City or Gossip Girl tour to follow in the footsteps of your favorite small-screen heroines. Then, in the evening, catch a Broadway show, discover the incredible restaurant and food scene, and finish with a cocktail or three at any of the thousands of amazing bars that New York boasts.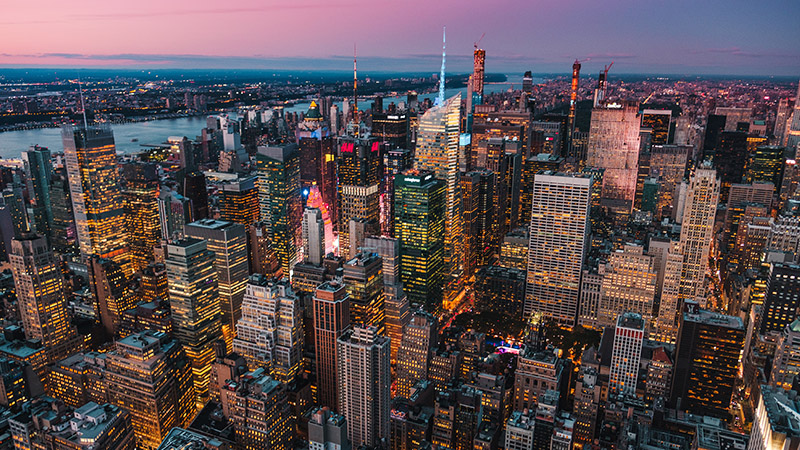 Austin, Texas
If everything really is bigger in Texas, then a bachelorette party in Austin is sure to be epic. As the Live Music Capital of the World®, you're spoilt for choice when it comes to evening entertainment. Discover everything from blues, folk, and jazz to new wave, punk, and indie jams. This city is also an outdoor enthusiast's playground. Go cycling, hiking, cruising, kayaking, or take a dip in one of the stunning swimming holes around the city. Alternatively, venture west to the Texas Hill Country to discover historic towns, rolling vineyards, and a laid-back vibe. Finally, brides who love food will also appreciate Austin's culinary scene. Indulge in delicious barbecue, Tex-Mex, and pecan pie, while curing a hangover with breakfast tacos and more craft beer or cider.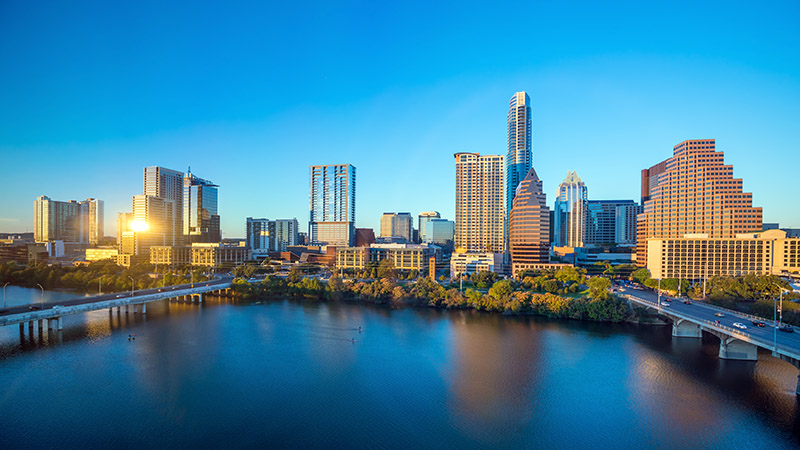 San Francisco
Plan a bachelorette party in San Francisco and spend time exploring this vibrant city. It boasts a range of neighborhoods such as North Beach, Haight-Ashbury, and the Mission. Each has its own character and attractions. Meanwhile, iconic sights include the Golden Gate Bridge, Alcatraz, the cable cars, Fisherman's Wharf, and Pier 39. There's also an inspiring art and culture community, plenty of museums, and an engaging restaurant and bar scene. San Francisco is also the gateway to the famous Napa and Sonoma Valley wine regions. Book a tasting tour to discover the rolling hills covered in vines and sample your way around the prized cabernet sauvignons, as well as chardonnays and merlots. Finish the day with a sunset dinner cruise on the Bay, with a glass of bubbly in hand to toast your lucky bride.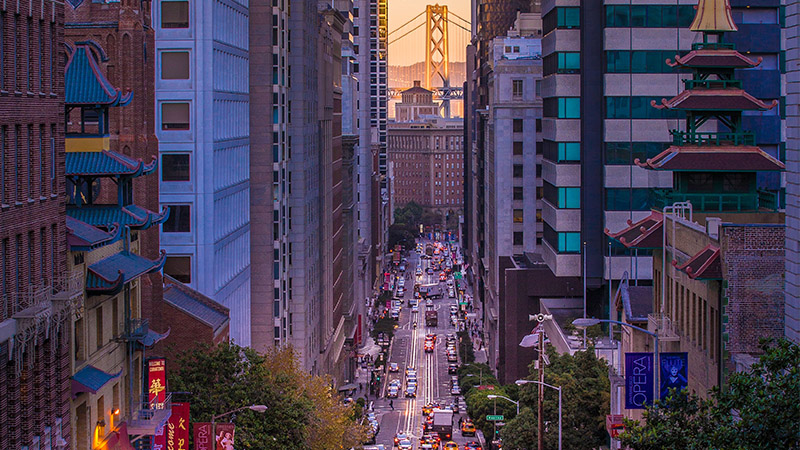 Atlanta
If you're planning a bachelorette party in the south, then Atlanta, Georgia, is the place to pick. During the day, you can explore the five main districts, shop up a storm, and relish green spaces like Piedmont Park and the Atlanta Botanical Garden. Once the sun sets, discover a range of live music venues, trendy Downtown restaurants, Westside breweries, and edgy Eastside dive bars. It's also a particularly poignant destination if you want to learn about American Civil Rights activism. Atlanta is considered the cradle of the movement and is home to the National Center for Civil and Human Rights and Martin Luther King, Jr. National Historical Park.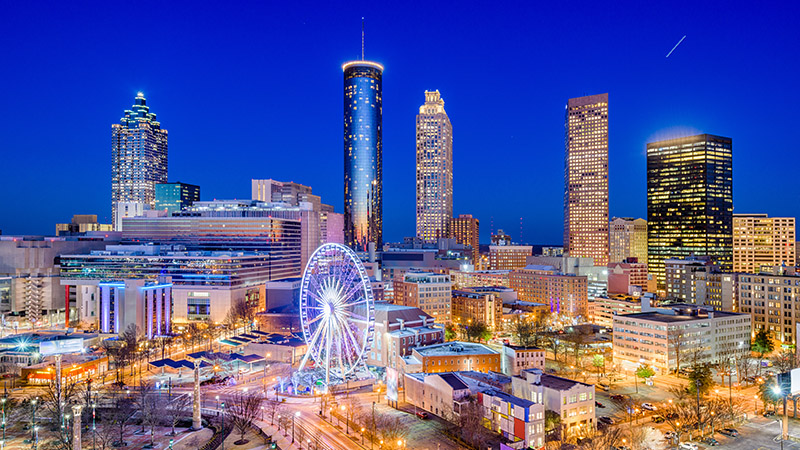 Miami
If sprawling on a white-sand beach with a fruity drink in hand is your bride's dream, then Miami is the must-do destination for her bachelorette party. Cool off with a swim in the clear blue water, or try water sports such as stand-up paddleboarding or jet skiing. Away from the 20 miles of Atlantic coastline, you'll find a bustling city center with colorful neighborhoods. Explore the Cuban culture of Little Havana, marvel at the Art Deco Historic District, and discover the hippest areas of Wynwood and South Beach. Miami also boasts world-class nightlife, with trendy bars, Latin dance, local breweries, and even 24/7 super clubs. If you're looking for more low-key, why not take a trip inland and visit the famous Miami Everglades for an airboat ride or take a cruise in Biscayne Bay along Millionaire's Row.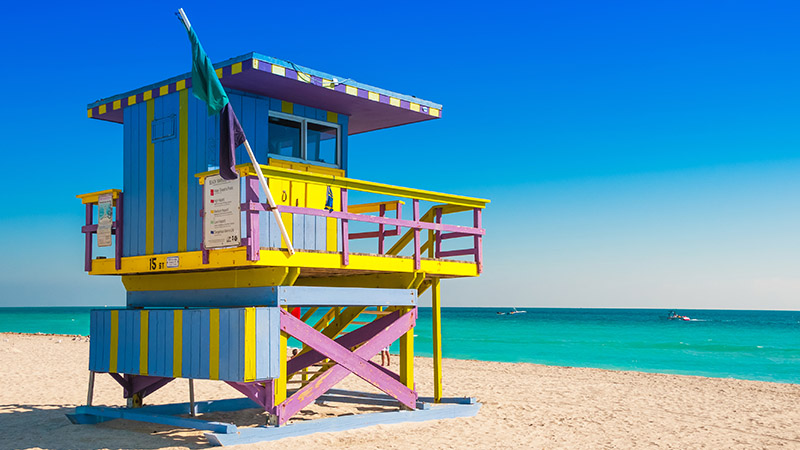 Atlantic City
Atlantic City is best known for its beaches, boardwalk, and glitzy hotel-casinos and is an ideal destination for a bachelorette party. Take advantage of the tax-free shopping and give your credit card a workout on the latest clothes and shoes. If you want to spend time outdoors, then water activities at the beach are a must; however, there are also more than a dozen golf courses in the area if your bride would like to play a round. The city was initially established as a health resort. That legacy remains with an array of luxury spas and wellness facilities on offer for some well-earned relaxation and rejuvenation. Finally, to celebrate after dark, the nightlife options are endless. Start with dinner at a five-star restaurant, then dance all night to banging DJ sets that keep the party going until sunrise.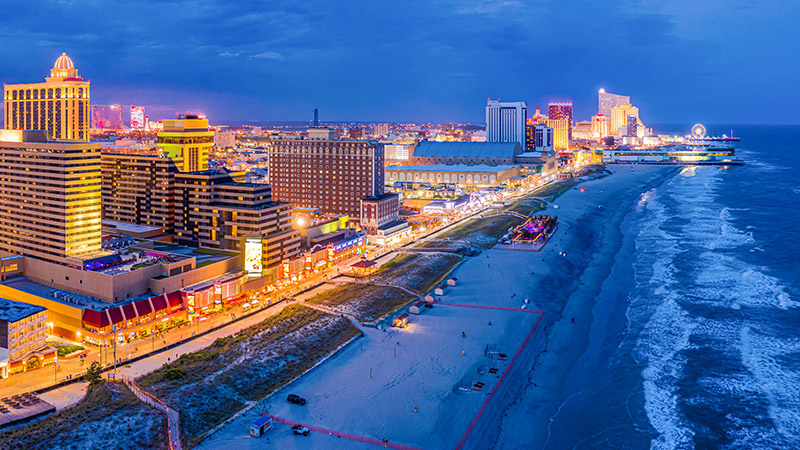 Bachelorette Party Ideas and Themes
Bachelorette parties are just as unique as the brides you're celebrating. As such, there are dozens of ideas and themes you can choose that will cater to all tastes, interests, and budgets. Even though the bride doesn't have much input, it's still important to consider her wishes. After all, the event is about her, and you want her to have a good time. Keep it chilled and low-key with a spa weekend or picnic, or take it up a notch with a yacht party or tattoos. Incorporating activities is a great way to encourage participation, try something new, and ensure everyone is having fun, especially when mixing social groups.
Fun Bachelorette Party Ideas
Apart from celebrating the bride-to-be, you want a bachelorette party to be fun. Incorporating some kind of activity or getting away from your usual location is a great way to foster friendships and encourage participation so that everyone has a memorable and fun time.
Escape Room
An escape room is an engaging and wholesome activity for a bachelorette party, especially if the bride loves a crime drama. As a team, you work to solve clues and puzzles to escape before the clock runs out. Each room generally has a different theme to enhance the story for a more immersive experience. It's a wonderful way to bond as a team, and suits groups of around six to eight players, depending on the space. If you have more guests than that, some venues even have tandem rooms, where two teams battle head-to-head to see who can get out the fastest!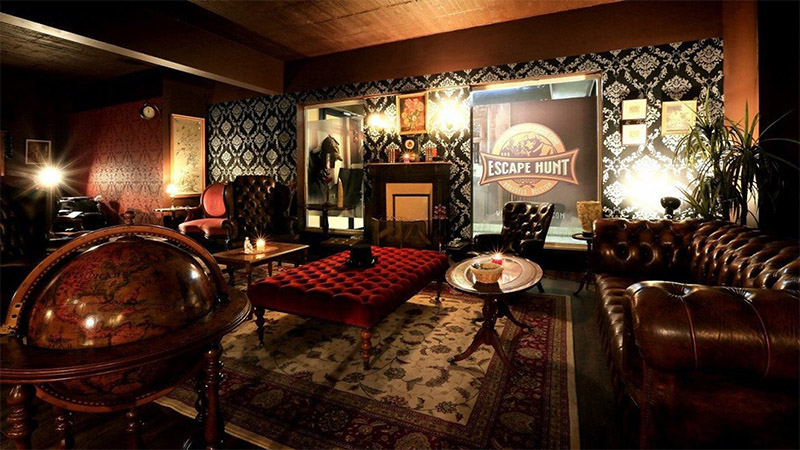 Pool Party
Embrace the summer sunshine for your bachelorette party and host a pool party. It's a laid-back option and is perfect for ladies who live in a warm or tropical area. All you need is some blow-up pool floats, plenty of sunscreen, and good weather. Add a tiki bar to your setup and serve delicious tropical drinks like Mai Tais, margarita slushies, and frozen popsicles. If you want to create a cute aesthetic, then splashing out for matching swimsuits with a contrast option for your bride makes for excellent Instagram snaps!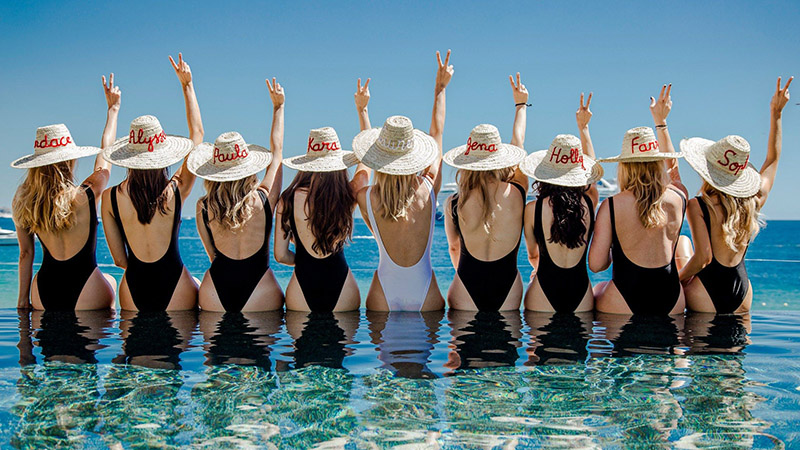 Hire a House for the Weekend
Take the ultimate girls' trips away and hire a house for the weekend with your besties. It gives you the flexibility to choose somewhere near or far, and to splurge on luxury digs. Then you have the freedom to celebrate the bachelorette however you like, in a private space. Enjoy an old-fashioned slumber party with all your favorite movies, host a board game evening, or hire a personal chef for a delicious, gourmet dinner without any effort. Depending on the house's facilities, you could enjoy wine by the fire pit, play lawn games like Finska, or de-stress in the spa. Farm stays, beach houses, and inner-city penthouses will all offer a different vibe.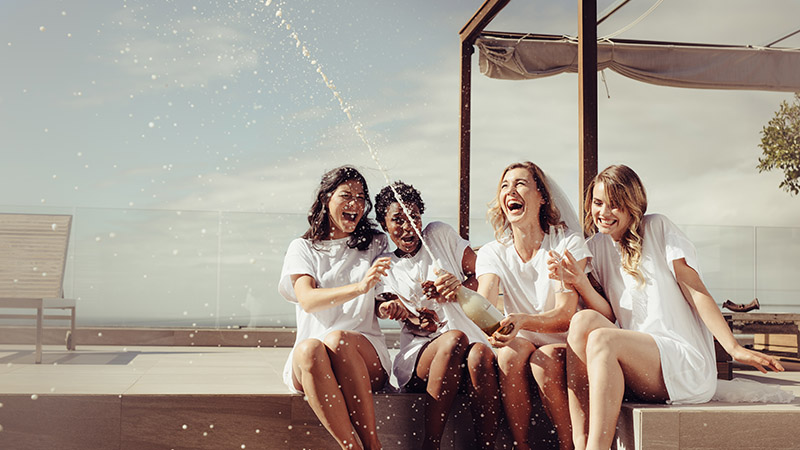 Scavenger/Treasure Hunt
A scavenger or treasure hunt is another great group activity for a bachelorette party that inspires some friendly competition. The group splits up into teams to complete a series of tasks or find specific things. This could be taking a photo with a cop, getting a coaster from every bar, or leaving a lipstick kiss on a stranger's bicep. The more challenging the task, the more points, and whichever team gets the most wins a prize. It's ideal for large groups and is a great way to encourage socialization. There are plenty of ideas on Pinterest and Etsy; however, there are also companies that can run a more official version of the hunt for you.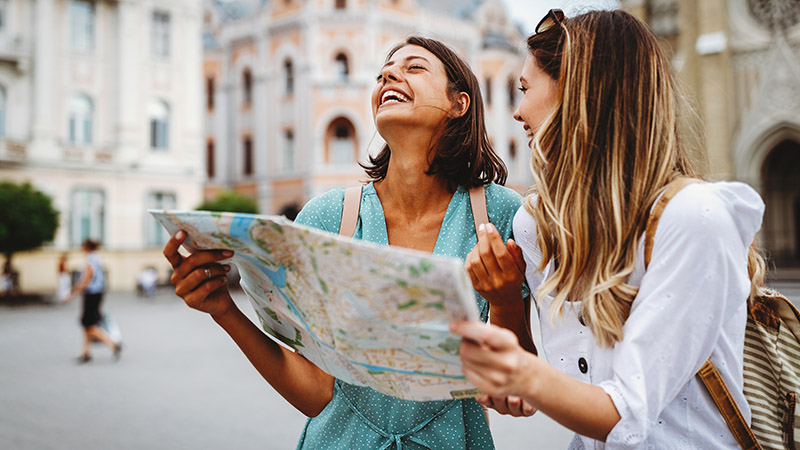 Winery/ Brewery/ Distillery Tour
If your bride loves a quality beverage, consider booking a winery, brewery, or distillery day tour. All your transport will be included, so no one has to be the designated driver or stress about parking. Your guide will take you to a variety of cellar doors or venues, where you can enjoy a tasting of their current release wine, beers, or spirits. Additional purchases to take home or enjoy with further bachelorette party celebrations are encouraged. Many also include a lunch stop, so you'll be able to indulge in a delicious meal showcasing local produce, often overlooking stunning scenery. This is a particularly great option if you live near a winery region like Napa Valley, Paso Robles, Finger Lakes, or Willamette Valley.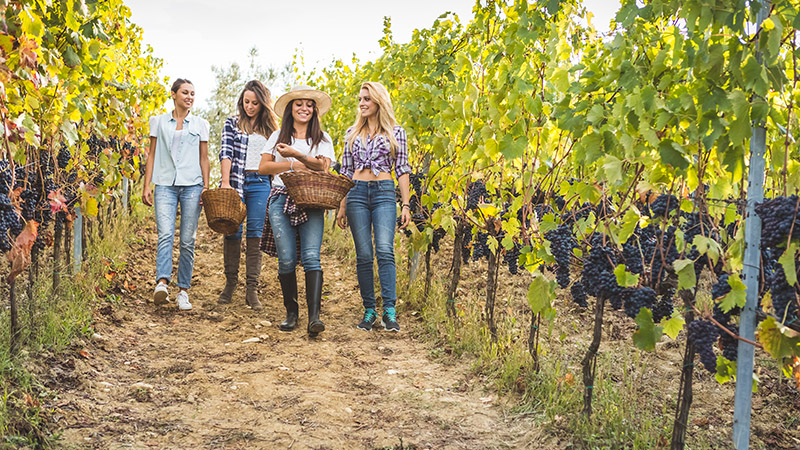 Creative Bachelorette Party Ideas
Get your artistic juices flowing for a bachelorette party with these creative party ideas. It's an excellent opportunity to try something different and learn a new skill, all while having a wonderful time.
Sip'n'Paint Session
Say hello to your inner artist with a sip'n'paint class. As a group, you'll each put brush to canvas and produce a masterpiece. While it might be daunting to some, you'll have an expert artist guide you through recreating an existing image. They'll teach you techniques and layering for the desired results. As you paint, enjoy lively conversation and a few glasses of wine. It's an excellent activity for all skill and creativity levels. If you want to make it a little bit saucy (because it is, after all, a bachelorette party), swap your sip'n'paint for a life drawing class with a nude model to capture the beauty of the human body.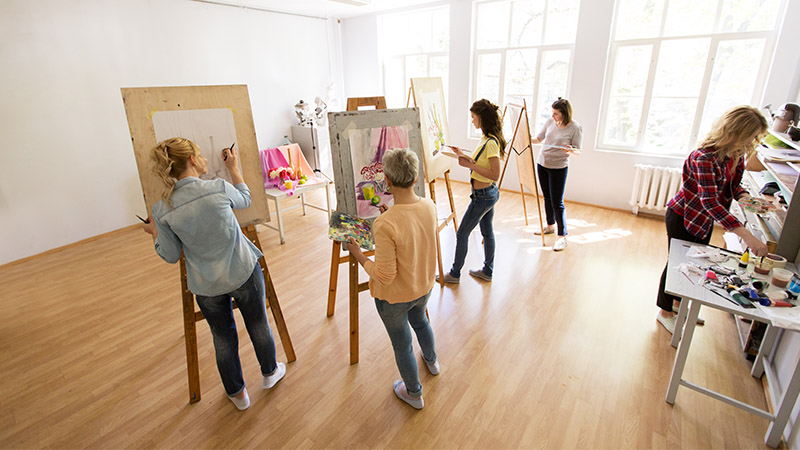 Mixology Class
A mixology (cocktail making) session is another way to inspire creativity at your bachelorette party. Not only will you learn a new skill to whip out at your next dinner party, but you'll also enjoy a couple of drinks along the way! You can hire a bartender to come to your house if you are hosting at home. Alternatively, some bars, restaurants, and cooking schools also offer classes. Best of all, if you choose not to drink, you can always swap cocktails for mocktails or incorporate non-alcoholic spirits instead.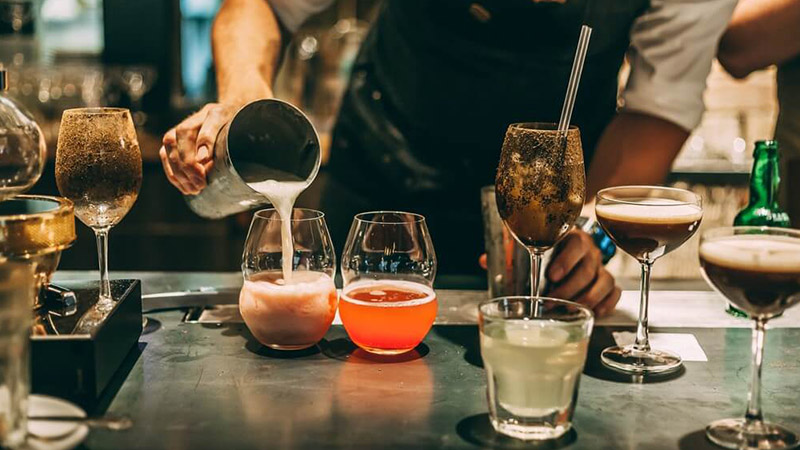 Murder Mystery
If your bride is the kind of woman who falls asleep listening to true crime podcasts, then a murder mystery party will undoubtedly appeal to her interests! There are venues that can host events for you, and all you need to do is show up. Otherwise, there are thousands of game kits online to order or download to play at home. Most will have a theme, so encourage your guests to dress up for the evening to get into character. You might have to find who murdered a glamourous dame in a 1920s speakeasy or which Wild West character is responsible for killing outlaws. You can get kits for as few as five or six people, or even up to several dozen.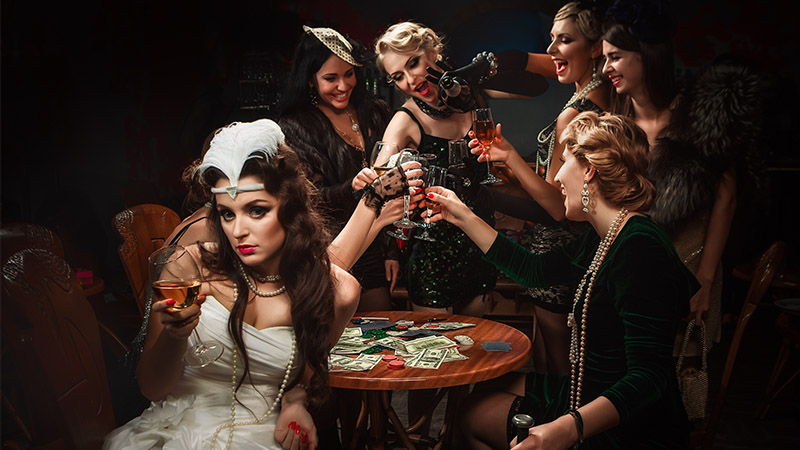 Pottery Class
Give your bride a Ghost moment with a pottery class. A bachelorette party throwing clay will let the girls get down and dirty in a wholesome manner. Plus, you'll get a souvenir at the end of it. While learning to make bowls or vases with a pottery wheel is what most people think of, free sculpting is another option. Here you can create whatever your imagination allows. You can also gamify this and get your guests to sculpt the bride's ideal man! Then she judges the best one at the end, and they win a prize.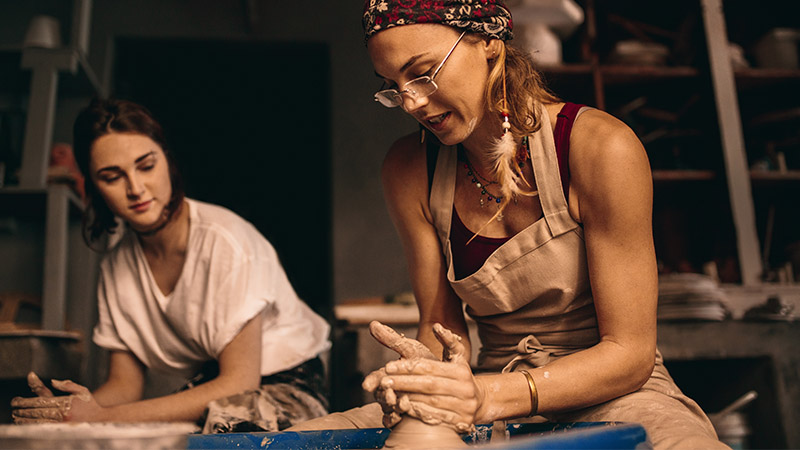 Get Glammed up for a Photoshoot
Most bachelorette parties will have some photos come out of the event. However, you can take this idea to the next level with a glamorous photoshoot for the bride and her posse. There's no better excuse for a pampering hairstyling session and expert make-up application! Not to mention, it's a good occasion for the bride to make the most of her trial hair and makeup run. Keep it casual or pick a theme and add accessories and styling. Use colorful smoke bombs, flower crowns, balloons, ballgowns, or fairytale costumes – it's easy to appeal to the bride's interests. In addition to her wedding photos, she'll also have a lasting memory of a beautiful day spent with her best friends.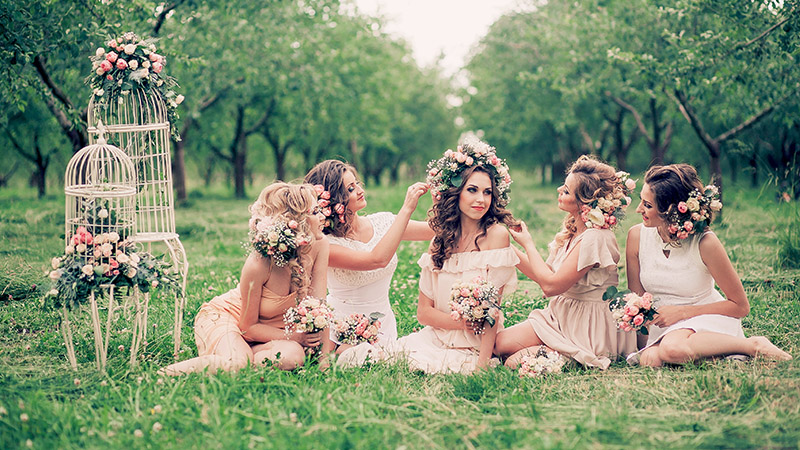 Low Key Bachelorette Party Ideas
You don't have to be a party animal to have an incredible bachelorette party. There are heaps of fun and engaging activities you can include that will let you chill out and relax while still getting to bed before the clock strikes midnight.
Private Wine Tasting
Brides who wish to keep it low-key needn't miss out on all the fun of a wine tasting. If you're hosting a bachelorette party at home or have rented a place for the weekend, an at-home wine tasting is an innovative idea. Some services send a sommelier to your location to guide your guests through a session. It's a personalized experience with excellent interactivity. You can learn more about your vino, including origin, production, and tasting notes. Virtual tastings are also another option. You'll get sent the wine and can either dial into a session or watch a pre-recorded video with a wine expert. Plus, if you find a drop you really love, many places keep their tasting wines stocked so you can order more for your own cellar or wine fridge.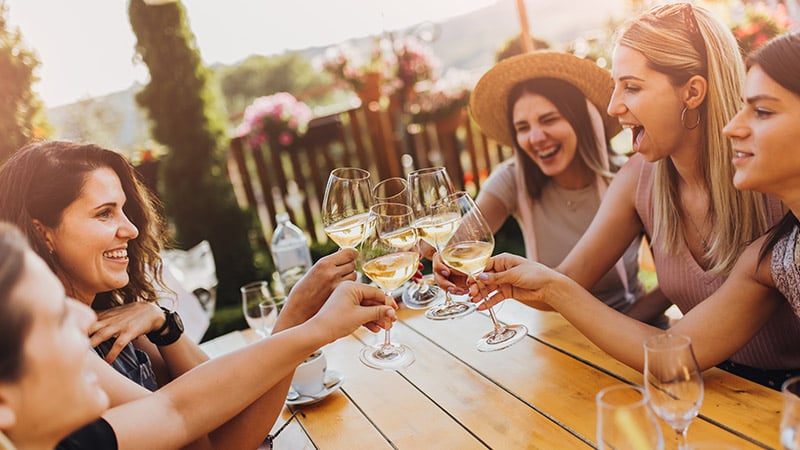 Cooking Class
Another low-key bachelorette party is a cooking class – either at home with a private chef or at a cooking school. It's a fun and interactive way to learn a new skill, hone a signature dish or discover more about a particular cuisine. You could learn how to make curry paste from scratch, roll the perfect gnocchi, or even bake complex pastries. Plus, you get to enjoy your tasty creations at the end – a delicious reward for all your hard work.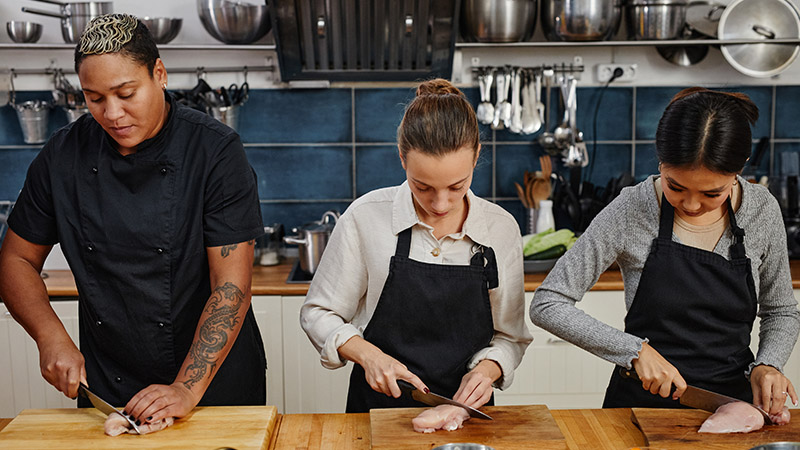 Spa Day
The lead-up to a wedding can be a bit stressful, with all the organization and planning required. As such, it's a great excuse to book a relaxing spa day for your bride's bachelorette party. She'll be able to relax and enjoy a quality pampering session. Choose from treatments like facials, massage, body brushing, and mud wraps, plus facilities like sensory deprivation tanks, hydro-massage pools, and saunas. Many spas will have packages tailored for celebrations, which include treatments, lunch, and a glass of bubbly. Just make sure you don't book it too close to the wedding, in case any beauty treatments clash with the bride's plans (like waxing too close to her spray tan date!).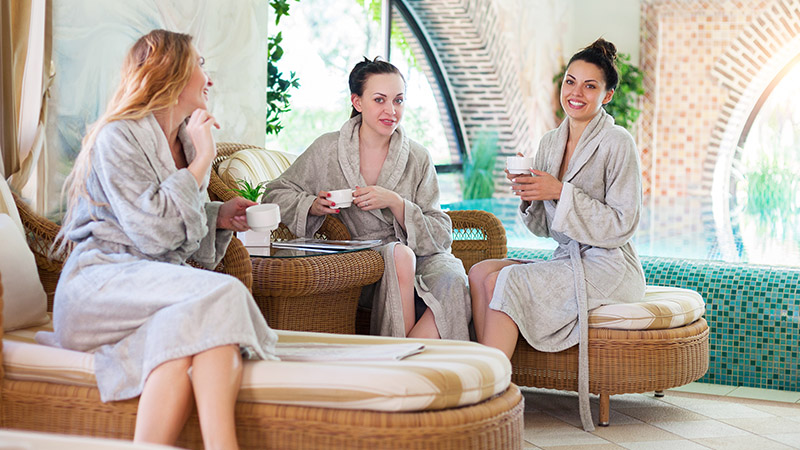 Yoga or Wellness Retreat
Another possibility for stressed brides is a yoga or wellness retreat. A bachelorette party here will focus on inner health and peace while embracing nature and cherishing your body with gentle movement. Many retreats are located in stunning locations, making it easy to get back to nature. Some are also technology-free, so you can enjoy a digital detox at the same time. This kind of celebration is often better suited for smaller groups, such as just the bride and her bridal party.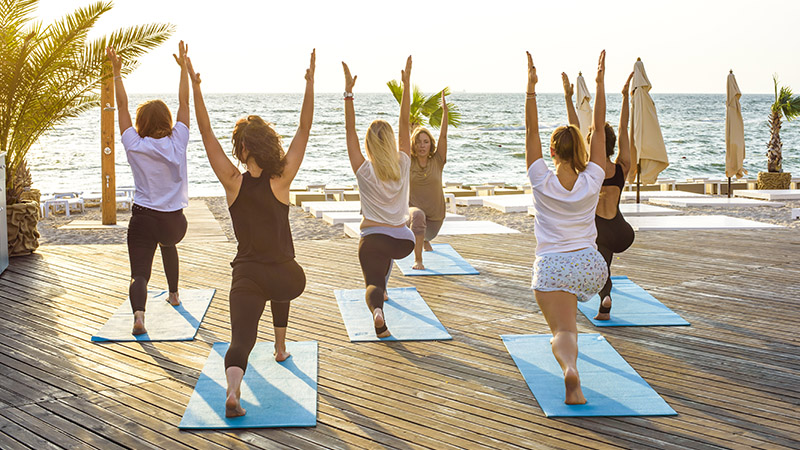 Fancy Picnic
Take your picnic game up a level for a chilled bachelorette party. Swap the traditional waterproof rug and paper plates for an elaborate set-up complete with cushions, plush rugs, tables, proper plates and cutlery, table linen, decorations, and crystal wine glasses. Then, bring in expert catering for savory sandwiches, mini quiche, sushi, and sweet treats like cupcakes, macarons, and citrus tarts. Keep a cooler box with ice nearby for your wine, and you've got a picnic Yogi Bear would envy. Not only is this a fantastic way to spend a warm afternoon, but it also provides an excellent aesthetic for your Instagram pictures!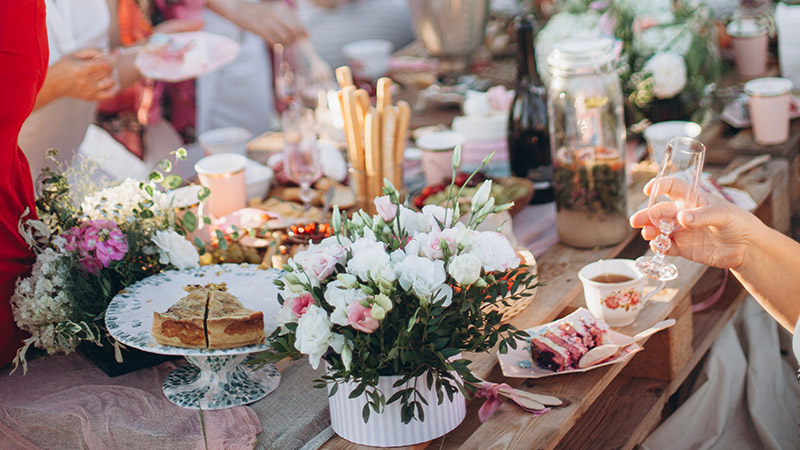 Unique Bachelorette Party Ideas
Bachelorette parties should be just as unique and special as the bride you're celebrating. As such, you don't have to stick to convention when planning the event – look for quirky and offbeat activities that reflect the bride's interests!
Roller Skating Party
Roller skating has had a resurgence in popularity, so make your way to the roller rink for a bachelorette party that combines childhood memories with some fun exercise. Don your best 70s or 80's outfits, throw on your skates, and groove to iconic tunes. Some venues offer food and drink packages, making party planning simple. Meanwhile, other spaces might host theme nights with all-inclusive tickets and prizes for the best costume. Just make sure your bride wears her safety gear, so no bruises need to be photoshopped out of the wedding photos!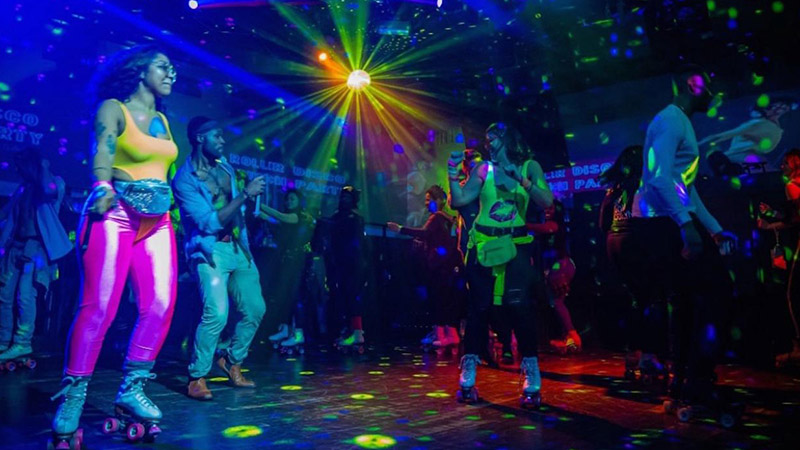 Camping Trip
Bachelorette parties don't need to be based in the city or an urban center. Instead, take your outdoors-loving bride on a camping trip to the middle of nowhere. You'll get to reconnect with nature, enjoy s'mores by the campfire, and spend hours stargazing into the clear night sky. It's a convenient opportunity to add on other nature-based activities such as hiking, swimming, or fishing. Plus, camping is generally a lower-cost activity, so it's ideal if you have a stricter budget. If you want to splurge a little more, swap camping for glamping for a touch of luxury. You'll enjoy permanent tents, real beds, bathroom facilities, and sometimes even kitchenettes, all while still immersed in rustic, beautiful surroundings.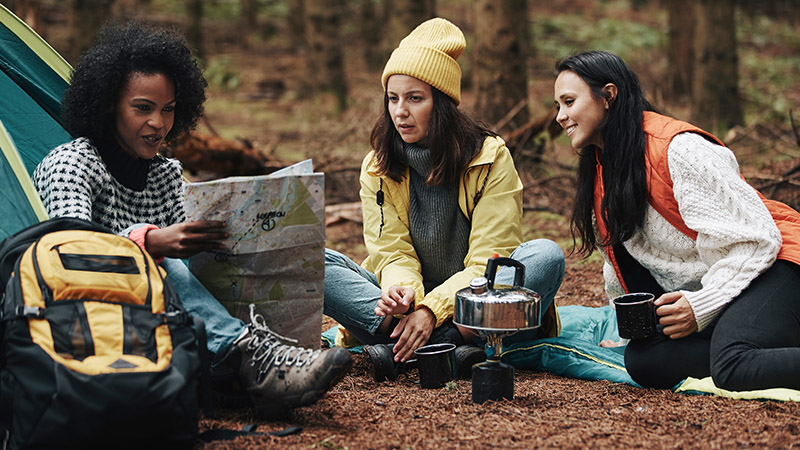 Adventure Activities
Get the adrenaline flowing with an adventure-packed bachelorette party! This is perfect for brides who love to challenge themselves, get active, and have fun. Depending on where you live, you could head to an adventure park with high ropes courses, ziplining, or obstacle courses. If you're by a river or the coast, why not give kayaking, white water rafting, or snorkeling a go? Alternatively, if you want an even bigger thrill, bungy jumping, jetboating, or skydiving is sure to test even the bravest souls. It'll be a day to remember!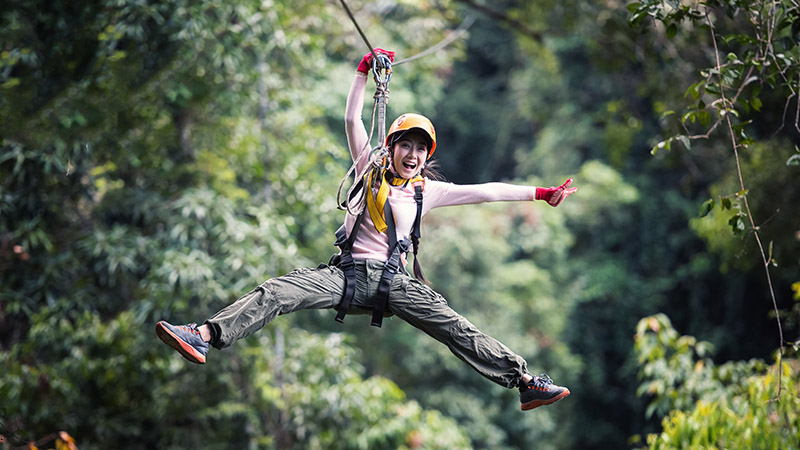 Dinner Crawl
If your bride is passionate about good food, then a nice dinner is a must for her bachelorette party. Elevate the experience by swapping a traditional dinner for a dinner crawl. You'll be able to find one in most large cities. With this concept, you'll enjoy several courses across multiple venues, enjoying one dish at each stop. It's a brilliant way to try out different restaurants and keep the evening interesting. An alternative to a progressive dinner is a walking food tour, where you'll enjoy samples at a variety of establishments, from fine dining to street food and everything in between. Along the way, your guide will entertain you with commentary and show you hidden gems.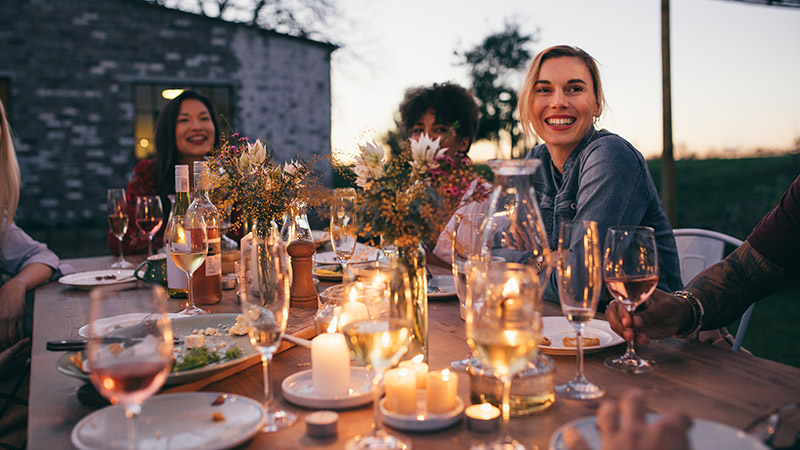 Axe Throwing
Spa days and yoga retreats are great for relieving stress, but so is chucking an axe at a wall. If you're looking for a unique bachelorette party idea, then embrace your inner Viking with an axe-throwing session. As this novel activity becomes increasingly popular, more venues are popping up around the country. You can book a lane or two for a session, following it with a beer and food package. It's a surefire way to guarantee belly laughs and excitement as you tame your lumberjack tendencies. Just keep in mind that most places won't let you throw if you've had alcohol before your session (for obvious reasons), so don't pregame!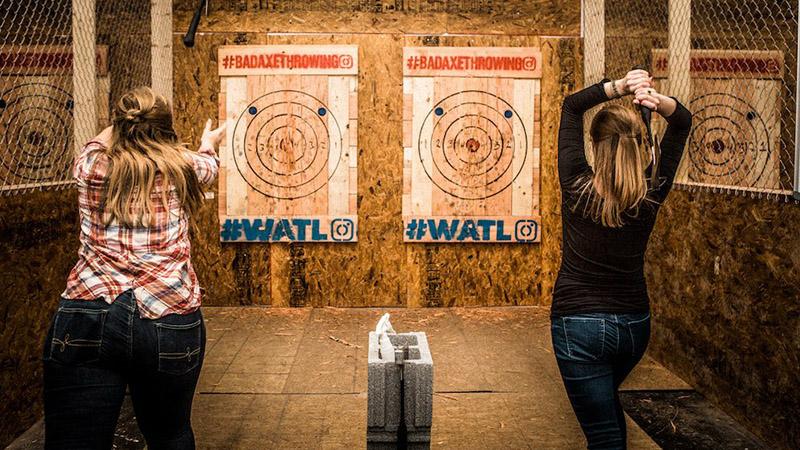 Wild Bachelorette Party Ideas
Brides who like to party hard or have an unconventional approach to life will be looking for something different and a bit wild for their bachelorette party. These ideas will give them the chance to let their hair down, dance till the sunrise, or make permanent memories.
Music Festival
A music festival is already the ultimate party. There's live music, an incredible atmosphere, creative outfits, and plenty of food and drinks. As such, if your bride is into it, it's a no-brainer to incorporate both and celebrate the bachelorette party there. At multi-day festivals, book accommodation or a campsite together, so you can spend downtime as a group. Meanwhile, for single-day events, it can be hard to keep everyone together, so choose rendezvous points and times in advance to meet if separated. After all, you want to spend time and make memories with each other! Many festivals happen over spring and summer when the weather is warm and delightful. That means it's perfect timing for late summer or fall weddings.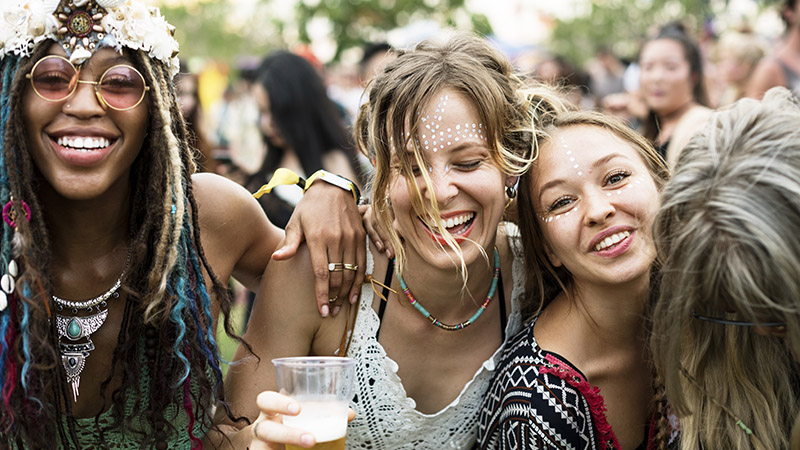 Matching Tattoos
Has the bride ever discussed getting matching tattoos with her besties? Get her to finally commit to it at the bachelorette party! While it might seem wild to some, if the bride and her friends already have some ink, adding to the collection won't be a huge deal, especially if it's a small design. Then, if it's someone's first, a petite, elegant piece isn't too over the top or scary. Of course, it's a big decision, and if you're not sure, then matching temporary tattoos is an excellent alternative. You can get the kind that only stays on for a couple of days or choose one that will last for one to two weeks before fading.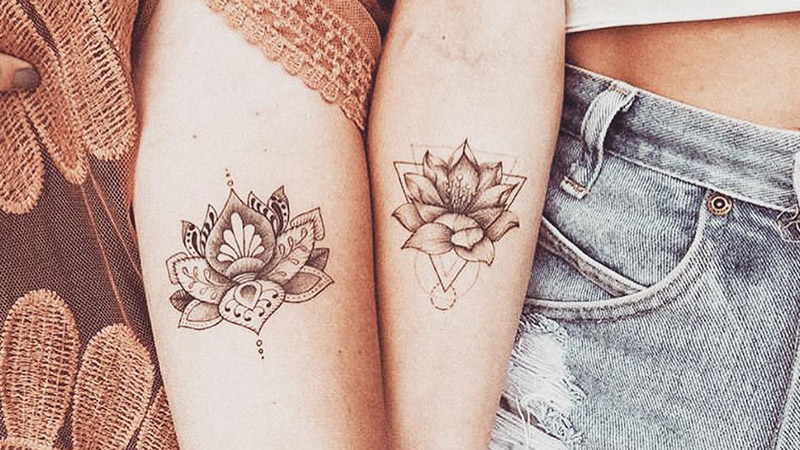 Pole Dancing Class
Embrace your wild side and learn some sexy dance moves with a pole dancing class. It's a great way to bond, build fitness and is the perfect activity for an unconventional bachelorette party. You may not learn a whole routine, but you will pick up some techniques and skills while having a blast. If pole dancing isn't your jam, lap dances or burlesque are excellent alternatives (plus the bride might pick up some husband-to-be seduction moves!).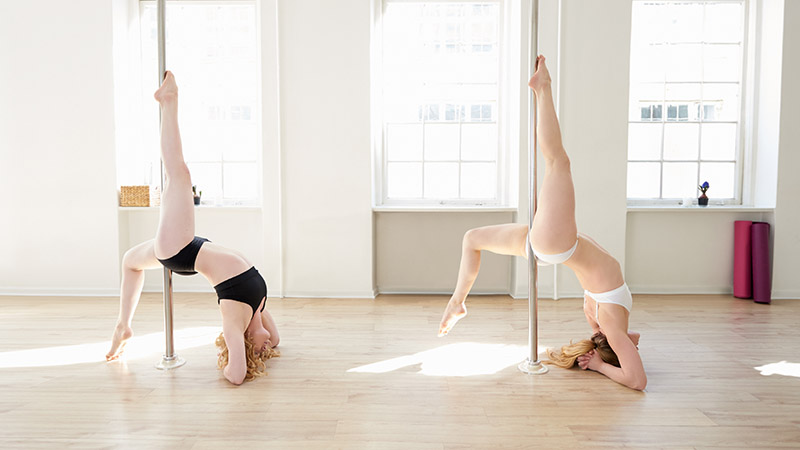 Yacht Day
Grab your bikinis and sea legs and set sail for a day on the water. Take a luxury yacht charter along the coast, enjoy time in the sun and swim in crystal clear water. Combine it with a fresh seafood lunch and a couple of bottles of Champagne, and you're in for a wild and wonderful day. Best of all, the crew and captain will look after all your needs, so no one has to stress about anything. If you're planning the bachelorette party in a landlocked location, a river or lake booze cruise is a similar option that still embraces a carefree day on the water.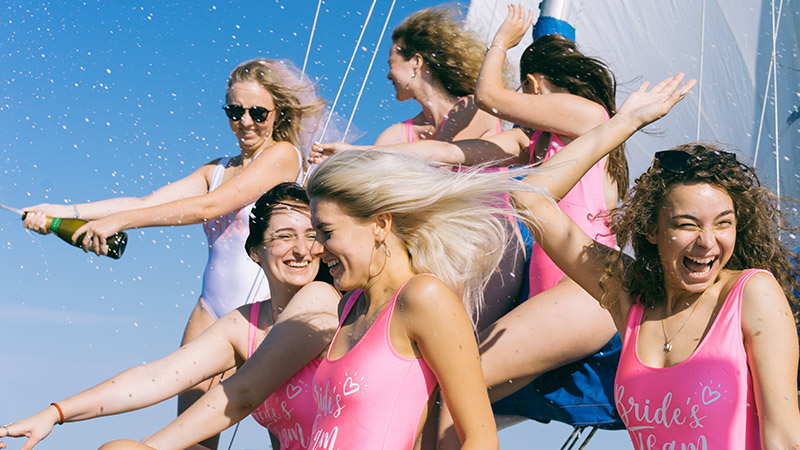 Night on the Town with Karaoke
While there are a lot of creative and elaborate bachelorette party ideas, sometimes it's good to keep it simple. A classic night on the town with karaoke is always a solid choice for brides keen to party. Choose from open mic nights if you're not afraid to sing like no one's listening. Alternatively, many karaoke joints offer private rooms, so no one but the bride's best friends will hear her enthusiastic yet slightly off-key Adele rendition. After belting your heart out with 90s classics, it's time to hit the dance floor and show the world your moves. Pick a club playing the hottest DJ, or opt for somewhere with throwback tunes to relive the "good old days."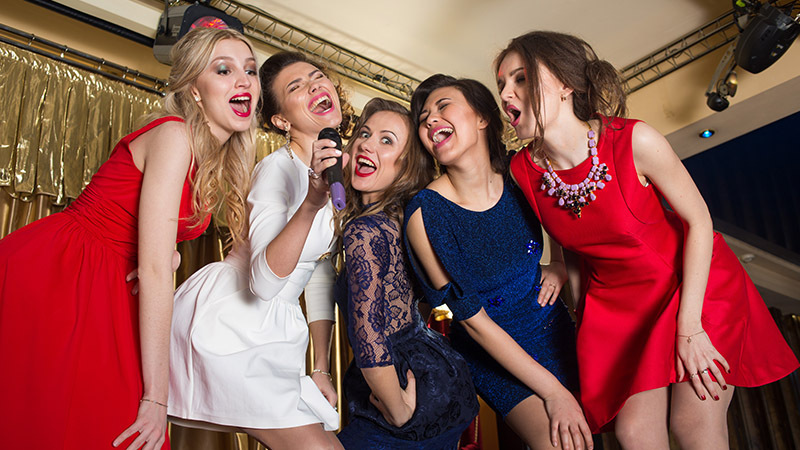 Bachelorette Party Gifts for Bride
Add a special touch to the day by giving the bride a gift. It could be something relevant to the party, such as a bride-tribe outfit, silk robe, party games, or other accessories. Alternatively, you can gift something she'll use outside the event but is thoughtful or relevant to the wedding. A lingerie subscription, boudoir photoshoot, or massage oil are a great confidence boost. Other options include spa vouchers, candles, a custom-made jacket for the wedding day, a cocktail recipe book, jewelery, or something for her home. Whatever you choose doesn't have to be flashy or expensive, as you're also spending money to gift her with your presence at the bachelorette party.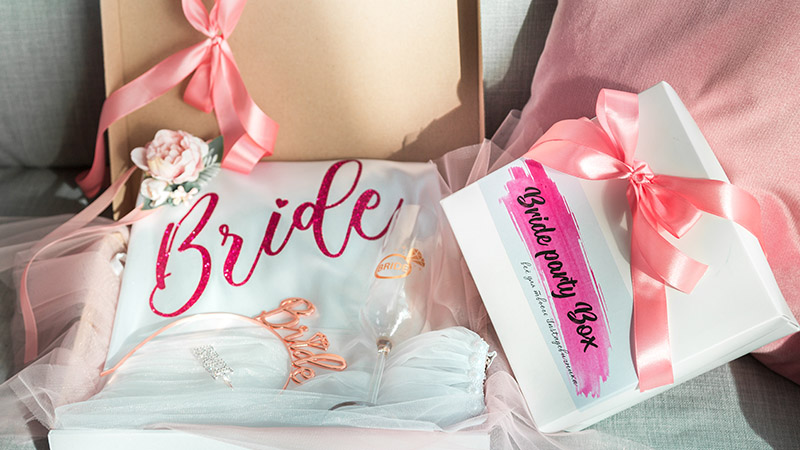 Bachelorette Party Decorations
Pink and white tend to be a classic color combination for bachelorette party decorations. However, choose a color theme that your bride will love. When it comes to decorations, flowers, sparkly bunting, photo booth accessories, balloons, and mini veils are iconic. If you're planning a bit more of a saucy event, then certain phallic decorations are common. You can also personalize the theme and print pictures of the happy couple from different times throughout the relationship. This is especially touching if they've had a long relationship, as it gives the bride a chance to reflect on the happy times that built up to the marriage.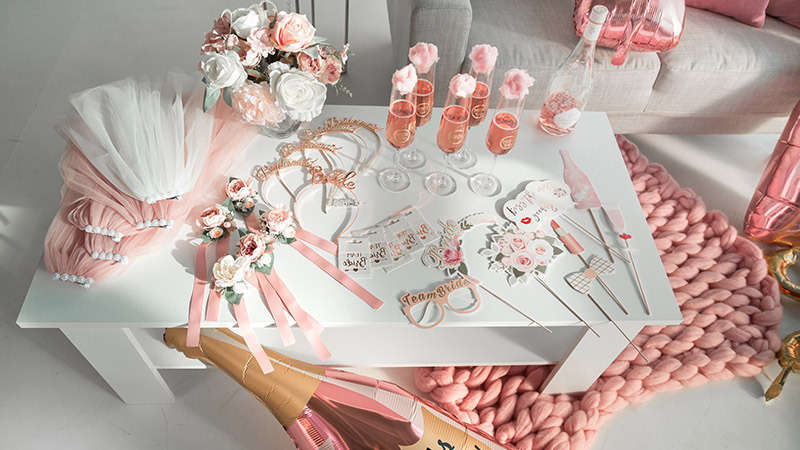 Bachelorette Party Outfits
A dress code doesn't have to apply at a bachelorette party. However, having all your guests in coordinating or matching outfits certainly makes a striking aesthetic! Often, the bride will stand out with a contrasting look. This could be white as a nod to her wedding dress or just a different color than the rest of the group. If you're hosting a pool party, matching swimwear and hats look excellent. Meanwhile, for painting the town red, the bride tribe rocking a color such as black or pink will ensure everyone notices the woman in white! Finally, for daytime or casual activities, it's relatively inexpensive to get custom-made t-shirts or even matching flower crowns.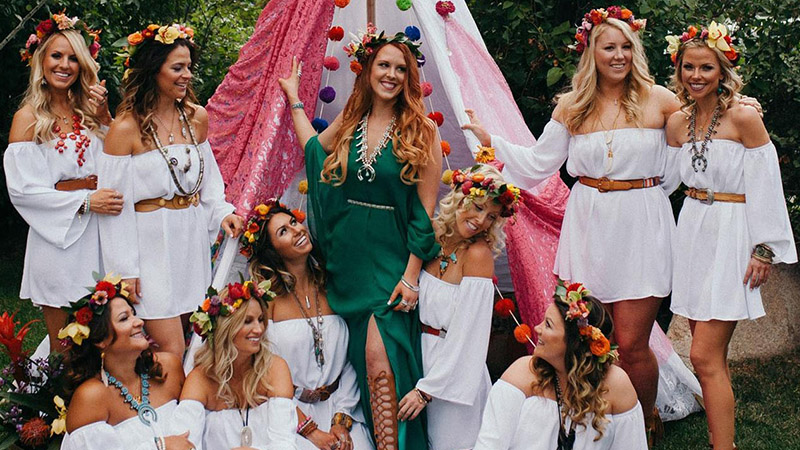 Bachelorette Party Invitations
One of the most critical aspects of the bachelorette party is the invitation. While they might not seem exciting, they'll contain the most important information for the guests. If you've picked a theme for the event, start strong by having your invites match it. Then, the information you'll need includes the bachelorette's name, location of the event, date and time, hosts and contact details, and RSVP date. You'll also want to note costs and what that covers, the payment due date, the itinerary, and approximate times. Optional extras include packing suggestions for a weekend trip, accommodation ideas if guests need to book themselves, and dress code or theme. Ideally, the RSVP date should be a month or two before the party. That way, you can finalize reservations and bookings.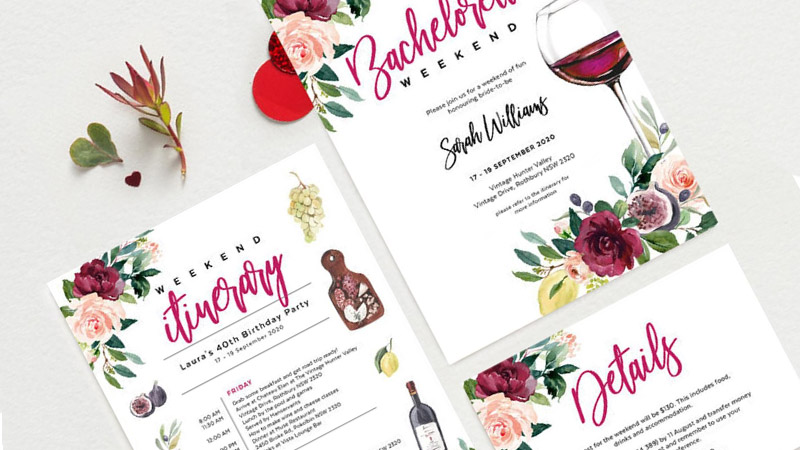 FAQs
What do You do at a Bachelorette Party?
What you do at a bachelorette party will vary. You might join activities such as an escape room or treasure hunt or just enjoy a lunch or dinner. Drinking, dancing, and fun games are common, as are winery tours, spa days, and destination events. Most of the time, the invitation will give you an idea of what to expect. 
What to Wear to a Bachelorette Party?
What you wear to the bachelorette party will depend on the activities and any chosen theme. Your invite should mention any applicable dress code or outfit requirements. In general, you should expect to glam up at least a little, as it is a special occasion, even if you're not hitting the town. It's the perfect excuse to splash out on a new outfit!
What is The Difference Between Bachelorette Party and Bridal Shower?
A bachelorette party is a celebration of the impending nuptials. It's a chance for the bride to spend time with her closest friends before the wedding, let loose, and de-stress a little from all the planning. Meanwhile, a bridal shower is to help the bride prepare for married life. It's a more subdued affair with a larger invite list, including family members such as mums, aunts, grandmas, sisters, and cousins. It's commonly a morning or afternoon tea. Traditionally, guests would shower the bride with useful gifts such as household items so the marital home is sufficiently equipped. 
What is The Point of a Bachelorette Party? 
The point of a bachelorette party is to celebrate the bride-to-be as she farewells her "officially unattached" status. While it's not an essential event, it's a lovely occasion to share with close friends and family. 
Do You Take a Gift to a Bachelorette Party?
A gift is not necessary but always welcome. If you choose to give something, it doesn't have to be expensive or flashy. Pick something personal that reflects your relationship with the bride or that she might find useful for the wedding (or honeymoon!). 
SUBSCRIBE TO OUR NEWSLETTER
Subscribe to our mailing list and get interesting stuff and updates to your email inbox.