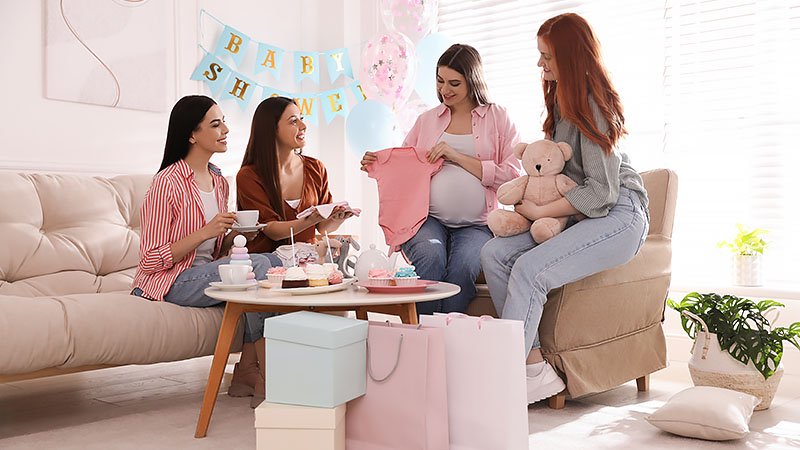 A baby shower is a special event and an excellent opportunity to celebrate the expectant parents and their future child. It is a time to show them how much you love and support them, and your presence at this party will be greatly appreciated. When attending a baby shower, it is customary to bring a present. Whether it's something practical and great for every day or a rare find, there is something to suit every budget. Find the ultimate baby shower gift for mom and dad or focus on their baby; this list will help you narrow down your choices to find the perfect gift.
1. Baby Shower Gift Ideas for a Boy
If you know a happy couple who is expecting a little boy, then this is the perfect gift. The keepsake suitcase design is filled with the cutest blue-colored starter kit, including a muslin cloth, soft toy, socks, bodysuit, baby brush and comb set, lotions, and much more. The way it is packaged makes your gift-giving experience even simpler as you do not need to worry about wrapping it. Add a card with some sweet words of encouragement or advice for raising boys, and you have a beautiful and memorable present.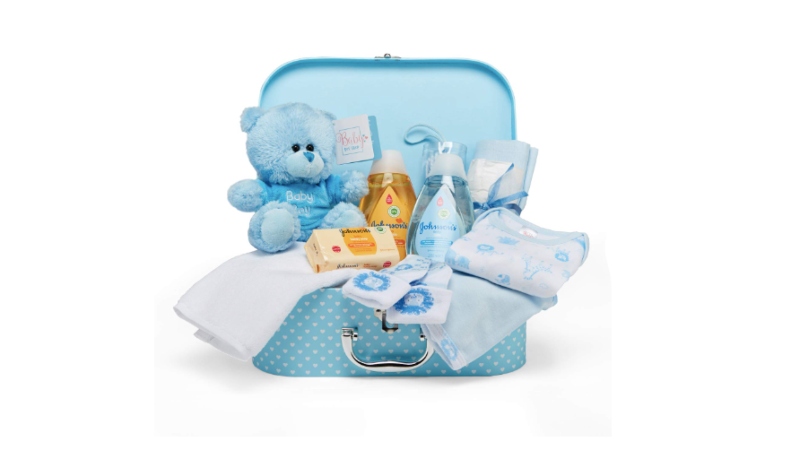 2. Baby Shower Gift Ideas for a Girl
When choosing the sweetest gift for a little girl, you can stick to the classic pink color, or pick items that are delicate, pretty, and have lace and trims that would be traditionally worn by little girls. There are many options to choose from, but finding a beautifully wrapped hamper, like this one from Baby Box Shop, is a great choice. It is also a practical present, giving the new parents a starter kit filled with good quality baby clothes, including a cotton bib, socks, hat, and scratch mittens. The hamper includes a girl-themed photo frame, toy, and pink muslin cloth. It is beautifully presented, giving it a real wow factor.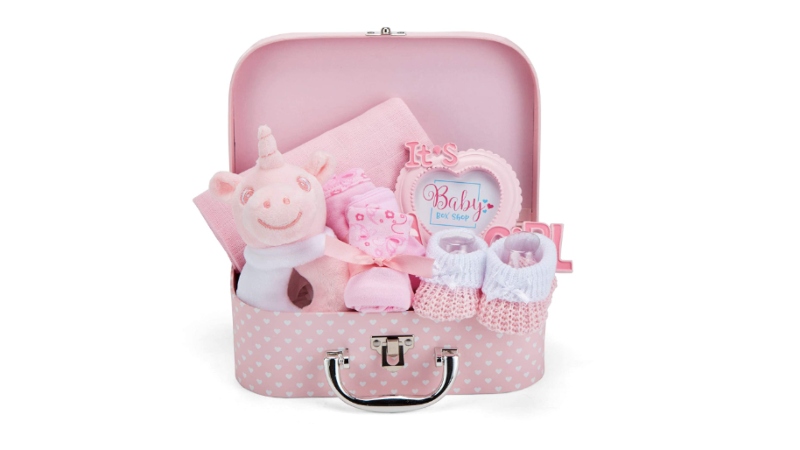 3. Gender Neutral Baby Shower Gift Idea
Gender-neutral presents are a great idea and can be used by multiple children. The Kopi Baby's diaper changing pad is an excellent portable product for when parents are on-the-go and need to change their baby. This ensures you always have a clean surface to change your little one, without having to worry about using public facilities. The design is practical, using velcro straps or buckle loop to fasten onto things, including your handbag or stroller. It features a reversible pocket to give easy access to wipes, a mesh pocket for toys and diapers, and a removable changing pad.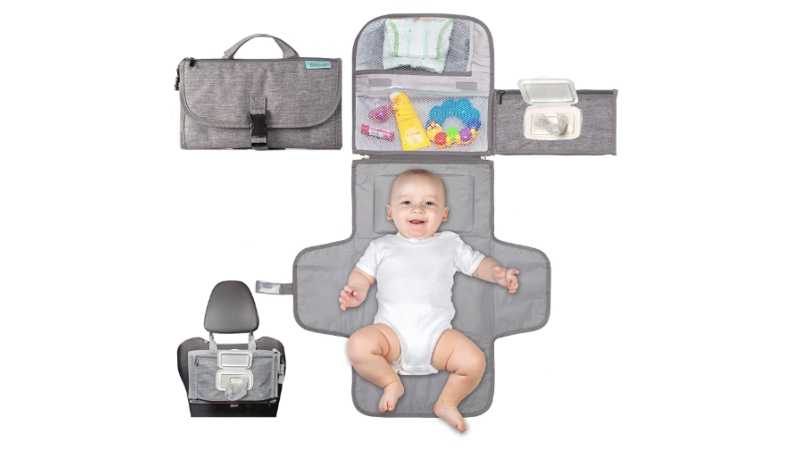 4. Baby Shower Gift for Twins
If you know an expectant mother who will be having twins, then a twin gift set is an excellent present. The Tickle & Main, We are Twins package includes two elephant rattles that are similar but slightly different, as a reminder that twins are individuals who are special and unique. The gift also includes a sweet rhyming storybook about twins. It is a gender-neutral present and is a wonderful way to honor the special bond shared between twins but is also a reminder to celebrate their differences.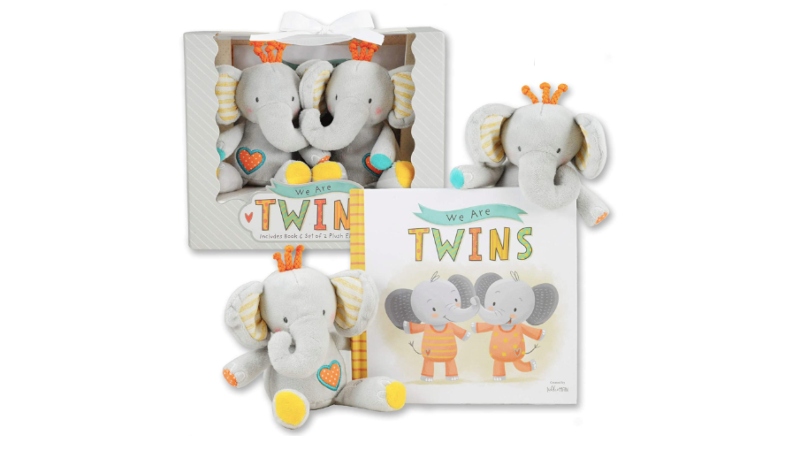 5. Baby Shower Gift Ideas for Mom
It has become a popular trend to give the new mom a "push present." This can be something big and expensive or small and symbolic. You can determine which gift will be most appreciated by your wife, but an affordable and cute option is a pair of labor and delivery socks. Your partner will likely be hyper-focused on the task at hand during this moment, but on the odd chance they look down at their feet, these socks may bring a smile to their face. It is also a way to show your support. The socks have the message, "Relax, Breathe, PUSH!" They are also non-skid, comfortable, and warm.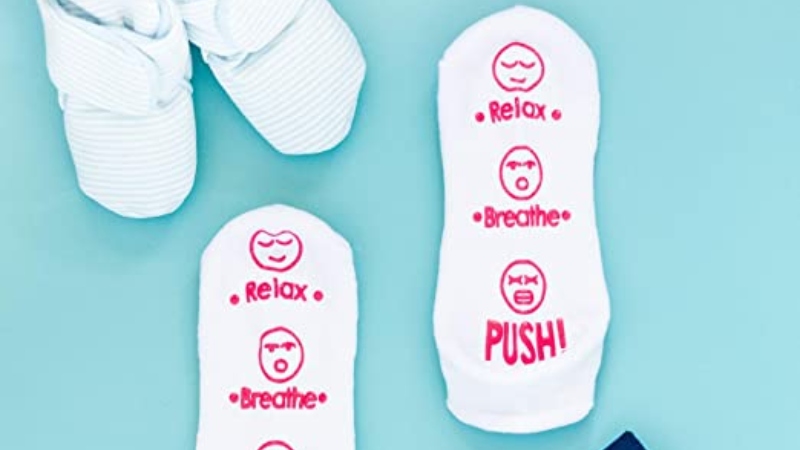 6. Baby Shower Gift for Dad
Traditionally, baby showers have been a celebration of the soon-to-be mother and her future child. However, this is also a time to show your appreciation for the dad, and a lighthearted gift like the Big Dot of Happiness Daddy's Diaper Duty Device is a great way to show your sense of humor and also make the new dad feel included in the festivities. The tool belt-inspired apron is funny, but it's also practical with space for all the changing necessities. This includes diapers and wipes, travel-size baby products, safety glasses, and a poem.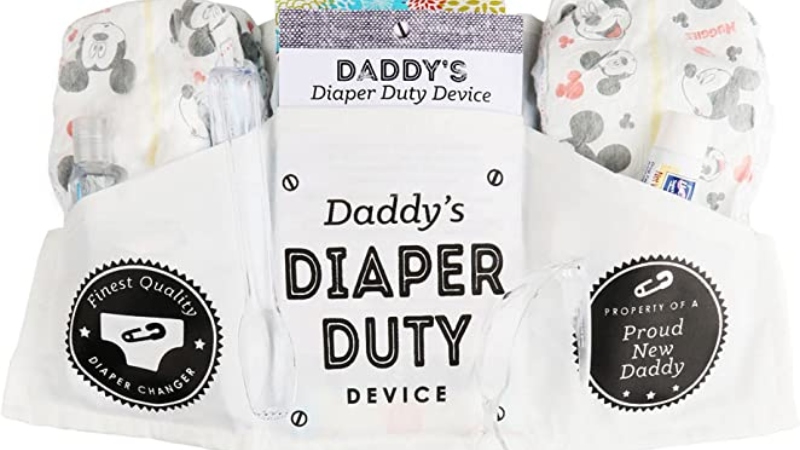 7. Baby Shower Gift for Mom and Dad
A baby shower is as much about the expectant parents as it is about celebrating their unborn child, and a baby shower gift to show your love and support for them will be greatly appreciated. There are many presents to choose from, but a set that has it all is one of the best things money can buy. This cute already packaged gift includes mom and dad mugs, a frame, a bath bomb, handmade soap, and a soy wax candle. There is also a gift for the baby, including a zero to three months onesie and bib.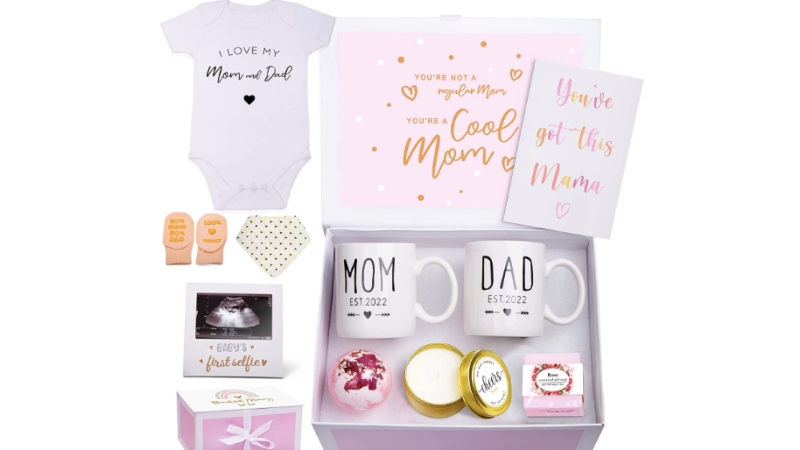 8. Baby Shower Gift for a Wife
Bringing a life into the world is one of the most beautiful things in the world. But it is also taxing on the body, and showing your appreciation for your partner while she is pregnant with your child can give her the support and comfort she needs to know she is not alone in this journey. Jewelry is always a great choice because it is symbolic and can be worn or kept as a keepsake. There is something to suit every budget and style, and this sweet double-circle necklace is among them. This is a meaningful design in which the circles represent mother and baby and show their bond. Choose from sterling silver or 14K gold vermeil.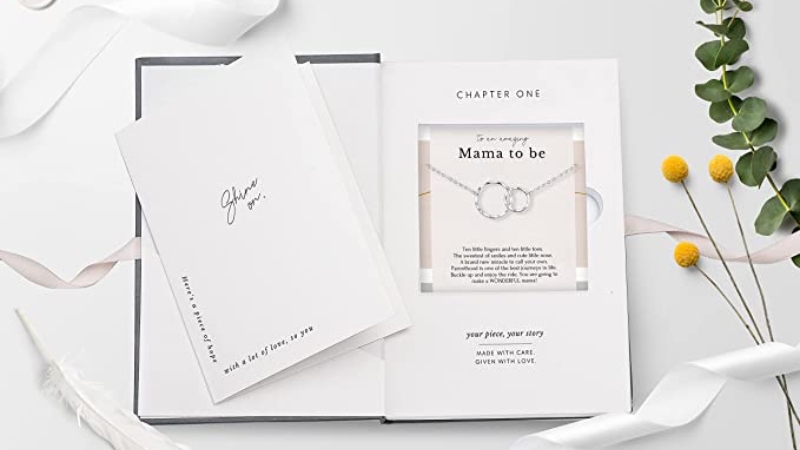 9. Baby Shower Gift Bag
The right packaging can make your gift look impressive and cute, and bright wrapping is a lovely way to get into the spirit of gift giving. If you have picked out the perfect present and a selection of gift bags, look no further than the Fzopo baby gift bag assortment. It includes several sizes and designs with a matte finish.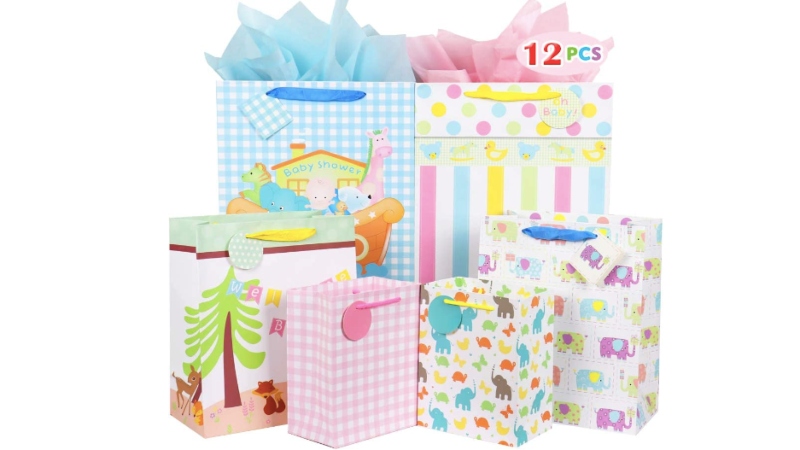 10. Baby Shower Gift Basket
Picking and choosing different pieces to create a gift basket is a great idea, or you could just find an already packaged present to make the gift-giving process even easier. This adorable baby-themed basket includes a bodysuit, bib, hat, knitted booties and socks, a blanket wrap, a hooded towel, muslin clothes, and a teddy. The cream colors make it gender neutral and ideal for a boy or girl. It is a great starter present, especially for first-time parents, and will provide them with a few essentials.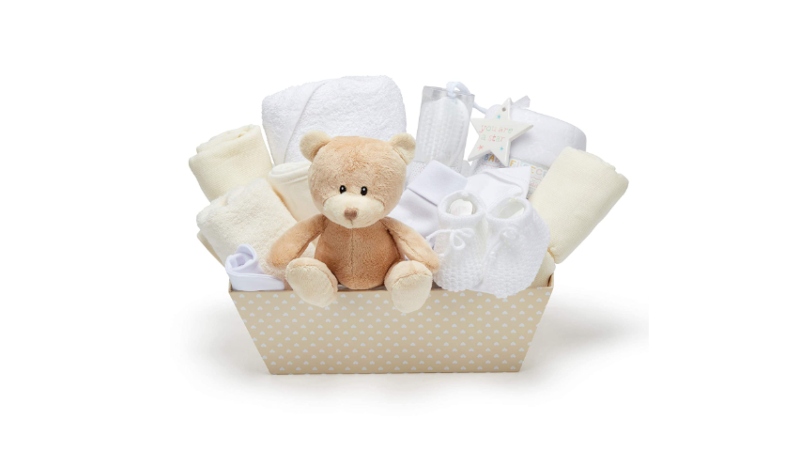 11. Baby Shower Gift Set
The Peanutshell has created a gift hamper that includes all the essentials for a newborn as well as some very cute extras. The set includes bodysuits, scratch-prevention mittens, beanies, a zipper sleep sack, and burp cloths. The gender-neutral colors make it the perfect gift even if you do not know the gender. Each piece can also be easily mixed and matched.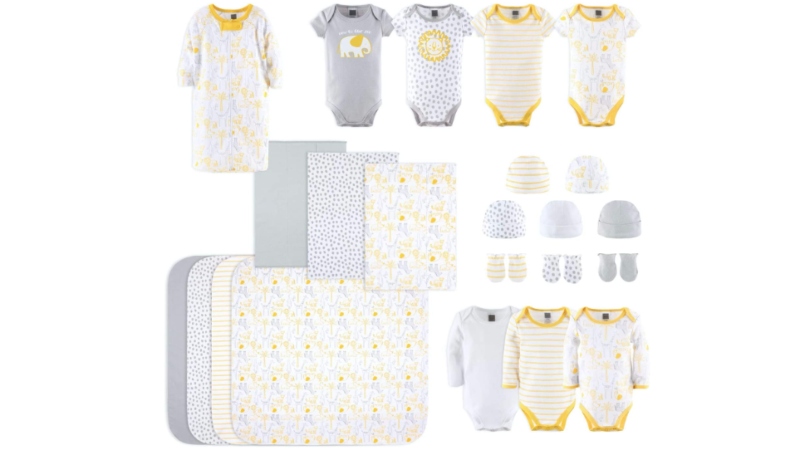 12. Unique Baby Girl Shower Gift
Can you ever have too many socks? The answer to this question is probably no because they are forever getting lost, and new parents will appreciate as many baby socks as they can get. Of course, it helps if they are warm, soft, and have super cute patterns or messages on them. And the BRING ME SOCKS Store has provided you with the ultimate, affordable gift set for baby girls. The set includes four packs of socks with cute quotes on the bottom, which are presented in a box. The socks are created using 80 percent cotton, 17 percent polyester, and 3 percent elastane and will fit babies from around three to twelve months.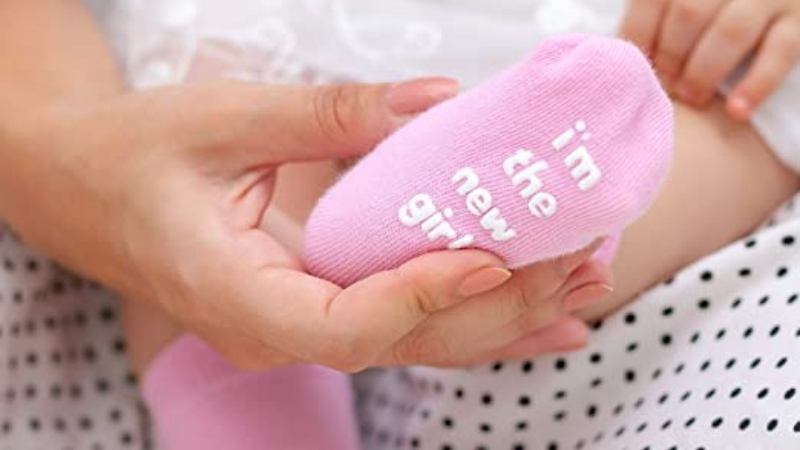 13. Unique Baby Boy Shower Gift
If you are looking for inspiration for a baby shower gift for a baby boy, look no further. The ZIRI & ZANE Store has some of the cutest socks, which are durable, comfortable, and breathable. Created with a no-pinch cuff and no excess threads, the socks come in a range of animal designs and various colors. They are perfect for newborns and up to three months and should have a high-rise fit to prevent them from falling off their tiny toes.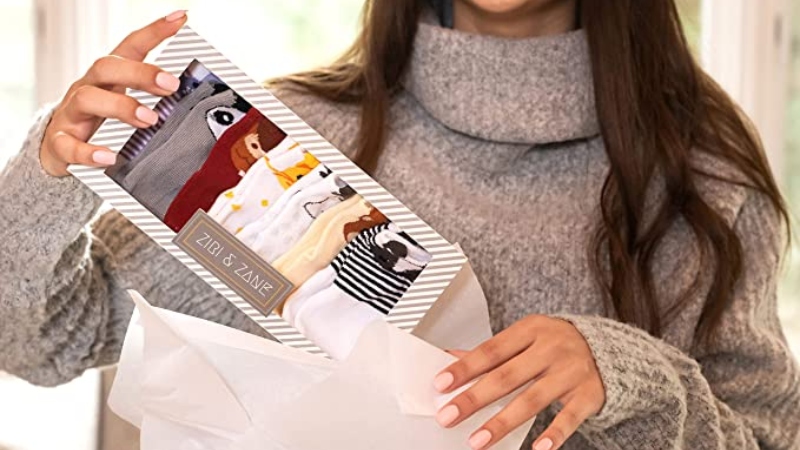 14. Baby Shower Party Gifts
If you have organized a baby shower for your loved one, or you are the expectant mom and want to thank everyone who was in attendance, you can do this with party gifts. Party gifts are often inexpensive and a small token of appreciation. It is also a beautiful memory from the special day. These baby bottle-shaped bottle openers are practical and sweet. They are presented in a gift box and created using hard zinc alloy with an electroplated gold surface. They come in a pack of 24, and there are different colors to choose including blue and pink.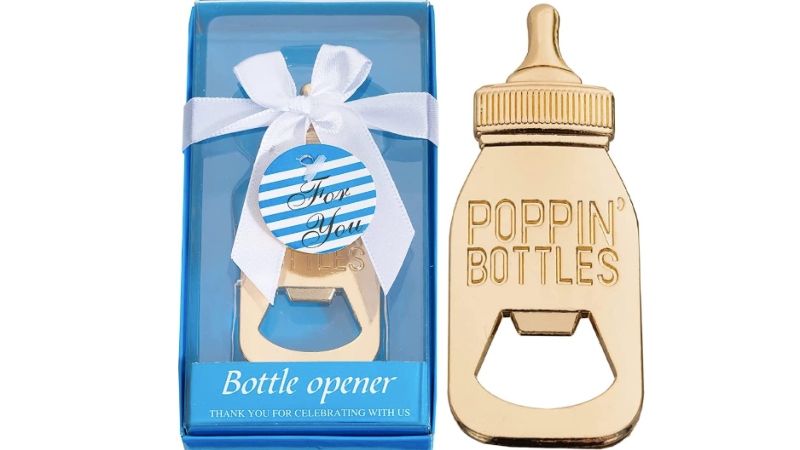 15. Baby Shower Game Gift
Baby showers are one of the most memorable moments in many pregnancies because it is a time to get together with loved ones and have fun. To make the event even more special, you can try playing a unique party game. The Party Hearty Baby Shower Games is a way to get everyone together to share a few laughs and show their playful sides. It includes 33 cards that are printed on thick, matte cardstock. It is easy to play, letting everyone join in on the fun.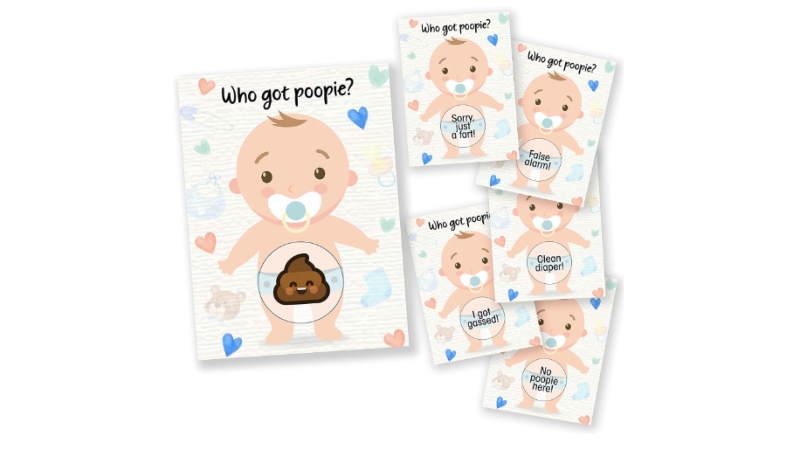 16. Common Baby Shower Gift
A stunning present that will not go unnoticed is the Kolcraft – Cloud Plus baby stroller. It is a lightweight design that makes it easy to transport and thus ideal for going about your errands or for travel. It also has a one-hand and self-standing fold, which is necessary when holding a baby. There is an extended canopy to facilitate UV protection and the 5-point safety restraint system. There is a storage basket below to make it easy to transport necessities like diaper changing and a removable child tray and parent tray. The stroller is ideal for children up to 50 pounds and 40 inches tall.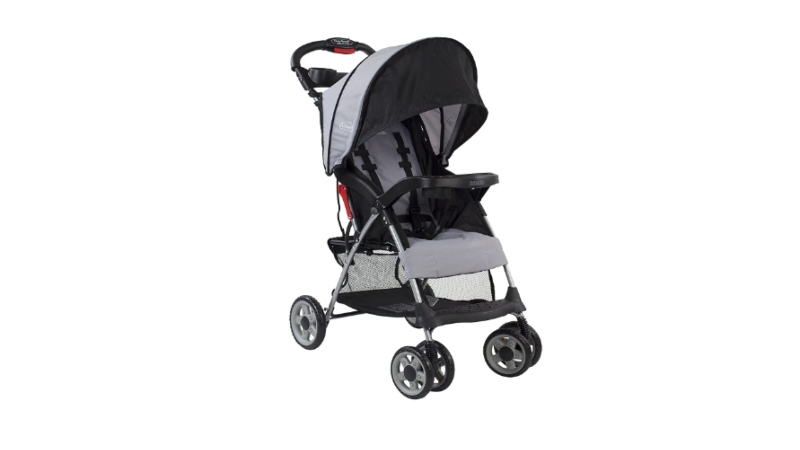 17. Baby Shower Gift Card
If you are unsure of what to give to the expectant mom or feel that giving her the option to choose what she needs is best, then an Amazon Gift card is an excellent choice. There are several designs to choose from with cute baby-themed cards and a separate mailing envelope. You can choose the amount that best suits your budget; there is no expiration date on the gift card and no fees.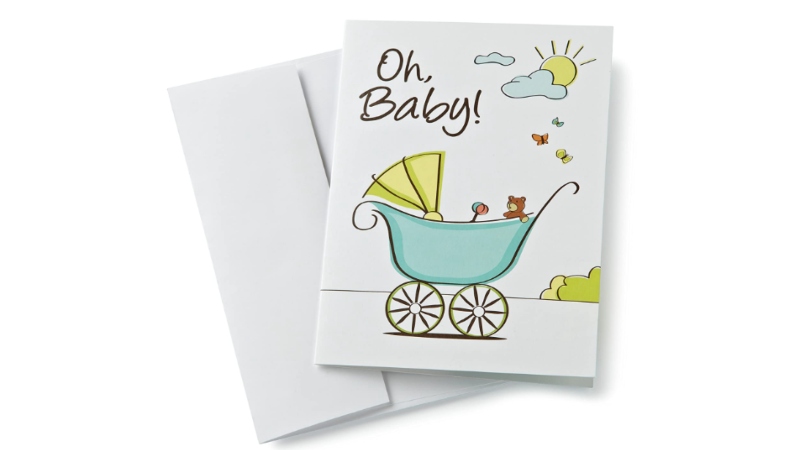 18. Personalized Baby Shower Gift
A personalized present is an excellent way to show you have put thought into your chosen gift and makes it unique for the recipient. A cute baby onesie with customized text is a beautiful present. The onesie is a practical outfit for newborns and small children with a snap closure on the bottom to make it easy to change diapers. It has short sleeves – perfect for layering – and is created from 100 percent cotton. Choose from a selection of sizes and colors which are gender neutral. You can personalize the outfit with your desired text, font, and text color, which can be anything from the baby's name to a cute slogan you think the new parents will appreciate.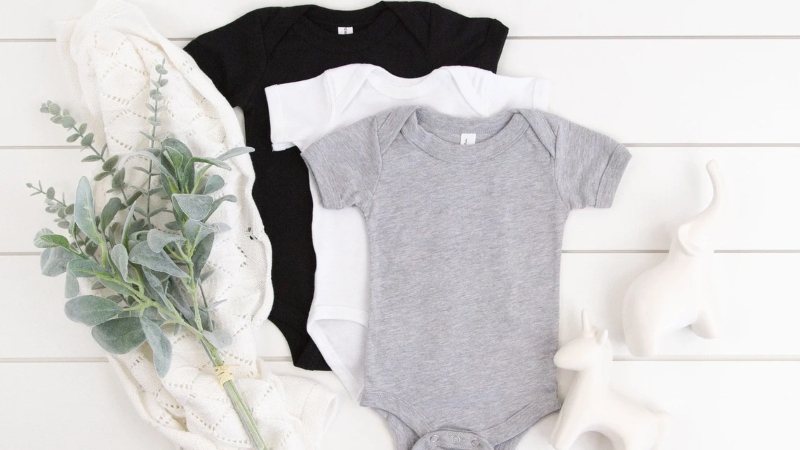 19. Creative Baby Shower Gift
The standard baby shower gifts are always appreciated, but if you want to give something different that other people will likely not be bringing, then a creative present is a great choice. The Doona Infant car seat complete with a latch base will be a great gift for expectant parents. It makes transferring the child from the car seat to the stroller simple and safe. The product is created using breathable textiles and designed to be removable and washable – this is essential because spills and messes will happen. It is TUV and FAA aircraft approved for travel and comes with a two-year warranty. There are several colors to choose from depending on your preference, including classics like black and grey, to brighter hues like blush pink, flame red, and racing green.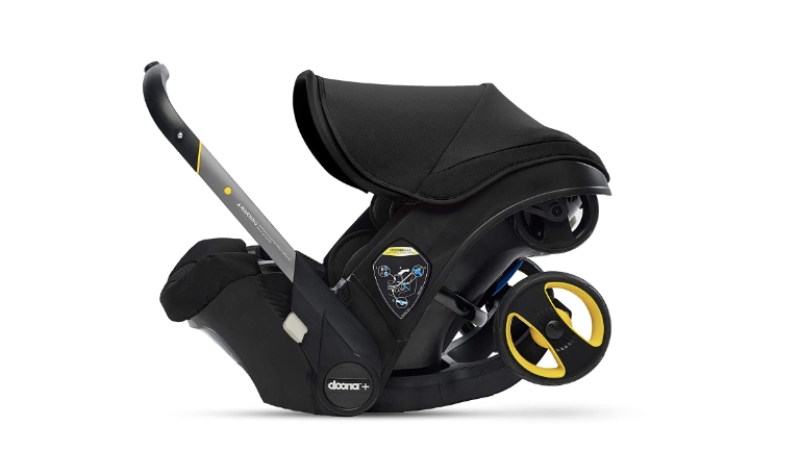 20. Funny Baby Shower Gift
If you are looking for a unique take on a baby shower gift and want to give something quirky, look no further. This baby bib is practical, ensuring the clothes are kept clean and preventing spills, but it is also super cute. You can choose the size, and there is a wide range of text colors to choose from depending on your preference, ranging from classics like black to brighter hues like hot pink, teal, mint, and orange. This is an excellent choice for a mamma that has a good sense of humor and is a simple and inexpensive baby shower gift that will show off your playful side without being offensive.
21. Fun Baby Shower Gift
The arrival of a baby is one of the most beautiful times in a parent's life. It is also one of the most difficult, and sometimes something as simple as a funny outfit can make the day a little less serious. You are going to change more diapers than you will remember, and dressing a baby is not always easy, but the Tstars bodysuit with snap closure will remind you how it is all done! There is a range of colors and sizes to choose from, depending on your preference or the gender of the child. You can also choose a set with a bodysuit and pants. There is a size guide available to help you get a better fit.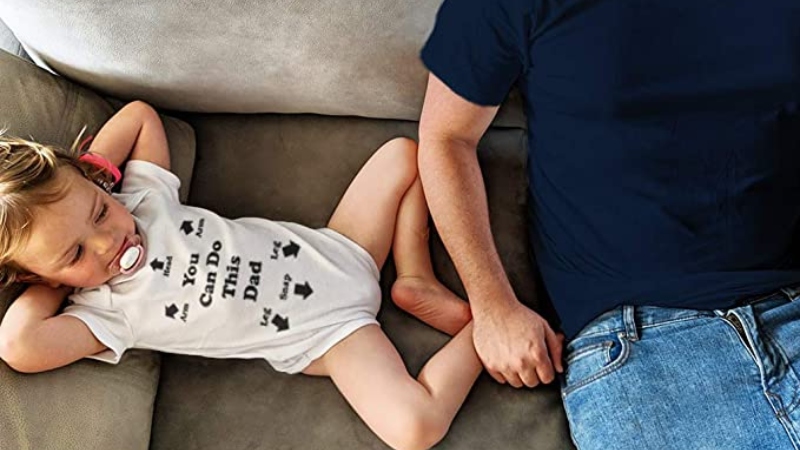 22. Luxury Baby Shower Gift
If you want to spoil the expectant parents with something luxurious and of the utmost quality, then Givenchy is a brand that is tried and trusted. The luxury fashion house also has a kids line, and this Givenchy Kids 4G-logo babygrow and change bag set is a super cute and practical gift. You are also instilling a love of fashion in this little one from an early age. It features long sleeves, snap-fit fastening, and a round neck. Do not wash and dry clean, and familiarize yourself with the care instructions before use.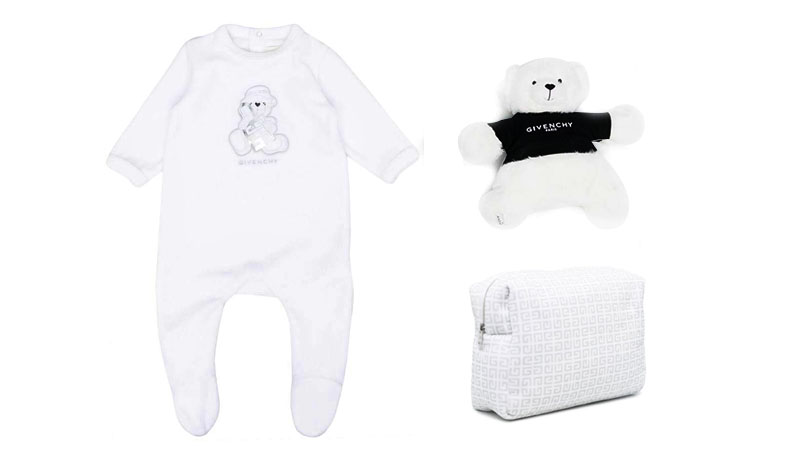 23. Cute Baby Shower Gift
This super cute Nike Futura Logo Boxed Set is the ideal present for a baby shower. Can you ever have too many baby clothes? At the rate of spills and accidents that happen with newborns, it is great to have a large collection of clothing, especially when they are super stylish and practical. The set is made from 100 percent cotton and features a short-sleeve bodysuit, beanie, and socks. It is comfortable and has a regular fit created using a cotton jersey fabric and ribbed trims. There is a range of colors to choose from.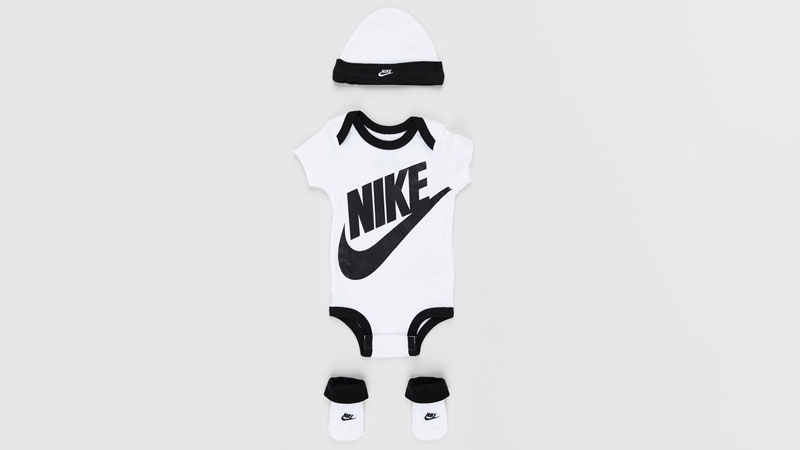 24. Sentimental Baby Shower Gift
Attending a baby shower is a special thing. It shows that you are considered one of the expectant mother's closest friends or family, and it is a beautiful way to celebrate her pregnancy and show love and support for her journey into motherhood. The right sentimental gift will depend on the relationship you have with the mother or father. You can choose something personalized, include inspiring and motivating messages that are unique to you, or find something that reflects your role in the baby's life. For example, this sweet keepsake gift book from an aunt is a beautiful way to celebrate your dedication to your new niece and nephew. It is a gift that will be cherished for years to come.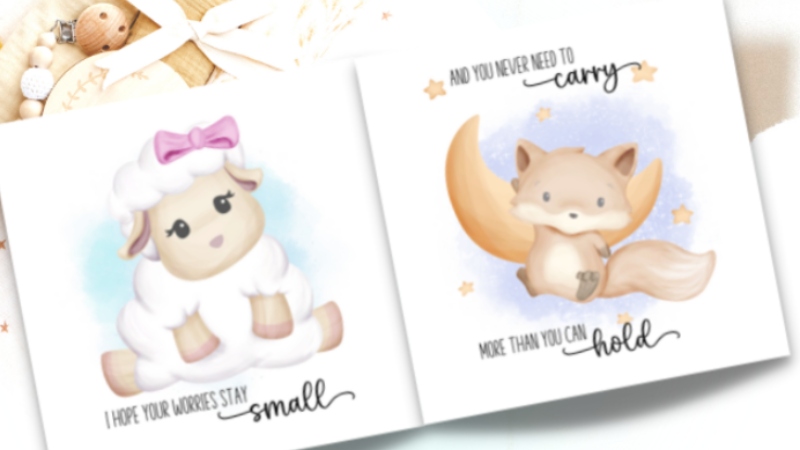 25. Practical Baby Shower Gift
Around the six-month mark, and maybe sooner, you will need a high chair. This makes feeding easier and safer, and if you got one for your baby shower, you are in luck. A practical present can be exciting because it helps makes the job of the new parents easier. The Graco Blossom 6-in-1 convertible high chair is an excellent choice and can be used by children through the various stages of growth with a maximum weight capacity of 60 pounds. The brilliant feature of this product is that it can be adapted to different positions. This includes a full-size highchair, an infant booster, and a toddler booster.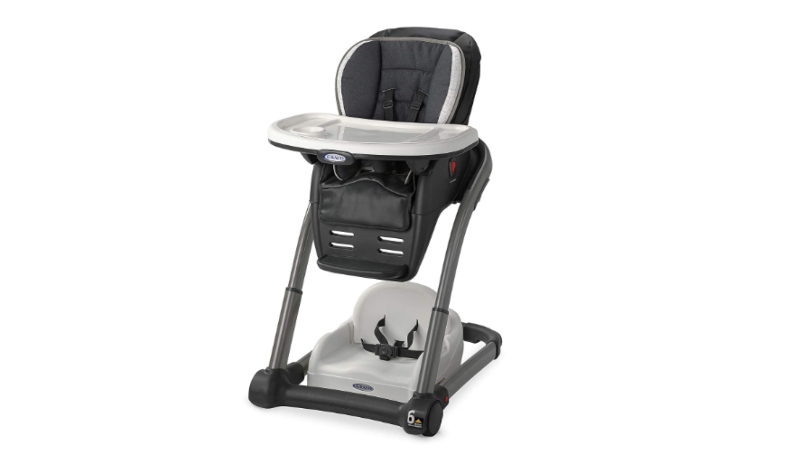 26. Useful Baby Shower Gift
A baby monitor is one of the most useful presents a new parent can receive. This gives the freedom to leave the room when the baby sleeps but be able to listen out for them and check on them constantly. There are many products on the market with various features to suit all budgets, and the HelloBaby wireless baby monitor is among them. Some of the standout features include HD resolution, Infrared night vision, and two-way audio. It also plays eight lullabies which can be comforting for your little one.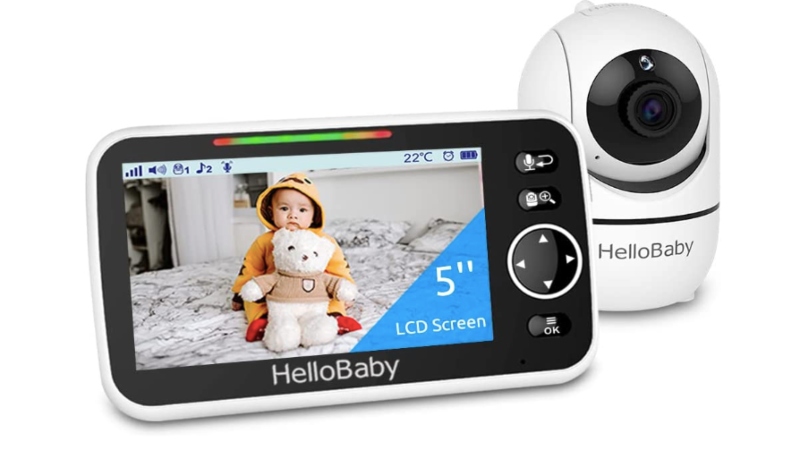 27. Most Forgotten Baby Shower Gifts
Everyone's needs and wants are different, and the great thing about baby shower presents is the gifts are varied. They can be for a newborn, for the parents, or for the child when it gets older, and there is so much to choose from depending on your budget. A large playpen is an excellent choice for older children and will give the mom a few seconds to do another task (while the child is still insight), knowing her child is safe and cannot get into anything that will harm them. You want a playpen that is designed with safety and practicality at the forefront. This SASRL Store pen includes 50 ocean balls which will be fascinating and fun for the baby. It is also designed with eco-friendly material and is easy to clean. Please read all the instructions beforehand and take the appropriate safety precautions.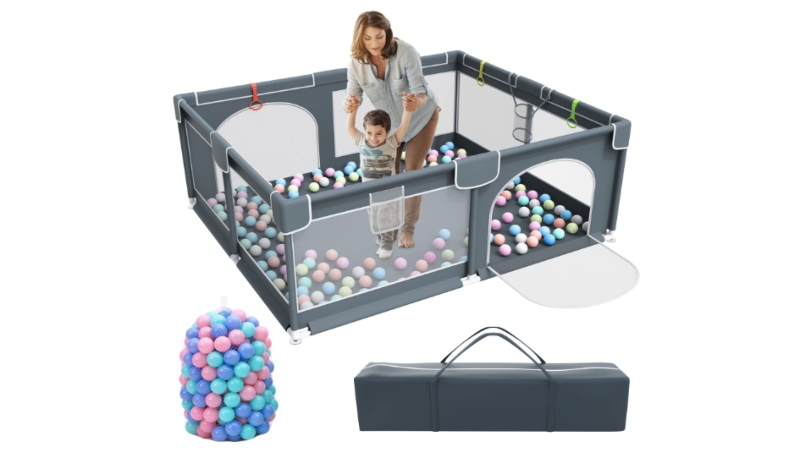 28. Last Minute Baby Shower Gift
There is so much excitement surrounding the birth of the unborn child that sometimes the mother is forgotten. To ensure that the expectant mama is celebrated and has a place to share all her thoughts and feelings, the Axel and Ash pregnancy journal is an excellent gift. Becoming a mother is a transformative journey filled with new emotions and challenges. It is important to remember to take time for yourself and reflect, and journaling is a way to do this. The Becoming MAMA journal also has curated prompts for each week and includes interviews with mothers.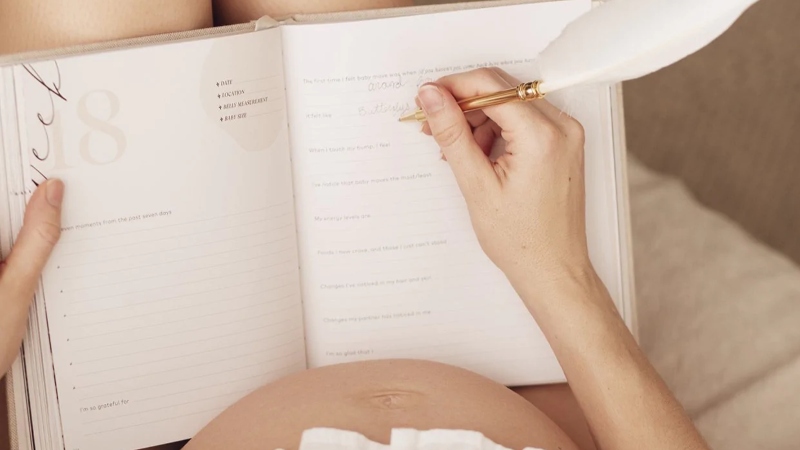 29. DIY Handmade Baby Shower Gift Idea
If you are looking for a unique, customized gift and want to support a small business, then a handmade baby shower gift is an ideal choice. There is also something special about an object being handmade, with more care and love going into it than if it were mass-produced. This adorable two-piece handmade rattle and crochet bunny set is made using food-grade Beachwood. It is free from BPA, lead, latex, and PVC. It is also non-splintering and conditioned with Australian beeswax and olive oil wood balm. You can choose from a wide range of animals, including a bunny, fox, koala, elephant, and deer. For a small added fee, you can also choose to personalize the rattle by adding a name. It will be laser engraved on the handle of the rattle.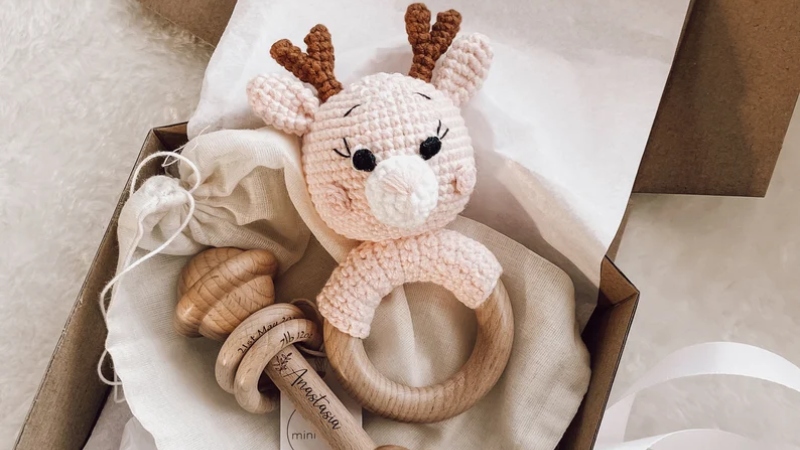 30. Hostess Gifts for the Baby Shower Guests
A baby shower takes planning and organizing, and if you want to thank those in attendance or the person who put it all together for you, you can do this with cute gifts. These gifts do not have to be expensive and are a token of appreciation. They show how grateful you are to have these people in your life and how much you value their support and love. A sweet and memorable option is baby bottles, which can be filled with sweets. You can choose your favorite candies or pick a color that matches the gender of your unborn child. These tiny bottles can also double as table decorations before the guests take them home.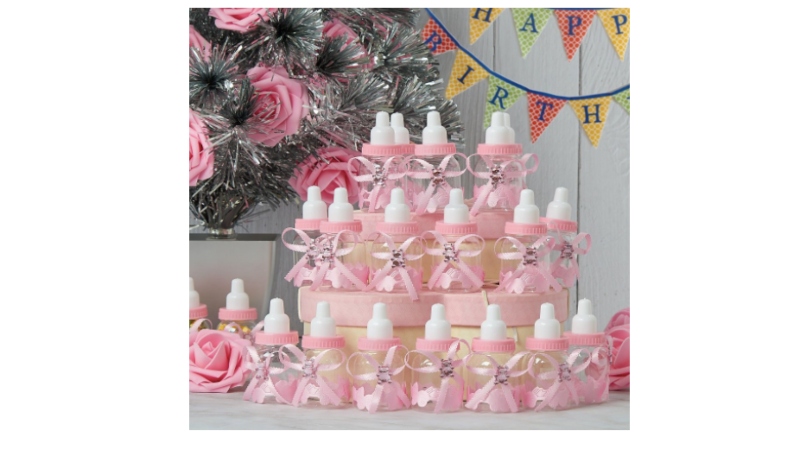 Baby Shower Gifts FAQs
How much to spend on baby shower gift?
How much you spend on a baby shower gift will depend on your relationship with the expectant parents and your budget. For a coworker or friend, around $30 to $50 is a good amount. If the recipient is your sister or daughter, you can spend more.  If you do not have a large budget, you can put your time and effort into creating something handmade or writing heartfelt and motivating words.
What is the best gift for baby shower?
The best baby shower gift depends on the recipient. It can be simple and practical things that will be useful in day-to-day life a changing pad, clothing, or a stroller. Or it could be a beautiful piece of jewelry to celebrate the pregnancy journey.
Are gifts expected at a baby shower?
Gifts at a baby shower are often expected. This is a time to celebrate the expectant parents and is also an opportunity to help them with some of the supplies in preparation for their baby. If you do not attend the baby shower, you can write them a card or send baked goods, which will be appreciated.
What should you not do at a baby shower?
A baby shower is an event that is about the parents and their unborn child. You do not want to be inappropriate in any way, this includes how you dress and how you act. Do not make unflattering or unkind remarks, do not play any games that the mother may be uncomfortable with, and do not share scary stories about pregnancy or birth.
SUBSCRIBE TO OUR NEWSLETTER
Subscribe to our mailing list and get interesting stuff and updates to your email inbox.