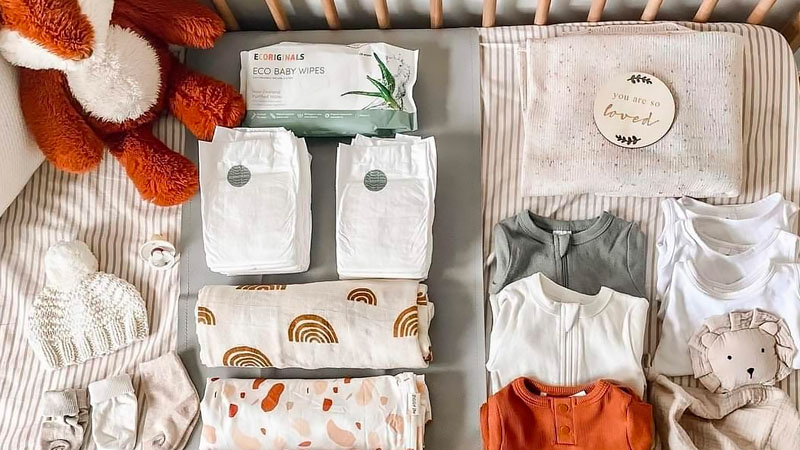 The newborn phase is one of the most exciting times for any first-time parents, and it is a period filled with joy and beautiful memories. But it can also be one of the most stressful and chaotic times as you learn to understand what it is your baby needs and wants and grow into becoming the amazing parents you were meant to be. You will be sleep deprived and emotional, and having the right baby gear before the arrival of your little one can help reduce some of the stress. Newborn essentials could include everything from pram bundles and carriers to loungers and playmats. Of course, there will be additional things you will find you need to purchase along the way. This comprehensive list of newborn baby products is a great place to start and will inspire you.
Newborn Baby Products
1. Edwards & Co Pram Bundles
Edwards & Co has gorgeous pram bundles that include everything you need to start. As a new parent, it can be overloaded with information on what you will need, and purchasing a bundle will take some of the stress off of you. Items include a rain cover, sun cover, newborn insert cushion, sleeping bag, and more, making it the ideal purchase no matter what the season.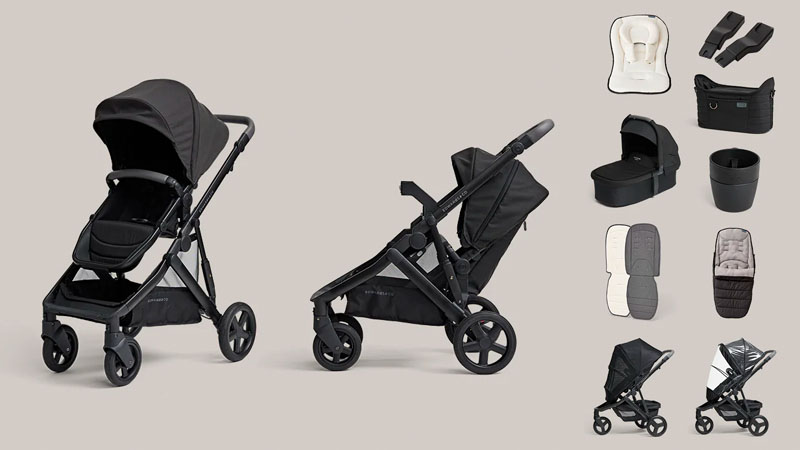 2. Artipoppe Baby Carrier
A baby carrier is incredibly smart because it lets you go about your errands. Or even do something as simple as making yourself a sandwich while always keeping your newborn close. This also helps the bond between mother and newborn and can make your child feel safe. Artipoppe is an excellent brand committed to sustainability and focused on using only the highest quality materials for its products, including linen, cotton, and hemp. There is also a wide range of colors and designs to choose from, letting you find something that reflects your style preference.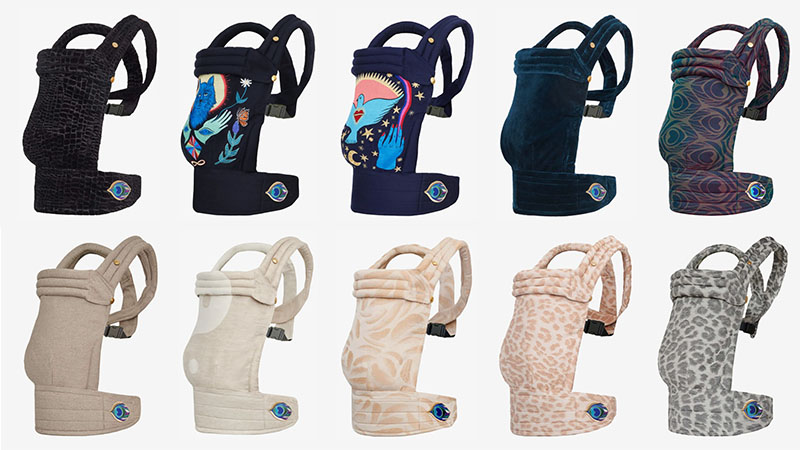 3. SleepyTroll
Parents, there's finally a solution to help soothe fussy babies – introducing Sleepytroll®! This innovative and revolutionary product is the world's first automatic sensor-controlled baby rocker designed for newborns up to two years old. Easily attach it to any stroller using its secure fastener, then activate its sound and motion sensors that will gently begin rocking your little one back into a peaceful sleep. You can also switch between five different intensity levels as needed or manually start/stop the movement whenever you need extra peace of mind. Additionally, with optional Bed Rocker Feet & Adaptor accessories, parents have even more options, like connecting this device directly to their child's crib when they require some gentle lulling while sleeping at home!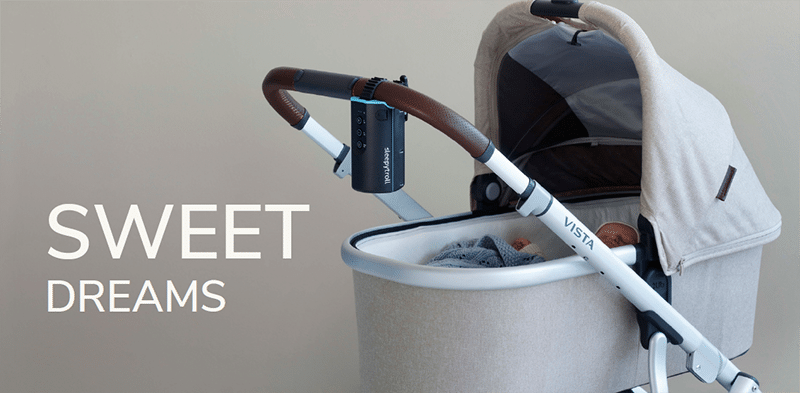 4. Babybjörn Bouncer
Babybjörn is a Swedish brand that was founded in 1961. In the following decades, it has established itself as a trusted company for high-quality baby products, including a bouncer. Bouncers are an excellent purchase for your baby because they allow you to be hands-free, letting you do what you need to do, whether by sending a quick text or eating breakfast. The natural movement is calming and fun for your little one; the motion could even help promote muscle development. This particular bouncer is suitable for a newborn ( at least 3.5 kg) up to toddler age.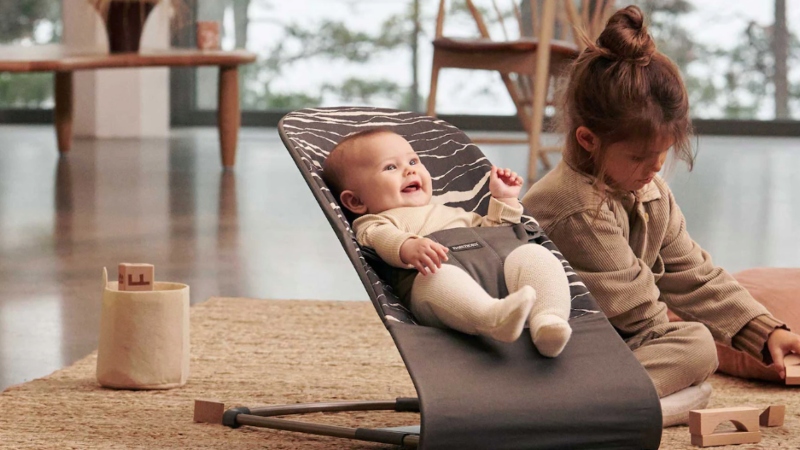 5. LoveEvery The Play Gym
A play gym is an excellent purchase because it will allow your child to get tummy time in a safe and entertaining space. The Love Every The Play Gym is the Parent's Choice award-winning Play Gym. It is loved because of its great quality and stage-based activities. Features include four detachable activity toys and four sets of cards, and five Developmental Zones with activities to help engage your child from newborn to toddler age.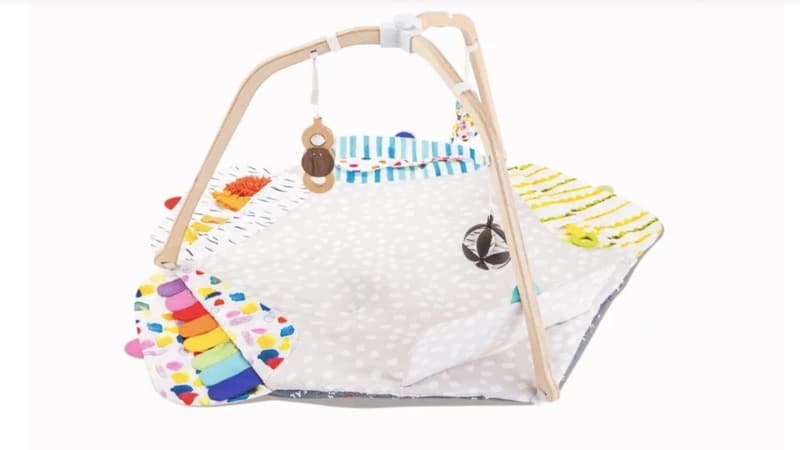 6. Maxi Cosi Vita Pro Convertible Car Seat Nomad Steel
A car seat is one of the essential purchases you will need when your little one arrives, as this will make travel easy and safe. The Maxi Cosi Vita Pro Convertible Car Seat Nomad Steel is an excellent product that is suitable for newborns to four years old. This is incredibly useful, as parents will know children grow quickly, and instead of purchasing a new seat, this one can be adapted. Other stand-out features include the comfort headrest to prevent your child's head from dropping during sleep and the Safety Shield technology for head and torso protection.
SHOP: Maxi Cosi SHOP: BabyBunting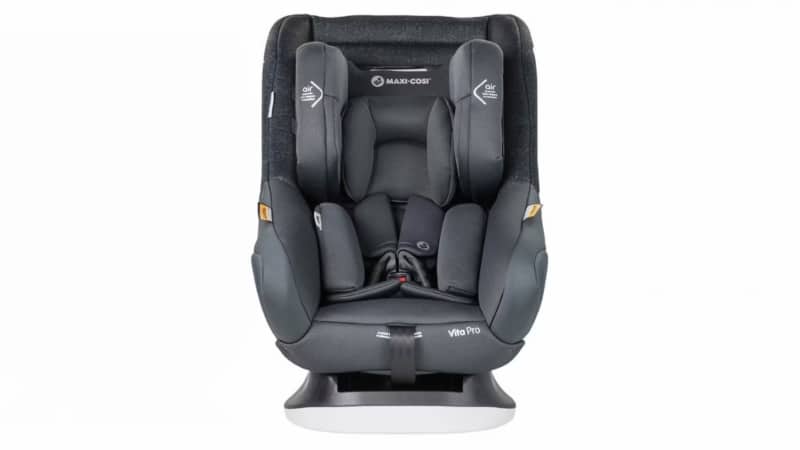 7. Linen Social Baby Loungers
Another must-have purchase for new parents is a baby lounger, and Linen Social is a great brand to shop from. They offer a range of portable baby nests which provide your little one with a safe and soft space. Created from breathable mesh fabric, the lounger will absorb moisture and prevent bacteria. The product is lightweight and easy to transport, letting you use it in your home or bring it with you when visiting family and friends.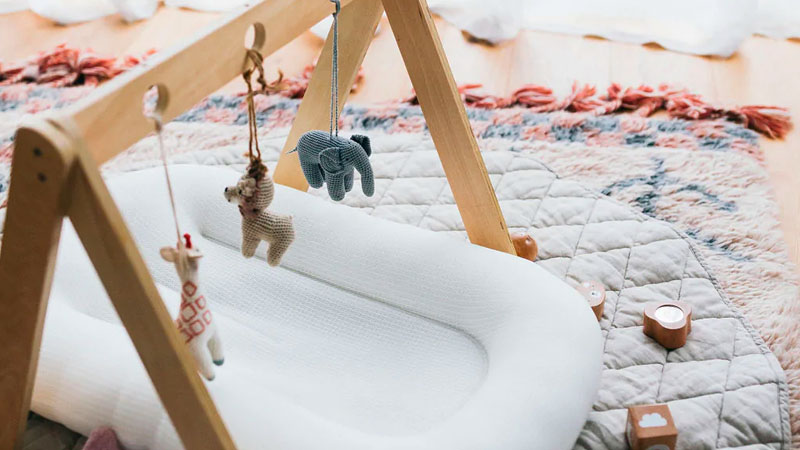 8. Adairs Natural Cot
The Adairs Baby Natural Rattan Cot will look stunning in your nursery and is an excellent choice for parents who want a gender-neutral and timeless piece of furniture. Highlights of the product include that the base is adjustable to two positions and that it can be dropped lower as the child grows, letting you use it for longer. This purchase is as much a gift for the parents as it is for their little one because a calming and beautiful space can help center yourself during moments of chaos.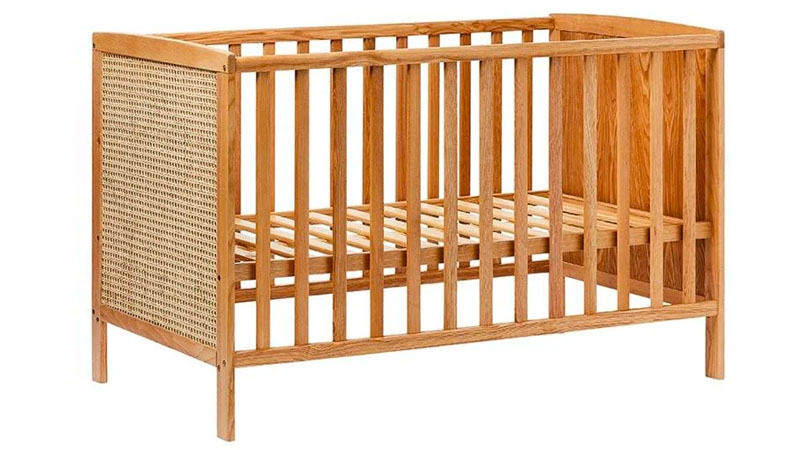 9 . Lotus Travel Crib
One of the biggest concerns for a parent when they travel is the sleeping arrangements for their little one. You want a safe and secure space, and this is where the need for a travel crib comes into play. The Lotus Travel Crib from the Guava Family Store can be used by children with a maximum weight of 15 pounds and is designed to be set up in 15 seconds. This makes it the ideal purchase for tired parents. It is also compact and lightweight, making it perfect for travel.
10. Marpac Yogasleep Rohm Portable White Noise Sound Machine
Infants have been in a warm and noisy environment for nine months before their birth. White noise machines help to replicate this womb-like experience, which is calming and comforting for newborns. The Marpac Yogasleep Rohm Portable White Noise Sound Machine is an excellent purchase because it is light and portable. It cancels out noises that can distract from sleep and can be easily adapted to suit your little one's preference with three sounds. The sounds are bright white noise, deep white noise, and gentle surf.
11. Ludere French Linen Playmats
Ludere has a selection of gorgeous French linen playmats, available in various colors to suit your preference. Designed in Australia, the brand prides itself on using non-toxic materials, essential for anything for children. Featuring a diamond quilted design and hypoallergenic microfibre padding, this is the ideal mat to place on the floor and let your little one practice tummy time. It is essential for all babies to get tummy time as this helps to improve motor skills and strengthen their neck and shoulder muscles, prepping the body so that they can one day sit up, crawl, and walk.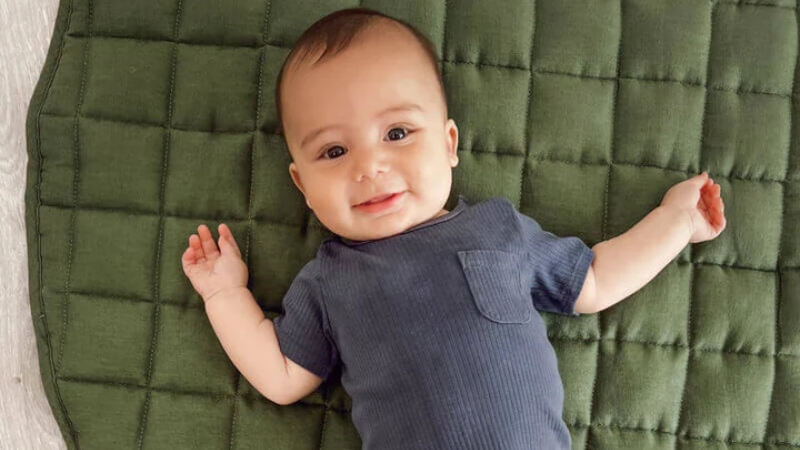 12. HALO BassiNest Swivel Sleeper
New parents will benefit from the HALO BassiNest Swivel Sleeper because it is safe, comfortable, and designed to be used next to their own bed. This makes dealing with nighttime wakeups, diaper changes, and feeding much easier. It will also give the parent peace of mind as they can easily check on their little one throughout the night. The product features four soothing sounds: white noise, babbling brook, rainforest, heartbeat, and two vibration levels.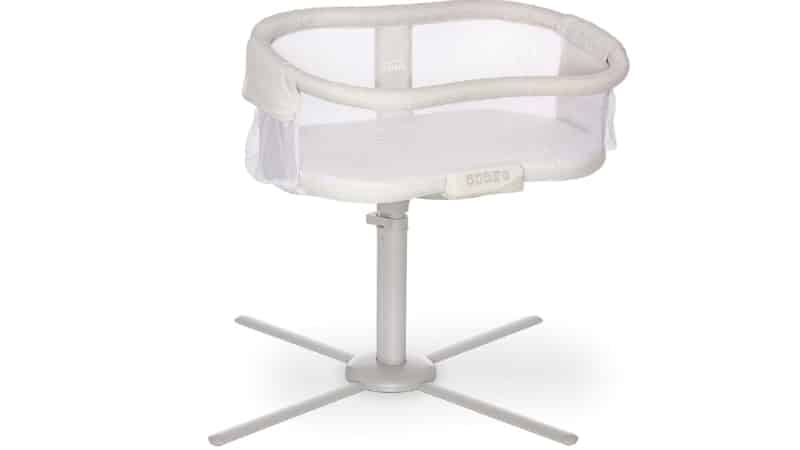 13. The Memo Change Mat
The Memo is a great place to shop for maternity and baby essentials, including the Matty change mat. It is made from PUR (polyurethane foam), making it sturdy yet soft. It is available in various colors, from neutrals to pink and blue. The mat is portable and can be placed on any flat surface, making changing your little one easy and convenient. Any parent of newborns will know that you go through a lot of diapers during this stage, so having a reliable changing mat is a must.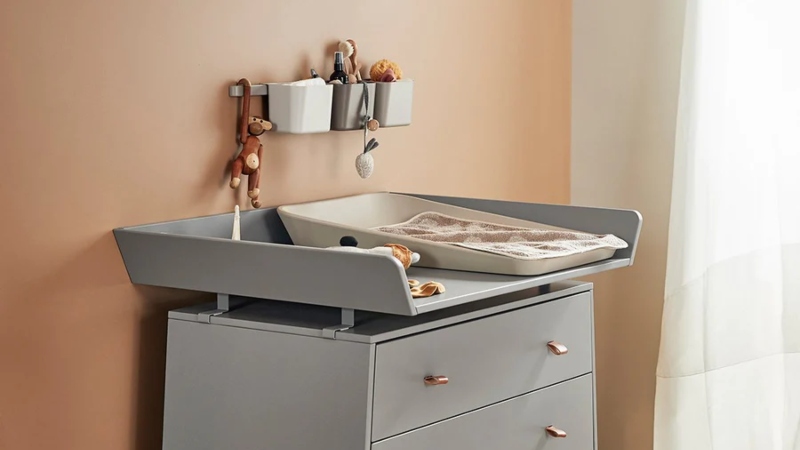 14. Skip Hop Baby Bath
This Skip Hop baby bath is cute and practical. It is shaped like a whale and offers Smart Sling support which can be changed to two positions for either full-body support or seated. The innovative sling adjusts to the cushioned seat and allows for a safe and comfortable bathing experience for your little one. The tub can also be adapted for different stages. These include for a newborn, Stage 2 (infant of three to six months), and Stage 3 (six months and up, up to 25 lbs).
SHOP: THE MEMO SHOP: HALOSLEEP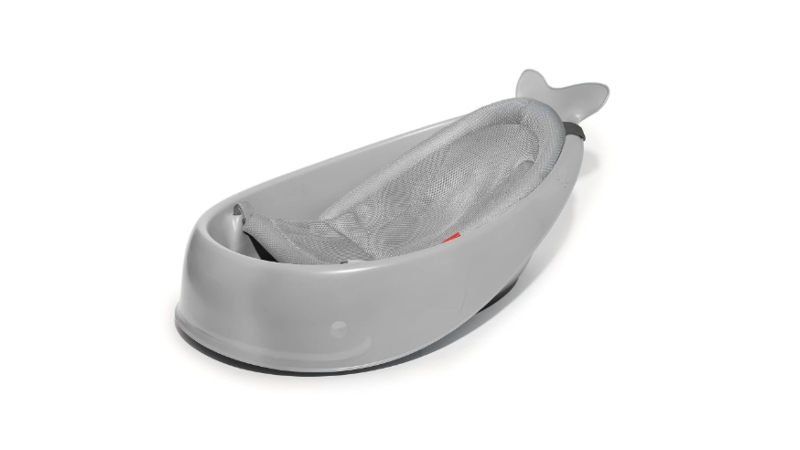 15. Portable Baby Changing Pad
In the newborn phase, you may feel that all you are doing is feeding the baby and changing diapers. Newborns go through many diapers, and having a portable changing pad will make going out a little easier. This product is compact and lightweight and is created from quality materials to cushion your little one. Other standout features include a convenient carrying handle, stroller and wrist strap, and a sleek, gender-neutral design. There is also a range of colors to choose from, letting you find the option that best suits your preference.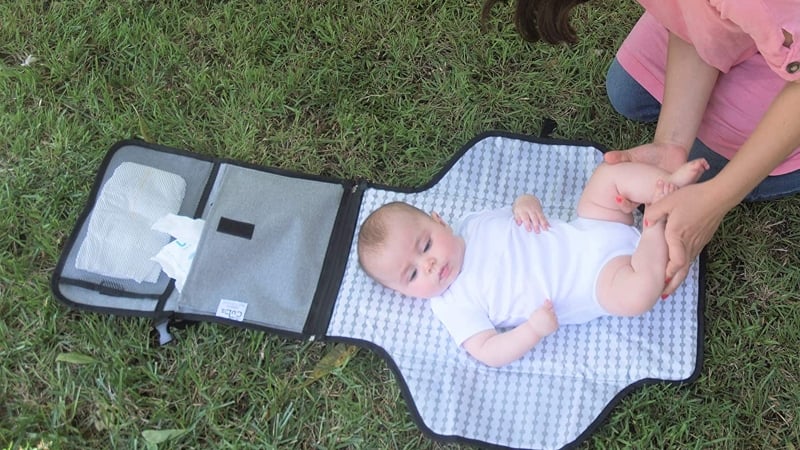 16. Elvie Smart Wearable Electric Breast Pump
Breast bumps are a great purchase because they can help you control your milk supply, let you take breaks, and also let another person, other than mom, feed the baby. Some women choose to pump because they are needed back in the office. Or it could be to give the father the bonding experience. Whether you need to pump or choose to, the right product will make all the difference. The Elvie Pump is a double pump that is electric and wearable. This is incredibly convenient because you do not need to hold the pump, which makes it easy to do on the go or frees up your hands so you can attend to your child. It features a slimline all-in-bra design and is quiet, powerful, and easy to use.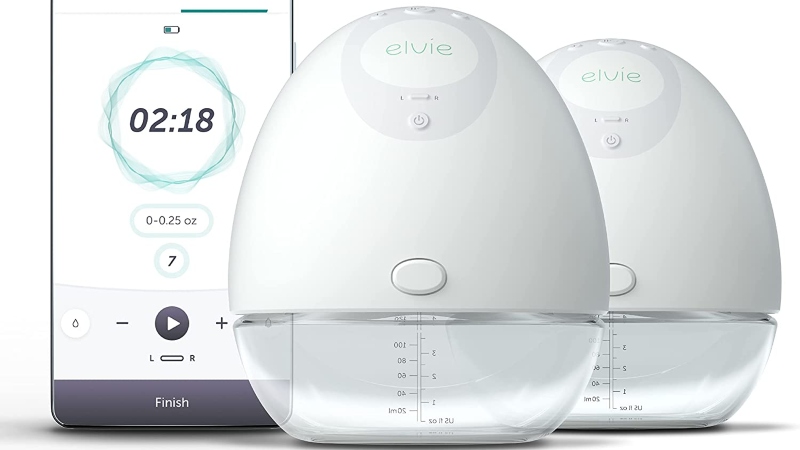 17. Bambino Mio All-in-One Cloth Nappy
For those who want to go the cloth nappy route, Bambino Mio's All-in-One Cloth Nappy hamper is a great way to get you started. The nappies are designed to fit newborns to toddlers, letting you easily adjust the poppers and hooks to find the ideal fit. They are OEKO-TEX Standard 100 certified making them safe to use on little ones and they are designed to be leak-proof and super absorbent. Why use cloth diapers? Many parents feel that they provide better breathability and result in less skin irritation. They are also good value for money because they are reusable and long-lasting. In addition, this results in less waste and is better for the environment.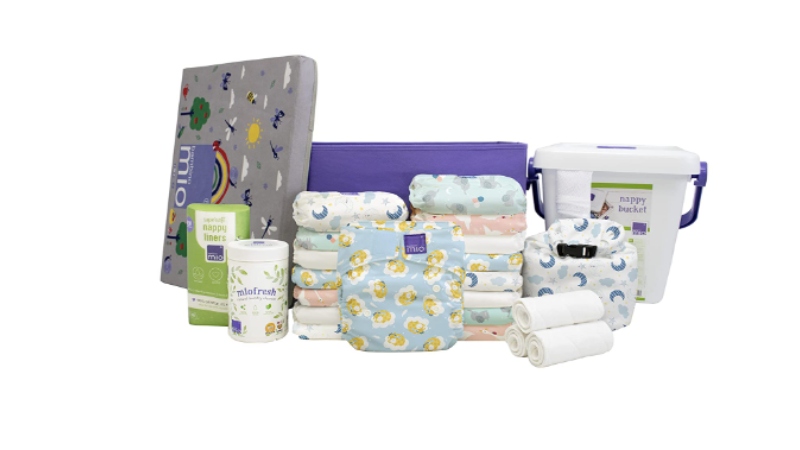 18. Huggies Natural Care
Diaper wipes are essential, but some brands are better than others. Huggies is tried and trusted and has been used by parents worldwide. These plant-based natural care wipes are unscented, hypoallergenic, and made with 99 percent purified water for a gentle clean. Baby skin is incredibly sensitive, and you want to purchase products that are free from parabens, lotions, and fragrances, which Huggies Natural Care is. As a bonus, there is also a super cute Winnie-The-Pooh design.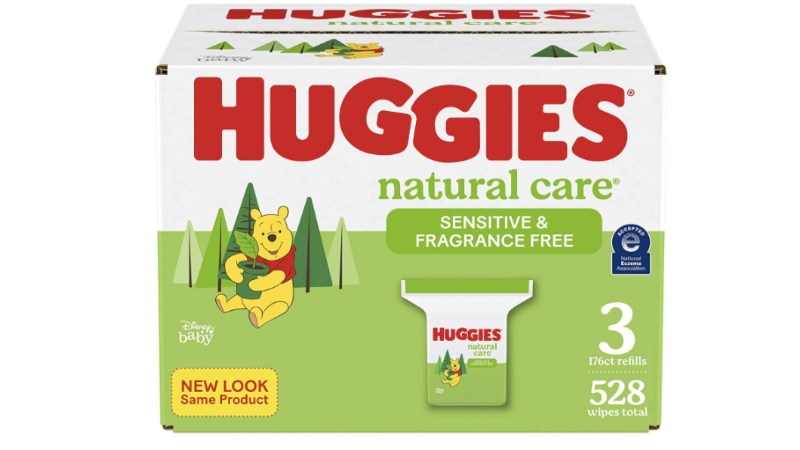 19. Love To Dream Swaddle Up
Using blankets on young children is dangerous, so something like the Love To Dream Swaddle Up can be an appealing alternative. This Australian-designed product can be purchased in a range of sizes ranging from newborn to large. It is easy to use and care for and is created with a single layer of fabric to reduce the risk of overheating. The swaddle is designed to accommodate flexion of hips and legs and features a patented wings design to allow for the natural arms-up position. There is also a twin zipper to make diaper changes easier.
SHOP: AMAZON SHOP BABY BUNTING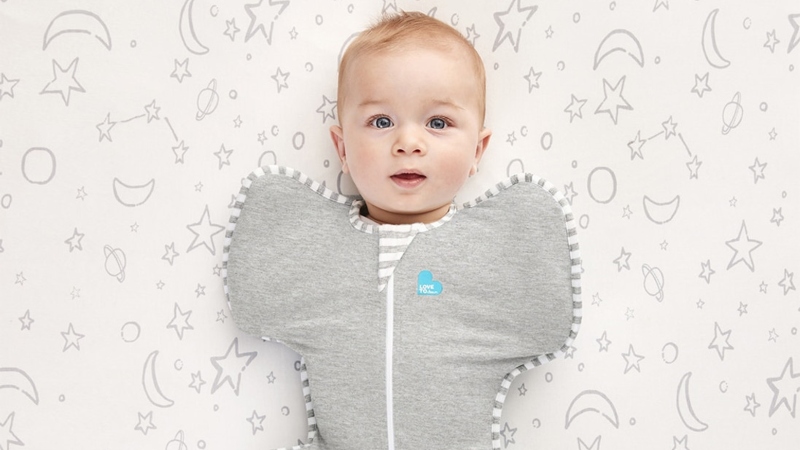 20. Ergo Pouch Cocoon Swaddle Bag
Many innovative designs are on the market, providing you with a wide range of baby products to suit your budget and preference. Ergo Pouch Australia's Cocoon Swaddle Bag is designed to keep your baby warm and secure. It is made from natural fiber GOTS-certified organic cotton and bamboo but also has elastane to provide more flexibility for movement and stretch. It is gentle for a baby's sensitive skin and available in a range of sizes and gorgeous patterns and colors. The website is also incredibly informative. You will find a step-by-step guide on how to use the cocoon swaddle bag and care for it.
SHOP: ERGO POUCH SHOP BABY BUNTING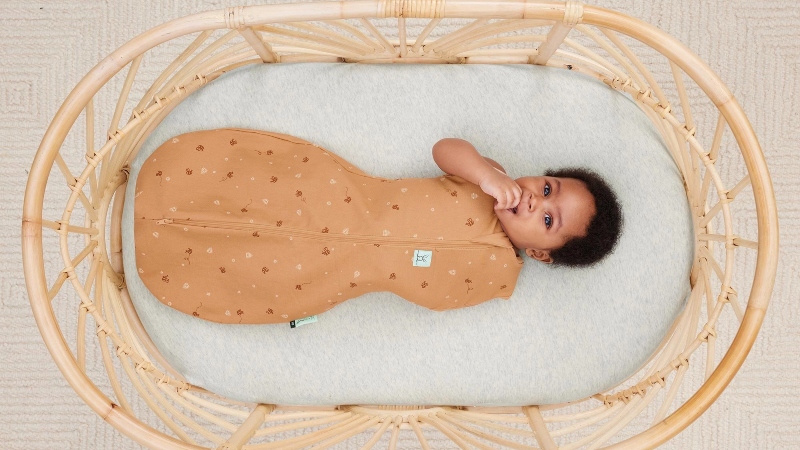 21. Bunnie Caddie
The Bunnie Caddie is a must-have product. This caddie can double as a stylish tote, making it ideal for everyday use and easy to transport. The innovative design has won awards and features four removable dividers, a large leather pocket with magnetic closure, nine functional pockets, and a sleek, two-tone body strap. It is available in a range of neutral colors, making it practical and stylish and a favorite for Australian parents.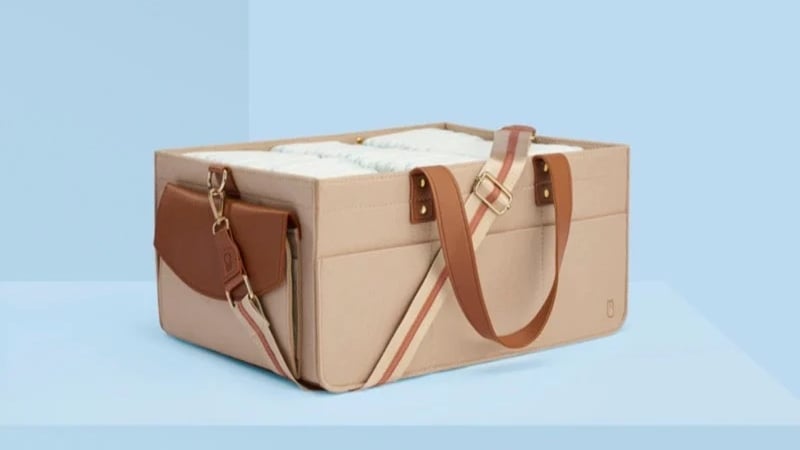 22. Ubbi Steel Odor Locking Bin
If you choose to use disposable diapers, you need a hygienic way of disposing of them, and the Ubbi Steel Odor Locking is a great choice. Newborns go through many diapers, and you may feel at some point that all you are doing is feeding and changing the baby before it goes back to sleep. The right products can make all the difference and reduce any stress during this chaotic period. Pros of this bin include that no special bags, refills, or inserts are required, which many other products need, which can increase the cost. There are also various colors to choose from, including neutrals or soft pastels.
SHOP: AMAZON SHOP BABY BUNTING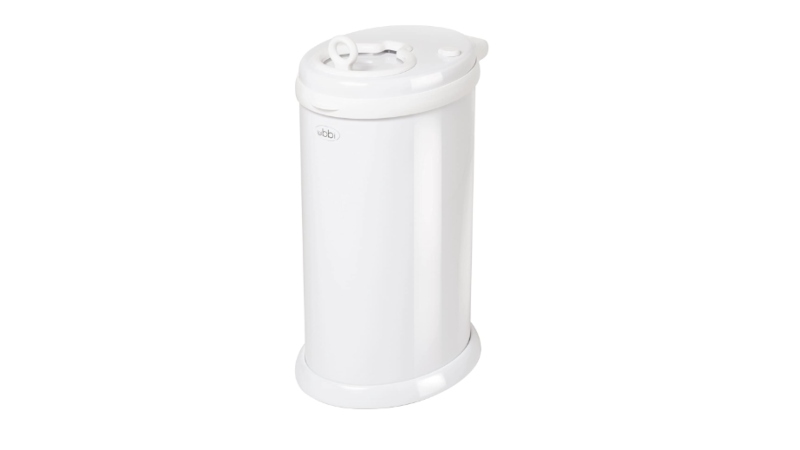 23. ANMEATE Digital Baby Monitor
A baby monitor is highly recommended to ensure that your baby is sleeping well and safely. This device will give you peace of mind when you are not in the room and will let you monitor your child as well as the temperature. Some of the standout features of the ANMEATE Digital Baby Monitor include the 2-way talk feature. This will let you listen and talk to your baby. It also has a night vision camera, temperature monitor, high-quality color screen, and a long transmission range.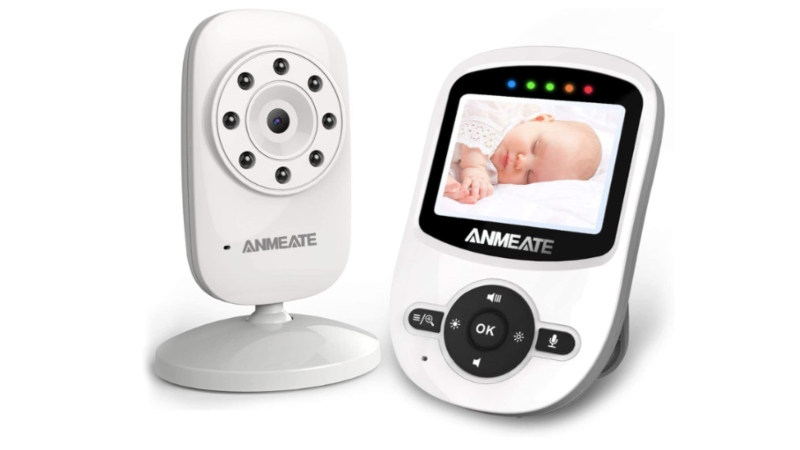 24. Cuddle + Kind
Cuddle + Kind has a gorgeous selection of baby toys with various animals. There is also the baby animal collection, featuring small toys that are perfect for newborns. These beautiful hand-knit dolls are ethically produced in Peru and Nepal, providing artisans with a fair trade income. The dolls will brighten your baby's nursery and are of exceptional quality. In addition, with every purchase, you are also doing good. The brand focuses on giving back and helping to feed children in need, with each full-size doll sold resulting in ten meals.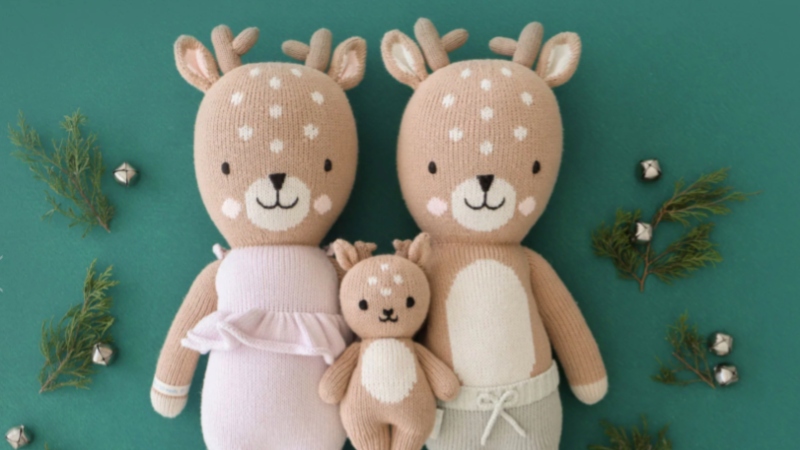 25. Fisher Price Baby Raccoon Swing
Not only is the Fisher Price Baby Raccoon Swing an adorable product that will be a welcome addition to any nursery, but it is also practical. The appeal of having a baby swing is that motion can comfort your little one. The swing will also be a safe place to leave baby when you need your hands free (of course, you will still be watching them at all times), and features like the songs and sounds and overhead mobile will keep them entertained. There are six swing speeds and a dual motion that rocks from side to side or head to toe.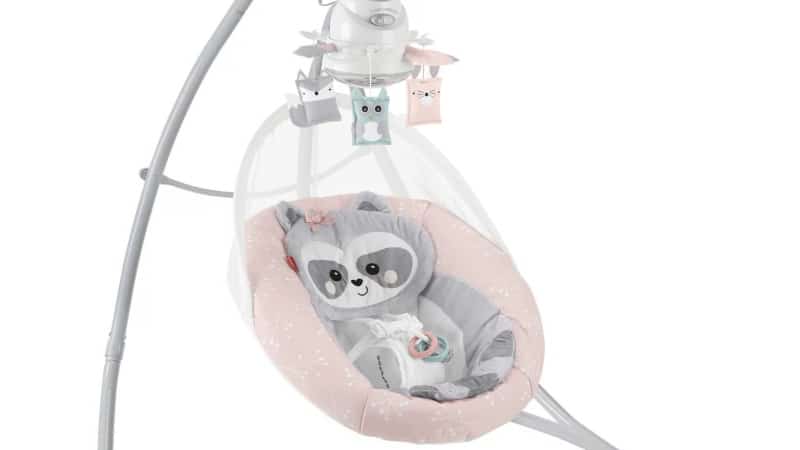 26. Mini Olie
If you are looking for the cutest baby clothes and accessories, look no further than Mini Olie. You can shop by size, including a newborn, and stock up on your essentials. Or find statement items that will make for adorable photographs and special memories. With affordable pricing, practical but trendy designs, and a range of some of the most adorable prints, you will find what you are looking for at Mini Olie.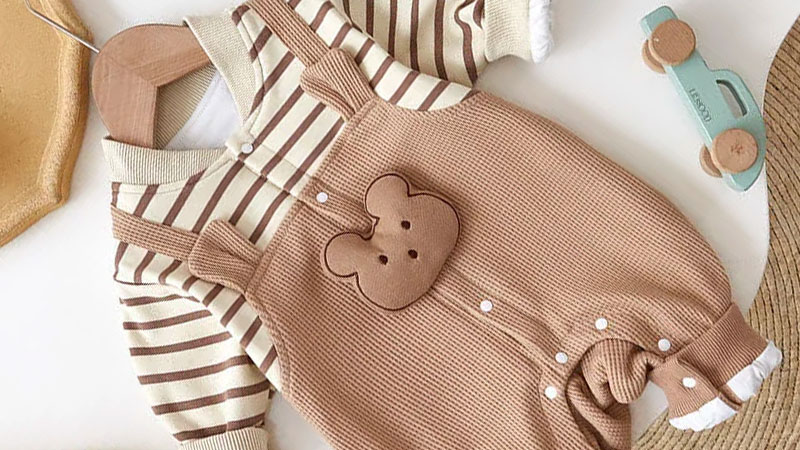 Newbord Baby Products FAQs
What are the must-haves for a newborn baby?
Every parent's needs and budget is different, but some of the must-have essentials include baby linens, age-appropriate baby clothes, and nursery furniture like a cot and baby lounger. You will also need diapers, either disposable or cloth, and wipes, baby bath and hygiene products, changing mats, breastfeeding supplies or formula and feeding accessories, and travel gear like strollers and car seats.
What are the top 10 things you need for a baby?
The top ten things you will need for a baby are diapers and wipes, nursery furniture like a bedside crib, baby linen, baby clothing, baby hygiene products, and bath, changing table or mat, formula feeding or breastfeeding supplies, diaper cream, stroller and car seat.
SUBSCRIBE TO OUR NEWSLETTER
Subscribe to our mailing list and get interesting stuff and updates to your email inbox.