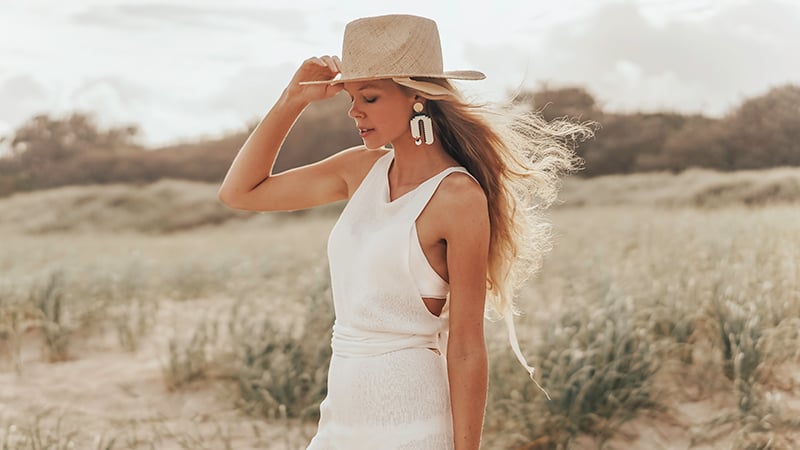 Australia is home to many talented creatives who are making the world a beautiful place. The jewellery industry in Australia has grown a lot over the years. As such, more independent artists and goldsmiths are launching brands and bringing stunning jewellery to the world. If you want to see some of the best Australian jewellery brands around the country, from Western Australia and the Gold Coast to Byron Bay and Melbourne, keep scrolling. Next time you're looking to treat yourself or a loved one, remember to check out the incredible collections from these labels.
1. Dash of Gold
Dash of Gold is a Byron Bay jewellery brand that inspires a sense of wonder, gift-giving, and joy. Each hand-made piece is either a small-batch or one-off design that minimizes waste that's common in mass manufacturing. The main range features wearable art made from resin and surgical-grade stainless steel. This means it's lightweight, durable, and easy to wear. Of course, it's also incredibly stylish and the perfect way to celebrate life, individuality, and expression. The brand is committed to sustainability, using eco-friendly tissue paper, and stickers, which contribute to global reforestation as each purchase means a tree is planted. Each order also comes in the 100% compostable mailers, and jewellery boxes that are FSC® certified. The label also gives back to the community through a partnership with i=Change. A dollar from every sale is donated to one of three life-changing charities: Protect a Woman, Feed Aussies in Crisis, and Clean The Sea. The customers get to choose which one the money goes to when they make a purchase.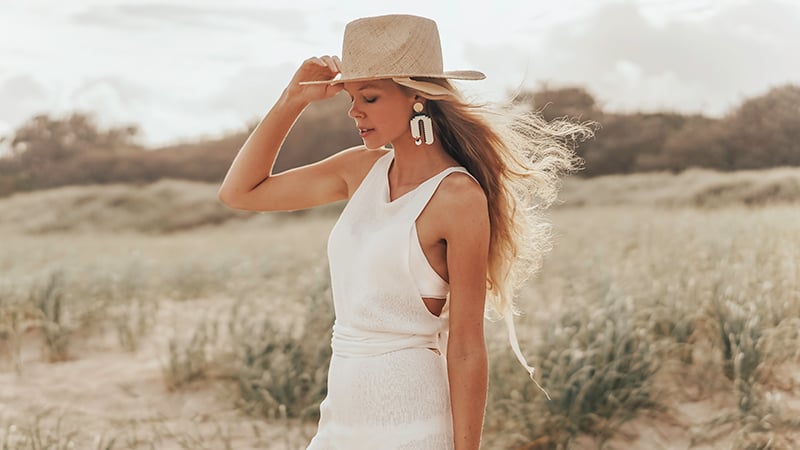 2. Amber Sceats
Amber Sceats launched her eponymous brand in 2012. Since then, her designs have taken the world by storm, boasting celebrity fans such as Taylor Swift, Ruby Rose, and Kylie Jenner. Each piece is inspired by Amber's love of travel, art, and architecture and is an ode to the abstract. The designs are handcrafted by some of the most talented and experienced jewellery craftspeople in France and Italy. Consequently, every piece is of the highest quality. Common elements across the range include 24K gold-plated brass and freshwater pearls, which results in a classic yet modern aesthetic. This Australian jewellery brand is the perfect choice for women looking for unique pieces that will stand the test of time.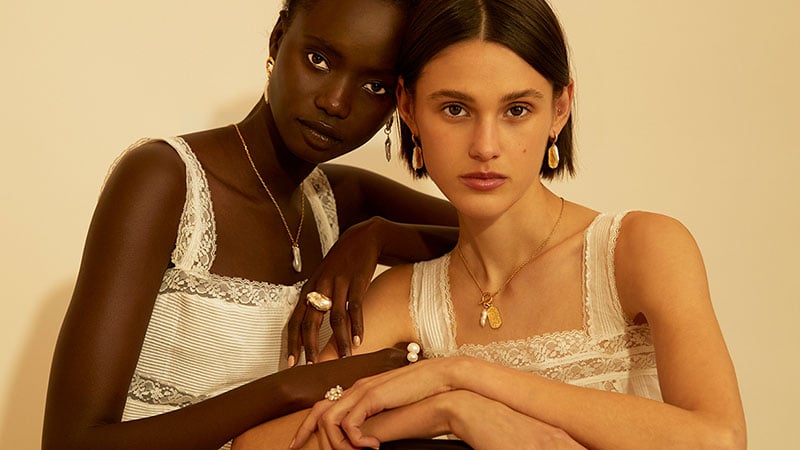 3. Avant Studio
Avant Studio brings some of Australia's best jewellery designers together onto a single online platform. This carefully curated collection allows women to find pieces that will elevate their everyday lives. You'll discover some of the most coveted brands from around Australia and the world, as well as up-and-coming designers. These brands include Alana Maria, Brie Leon, By Charlotte, Love Isabelle, Reliquia, Kirstin Ash, Luv Lou, Shevoke, and their own in-house brand Avant by Avant Studio. The brains behind the operation are Belle Maartensz and Briella Brown, who launched the website in January 2020. The ethos of the organization is female empowerment, environmental responsibility, and social justice. Plus, each quarter, they support a different charitable cause such as the NAAJA (North Australian Aboriginal Justice Agency).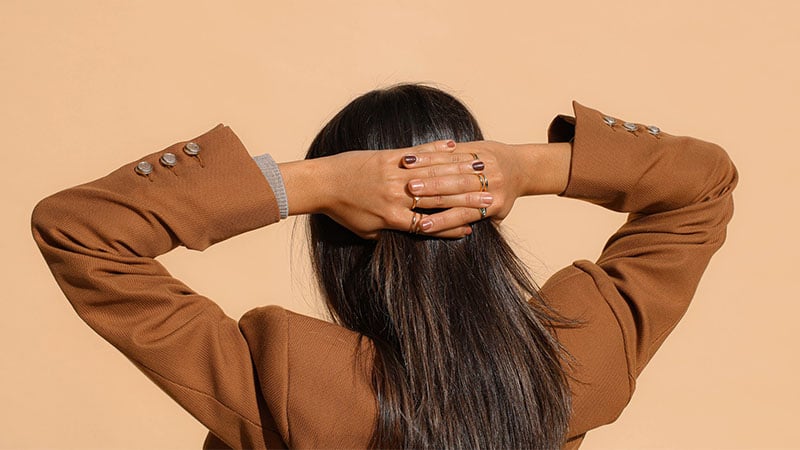 4. Babyanything
Bring the art of jewellery giving back with a piece from Babyanything. Created by Lucie Ferguson, the contemporary designs give a breath of fresh air to traditional fine jewellery. Each is imbued with femininity and timeless style. Lucie also wanted to emphasize jewellery's ability to create meaning and history for individuals when given as gifts for landmark events. Consequently, she hopes each piece will become a future family heirloom. The materials used in the range of necklaces, earrings, bracelets, rings, and anklets include ethically sourced precious metals, gemstones, and diamonds. Beyond the ready-to-wear lines, there's also a Ceremonial Collection for brides-to-be that has modern and original promise and engagement rings.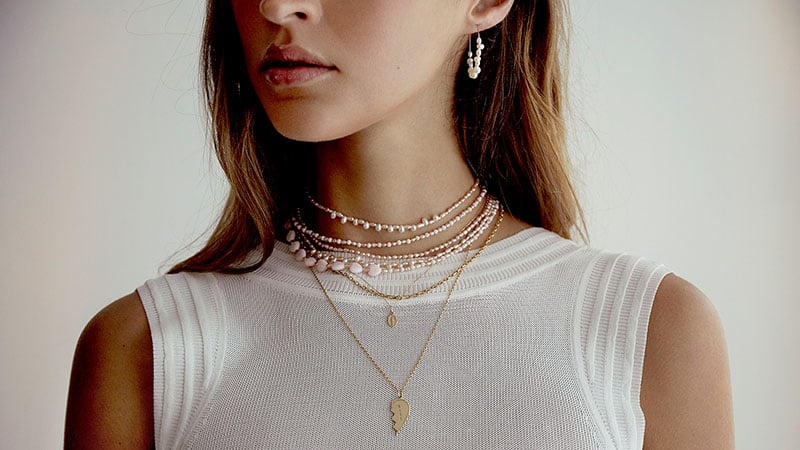 5. BIANKO
Treat yourself to a piece of jewellery that's luxurious, fun, and eco-friendly, with the range from BIANKO. Established in Western Australia in 2016, Belinda Madonini is the heart and soul behind the brand. Her goal is to design everyday luxury pieces for modern women that are also affordable and accessible. Therefore, you can select from a range of easy-to-wear necklaces, pendants, earrings, rings, bracelets, and anklets. Each is crafted with quality metals and natural pearls and gemstones that allow the materials' character to shine. Some of the most unique items in the range include Perth city skyline necklaces and Ningaloo Reef-inspired bracelets. If you love Belinda's work, you can even join the BIANKO Lifestyle Hub. Here you can connect with like-minded people who are bonded by their love of jewellery.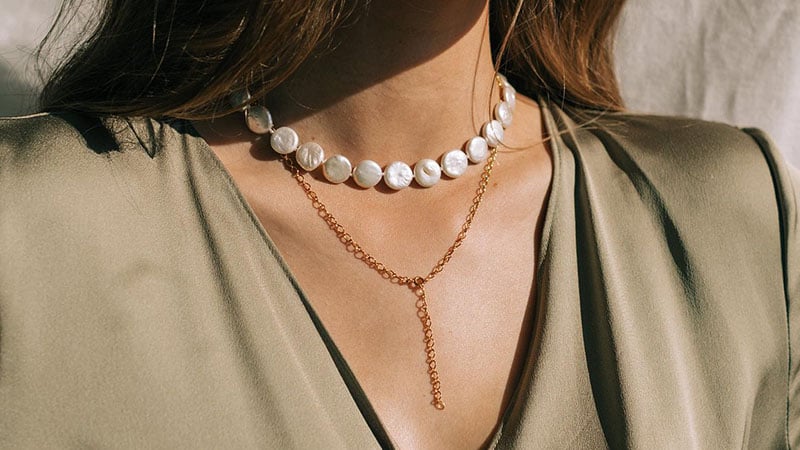 6. Bling Bar
Explore a range of jewellery from Australian brand Bling Bar that mixes bold modern designs with a feminine touch. This means you can take each piece from day to night with ease. Plus, anyone can wear these beautiful designs. The mother-daughter team who runs it draws on their Italian heritage, releasing collections inspired by their histories such as Bellagio, Costa Azzurra, and Dolce Vita. You'll find a mix of materials in use, including resin and plated silver and gold medals. Best of all, the prices are very affordable, meaning you can look fabulous without dropping a lot of cash.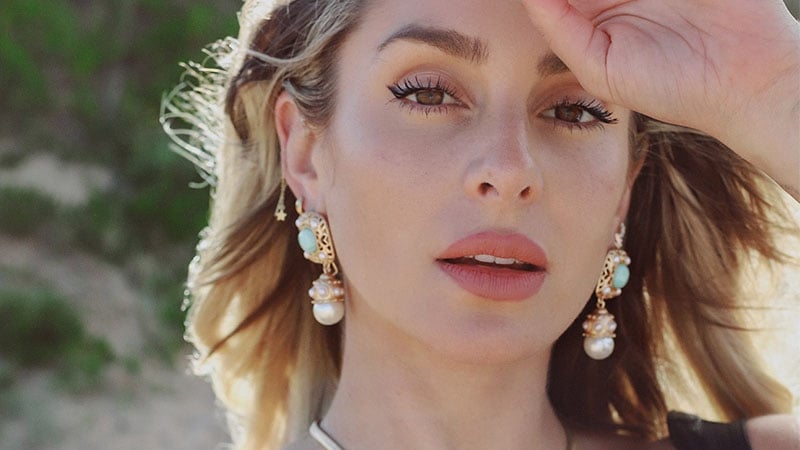 7. By Charlotte
Feminine and beautiful are the best words to describe the jewellery from the Australian brand By Charlotte. The designs showcase stunning semi-precious stones, crystals, and symbols, which hold deep spiritual meaning. The signature Lotus Necklace, the first-ever design from owner Charlotte Blakeney, has a cult following. Fans include Miranda Kerr, Rosie Huntington-Whiteley, and Georgia May Jagger. Embrace the elegant simplicity of the necklaces, rings, earrings, or bracelets. Alternatively, the simple styling means they're also ideal for layering to create a unique and personal look that resonates with each individual. You can choose to shop online, or if you're in Sydney, head into the flagship store in Paddington.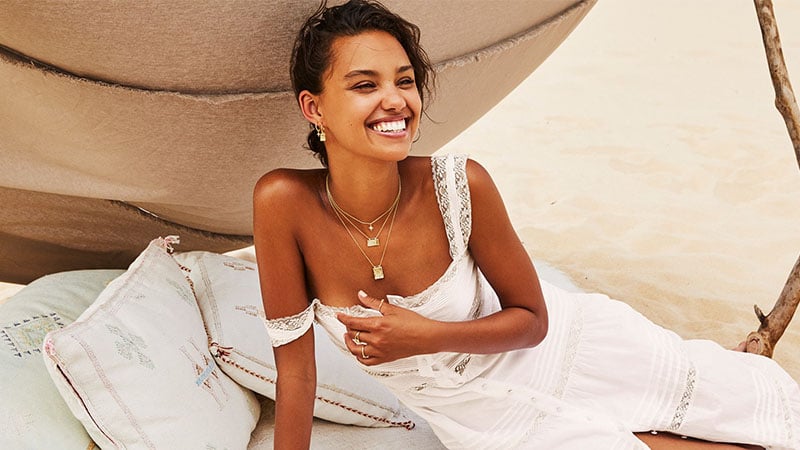 8. Christie Nicolaides
It's all about making a unique statement at Australian jewellery brand Christie Nicolaides. Each collection is inspired by an artistic upbringing, plus a love of antiques and vintage runway jewellery. Select from extravagant and baroque-style crowns, earrings, necklaces, and rings. You can wear each item individually or create a full and stunning aesthetic by combining elements from the same collection. The Australian-designed pieces are handmade by skilled artisans in Europe and Asia. Materials used also include colorful precious and semi-precious gems, glass, enamel, and plated brass, which gives Christie's designs their mix of bohemian glamour and 80s excess. In addition to cult favorites like the Paloma or Lucia earrings, there's a range for brides who want to incorporate some statement fun into their special day.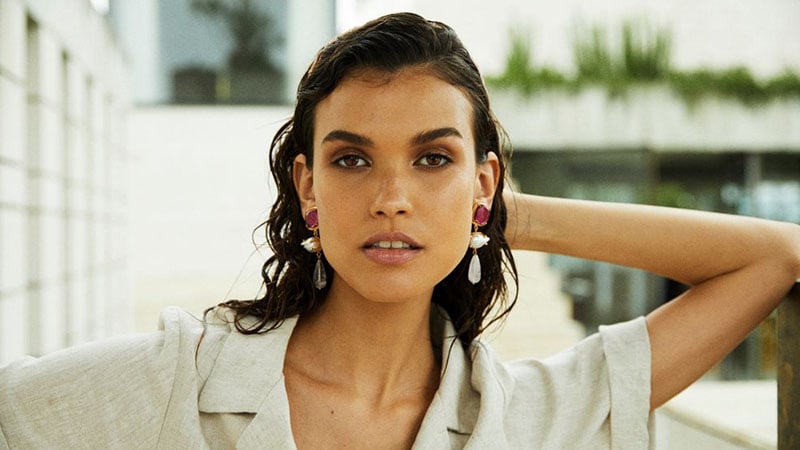 9. Elso Collective
The mind behind Elso Collective is Elena Strohfeldt, a Melbourne-based artist. Her journey began with Elso Jewellery, a passion project that let her create timeless, wearable art. She works with her jewellery maker in Sydney to perfect each design before 3D printing and wax casting each individual piece to minimize waste. Working only with 9K solid gold and sterling silver helps maintain quality and focus on reusing recycled materials from Australian refineries. Similarly, it means each item will last a lifetime. If you're looking for more than jewellery, Elso Studio and Elso Ceramics showcase Elena's range of paintings and ceramic creations that allow her to escape from anxiety. Finally, you can also feel good about shopping, as $5 from each purchase is donated through i=change to a charity. These charities are Protect A Woman, Post-Fire Support, and Help Kids with Cancer.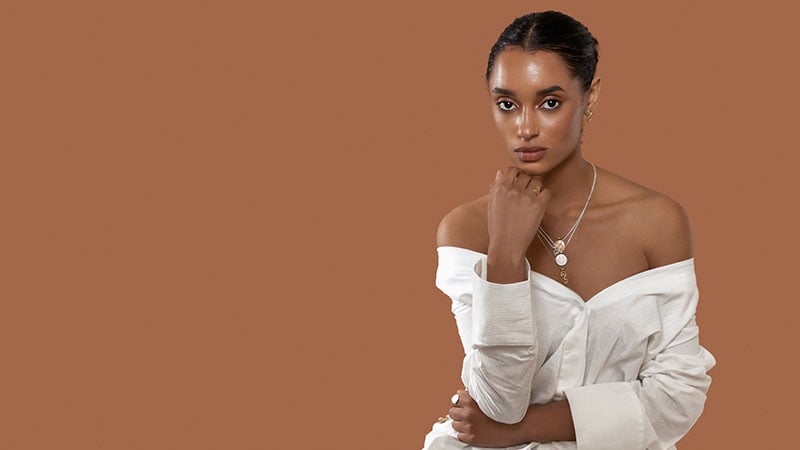 10. Enesea
Nikki Ehrlich started her jewellery career designing and making pieces for herself. Then, as more and more people complimented her look and requests came rolling in, she decided to give the people what they wanted and launched Enesea in 2019. Based in Sydney's Bondi, she takes inspiration from the natural elements around her. Consequently, you'll find shells, coral, beads, semi-precious stones, and gold hardware in her collections. The contemporary styling and coastal chic have found her worldwide appreciation. If you're after something even more unique, Nikki can also create bespoke designs just for you, based on your desires and inspiration.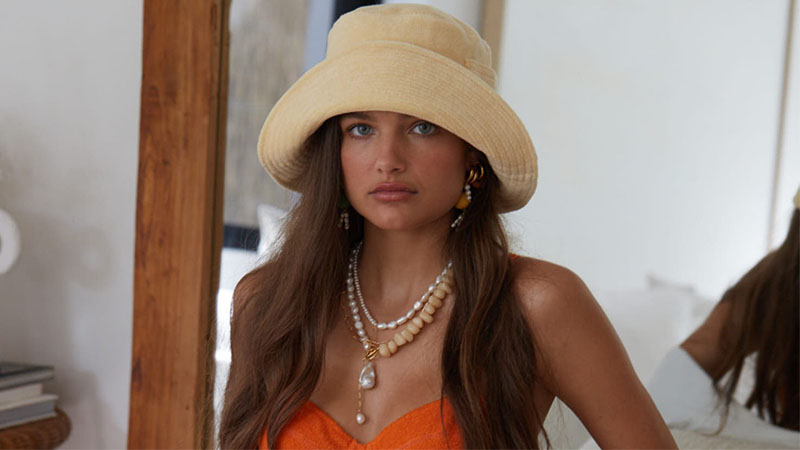 11. F + H
F + H stands for Femme and Homme – woman and man. As such, the collection features pieces that strike a balance between the masculine and feminine, toughness and beauty. The creations come from Sharona Harris, are designed in Byron Bay, and are created by craftspeople certified by the Responsible Jewellery Council. They are made using heavy metal plating, natural gemstones, and freshwater pearls. Doing so ensures they'll be a wardrobe staple for years to come. Each style channels industrial vibes mixed with glamour. There's also a unisex edit designed for both men and women to wear with confidence. Lastly, when it comes to sustainability, all mailing bags are compostable, while the Byron Bay head office and boutique run on solar power. Plus, they work with the SHIFT Project to donate past stock to women transiting from homelessness to independence, which can give them a much-needed boost in confidence.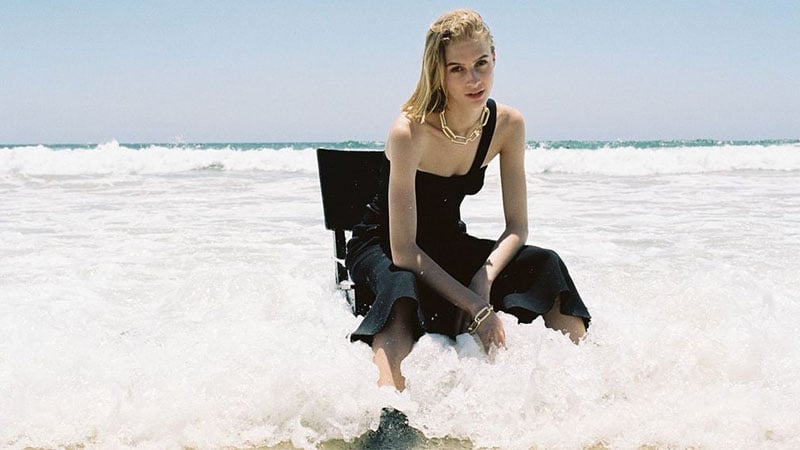 12. Heart of Bone
Not everyone is into a pretty and feminine aesthetic. For those who aren't, there's Heart of Bone. It's a brooding world of whimsical creativity inspired by the realms of darkness and the spirit of rock'n'roll. This Australian family-owned jewellery brand focuses on authenticity and sustainability. Each handcrafted design is unique and made from high-quality metals. This includes 925 sterling silver, black rhodium finished stainless steel, 18K yellow gold vermeil, and 9K and 18K solid yellow and white gold. Their local metal suppliers are certified by the Responsible Jewellery Council (RJC) and adhere to strict ethical standards. When it comes to their pieces, some of the most iconic styles include the bunny and skull rings, which have adorned the fingers of famous faces like Miley Cyrus and Jean Paul Gaultier.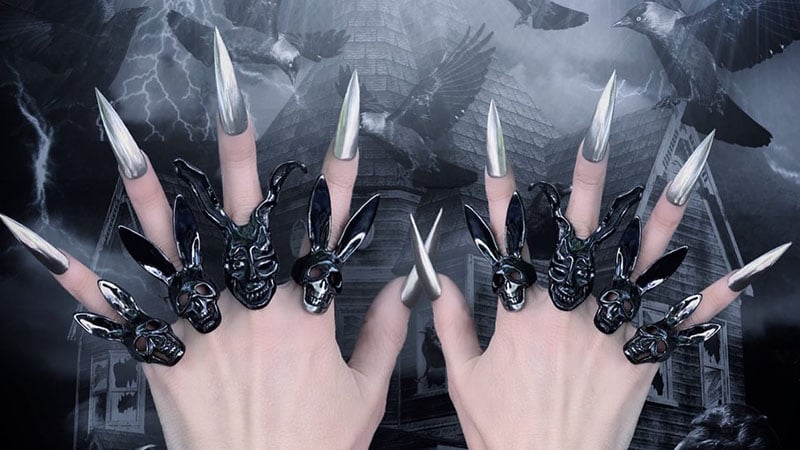 13. Holly Ryan
Holly Ryan's coveted designs have featured in the pages of international magazines such as Vogue, Harpers Bazaar, and Russh. She started her eponymous brand in 2010, after studying fashion design at university. Her parents, who also studied jewellery making, instilled in her an ethos for sustainability and ethics. Her process focuses on making timeless pieces from sustainable and recycled materials. Minimizing waste, handcrafting to order, and encouraging circularity is also part of the process. Her most popular and iconic works include the Wabi-Sabi rings, Meteor Pearl Drop earrings, Picasso pendant, and Minimalist Hoop earrings.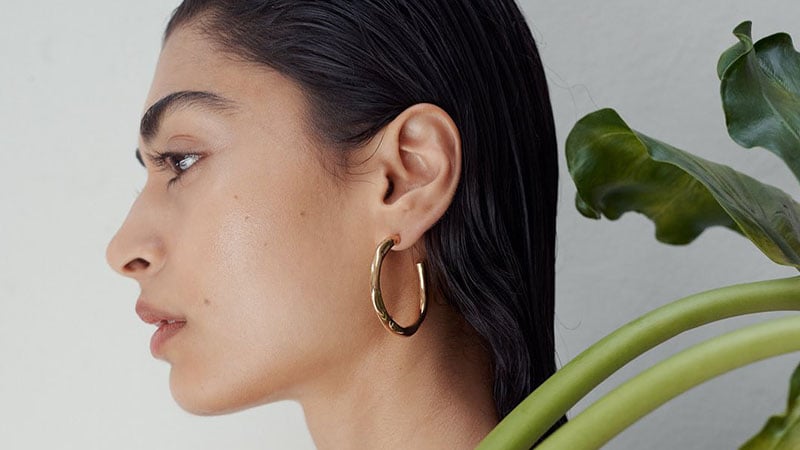 14. Jackie Mack
The designs from Jackie Mack have a sleek and sophisticated aesthetic. Enjoy a selection of stunning earrings, ear cuffs, studs, and necklaces, with delicate and elegant details. Owner and Creative Director Jackie Damelian has lived on four different continents but now calls Australia home. This adventurous life, which saw her immersed in other cultures, informs her design choices to deliver a contemporary and playful jewellery line. The brand also aims to minimize any environmental impact through recycled and sustainably sourced materials. They include 18K gold vermeil, 925 sterling silver, 18K yellow and white gold plating, and 14K rose gold plating. To mix things up, freshwater pearls also feature regularly.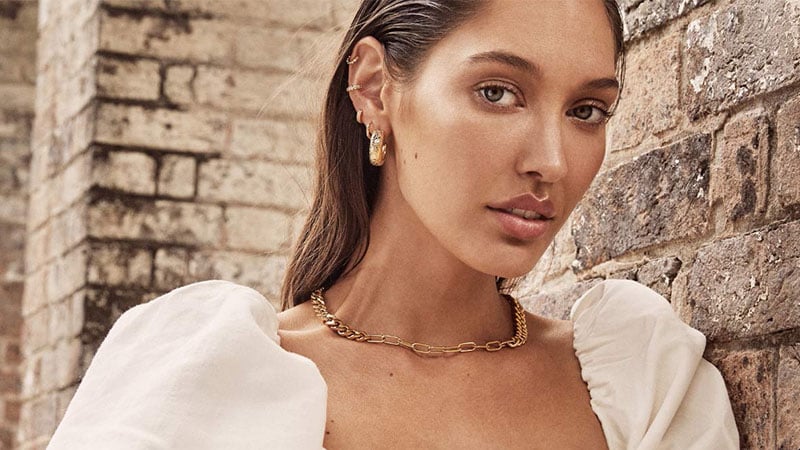 15. Kate &Kole
Kate & Kole started as a side project for friends Sara and Maddy in 2015. Since then, their project has evolved into a full jewellery brand and ring concierge service, bringing beautiful designs to women worldwide. They use quality metals, diamonds, and stones across the eight collections. All the materials are sustainably sourced, which includes lab-grown diamonds, a better alternative to mining. Choose elegant, everyday pieces like the Oria or Awa ring and Tiny Letter charm bracelet. Alternatively, make an appointment at the Newcastle store for a bespoke engagement ring for someone special. Each item, including standard and custom, is cast in Sydney and hand-finished in Newcastle to ensure the highest quality standards are maintained.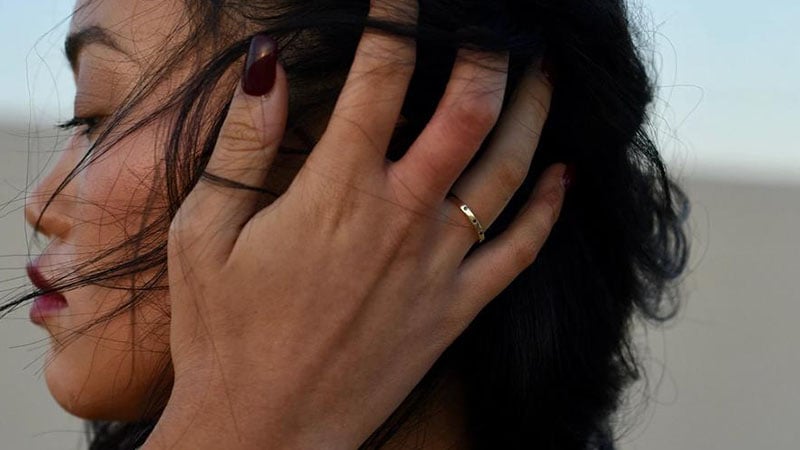 16. Kitte
If you would like to add a stylish flair to your look, then Kitte is the Australian jewellery brand for you. Launched in 2014 by designer Kit Cockerell, it takes inspiration from vintage eras and the opulence of the theatre. As such, you'll discover pieces that feature bold texture and fine, beautiful details, as well as elements of flowers and animals. The earrings, necklaces, bracelets, anklets, and hair accessories are distinctive and sure to grab attention. Some of the best sellers include the Madera necklace, Connextion bracelet, and The Lavish One earrings.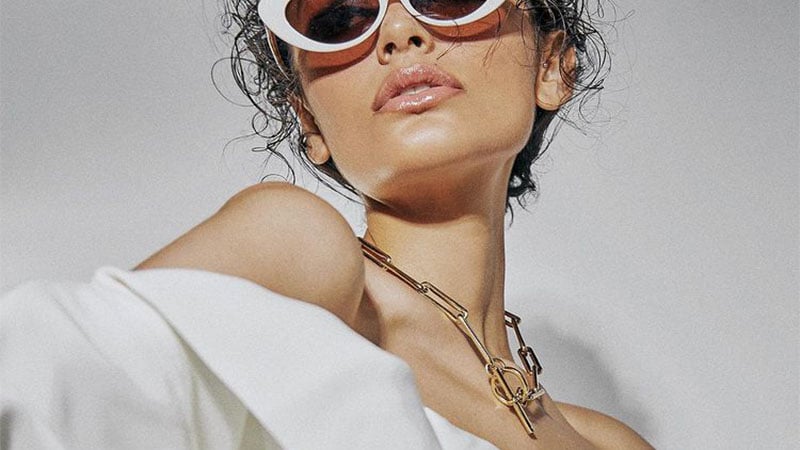 17. Lucy Folk
Inject some color and fun into your wardrobe with the extensive range from nomadic lifestyle brand Lucy Folk. Founder and Creative Director, Lucy Folk, is a goldsmith by trade and applies her expert craftsmanship to the eclectic aesthetic and wearable art. Each design is inspired by travel, art, and wellbeing to create a spirited range of earrings, necklaces, bracelets, and rings. Her work has been recognized for its unique appeal and timeless luxury in publications such as i-D and Purple. Celebrity devotees also include Beyonce, Margot Robbie, and Zoe Kravitz. Beyond the handmade jewellery, you can also explore Italian-made eyewear, resort apparel, and other accessories.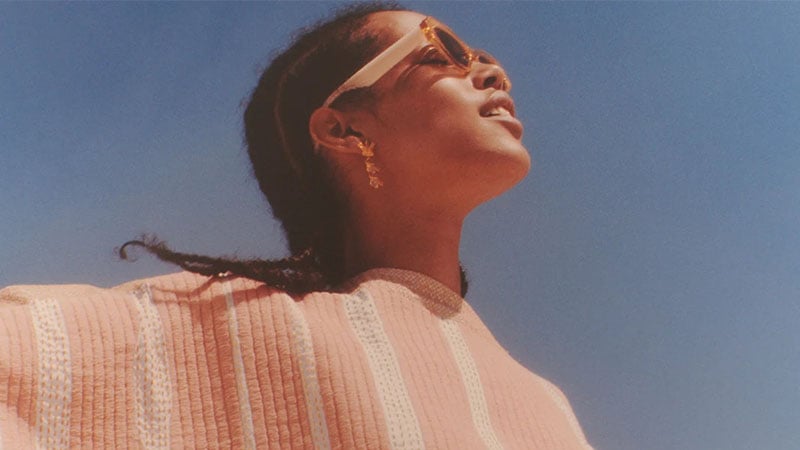 18. Mountain and Moon
Indulge in some opulent glamour with Mountain and Moon. The Western Australian-based jewellery brand is all about the ladies. The strong, sexy designs are the perfect way for confident women to make a statement and unapologetically command the attention of the room. It's spirited, brave, and always in style. Inspiration comes from founders Audrey & Ashton's, shared adventures with designs that transcend culture, time, and styles. Select from earrings, necklaces, rings, charms, hair clips, and even belts for full-body accessorizing.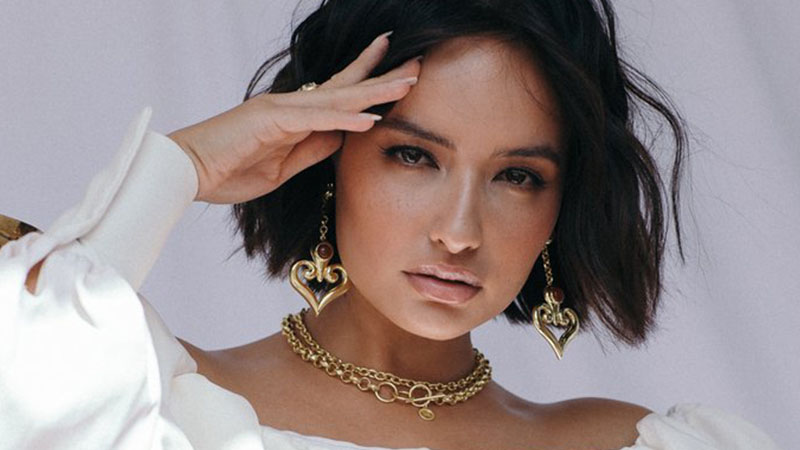 19. Natalie Marie Jewellery
Natalie Fitch is the woman behind Natalie Marie Jewellery and originally hails from Southern England. She moved to Australia at 20 years old and launched her eponymous label immediately after graduating from university. The brand dedicates itself to traditional craftsmanship, which also focuses on excellent quality and sustainability. However, the designs are a far cry from conventional and instead allow a unique and minimalist style centered on sentiment. Every piece is hand-made to order, which is the best method for reducing waste and the environmental footprint. You can also shop for already designed necklaces, earrings, bracelets, and rings. There's also a beautiful bridal collection that covers Something New, Something Blue, Something Sentimental, and even Something Else. Alternatively, there's a bespoke service for individually designed pieces that are genuinely one-of-a-kind.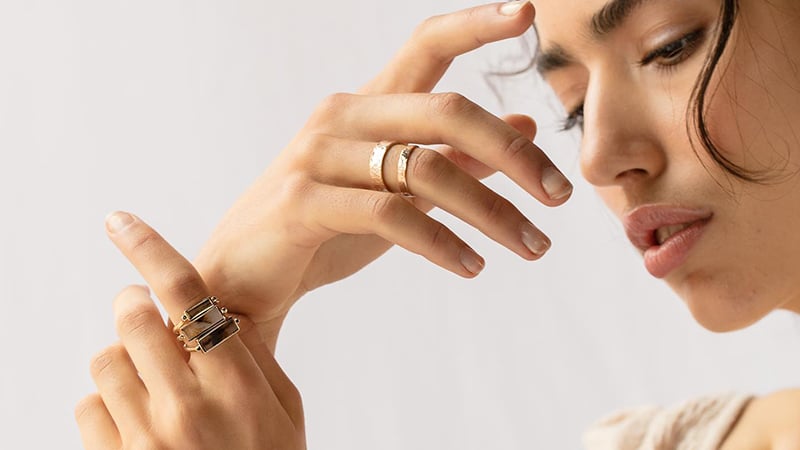 20. Natasha Schweitzer
It was a battle of wills that led to Marion Schweitzer founding her namesake jewellery brand. As a woman in a male-dominated industry at the time, she faced a lot of heartbreak before anyone would consider taking her on as a goldsmith apprentice. However, once she mastered her trade, she became one of Australia's leading jewellery makers. Since 2018, the brand is run by her daughters, Natasha and Alexandra, who have embraced an international audience. The company is synonymous with exceptional quality and modern, minimal styling. Some of the best-selling styles from the primary collection include the Janie Diamond Wrap ring, Letter Necklace, and Aurora earrings. Plus, you can explore bespoke engagement rings with one of the in-house diamond specialists.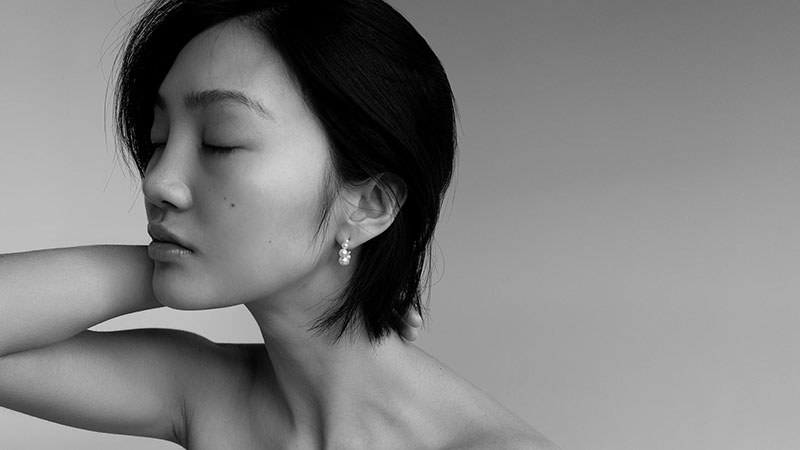 21. Reliquia Jewellery
Reliquia Jewellery is one of three fashion labels owned by Sydney superstar Ana Piteira. It's truly a trip down memory lane with each brand, inspired by rummaging through her grandmother's jewellery collection as a child. As such, the focus of Reliquia Jewellery is on vintage-style. Popular styles, such as the Spiral Hoops and Coin Necklaces, quickly became cult favorites thanks to their retro appeal. Beyond Reliquia Jewellery is Valet Studio, a place where Ana continued to play with jewellery design, creating resin pieces, as well as colorful 90s-style hairclips. The final brand in her lineup is Respiro. Here you'll discover hardback resin box clutches in all shades of the rainbow.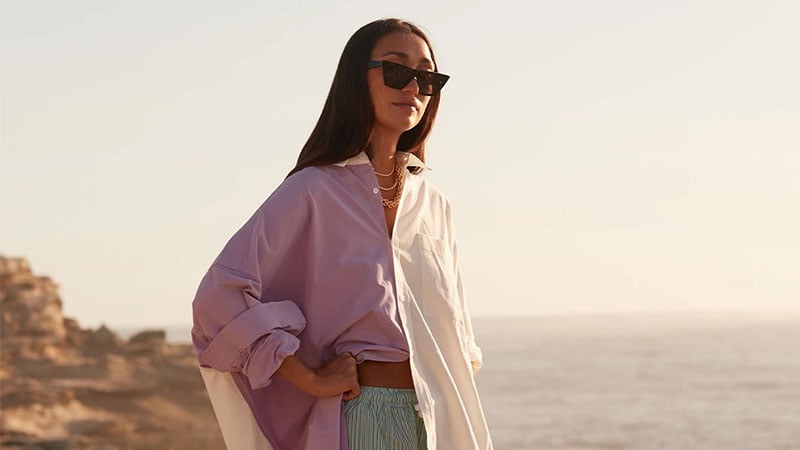 22. Ryan Storer
With A-list fans like Cara Delevingne and Olivia Palermo, Ryan Storer has a massive following. He worked in the jewellery industry for 13 years before launching his namesake label in 2012. The designs are a sexy mix of clean lines and sculptural shapes that create an alluring juxtaposition. He uses gold-plated sterling silver, freshwater pearls, and semiprecious stones in most of the styles. Plus, he makes each item to order to reduce waste. Ryan has also done notable collaborations with Dion Lee, Sass & Bide, and Emma Mulholland.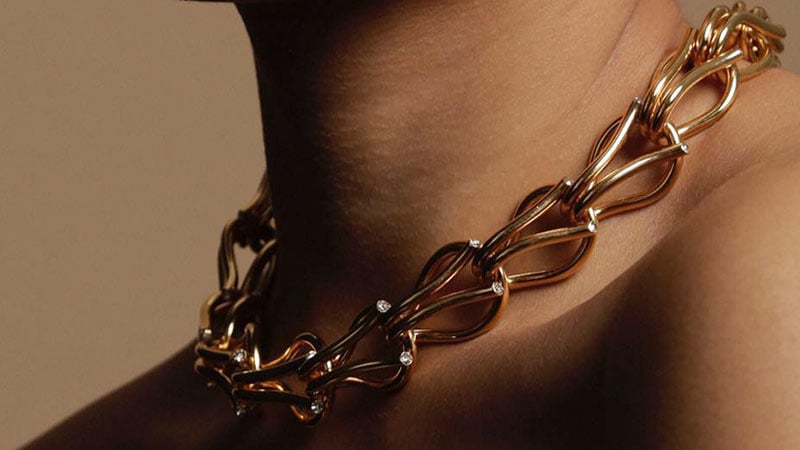 23. Sarah & Sebastian
Worlds collided when Australian-born Sarah Gittoes met German-born Robert Sebastian Grynkofki while studying design overseas. Both shared a passion for jewellery design innovation and traditional craftsmanship. Consequently, they launched their namesake label, Sarah & Sebastian, in Sydney in 2012. Their sun-filled warehouse is where the magic happens. Sarah is the creative director and draws design inspiration from her love of recreational diving. Some of the best-selling pieces include Bloom Diamond earrings, Ringed Ring, and Petite Letter bracelets. Meanwhile, Robert has a passion for local manufacturing that employs master artisans. The company uses recycled materials, ethically sourced stones, and made-to-order manufacturing to reduce waste – all part of its commitment to sustainability.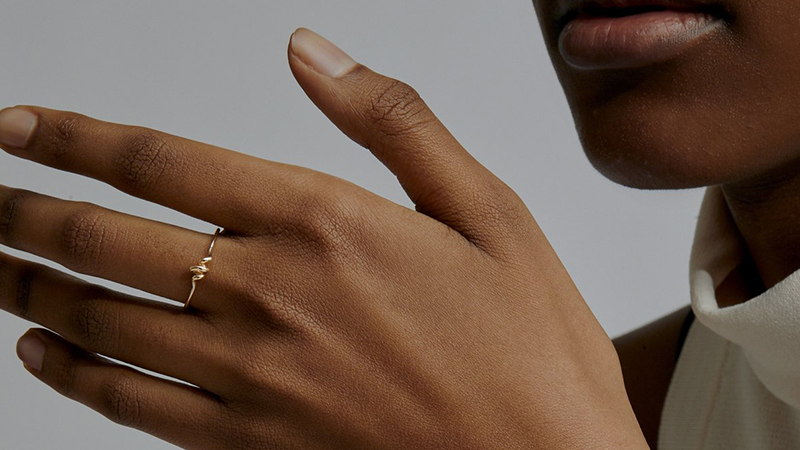 24. Temple of the Sun
Ancient European symbology plays a significant role in the contemporary designs from Byron Bay jewellery brand Temple of the Sun. Launched in 2014 by couple Yonna Derofe and Darren Gallant, each piece draws inspiration from the rich cultural tapestry of Yonna's Turkish heritage. These influences blend effortlessly with art, nature, and handcraft. The range of exquisite necklaces, earrings, rings, and bracelets are made from either sustainably sourced sterling silver or 2.5-micron 18K gold plating. Each piece is also handmade using the lost wax casting method and finished with love by skilled hands. It's an aesthetic that celebrates diversity and femininity and honors the sacred.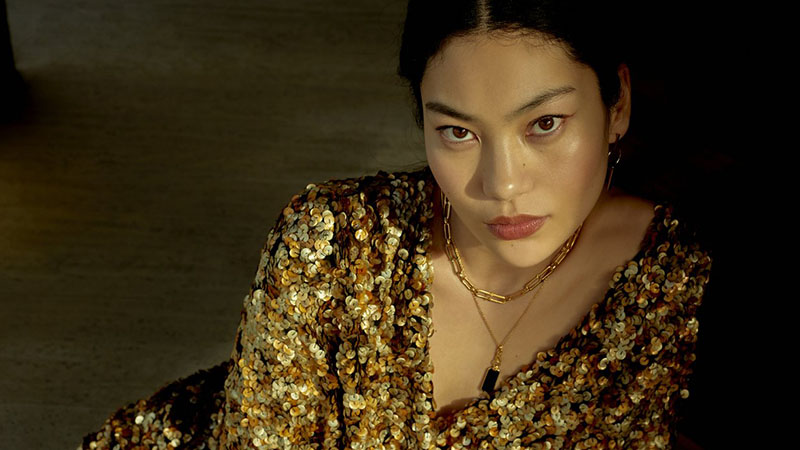 25. ToniMay
A wanderlust spirit shines through each piece in the ToniMay collections. This Australian jewellery brand from accessories designer Laura Byrne is based in Paddington, New South Wales. Laura takes inspiration from across the world, using gemstones acquired in her travels. The bohemian designs also use 9K, 14K, and 18K yellow and white gold, making them the perfect gift or future heirloom. Discover stunning earrings, beautiful necklaces, unique cuffs, stacking rings, and even a men's collection. ToniMay is a brand for the spirited and adventurous to embrace their wild side and create memories for a lifetime.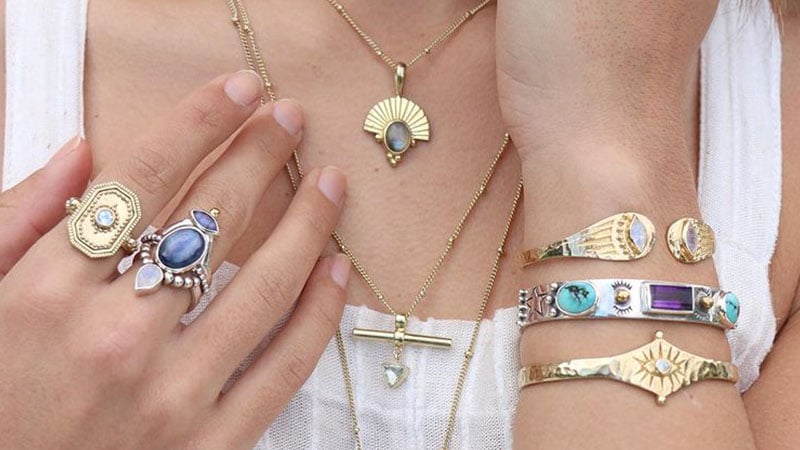 26. VALÉRE
Treat yourself to a luxurious and romantic piece of jewellery from Queensland-based brand, VALÉRE. Designed by Samantha Lowe, these unique pieces are made with precious gemstones, 24K gold plating, and skilled craftsmanship. Love, peace, health, and happiness are the inspirations behind each look. The collections offer a different feel, from reconnection and 80s vibes with GAIA to serenity and tranquility with ROCKPOOL. While the brand is popular among stylish women, VALÉRE's exceptional designs have also graced Vogue, Russh, and Oyster's pages. Plus, celebrity ambassadors include Kourtney Kardashian, Kylie Jenner, Jesinta Campbell, and Delta Goodrem.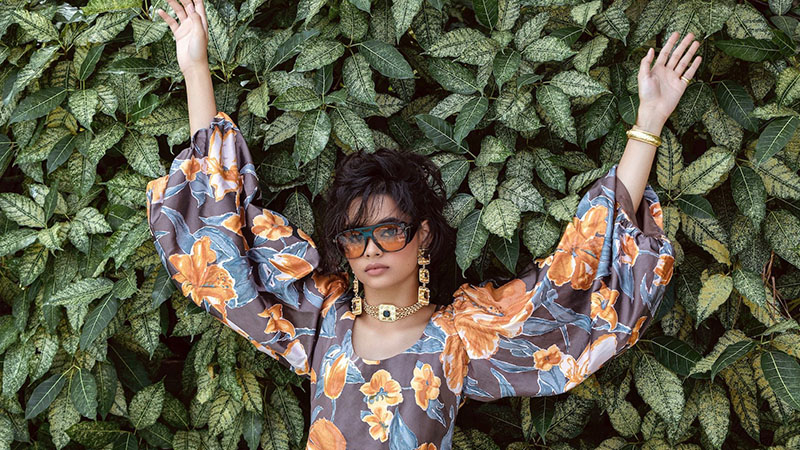 27. Valet Studio
Valet Studio is run by Sydney entrepreneur Ana Piteira, who also owns two other fashion labels, including Reliquia Jewellery and Respiro. The brand's focus is fun, effervescent, and colorful resin earrings and hair clips that throw it right back to the 1990s. Ana takes inspiration for her designs from memories of digging through her grandmother's jewellery box on trips to Portugal as a child. Here she would find costume jewellery mixed in with vintage pieces, all equally loved. Everything is bold, colorful, and ideal for everyday wear.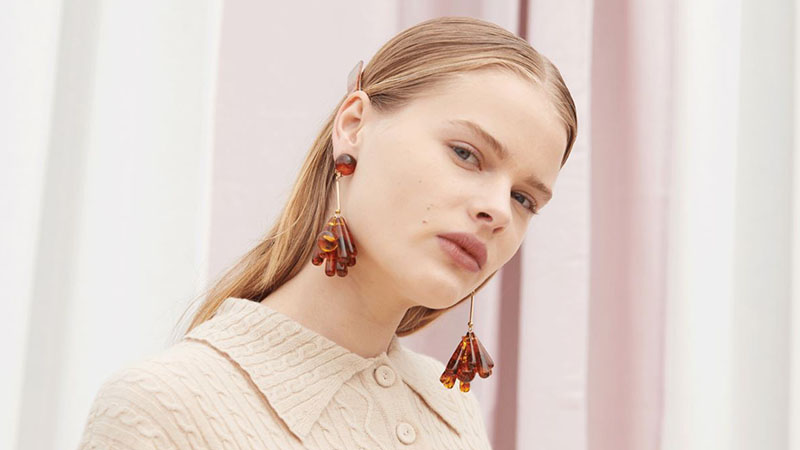 28. YCL Jewels
The signature style of YCL Jewels is minimalist and feminine. Every piece is made by hand, through every step, including cutting, carving, filing, and polishing. Small-batch production ensures minimal waste, while a less is more approach applies to the packaging. Shop for initial necklaces, star sign pendants, or detailed chockers. You'll also discover beautiful hooped earrings and stunningly simple rings that are perfect for daily wear. Gold-Coast based founder and designer Fabienne is self-taught in the art of jewellery making and was recently recognized for her efforts with the Women In Business on the Gold Coast Aspiring Women in Business award.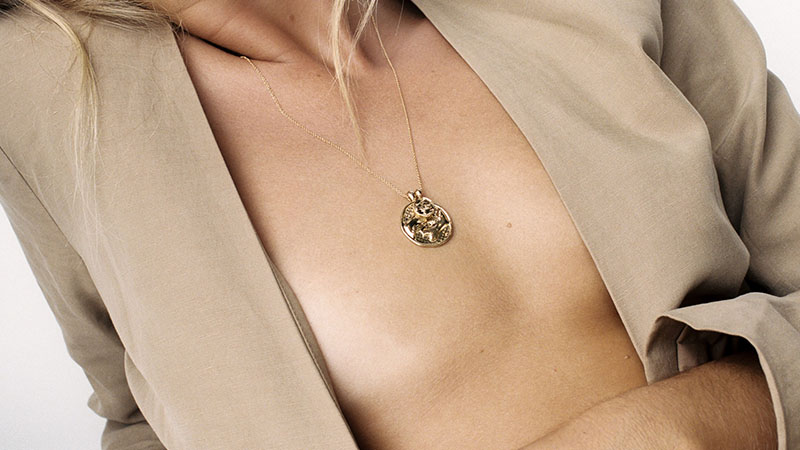 FAQs
What jewellery brands are the best?
Some of the best Australian jewellery brands include Natalie Marie, Atelier Romy, Lucy Folk, Dash of Gold, and Natasha Schweitzer. 
What is the most popular piece of jewellery?
One of the most popular pieces of jewellery is a necklace or chain. Necklaces are popular because anyone can wear them, and they come in various designs and styles. Plus, if you're buying it for a gift, you don't need to worry about getting the correct size or checking someone has their ears pierced. 
What pieces of jewellery should every woman own?
Every woman should have a versatile necklace, diamond studs, a simple bracelet, hoop earrings, bangles, and a pair of simple studs. Optional extras to round out a basic collection include a string of pearls, a cocktail ring, stacking rings, and layering chains. 
Where can I buy good quality jewellery?
There are many places you can buy good quality jewellery. While chain stores are fine, and you can get some lovely items, it's best to look beyond box stores and towards independent and local jewellery makers, who invest more love into their work. Online shopping can be a good option, especially because many brands manufacture to order to reduce waste. Just make sure to do your research about the materials used to know exactly what you're getting. Look at brands like Natasha Schweitzer, YCL Jewels, Temple of the Sun, Natalie Marie Jewellery, Enesea, and Jackie Mack. 
SUBSCRIBE TO OUR NEWSLETTER
Subscribe to our mailing list and get interesting stuff and updates to your email inbox.