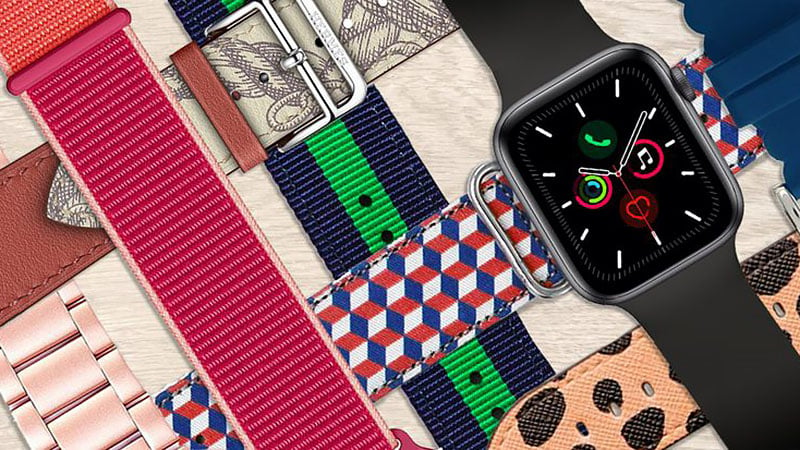 Fans of the Apple Watch know the best part of owning one is customizing it to suit your style, taste, and needs. And one of the best ways to personalize your smartwatch is by changing up the band. Luckily, there's a huge variety of different straps out there which will give your favorite accessory a brand new look. From chic fashion patterns and jewelry-inspired features to durable and waterproof designs, you're bound to find the perfect one on our list of the coolest Apple Watch bands for him and her.
Apple Watch Bands for Men
Marge Plus Genuine Leather Band
Give your Apple Watch a stylish and professional look with the Marge Plus Genuine Leather Band. A great value, hard-wearing watch band, it comes in a range of solid colors with contrast stitching. Soft and flexible, the leather also has a non-slip and anti-sweat coating so it will always feel comfortable on your wrist. Giving the band an even more polished finish is the stainless steel, silver-toned buckle, and connectors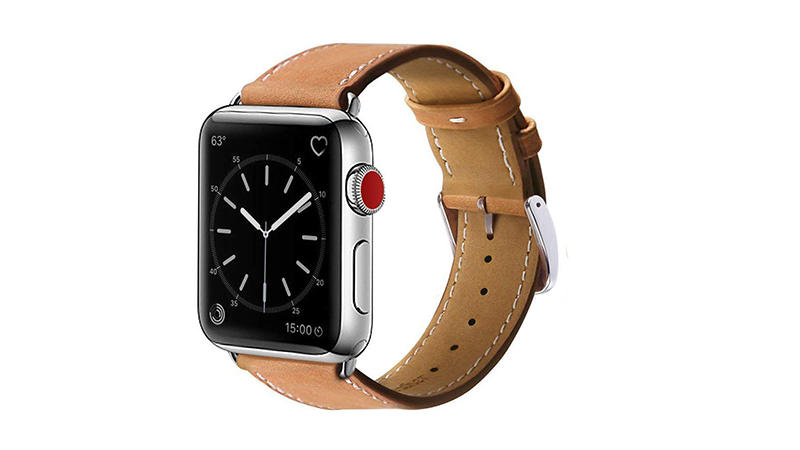 Cocos Stainless Steel Mesh Loop Band
Made of premium stainless steel in a cool, sleek design, the Cocos Mesh Loop Band is ideal for both business and everyday wear. It is shock-absorbent and non-slip so you can wear it to the gym with confidence. Even better, the secure magnetic clasp means it's easy to fit your wrist size, and you can remove it with the touch of one button.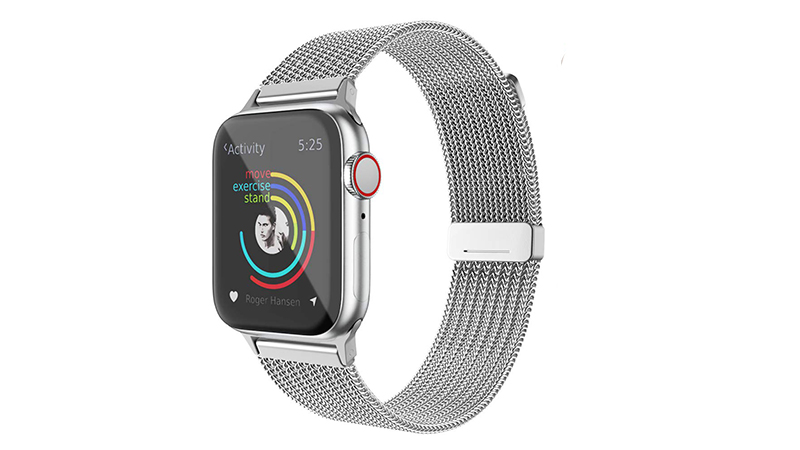 Fullmosa Stainless Steel Metal Band
The Fullmosa Metal Band is crafted from premium 304 stainless steel with a durable color coating. Those who prefer the feel of a metal strap – like a classic Rolex – should try the Fullmosa with their Apple Watch. Combining comfort and style with a masculine finish, the band also comes with resizing tools so you can customize it to your wrist size for a perfect fit.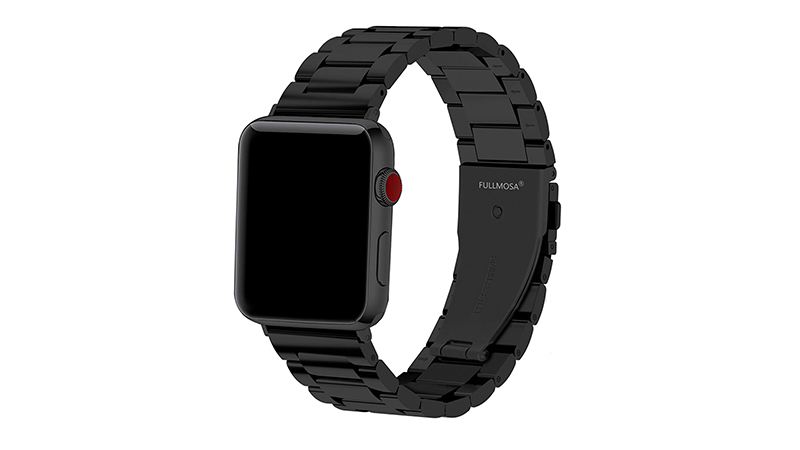 AdMaster Soft Silicone Band
For the ultimate comfort in your Apple Watch band, look no further than this Soft Silicone design from AdMaster. The high-quality strap is soft to the touch and very durable, making it ideal for daily wear. However, the best feature is the air holes which allow air to circulate. That makes the band perfect for those who lead an active lifestyle and need a breathable watch strap that won't irritate or slip around on their wrist.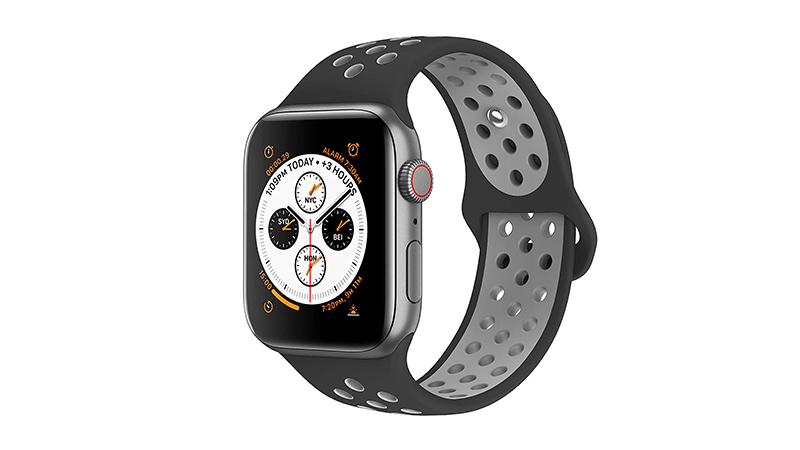 INTENY Nylon Sport Loop Band
The double-layer fabric on the INTENY Nylon Sport Loop Band makes it incredibly soft, breathable, and lightweight on your skin. As a result, it's one of the most comfortable Apple Watch straps on the market. The hook-and-loop fastener makes it easy to adjust, while the connector can withstand plenty of wear and tear. It's a watch strap that looks as good as it feels, even when you're working out.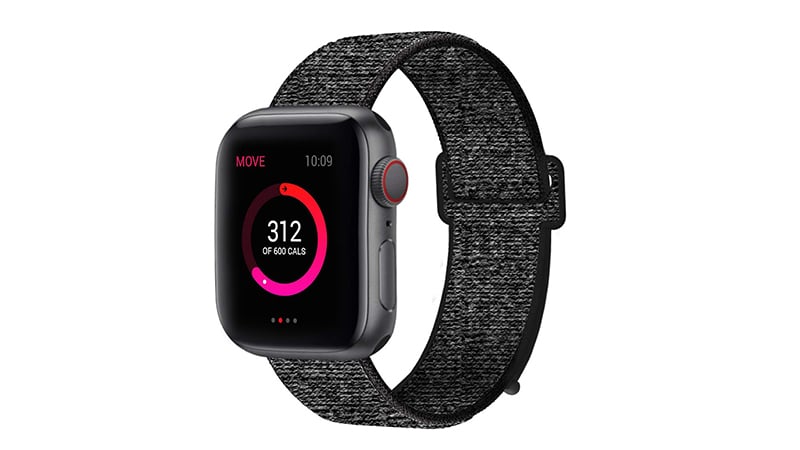 Cocos Black Stainless Steel Mesh Loop Band
Combining the sleek look of a mesh watch band with a cool all-black colorway, the Cocos Black Stainless Steel Mesh Loop Band is all about understated style. It adds a touch of class to any outfit, from a business suit to a T-shirt and jeans. The versatile design means you can take it from the gym to the boardroom to the bar.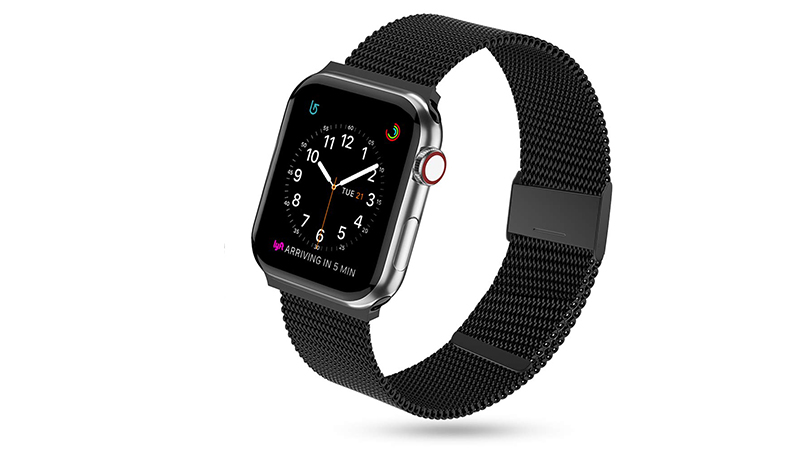 KYISGOS Genuine Leather Band
Made from 100 percent calf leather, the band is high quality and feels ultra-comfortable. The solid color and stainless steel buckle give it a classic look that's the ideal accessory for a formal event or business meeting. The KYISGOS Genuine Leather Band is excellent value and will give your Apple Watch a completely new look in seconds.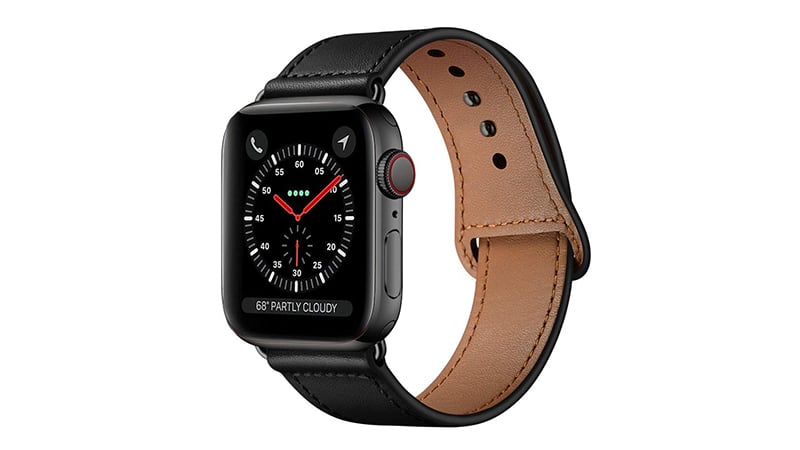 Smatiful Fancy Bands Stainless Steel Clasp and Gunmetal Band
For guys who love the layered bracelet look, the Steel Clasp and Gunmetal Band from Smatiful Fancy Bands is a great choice. It combines an accessory and watch strap in one. The band is made from small grain, woven-look leather with steel beads and decorations. Ideal for those with a bohemian sense of style, it's a convenient way to match your Apple Watch with your aesthetic.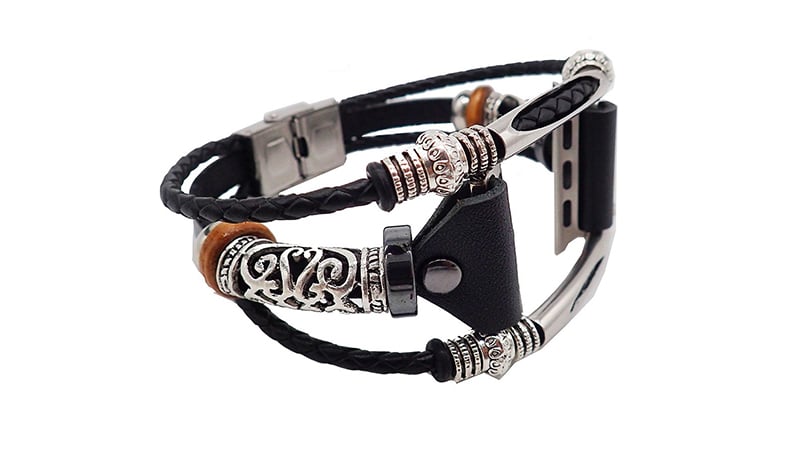 Carterjett Soft Silicone Tire Tread Men's Band
The Carterjett Soft Silicone Tire Tread Men's Band is engineered to be extra durable, lightweight, and flexible, with air channels to release sweat and moisture. It's also waterproof and easy to clean. That makes it perfect for guys with an active lifestyle, whether it be in the gym or the great outdoors. The unique adapter and buckle clasp means the strap will fit your wrist with no tools or adjustments required. It also comes in a variety of colorways and finishes so you can find one to match your style perfectly.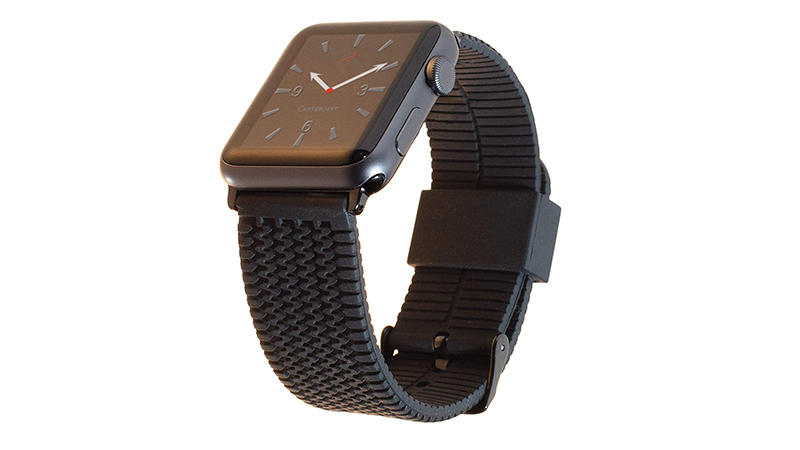 Spigen Rugged Armor Pro Band
If you like the sturdy look and durability of military watches, upgrade your Apple Watch with the Spigen Rugged Armor Pro Band. It will protect your watch from scratches and shocks, with a flexible upper layer and raised bezels to prevent screen damage. Meanwhile, the matte finish and carbon fibre accents give the band a masculine look that will stand the test of time.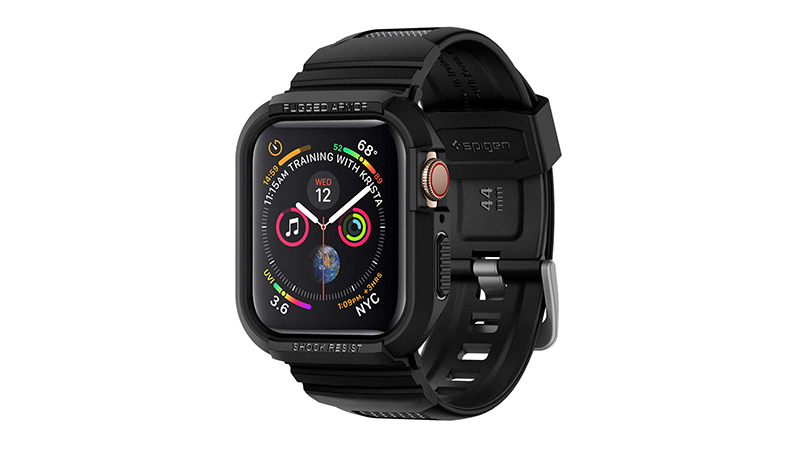 Apple Watch Bands for Women
Lwsengme Soft Silicone Sport Band
Soft, durable, and flexible, the Lwsengme Soft Silicone Sport Band comes in many different fashion-forward patterns and colors. There's one that is guaranteed to match your style perfectly. Plus, you can choose one that will complement the tones in your Apple Watch too – from rose gold to black or silver. It's breathable and won't irritate your skin, while the pattern is corrosion-resistant and fade-proof. Plus, the two loops and extra holes mean it's adjustable to any wrist size.
Jwacct Adjustable Stainless Steel Mesh Band
Give your Apple Watch a deluxe makeover with the Stainless Steel Mesh Band from Jwacct. The design is inspired by the classic Milanese loop style, which gives it a timeless, luxurious finish. It's buckle-free for an ultra-sleek look – secure it using the high-quality magnetic clasp and slip it onto your wrist. Best of all, it comes in a variety of colors from rose gold to rainbow, black and space grey. You can easily find your perfect match – or treat yourself to multiple different straps.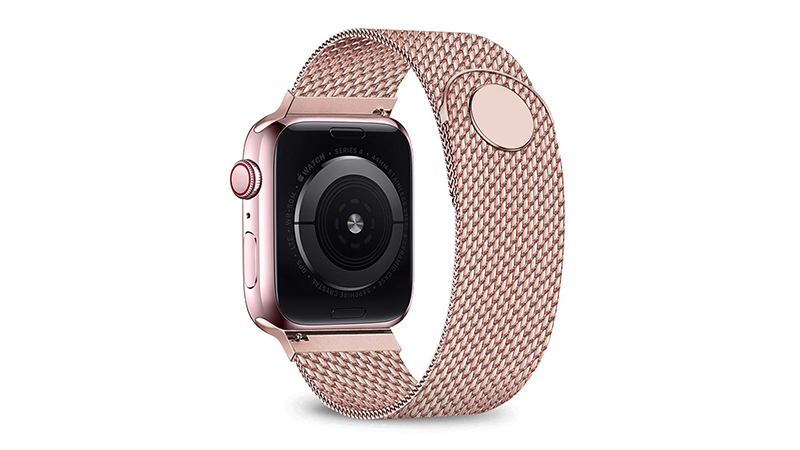 GBPOOT Loop Band&nbsp
GBPOOT Loop Band is the perfect way to take your Apple Watch to the next level. Unique and ultra-chic, the mesh design has a holographic effect that changes with the lighting. The band is securely magnetized and fully adjustable without requiring holes or a bulky clasp. That means it has a super sleek silhouette. It's the perfect accessory on a night out – or for everyday wear if you're feeling bold!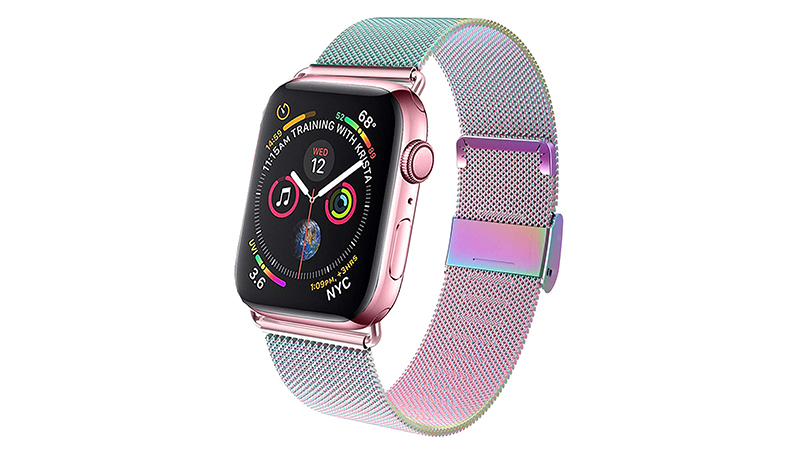 Secbolt Bling Band Rhinestone Rose Gold Band
Combine your jewelry with your watch strap with the Secbolt Bling Band Rhinestone Gold Band. Made from high-quality plated stainless steel, it's the perfect accompaniment to a rose gold Apple Watch. The rhinestones glitter like diamonds and the pretty loop design makes it a chic addition to your jewelry' arm party'. Plus, its six folding clasps mean you can easily resize it for the perfect fit. Just clip it on and wait for the compliments!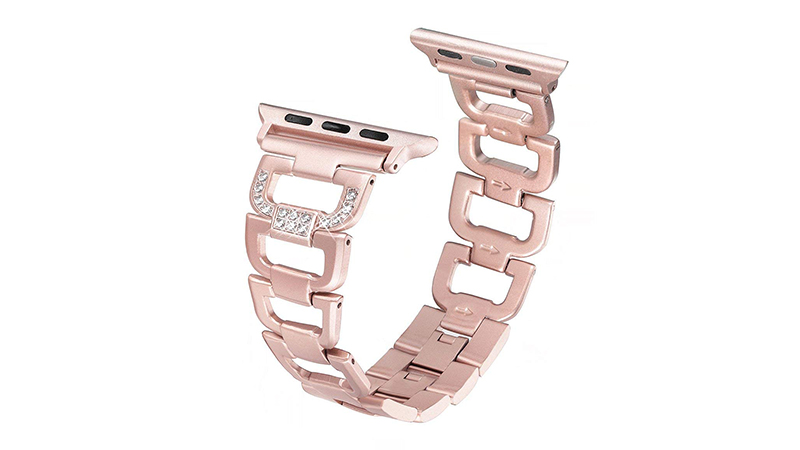 HILIMNY Soft Nylon Sport Loop Band
Made from a double-layer Nylon weave, the Sport Loop Band from HILIMNY gives your skin an extra layer of comfortable cushioning and a super soft feel. Plus, the hook-and-loop fastener makes it super secure as well as adjustable to your size – perfect for those who have more petite wrists. It's the ultimate combination of style and comfort that you'll happily wear every day.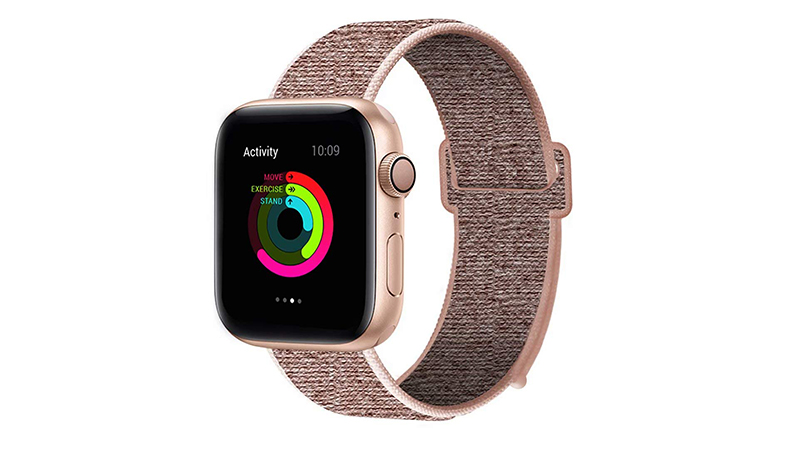 Bravely Klimbing Fadeless Pattern Printed Band
The Bravely Klimbing Fadeless Pattern Printed Band Made from lightweight, breathable high-quality silicone. It's so comfortable that you might forget you're wearing it! The strap comes in a cool range of designs, including pretty florals and a Burberry-inspired tartan. You're bound to find one that perfectly complements your Apple Watch and your outfit.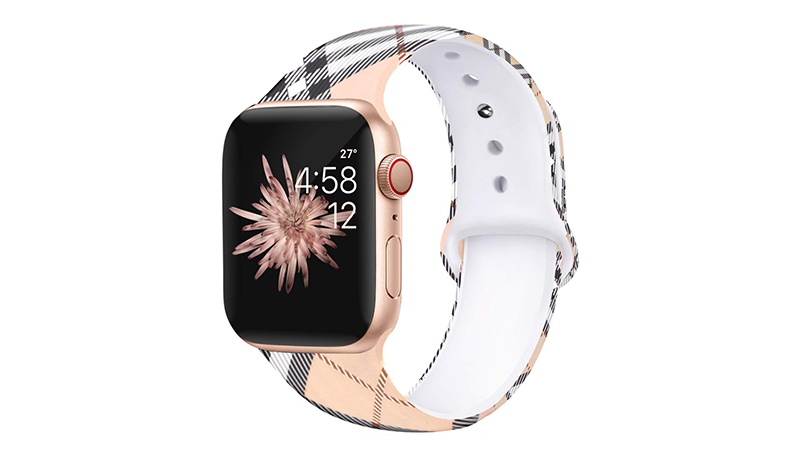 JSGJMY Genuine Leather Band with Rose Gold Clasp
Not only is the JSGJMY Genuine Leather Band with Rose Gold Clasp super stylish, but it's also incredibly light and comfortable to wear. Available in a wide range of colors, the leather is soft and durable with a streamlined, high-quality finish. Meanwhile, the rose gold-toned clasp adds a glamorous touch and perfectly complements a rose gold Apple Watch.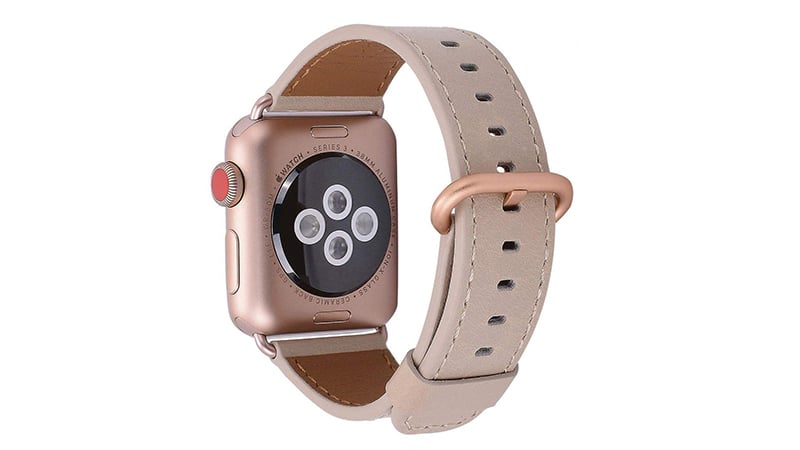 Secbolt Bling Bands Diamond Rhinestone Band
Another great jewelry-inspired watch strap is the Secbolt Bling Bands Diamond Rhinestone Band. Slim and elegant, the tennis bracelet-inspired design comes in three colors and is set with rhinestones for some extra sparkle. That makes it ideal for a formal occasion – or to upgrade your everyday look. It also comes with a resizing tool so you can remove any number of links to get the perfect fit.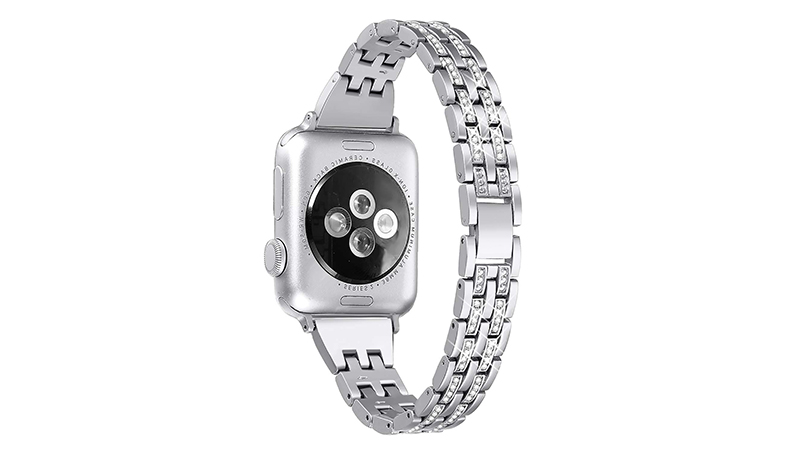 MARGE PLUS Slim Genuine Leather Band
Cute and feminine, the Slim Genuine Leather Band from MARGE PLUS is the perfect everyday strap for your Apple Watch. Wear it to everything from the office to brunch to date night. Made from high-quality leather, it's comfortable and light on your skin. There's a range of four fashion colors to choose from, and the buckle and adapters are available in rose gold, black, silver, or champagne gold.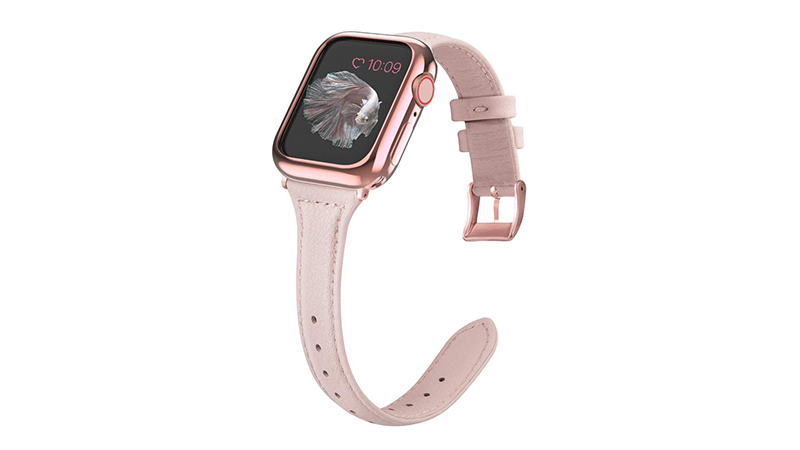 FAQs
Which Apple watch bands are best?
The best Apple Watch bands will be the ones that suit your aesthetic and fit into your wardrobe. Guys should check out styles like the Marge Plus Genuine Leather Band, Cocos Stainless Steel Mesh Loop Band, or Fullmosa Stainless Steel Metal Band. Some of the best women's options are the Lwsengme Soft Silicone Sport Band, Jwacct Adjustable Stainless Steel Mesh Band, and GBPOOT Loop Band.
Are Fake Apple watch bands good?
As with any aftermarket brands, some are good, and some are less good. However, there are many surprisingly great Apple Watch bands that rival the real deal, and all for a fraction of the cost. The best way to ensure you're buying something of good quality is to read through reviews and recommendations to see what other buyers' experiences were like.
What designers make Apple watch bands?
Hermes makes Apple Watch bands for the official Apple store; however, other designer brands have options available. These include Lagos, Tory Burch, Marge Plus, Coach, Shinola, and Kate Spade.
What is the most expensive Apple watch band?
The most expensive official Apple Watch bands are the Space Black Link Bracelet and leather Hermes straps.  
SUBSCRIBE TO OUR NEWSLETTER
Subscribe to our mailing list and get interesting stuff and updates to your email inbox.