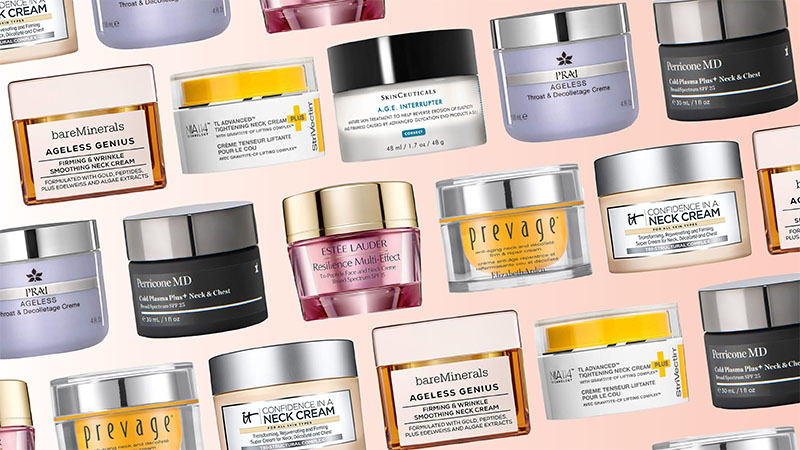 The neck and decolletage are sometimes an afterthought compared to how much time and effort women invest in their faces. However, that can mean the area shows signs of aging sooner. Luckily, there are plenty of products designed for adding moisture, elasticity, and firmness back into the skin. They contain potent ingredients such as peptides, hyaluronic acid, niacin, and nourishing plant extracts to deliver the best results. The products below are some of the top-rated anti-aging neck creams on the market because many women have seen excellent effects with regular use.
1. StriVectin TL Advanced Tightening Neck Cream
StriVectin TL Advanced Tightening Neck Cream is an award-winning anti-aging product. It lifts, smooths, and brightens the area from your neck to your chest, resulting in younger-looking skin. Gravitite-CF Lifting Complex improves elasticity, while botanically-derived brightening complex evens out skin tone. Finally, it also contains NIA-114™, an exclusive and patented form of niacin that has been optimized to strengthen the skins' barrier and help other ingredients work to their max. Application is easy. Massage a small amount onto the clean skin of your jawline, throat, and decollete, using an upward motion.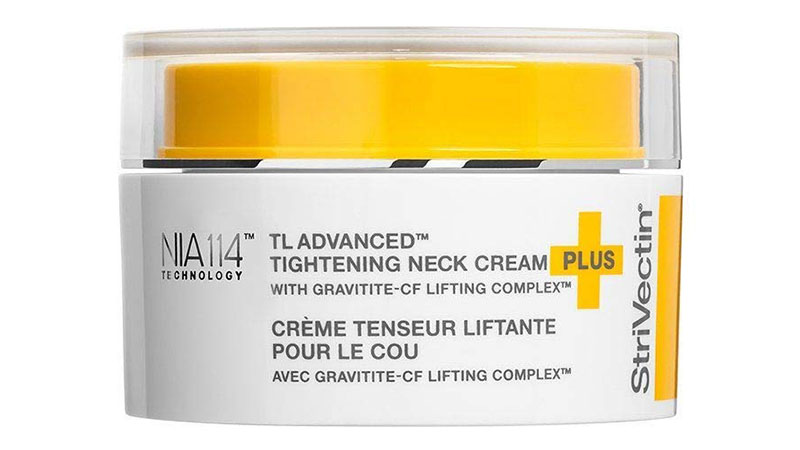 2. Bare Minerals Ageless Genius
Give your skin the golden touch with Ageless Genius from Bare Minerals. The super formulation of this anti-aging neck cream contains mineral gold along with a considerable dose of age-defying peptides. Together, they boost the skin's natural collagen to improve the appearance of lines and wrinkles. There's also edelweiss, a mountain flower that is an exceptionally powerful antioxidant and brilliant for enhancing elasticity. Finally, algae, jasmine, and gardenia extracts hydrate the area and smooth out a rough texture. The formula is fast-absorbing so that you can get on with your day, and it is 100% vegan and cruelty-free.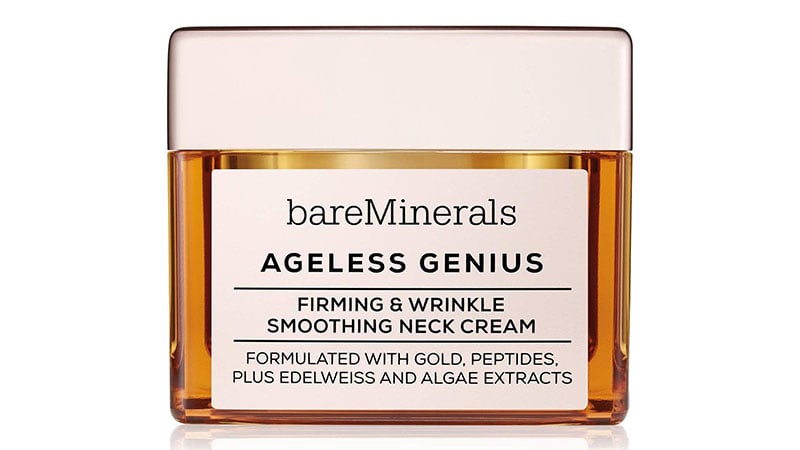 3. SkinCeuticals

A.G.E. INTERRUPTER
There is a lot of science behind SkinCeuticals A.G.E. INTERRUPTER. The A.G.E in the name refers to advanced glycation end-products, which accumulate naturally as you age. These occur as sugar molecules bind to the collagen and elastin fibers in the skin, causing them to become glycated and unable to function normally. Therefore, the ingredients in this formula are designed to interrupt that process. Proxylane, blueberry extract, and phytosphingosine combine to improve wrinkles, crepe-like texture, and firmness. The 30% Proxylane adds moisture to the skin, the blueberry extract is an antioxidant and anti-glycation additive, and the phytosphingosine repairs and protects the skin's natural barrier.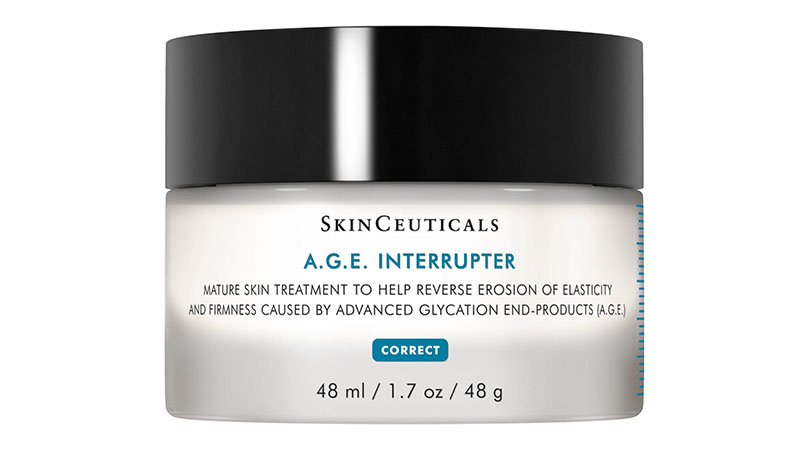 4. Colorescience PEP UP™
Colorescience PEP UP™ is packed full of nourishing and patented ingredients to fight the signs of aging and add moisture back into your skin. Firstly, the Decaplex-10™ Peptide Complex has ten different peptides to build collagen. Then, when it comes to hydration, hyaluronic acid and Phytomoist combine to draw and add moisture to the skin, increasing suppleness. Lastly, Lipochroman® is an antioxidant to protects the skin from environmental aggressors and pollution, while Physavie® soothes and calms. The result is smoother, firmer skin that is more youthful, hydrated, and supported.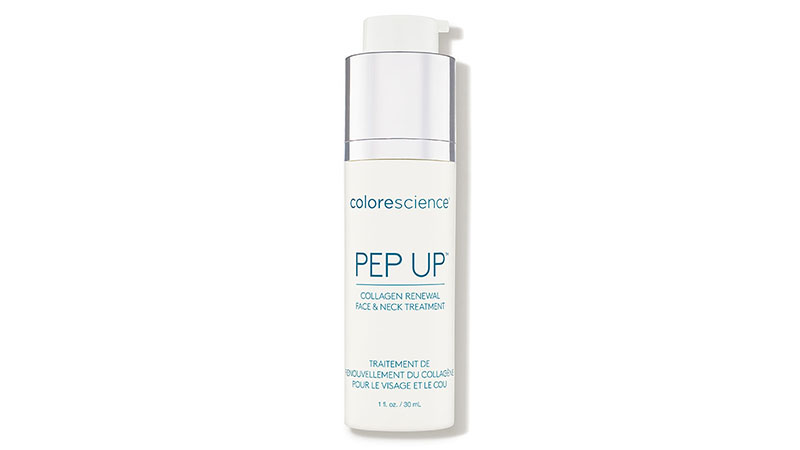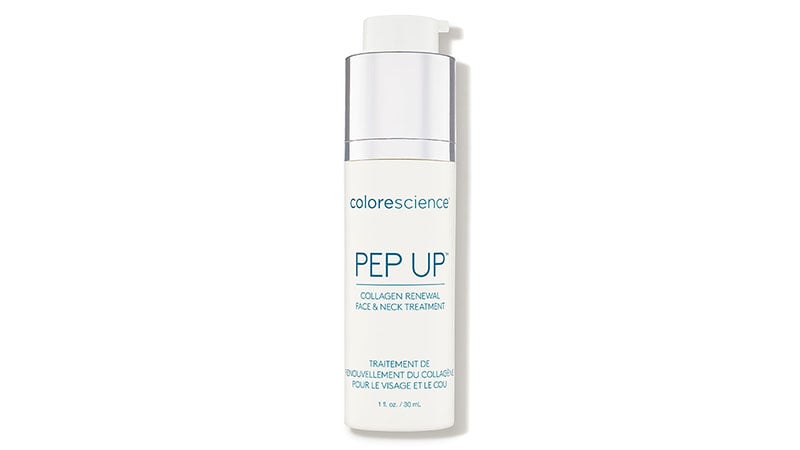 5. La Mer The Neck & Decollete Concentrate
Indulge in a touch of luxury and self-care as you apply your neck cream. This concentrated balm from La Mer comes with an applicator brush to gently smooth the lotion on your skin before massaging it in – it's like a day spa experience at home. The key ingredient in the formula is Miracle Broth™, which aerospace physicist Dr. Max Huber developed to heal scars he suffered in a laboratory accident. Accordingly, it delivers plumping hydration to the skin through the use of sea kelp and bio-fermentation. Use it daily in the morning and evening for the best results, followed by your usual moisturizer.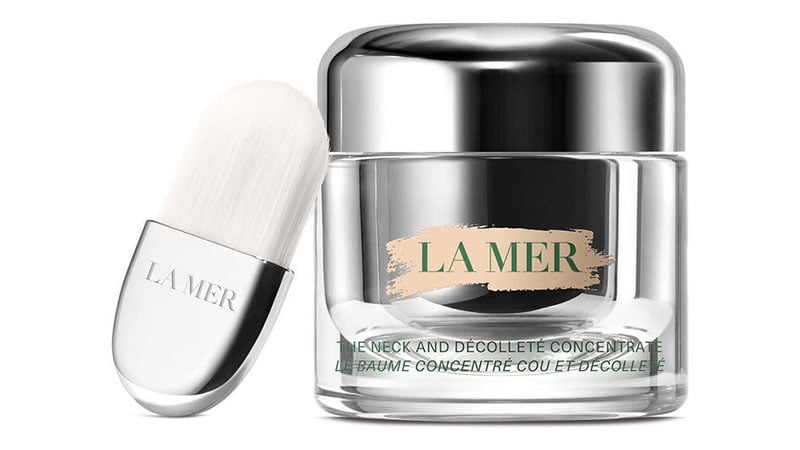 6. Prai Beauty Store Ageless Throat & Decolletage Creme
Halt the aging process in its tracks with this Throat & Decolletage Creme from Prai Beauty. With daily use, you could see results in just seven days, with firmer, smoother skin. It uses unique Sepilift™ technology to boost collagen and restore elasticity. Additionally, you'll find hyaluronic acid to hydrate and plump; shea butter and squalane to lock in moisture; and extracts from mulberry, saxifrage, and grapeseed to even out skin tone and discoloration. Plus, there are restorative vitamins A, E, and F. Simply use an upward sweeping motion to apply a pea-sized amount to your neck and chest at the beginning and end of the day.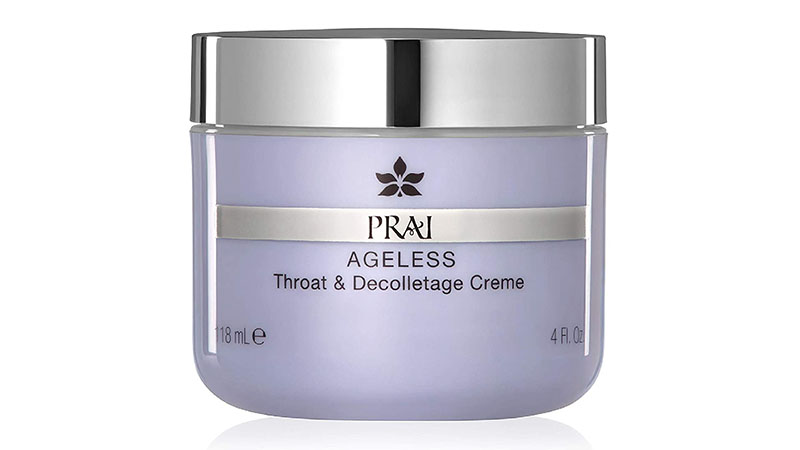 7. Dr. Dennis Gross Ferulic + Retinol Fortifying Neck Emulsion
Repair existing damage and prevent future blemishes with this anti-aging neck cream from Dr. Dennis Gross. The key ingredients are a powerful combination of vitamins E and A, alpha hydroxy acids, lactic acid, retinol, antioxidants, and amino acids. The vitamin E, amino acids, and antioxidants, including ferulic acid, protect the skin from free radicals, pollution, and UV rays. Meanwhile, vitamin A and retinol are incredibly effective anti-aging ingredients that minimize fine lines and wrinkles while increasing firmness and elasticity. Lastly, the lactic acid and other alpha hydroxy acids exfoliate to leave behind soft, smooth skin that looks refined and bright. It's such an effective product that 100% of participants in a 28-day consumer study confirmed that their necks showed fewer fine lines and wrinkles, as well as improved texture and firmness.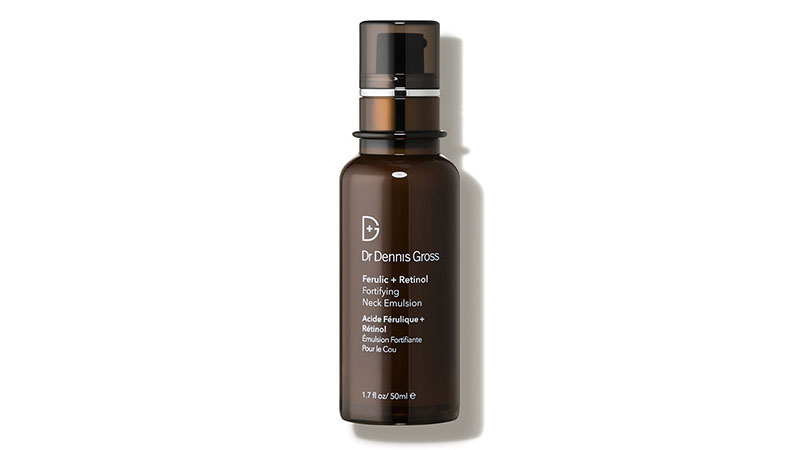 8. Guerlain Orchidee Imperiale Anti-Aging Neck & Decollete Cream
Sculpt, stimulate, and enhance your neckline with this luscious cream from Guerlain. It creates a second-skin-like mesh across the application area thanks to the mix of Cell Respiration technology and the active ingredients. To sculpt the skin, apply a small amount at the base of the neck, and use an upward sweeping motion. Alternatively, stimulate the skin by placing your hands in the center of your chest, and with your fingertips, pull firmly but gently outwards. Lastly, to enhance, start at the base of your neck, sweeping down your chest with alternating hands. This formula's fragrance is also lovely, with notes of rose, white musk, and cedarwood.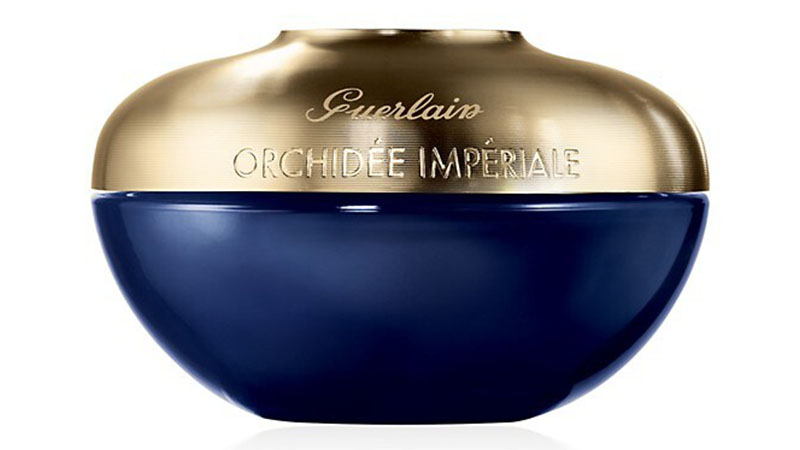 9. Perricone MD Cold Plasma Plus+ Neck & Chest SPF 25
Eliminate dry skin and protect your neck and decolletage from further damage with this formula from Perricone MD. It uses DMAE, a compound that firms, tones, and lifts the skin while reducing inflammation. Copper and niacinamide repair and renew, while antioxidants protect the skin from free radical damage and pollution. Then, vitamin C brightens and firms. Finally, SPF 25 helps safeguard against additional hyper-pigmentation and ultra-violet damage, which contributes vastly to aging. The results will be reduced lines and wrinkles, a firmer look, and elimination of the crepe-like texture that can appear in older skin.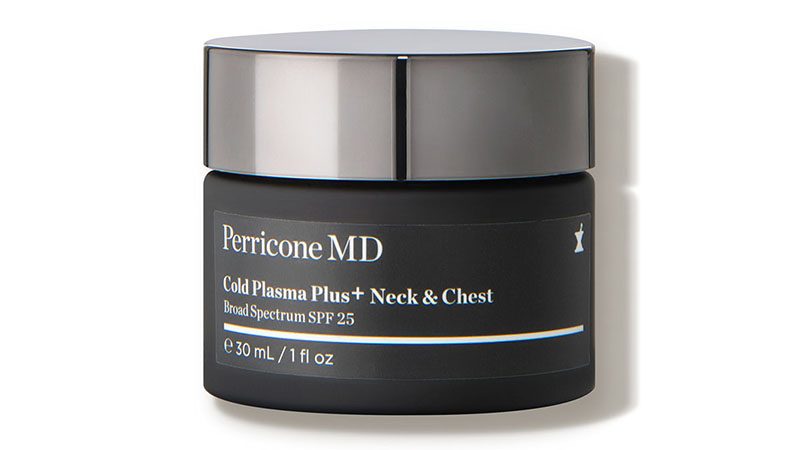 10. Sisley Paris Neck Cream
With this cream from Sisley Paris, you'll enjoy an immediate tightening and lifting effect. Oat seed extract creates a firming film across the skin, which is reinforced by rhatany and lady's mantle extract. Next, soy-fiber extract and vitamin E acetates and improves tone and protects from environmental damage. The area is then refined with an invigorating combination of caffeine, red algae extract, and horse chestnut extract. Additionally, you get a good dose of hydration and moisture with shea butter, sunflower oil, and D-Panthenol for a smooth, supple finish. It's a rich and luxurious product that provides you with incredible results.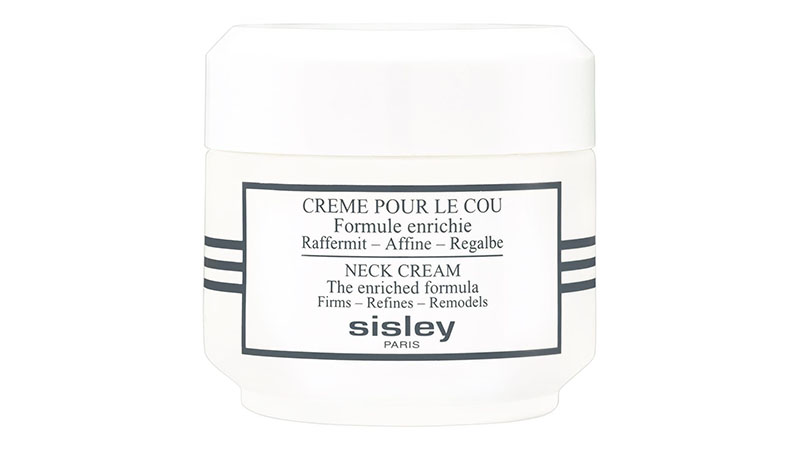 11. iS Clinical Neck Perfect
Acids and antioxidants are the backbone of this product from iS Clinical. You'll enjoy increased firmness, reduced appearance of lines and wrinkles, and improved texture and tone. This serum has alpha-hydroxy acids that exfoliate the skin, lighten dark spots, and stimulate regeneration. Meanwhile, salicylic acid is a beta hydroxy acid that also exfoliates on a deeper level to clear out dead skin cells, bacteria, and debris to reveal clear skin free of blemishes. Plus, antioxidants protect from environmental aggressors such as pollution, UV damage, and free radicals. Finally, hyaluronic acid delivers intense hydration and moisture to keep your neck and decolletage soft and supple.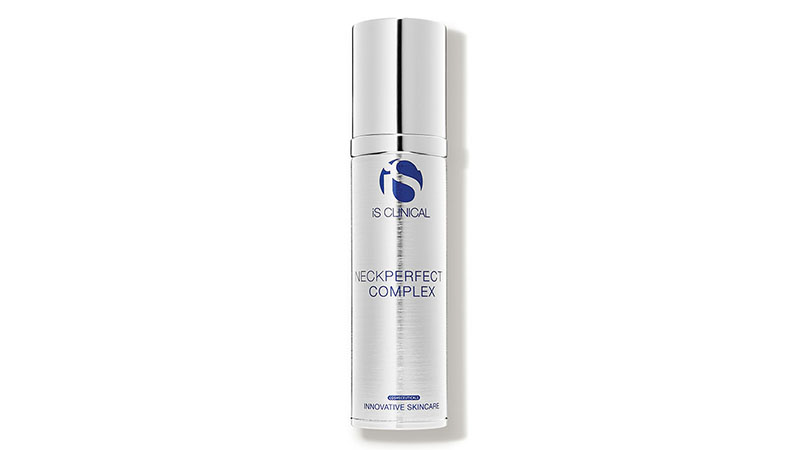 12. Revision Skincare Nectifirm Advanced Neck Firming Cream
Revision Skincare's Nectifirm Advanced Neck Firming Cream is an award-winning formula that delivers superior results. Consequently, benefits include a reduction in crepe-like texture, improvement of elasticity, and smoothed-out fine lines and wrinkles. The cream uses the body's own microbiome through Diglucosyl Gallic Acid to enhance the effects of the potent blend of ingredients. The appropriately named everlasting flower extract improves the skin's appearance, while red microalgae extract firms and lifts. There's also a cocktail of eight peptides to minimize wrinkles and lingonberry extract to enhance the body's own natural antioxidants. Use two pumps morning and night, gently applied with an upward massaging motion.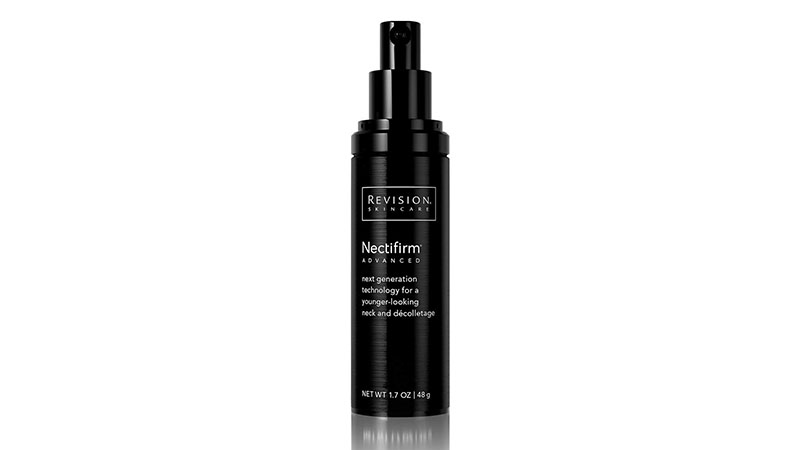 13. Elizabeth Arden Prevage Anti-Aging Neck and Decollete Lift and Firm Cream
Protect and repair the delicate skin of your neck and decollete with this cream from Elizabeth Arden. The formula contains advanced Idebenone technology, which acts as a phyto-protective layer to prevent damage from smoke, pollution, and other environmental aggressors. Your body's own natural collagen and elastin are supported with retinyl linoleate, lupin seed extract, and lipo amino acid, which enhances a plump, smooth texture while tightening polymers improve the firmness. Enjoy extensive hydration thanks to hyaluronic acid, sea plant extract complex, and shea and palm butter. Finally, the general radiance of the skin is increased by the inclusion of optical pigments, encapsulated citroflavonoids, and retinyl linoleate.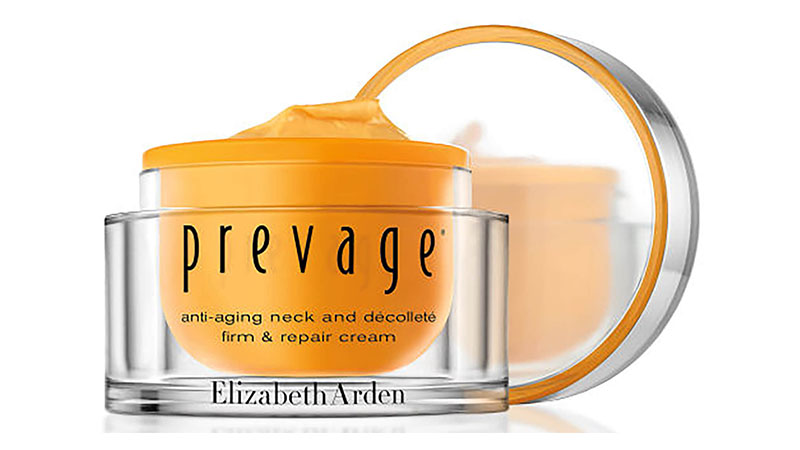 14. IT Cosmetics Confidence in A Neck Cream Anti-Aging Moisturizer
You'll feel radiant and confident once you add IT Cosmetics Confidence in A Neck Cream Anti-Aging Moisturizer to your daily skincare routine. It's a fast-absorbing product that can be applied morning and evening to improve firmness and minimize the look of fine lines and wrinkles. The skin-loving ingredients include a complex of elastin, collagen, and hyaluronic acid to enhance your skin's elasticity and hydration. Then, there's shea butter for even more moisture. A combination of ceramides, fucoidan seaweed extract, and niacin all act similarly to protect the skin, reinforcing the natural barrier and locking in moisture. The seaweed can also increase brightness and reduce the appearance of age spots.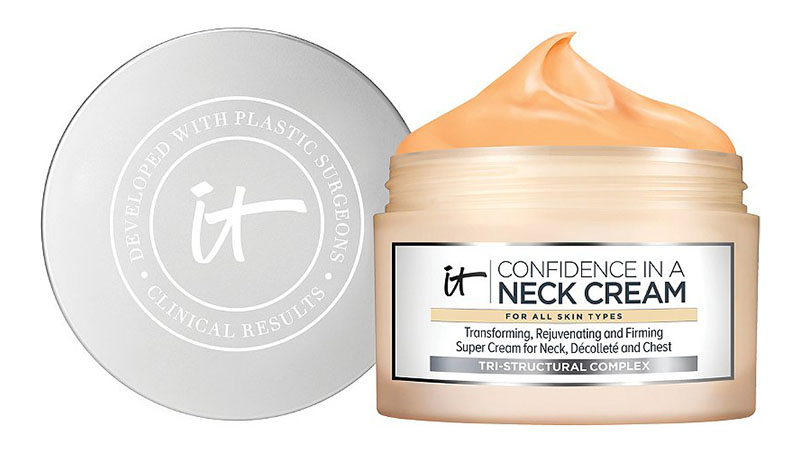 15. Emma Hardie Lift & Sculpt Firming Neck Treatment
If you're looking for an all-natural product, then the Lift & Sculpt Firming Neck Treatment from Emma Hardie is an excellent option. It's ideal for all skin types and comes with a unique roller applicator that makes applying it easy and feels lovely. All you need to do is twist the top, squeeze a small amount out, and roll it from the middle of your neck to your ear line. Then, any excess can be gently massaged in. The key ingredients are Lifton in-Expert®, which encourages collagen production, and Neodermyl®­, which is a "needle-free" collagen and elastic filler. In addition, you'll find hyaluronic acid, which is excellent for hydration, and Inca inchi oil and raspberry oil to provide protection and lock in moisture.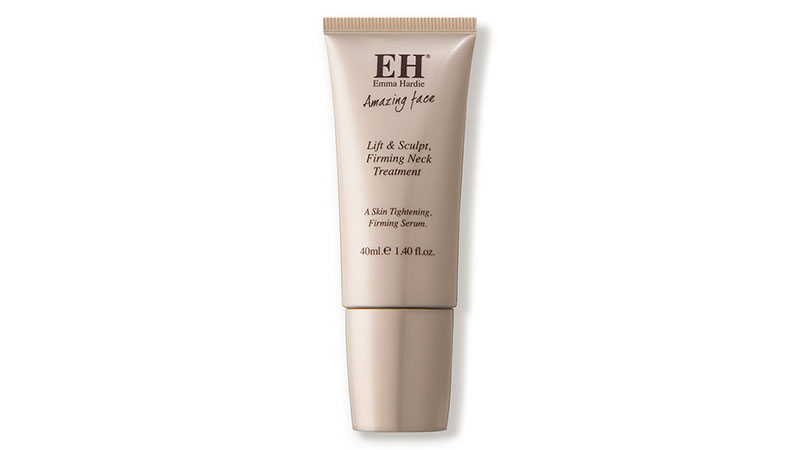 16. Estee Lauder Resilience Multi-Effect Tri-Peptide Face and Neck Creme
Increase your skin's resilience and moisture with this nourishing cream from Estee Lauder. The innovative IR-Defense Technology help protect the skin's moisture barrier from infrared damage. Meanwhile, the tri-peptide complex can amplify your collagen by a massive 124% in just three days, leaving your skin feeling and looking smoother. Additional results can include the reduction of fine lines, brighter skin, and improvement in overall texture on the neck and decollete. Plus, it has broad-spectrum SPF15 to help prevent damage from both UVA and UVB rays.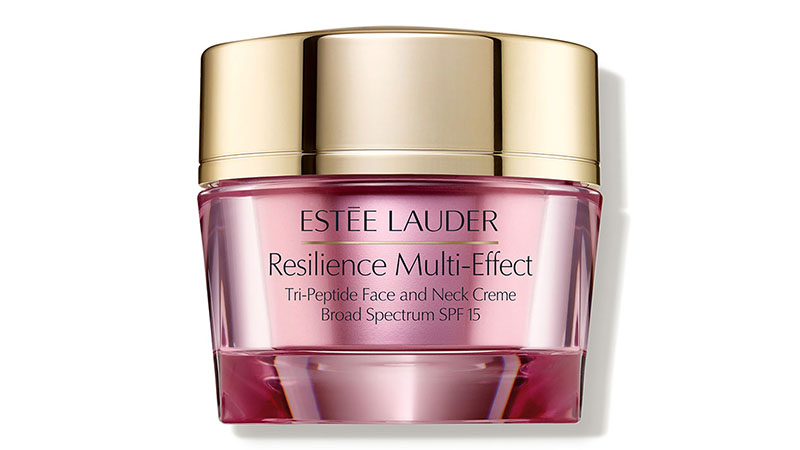 17. Murad Rejuvenating Lift for Neck and Decolletage
Feel radiant and rejuvenated with this anti-aging neck cream from Murad. The powerful and nourishing combination of peptides, vitamins E, olive oil, vitamin A, antioxidants, vitamin C, and glycolic acid work in harmony to minimize the appearance of wrinkles and firm the skin. Skin cell renewal is accelerated with the collagen enhancing compound while natural extracts from barberries and licorice roots brighten and refine. You'll also be protected from additional free radical damage, thanks to the plentiful antioxidants and peptides.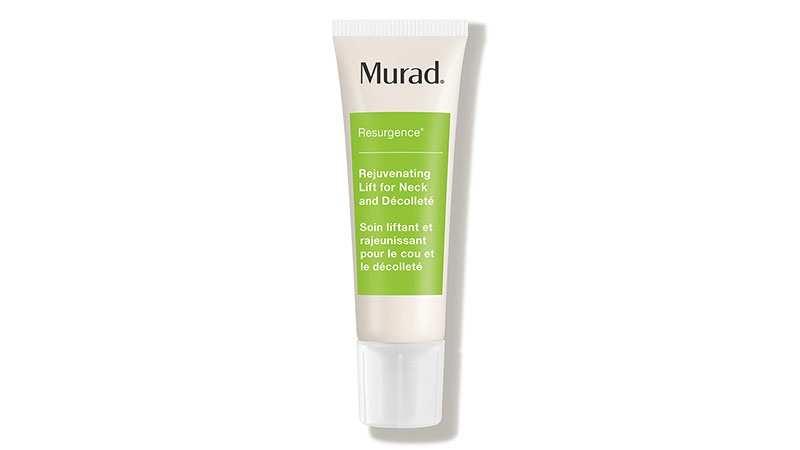 18. Exuviance AGE REVERSE Toning Neck Cream
A combination of strong and powerful ingredients make this AGE REVERSE Toning Neck Cream from Exuviance a worthy investment. It restores the skin on the neck and chest for a more youthful appearance. The main effective ingredients are CitraFill, NeoGlucosamine, and Apple Stem Cell Extract. These work together to firm and tone, exfoliate to even out uneven pigmentation and minimize fine lines and wrinkles. Plus, it's fast-absorbing, so it's easily incorporated into both your morning and evening beauty regimes. Simply smooth a small amount over the areas where you want to see results.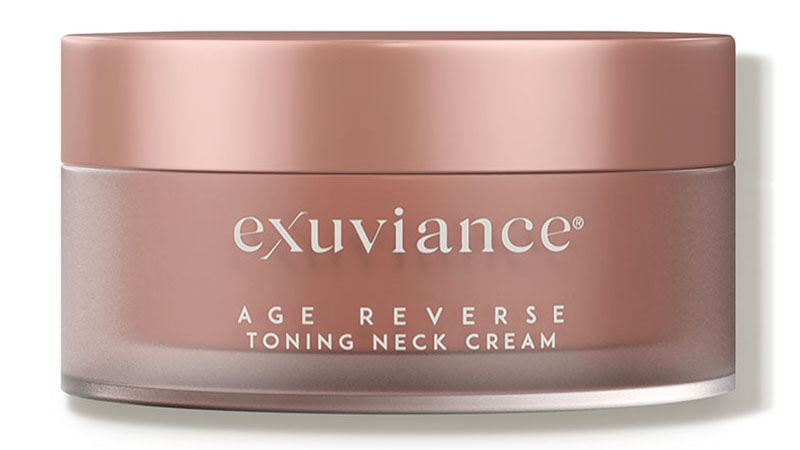 19. La Prairie Anti-Aging Neck Cream
La Prarie's Anti-Aging Neck Cream uses its pioneering cellular complex to reduce the signs of aging in the neck and decolletage area. Apply it from the bust line to the jaw, using upward sweeping motions with alternating hands at a fast pace. This spreads the cream well while invigorating the skin. The Cellular Complex lets the skin cells regenerate while rehydrating for a more youthful appearance. It also gives a temporary lift to sagging skin and improves the appearance of fine lines and lost elasticity.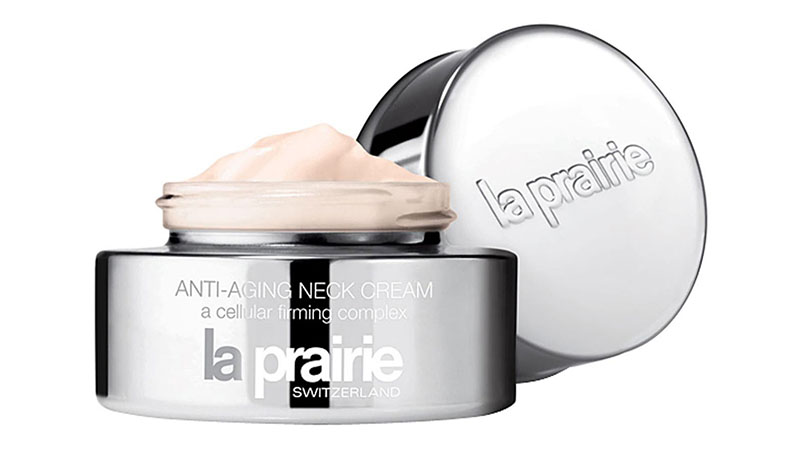 Embrace your youth by using the Moisturizing Anti Wrinkle Cream from Anavita. Peptides and hyaluronic acid combine to add hydration to the skin and stimulate collagen levels. By doing so, it makes your skin plumper, minimizes fine lines, and prevents damage from free radicals and environmental aggressors. It's ideal for all skin types and can be used all over the face, as well as neck and decolletage. Best of all, it's a very budget-friendly option that still achieves excellent results.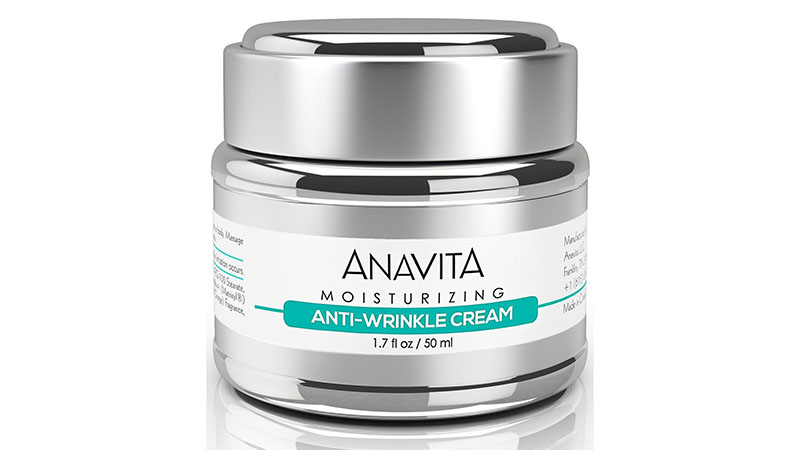 FAQs
What is the best anti-aging neck cream?
Some of the best anti-aging neck creams include Dr. Dennis Gross Ferulic + Retinol Fortifying Neck Emulsion, StriVectin TL Advanced Tightening Neck Cream, La Mer The Neck & Decollete Concentrate, Revision Skincare Nectifirm Advanced Neck Firming Cream, and SkinCeuticals A.G.E Interrupter. 
Do neck tightening creams really work?
Neck firming creams are only as good as the active ingredients in them, so some will work better than others. Look for products with peptides, ceramides, retinol, vitamins A, C, and E, antioxidants, hyaluronic acid, and SPF. The other key factor is consistency. Putting the cream on once a week will have no effect — you need to be diligently using it day and night for the best results. 
What is the best neck firming cream that really works?
Choose a well-performing neck cream such as Revision Skincare Nectifirm Advanced Neck Firming Cream, Dr. Dennis Gross Ferulic + Retinol Fortifying Neck Emulsion. Of course, with any skincare regime, you'll achieve the best results with consistency, applying the anti-aging neck cream every morning and night. Combine it with the daily use of moisturizer and sunscreen to prevent further damage to your skin. 
How can I make my old neck look younger?
The best way to minimize the look of age on your neck is to incorporate a specifically formulated anti-aging neck cream into your daily skincare routine. They contain powerful active ingredients to firm, lift, and sculpt the area while hydrating and reducing the appearance of fine lines and wrinkles. Look for products with peptides, ceramides, retinol, vitamins A, C, and E, antioxidants, hyaluronic acid, and SPF. 
SUBSCRIBE TO OUR NEWSLETTER
Subscribe to our mailing list and get interesting stuff and updates to your email inbox.