There's no doubt about it: weddings are expensive. From the flowers to the photographer, it is imperative that you have a budget and you stick to it. One of the most important aspects of the big day is the gown you want to wear down the aisle. As you pin your favorite pieces, you have to consider the style, silhouette, fabrics, and price. Doing your research and finding alternatives to costly add-ons can quickly reduce the overall cost of your celebrations. To help you find the perfect wedding dress, we have rounded up the best online shopping sites that sell affordable wedding dresses.
Affordable Wedding Dresses
1. ASOS
ASOS' wedding category is the perfect option for those who enjoy trying something new and different without overstretching their budget. These gowns are ideal for a bride with a frugal approach to their big day, and the options available are definitely worth a try. Traditional designs, modern interpretations, and everything in between are available in one place. Whether you're heading to the courthouse or eloping on a beach somewhere, this is the perfect place to find your dream dress.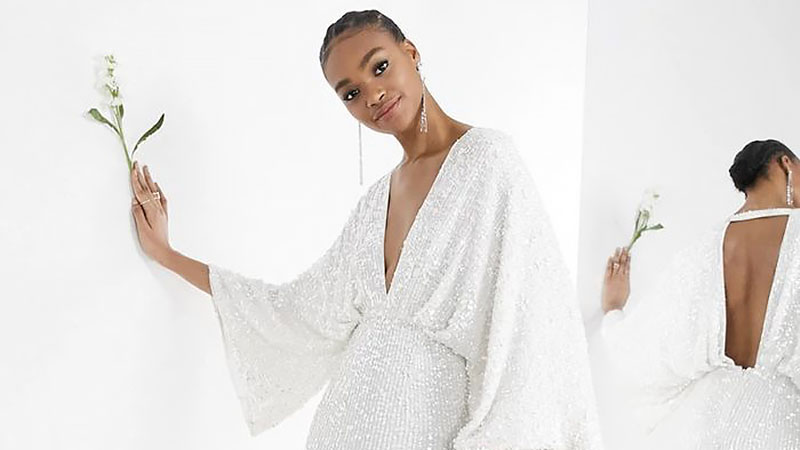 2. Etsy
Support small businesses and stand out in a gown that is unique with an option from Etsy. This online marketplace offers a huge range of dresses created exclusively by talented designers worldwide, and the prices are perfect for those on a budget. Turn heads in a princess-inspired tulle ballgown or something from the pages of Dior's New Look. Be sure to know your precise measurements and read all reviews before you complete your purchase – they usually make these pieces to order.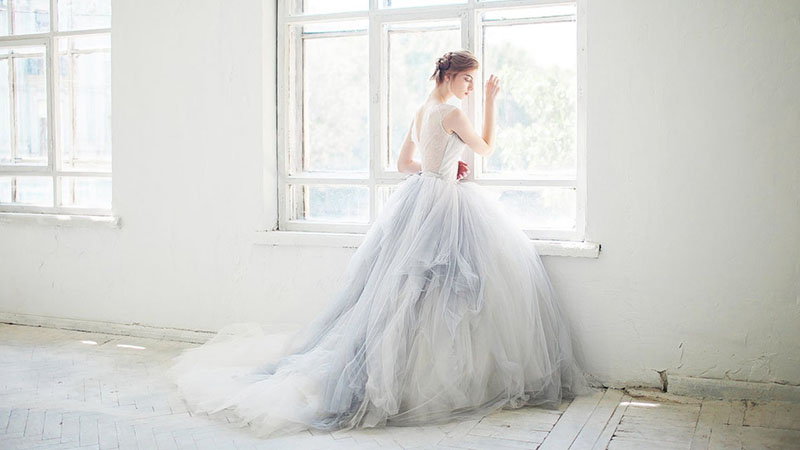 3. Revolve
Look as good as the models fresh off the runway, and say 'I do' to your dream wedding dress without bending your budget. Revolve offers a large mix of gowns that will suit your big day, which lasts the test of time. Sexier options with exposed corsets, high slits, and off the shoulder motifs are popular choices from this retailer. Still, you can also find more traditional gowns that are definitely jaw-dropping. It's also a great idea if you're looking for a reception garment that's separate from the ceremonial choice – have a little bit of fun and avoid fleshing out your funds.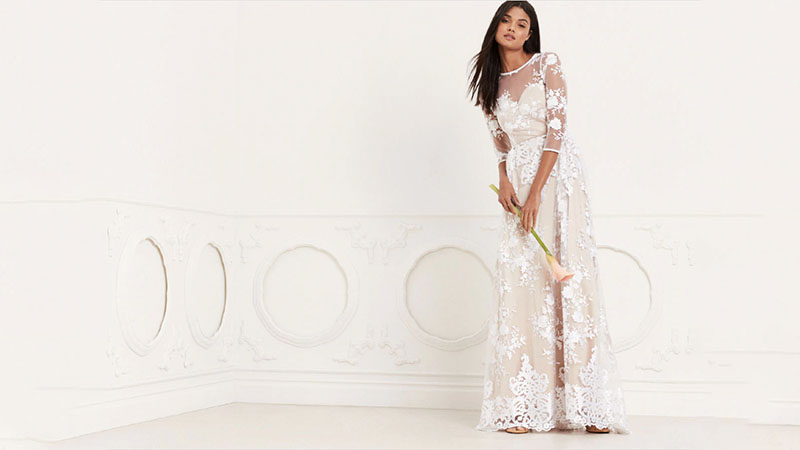 4. Nordstrom
Nordstrom offers gowns for every type of bride who is after more than a single style of dress. You can find the perfect fit for your budget, no matter how tight. From floor-length ballgowns to something more Avante-Garde, the perfect garment is waiting for you here. Options are available at prices starting under $250, meaning you can explore different designs and silhouettes without having to stretch your finances too much.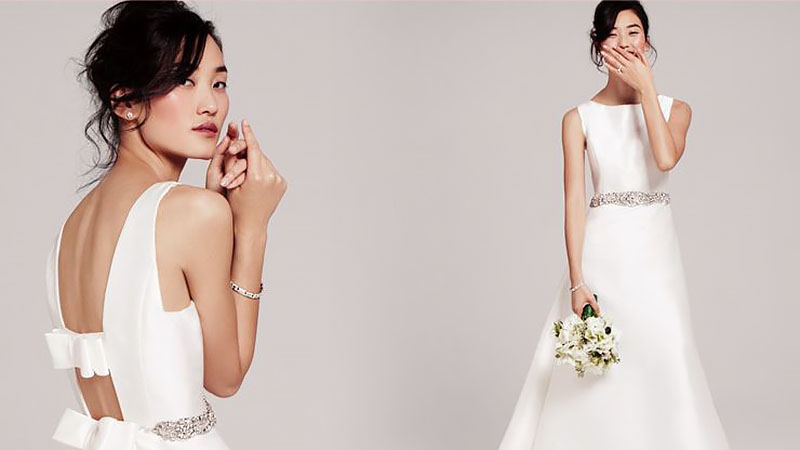 5. Reformation
Want to be a cool bride on your big day? Why not head to Reformation, the destination of those after a unique and modern interpretation of the traditional wedding dress. These gowns offer some of the trendiest elements of today's fashion, such as puffy sleeves, off-the-shoulder necklines, and high-cut slits but blended with classic silhouettes. What's more, the items are budget-friendly, so you can look like a million dollars without having to spend a pretty penny.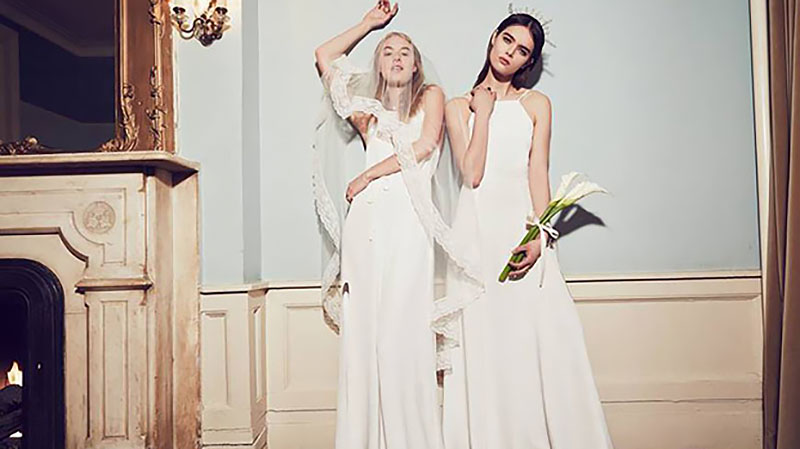 6. Moda Operandi
Everyone has a different budget when it comes to their big day. While many wedding dresses have an exorbitant price tag attached to their gowns, you don't have to spend tens of thousands on a one of a kind piece. Moda Operandi offers timeless, modern, and eclectic pieces that are ideal for the bride who wants to stand out at her wedding but doesn't necessarily want the added cost. Take your pick from leading designers such as Galvan Bridal, Rosario, and Carolina Herrera – they're all available in one place at frugal-friendly prices.
7. Whistles
Take the hottest trends of the season and blend them with stunning neo-classic silhouettes for your wedding day. The piece available at Whistles are for the unique bride, who isn't afraid of standing out as they walk down the aisle. You can find tiered lace gowns, classic Bardot dresses, and two-piece ensembles if you want to make a real statement. Effortless styling and affordable prices will have you ready to spend the rest of your life with your partner.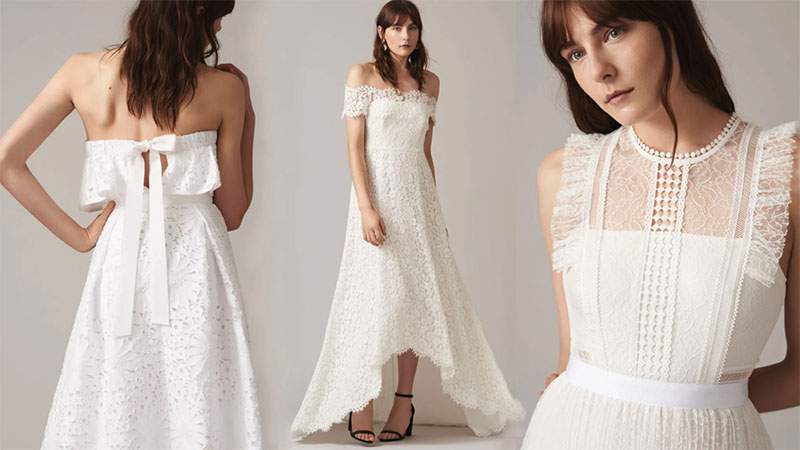 8. Lulus
If you want to look like a stunning bride on your big day, but you have a stringent budget, then look no further than Lulus. This retailer offers exquisite gowns that look ultra-expensive but at a fraction of the price. No matter the silhouette you're looking for, this boutique has something just for you. You can even grab your bridesmaid dresses while you're there. They cost anywhere from under $100 to over $450, meaning you can spend a little extra cash on sparkly accessories or that stunning cake you've been eyeing.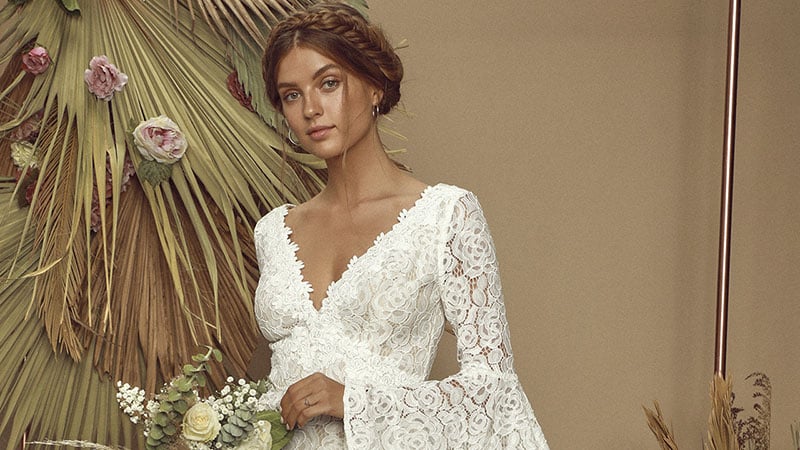 9. BHLDN
Sparkle, shine and glow with a wedding dress from BHLDN. With an eye for the smallest details, no surface goes untouched with this retailer. Timeless silhouettes, eye-grabbing patterns, and spotlight-stealing ruffles feature throughout the collections, and you can find something from a fairytale without the royal price tag. These gowns are exceptional in design, meaning they won't feel dated looking back years from now. Plus, the added budget-friendly prices mean you can splurge a bit more on your honeymoon!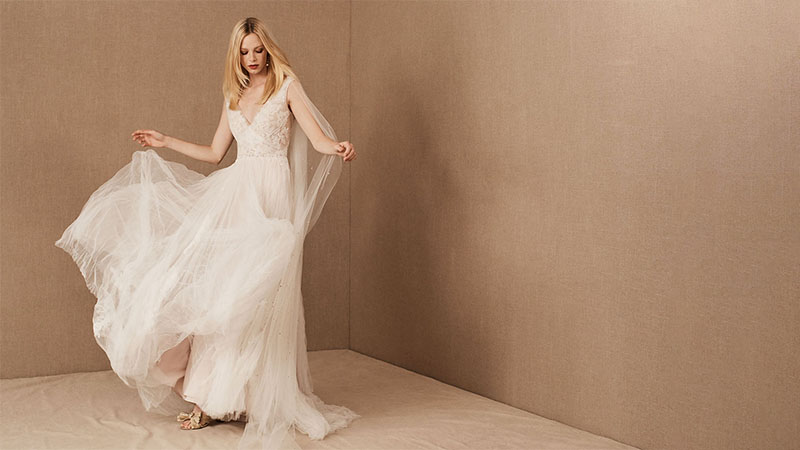 10. H&M
You may know H&M for its trendy fast-fashion pieces, but you may not know that they also offer stunning options for a bride. These exquisite dresses are fabulous for a low-fuss wedding or for those who enjoy simplicity. You can find dupes of your favorite celebrity gown, a design that resembles the latest haute couture, or something that is just so you.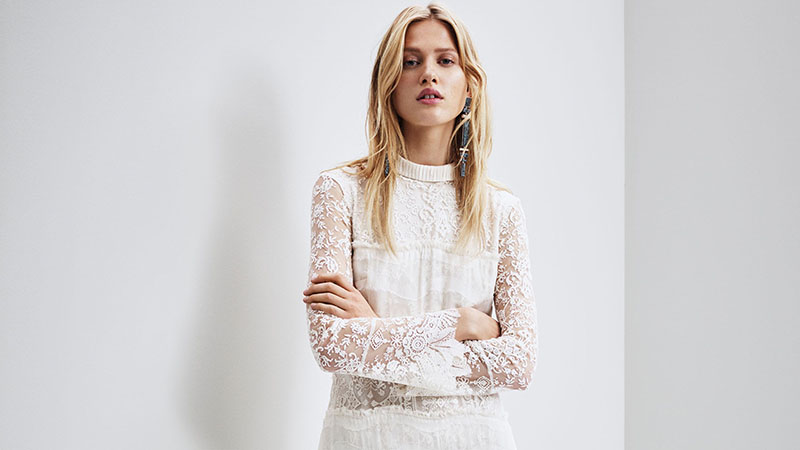 11. ShopBop
Laidback weddings, beachy receptions, or a quick trip to the Town Hall – wedding dresses from Shopbop are the perfect match for almost any big day. With some of the trendiest styles fresh off the runway, this retailer offers unique garments at reasonable prices. This is perfect for those who love to step outside of the box for their wedding. Long, short, lace, and silk – this shop has it all!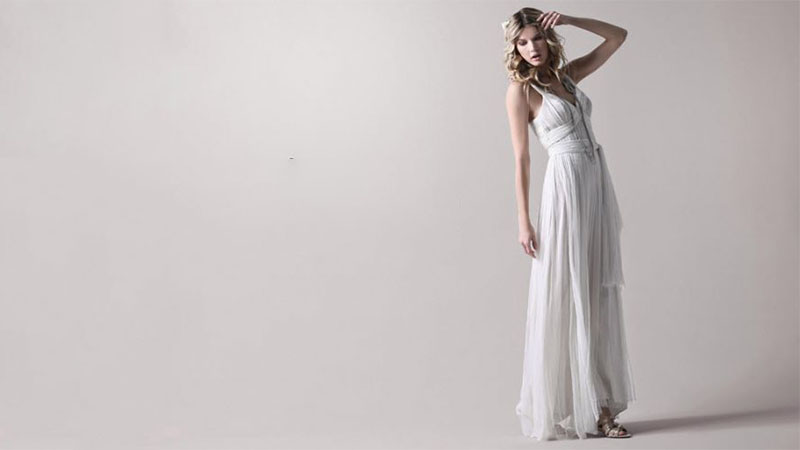 12. Rent the Runway
You're going to wear this dress for a single day in your whole life, so why have it take up wardrobe space for years on end when you could just rent it? Rent the Runway has offered guests the perfect option for years, but now it's the bride's turn to take the spotlight. The prices for these gowns are exceptional, especially for those on a tight budget. You can score a stunning designer piece for a fraction of the retail price, and you can return it once you've worn it. This brand also offers fittings and consultations in their exclusive wedding packages to have everything ready for your big day without the stress.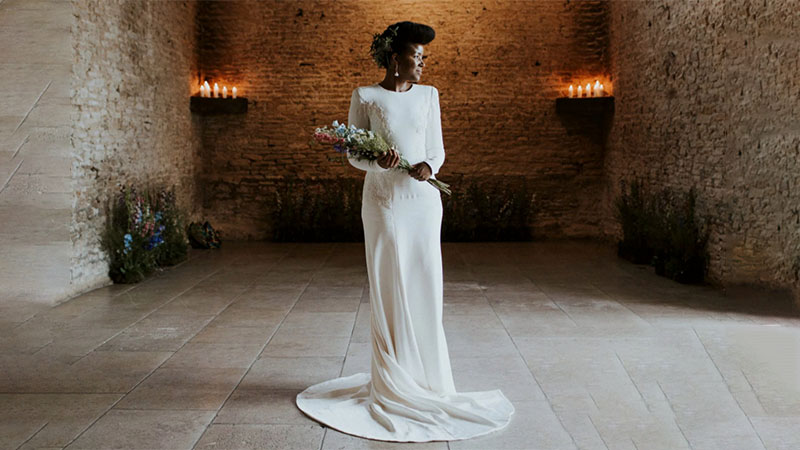 13. David's Bridal
Make your big day one to remember with one of the stunning gowns available at David's Bridal. Perfect for those on a strict budget, you can discover an inspiring and immaculate dress without breaking the bank. Perfect for plus size brides, those after something a little less traditional, or those who love a touch of color, it has everything you need at great prices. With long sleeves, A-line silhouettes, tulle, and everything in between, this bridal store has everything you need to look breathtaking walking down the aisle.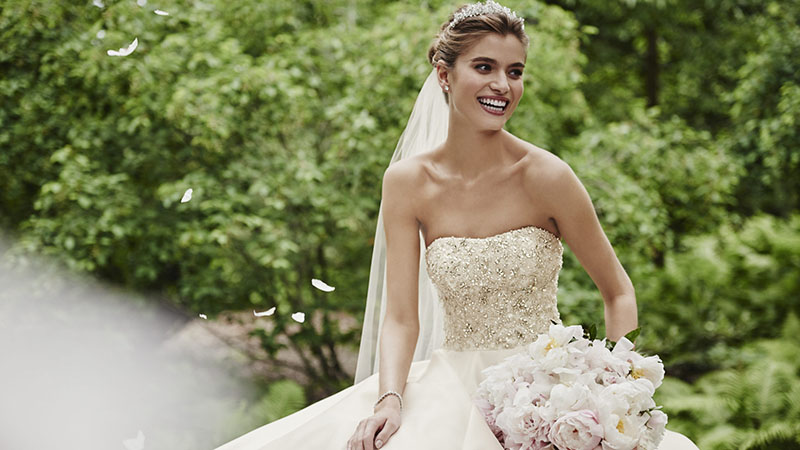 14. Show Me Your Mumu
While famous for its bridesmaid pieces, Show Me Your Mumu has also delved into the world of bridal gowns. Key elements that stand out include a dupe for Meghan Markle's reception dress and other modern renditions of laidback boho stunners. What's more, these are a fraction of the price of a traditional wedding gown. The options available are carefree, effortless, and exquisitely uncomplicated – what more could you want?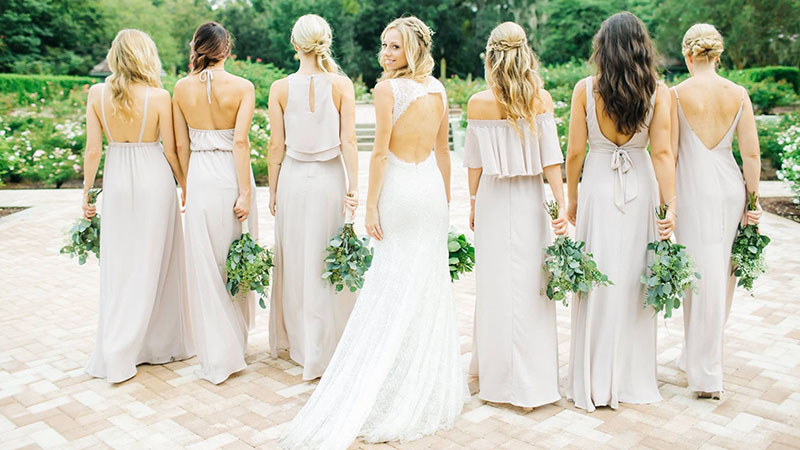 15. eBay
Shopping around online is an excellent way for you to find the dress of your dreams without stretching your budget too much. E-commerce sites like eBay offer an endless array of options in varying sizes and styles to best suit you, and they're amazingly affordable. Before you click 'Add to Cart,' be sure you check their reviews, measurements, and the time needed to deliver the gown. You can also find people selling their one of a kind piece, so set a custom alert to keep your eye on that garment you've been searching for!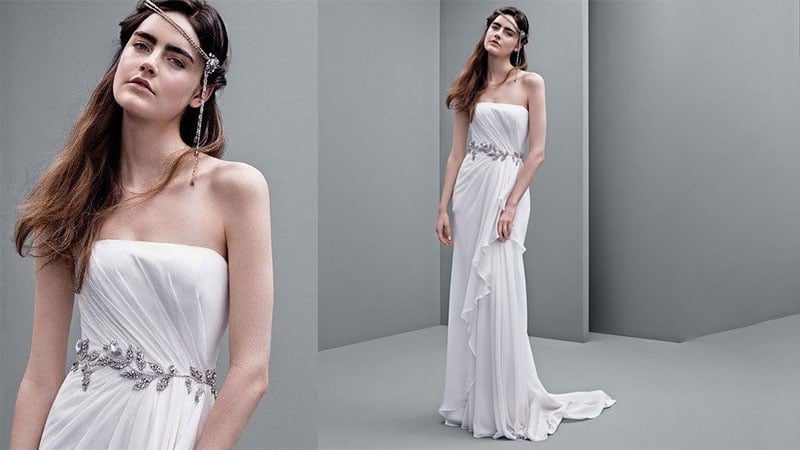 16. Nearly Newlywed
Find the wedding dress of your dreams without stressing over your budget, and do it with Nearly Newlywed. These pre-loved, sample, and new designs are all unique and flatter almost any budget and style. You can find exquisite Hailey Page pieces, a stunning gown from Essense of Australia, and a jaw-dropping Vera Wang at incredibly affordable prices. Leave some stress behind thanks to the heavily discounted costs.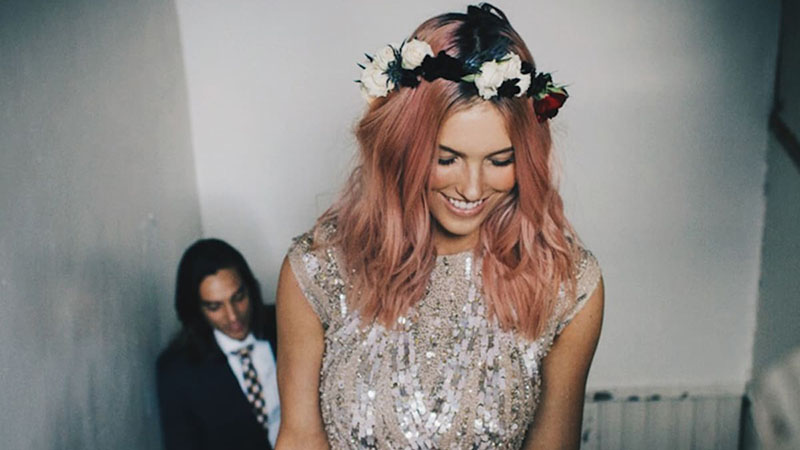 17. MyTheresa
Weddings are expensive, but they don't have to be. If you're looking for something designer on a budget, you shouldn't discount MyTheresa. This retailer provides a wide selection of classic silhouettes and modern takes on the traditional gown. Shop tulle, sequins, silk, and chiffon – the affordable prices are a bonus to this exquisite collection of jaw-dropping dresses.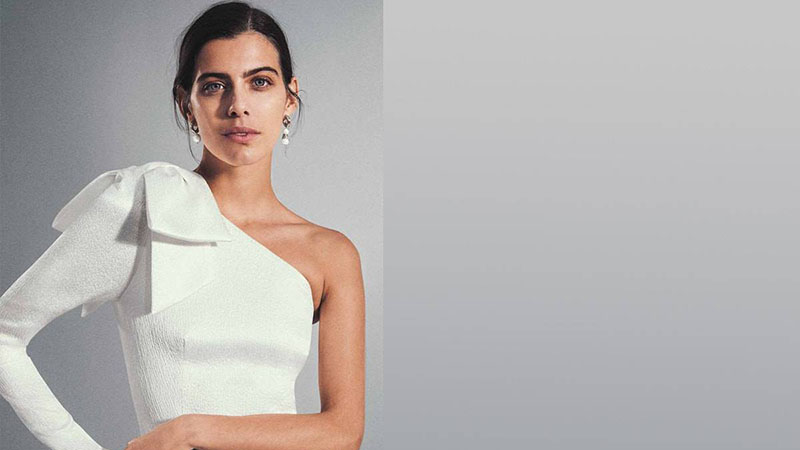 18. Net-a-Porter
Searching for your perfect garment online is a great way to save time and money. Net-a-Porter is a favorite amongst fashion lovers, and they offer amazing wedding dresses at the same time. Prices start at the $600 mark, meaning you can dive into the world of fabulous designer pieces without breaking the bank. This site offers a wide range of styles and colors, so you can correctly represent your true self as you walk down the aisle.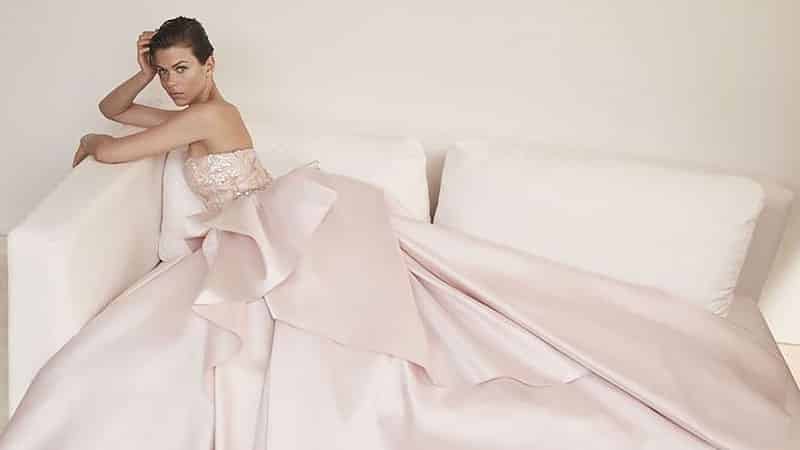 19. Matches Fashion
It's your big day, so you need to make a big statement. Let Matches Fashion help you find your perfect gown. This retailer compiles the hottest designers and puts them all in one place. Satin ballgowns, silk-organza ruffled mini dresses, and bedazzling sparkled sheath silhouettes are just the beginning with this store. Find pieces by Christopher Kane, Vivienne Westwood, and Richard Quinn that are sure to turn heads without having to sacrifice your next paycheck.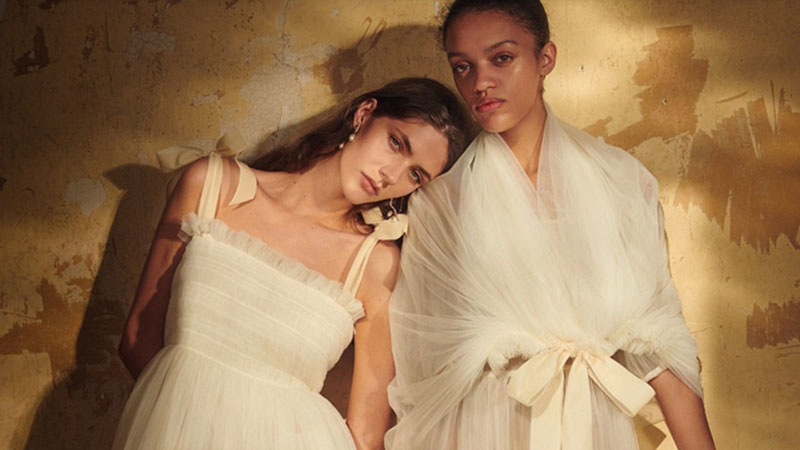 Affordable Wedding Dresses FAQ's
Where can I find cheap wedding dresses?
There are plenty of places you can find an affordable wedding dress. Search for different styles online, such as ASOS, David's Bridal, or Net-a-Porter. It really depends on the type you're looking for. If you're interested in having a boho wedding, opt for a store like Show Me Your Mumu or Reformation. Alternatively, you can search for your dream gown in sample sales, independent designers on Etsy, or rent the dress on sites like Rent the Runway.
What is a reasonable price for a wedding dress?
The average wedding dress costs approximately $1600, according to The Knot. However, you can find something stunning that comes in under $1,000. Many of these are comparable to those above the standard cost and can look just as expensive as an haute couture designer. While there is no specific 'best' price for a gown, it's best to calculate the dress's cost to account for five percent of the wedding's total cost. If you're planning to spend $50,000 for your entire celebration, opt for a budget of $1000 or below.
What is the most expensive wedding dress fabric?
While it's one of the most commonly used fabrics for wedding dresses, silk is also one of the most expensive. There are many different types of silk, with some more costly than others. It's easy to see why there is an added price tag to this material - it has a stunning texture, catches the light wonderfully, and looks incredible in a range of silhouettes. Another expensive fabric is organza, a stiff and wiry material that adds dimension and texture to a gown. This is a luxurious material that often features woven silks, giving it a softer and luscious feeling.
What is the best month to buy a wedding dress?
January is the best time of the year to buy a budget wedding dress. Why is this? This time of year is best known as engagement season, just after the holidays. It's also when the newest designs of the season enter the stores, meaning there are last season sales and end of year discounts. This, of course, depends on the time of year you are planning to get married - it's best to purchase a dress six to nine months before your big day.
How much does it cost to hire a wedding dress?
You can expect to pay anywhere from $50 to $1,500 to hire a dress for your big day. This all depends on the designer of the gown, the rarity of the design, the label, and the length of time you wish to hire it out for. This also depends on the rental company you wish to work with. It is almost always cheaper to rent a wedding dress than to buy something new or pre-owned.
What Increases the Price of the Wedding Dress?
Wedding dresses definitely aren't cheap, and there's a reason why. Some of the more luxe fabrics such as silk and embellishments like intricate hand beading or Swarovski crystals can contribute to the price. Individual designers that specialize in haute couture will also have an increased price tag. Of course, another primary reason for an exorbitant cost is the geographical location you're in - some areas offer more expensive gowns than others. If you live in New York City, you can expect to pay more than three times what someone in Sitka or Milwaukee.
What to Keep in Mind When Buying Affordable Wedding Dress
When you're looking for a wedding dress, there are many things you should look out for. The first thing you should do is research the silhouette that you think you'd prefer. Next, you should consider alternatives to expensive fabrics. If you love the idea of a silk gown, opt for satin instead. Rather than Swarovski crystals, you can try something with glass beads. You must stay open to varying silhouettes and styles - while you may love the idea of something online, it might not actually be the right fit for you. Another important factor to consider is your wedding theme - this can help determine the style you wish to purchase. When you're starting to try on the dresses, begin with the least expensive option first, then work your way up - trying on the most expensive choice first might hinder your budget.
Should I Buy a Second Hand Dress?
An excellent alternative to buying a brand new wedding dress is choosing something pre-loved. As a gown you will likely only wear once, it's common for brides to sell their dresses after the wedding. This a great opportunity if you're looking for something that is no longer in season or a specific style you've been eyeing. A second-hand garment is often much cheaper than off the rack or custom-designed. It's the perfect option for someone on a budget but still looking for a show-stopper.
Should I Rent a Wedding Dress?
Saving money while planning a wedding is crucial, so when it comes to finding the perfect dress, an excellent option is hiring it for the event. Multiple platforms offer gowns of varying styles and prices. You can hire these garments for a few days, and many retailers also provide bridal packages, which come complete with fittings and special arrangements for the big day. There are many plus sides to this option. You save space in your wardrobe or cupboards after the wedding, and you also can search for a one of a kind item without having to break the bank.
SUBSCRIBE TO OUR NEWSLETTER
Subscribe to our mailing list and get interesting stuff and updates to your email inbox.