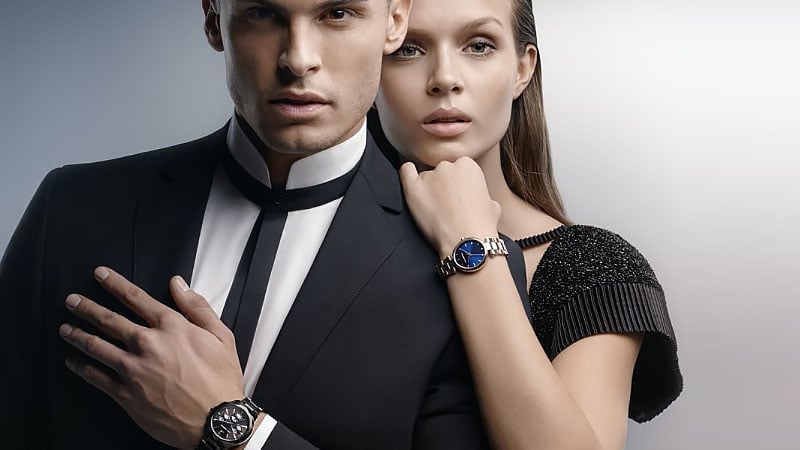 There are many ways to show your love for your partner, and couple dressing is definitely one of the most adorable, albeit cheesy, Hallmark movie-style options. If you're keen to express your love that way but aren't quite ready for his-and-hers plaid, why not invest in his-and-hers timepieces? Couples' watches are a great nod to matching styles but are considerably more subtle. Plus, you know you'll both be on time for date night! Best of all, stylish watches don't have to break the bank. The affordable options below all come in under $200 for both watches, making them the perfect gift for your boo or favorite loved-up couple.
1. Bewell ZS-100B Couple Wooden Quartz Watch
Couples who enjoy a more natural aesthetic will appreciate these wooden watches from Bewel. Each is hand made from solid wood and features a Japanese quartz movement. The band is adjustable for the perfect fit, and the set comes with a link-remover tool to make it simple for you. There's also lots of practicality built into the watch, with a date display, water resistance to 100ft, and luminous watch hands so you can still tell the time in low light. It also makes an excellent gift, as it arrives beautifully packaged in a stylish box.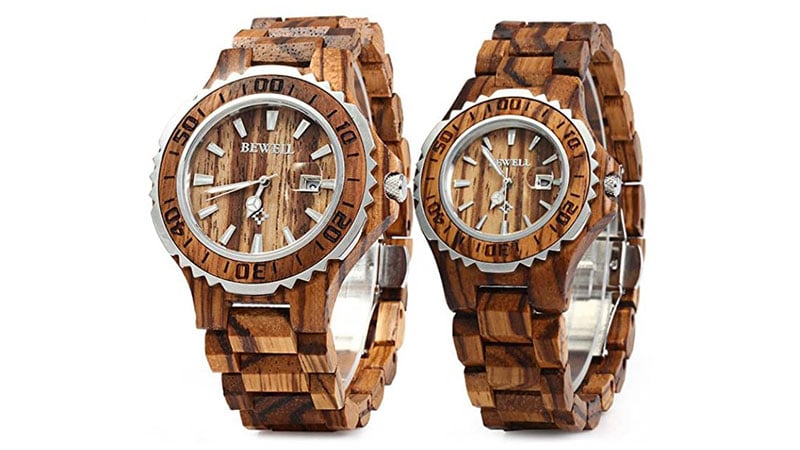 2. Mastop Couple Watches Classic
Mix classic and fun together in this stainless steel watch with a bright blue face. The quartz movement keeps the watch accurate, so you're both on time for date night, while the stainless steel band is comfortable, stylish, and durable. Additionally, the dial features glow in the dark hands and numbers, so you can check the time even at night. If blue is not your cup of tea, other color options include silver and green, silver and black, and gold bands with green, black, or silver dials.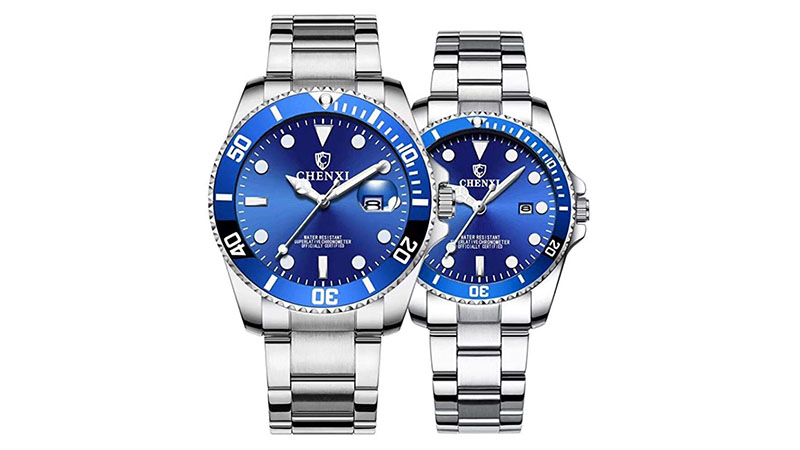 3. August Steiner AS8201 His and Hers Watch Set
These August Steiner couples' watches boast elegant two-tone styling that fits easily into every wardrobe. The women's watch is studded with shiny crystals, while the men's watch has a convenient day/date display. They're both made with quality, durable materials, including stainless steel, mineral crystal with sapphire coating, and Japanese quartz movement. Each is water-resistant to 100ft and has a fold-over clasp to secure it to your wrist. Classic couples will relish this addition to their wardrobe, as these watches look great paired with business formal for work or worn casually on the weekend.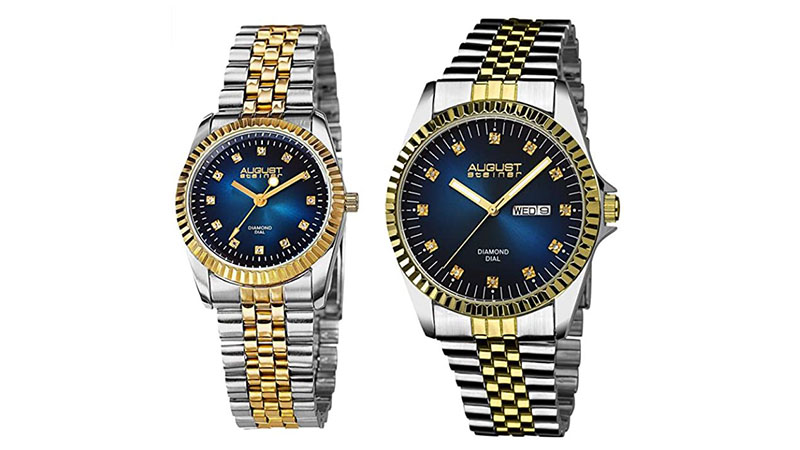 4. OLEVS His and Her Couple Watches
It's a light and breezy vibe you get with these white and silver couples' watches from OLEVS. The unfussy styling is romantic, featuring Arabic numerals in a serif font that has a fairytale feel. The stainless steel straps can be easily adjusted for the perfect fit, while the folding closure is very secure. Meanwhile, the face is made from scratch-resistant crystal, and the movement is very accurate Japanese quartz. These watches are the perfect, subtle way to show off your relationship.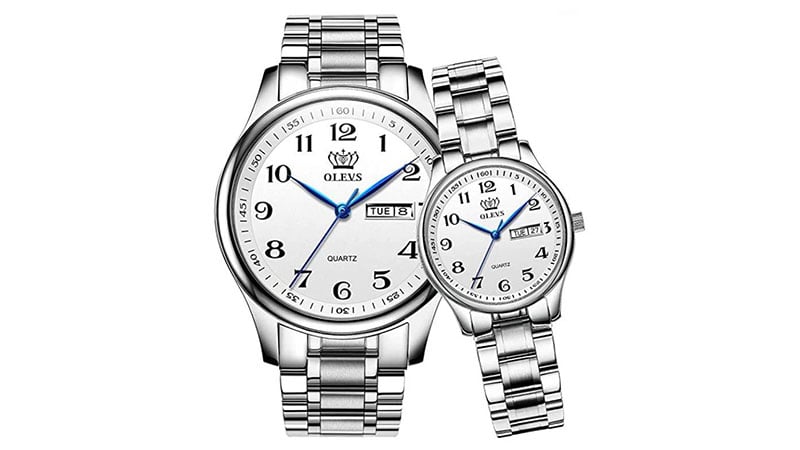 5. Gosasa Couple Automatic Mechanical Watch
Gosasa's stainless steel couple's watches with bold black dials are an excellent fit for sophisticated couples. The men's watch displays the day and date, with Roman numerals and crystal-studded squares marking the hours, while the women's watch has the date, combined with crystal and stick markers. Both feature a crystal-studded bezel and automatic moment that is powered by the natural movement of your arm. As such, if you go watch free for a couple of days, it might need an additional manual wind to maintain accuracy. If the black is a bit too heavy, this watch set does also come in silver and white, as well as rose gold and silver with black or white dials.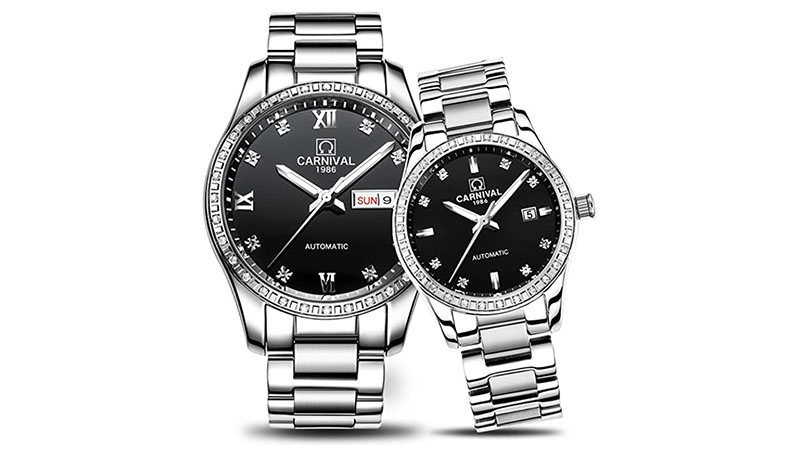 6. shifenmei His and Hers Quartz Analog Watch
Couples who prefer a leather band on their watches will love this option from shifenmei. It's the perfect style for everyday wear. The embossed black leather band is simple to adjust and feels nice on, while the minimalist design is timeless and fits easily into every wardrobe. It's scratch-resistant glass, and the stainless steel case are durable and lasting, and the design is water-resistant to 100ft. Plus, it's exceptionally well priced at less than $20, so it's an affordable way to stir up your style.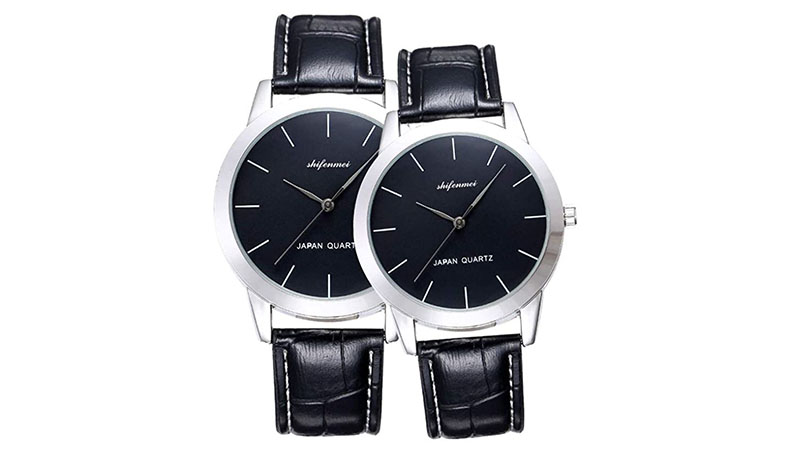 7. August Steiner AS8201YG Watch
August Steiner focuses on refined watch styling, and these elegantly designed couples' watches are no exception. They're made from beautiful gold alloy-wrapped stainless steel, with quartz movement. Both the men's and women's pieces have crystal-studded hour markers and textured bezels for added interest. Use the adjustment tool to remove excess links from the bracelet for the perfect fit. Lastly, they come together in a beautiful gift box that also makes excellent storage, allowing you to keep them safe and dust-free when not in use.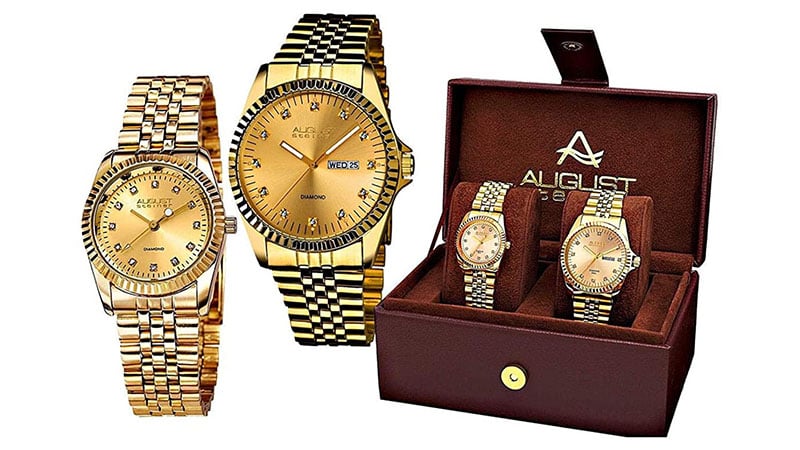 8. Dreaming Q&P Romantic His and Hers Quartz Watch
This ultimate selection in his-and-hers watches features a single heart design, split over both dials, so you'll always carry part of your partner's heart, no matter where you are. It has a beautiful brown leather band, white dial, and crystal accents on the hour markers and heart. The rose gold is an excellent match for the brown, as it has the same warm tones. If you're unafraid of wearing your heart on your sleeve and showing off your love connection, this is the ideal choice for couples' watches.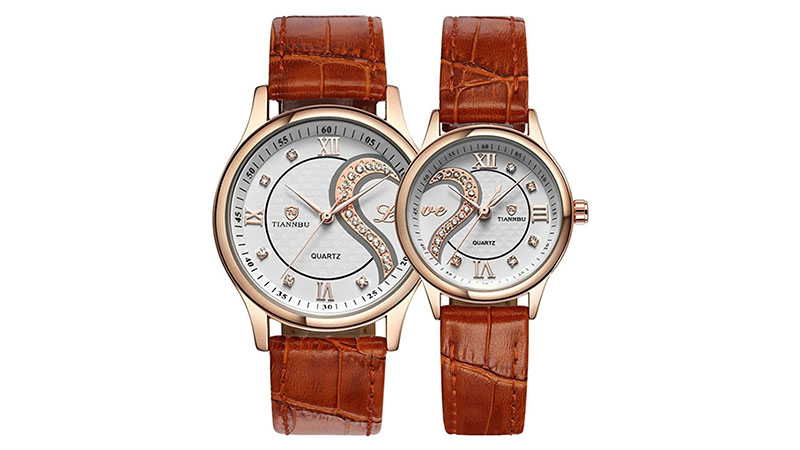 9. Top Plaza His and Hers Couples Watches All Black Bracelet Watch
Enjoy sleek, modern styling with these couples' watches from Top Plaza. The dark metal bands and black dial give it an edgy feel, while the unique hands and off-kilter hour markers add an element of intrigue. It's an excellent choice for quirky couples who aren't afraid to play by their own rules. Wear it out for dinner in the evening, pair it with a suit for work, or rock it casually on the weekend — it's a great all-rounder.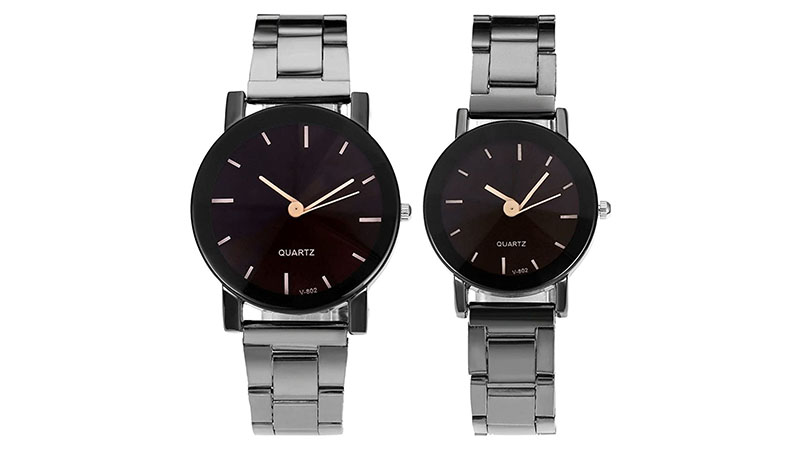 10. Mastop Swiss Brand Two-Tone Watch Men Women
The bright and vibrant mix of yellow gold and silver makes these his-and-hers watches stand out from the crowd. You'll enjoy accurate timekeeping with the quartz movement and durability thanks to the stainless steel case and scratch-resistant face. Unlike other couples' watches, these two are identical except for the size. Both feature simple faces with crystal hour markers, elegant hands, and an embossed bezel. It's a timeless choice for long-lasting relationships.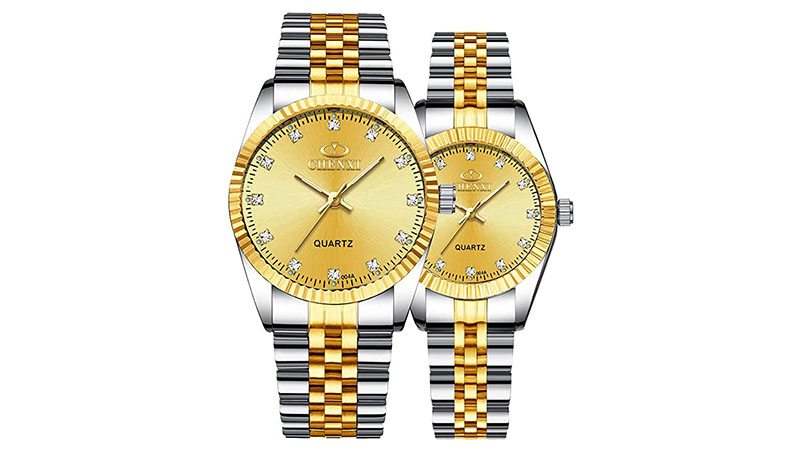 FAQs
What are couple watches?
Couple watches come in a pair, featuring both a men's and women's watch. The styling and aesthetics between the two are either identical or very similar, so they look like a pair. It's essentially a stylish, adult version of the best friend necklaces you had when you were a kid. They allow you to show your love and dedication to each other without resorting to matching plaid.
What are some affordable watch brands?
Some of the best affordable watch brands include Daniel Wellington, Samsung, Bewell, Casio, Mastop Michael Kors, Guess, and Lacoste.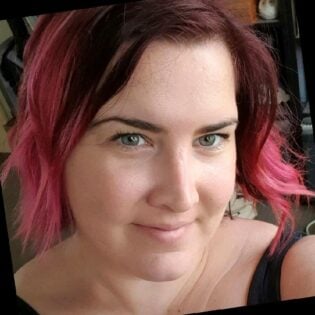 Alexandra Linde is an experienced writer holding a bachelor's degree in Journalism. She is the owner of Alexandra McKiterick Creative and has expertise in travel, fashion, fitness and lifestyle. Alex has previously written for Flightcenter, Travello, and Backpacker Deals.
SUBSCRIBE TO OUR NEWSLETTER
Subscribe to our mailing list and get interesting stuff and updates to your email inbox.