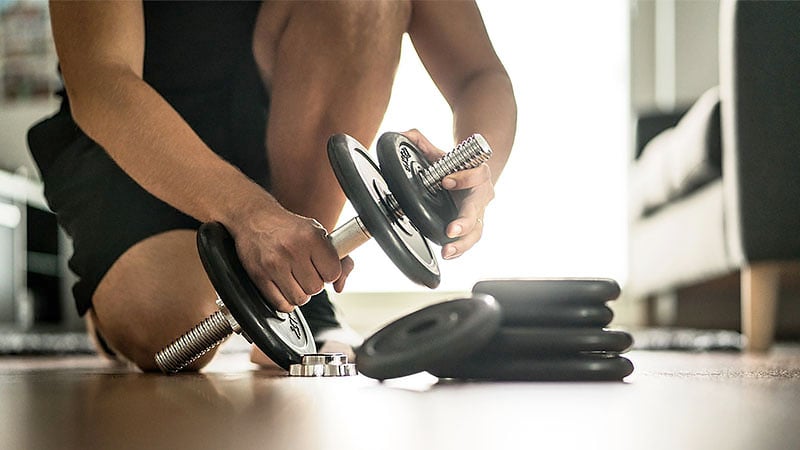 Ditch the need for expensive free weights and expanses of storage space for your at-home workouts. Adjustable dumbbell sets are excellent for many reasons. Firstly, they take up very little room, especially when compared to a full free weight set. Secondly, they're cost-effective by having a range of weights in one unit. Finally, pack-up and storage is easy and efficient. When purchasing your adjustable dumbbells, you'll need to consider your required weight range, preferred material, and ideal method for locking the weight plates in place.
1. Bowflex SelectTech 552 Adjustable Dumbbell Set
Bowflex SelectTech 552 dumbbells are incredibly compact, making them perfect for at-home use. Switching between weights for different exercises is as simple as turning the dial, which creates your chosen weight by combining the plates using the unique locking system. The plates on this set start at five pounds, and go all the way up to 52.5 pounds, with 15 settings to create the perfect combination. Another bonus is the convenient stand, which keeps your set up compact and tidy. Plus, you can get support for your fitness goals by downloading the Bowflex SelectTech App. It features follow-along workouts, a journal function, and the ability to create custom workouts. The app is available for both iOS and Android.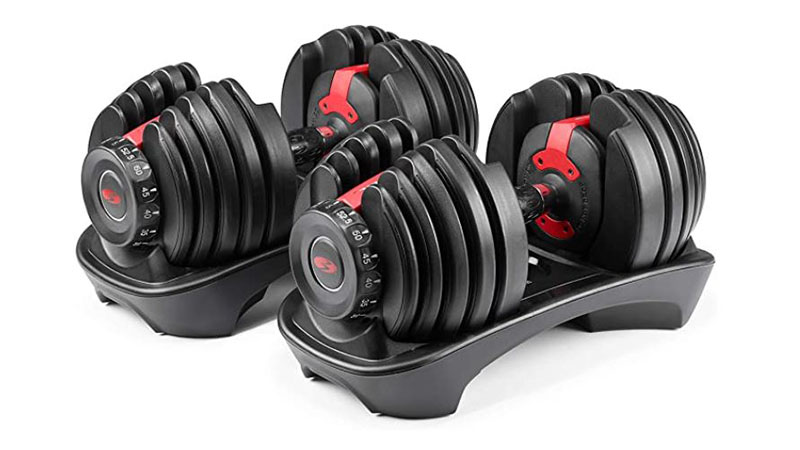 2. CAP Barbell RSWB-CS040T Adjustable Dumbbell Set
Take your at-home workout to the next level with this adjustable dumbbell set from CAP. Create different weight combinations easily, as the set comes with four six-pound plates and four two and a half pound-plates. Plus, the threaded handles and spin lock collars make assembly and adjustment simple. The plates are made of cast-iron and coated with a baked enamel finish, so they're incredibly durable. Additionally, the handles come with a foam grip for a comfortable, non-slip hold.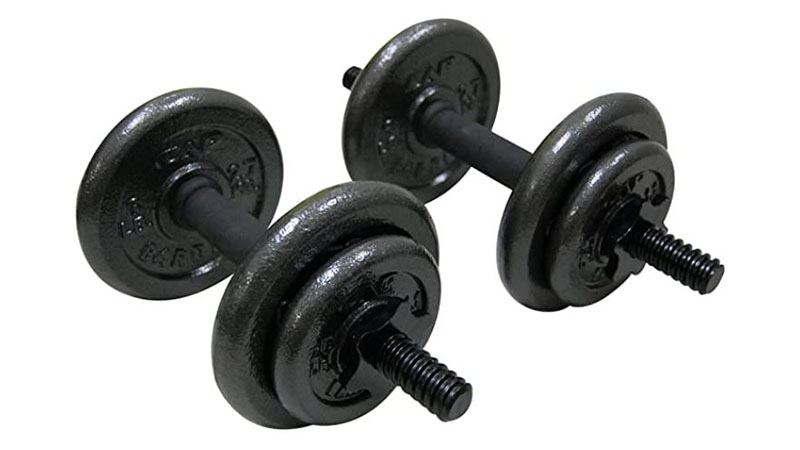 3. Yes4All Adjustable Dumbbell Set
Choose Yes4All's adjustable dumbbells for enhanced training and strength building. This versatile set comes with durable cast irons weight plates, textured chrome handles to minimize grip fatigue, and star-lock collars to make locking the plates in easy. Plus, it has an additional connector bar, which conveniently turns the two dumbbells into a barbell, for the ultimate workout versatility. Depending on your fitness goals and current ability, select from total weight options, which include 40, 50, 52.5, 60, 105, or even 200-pound options.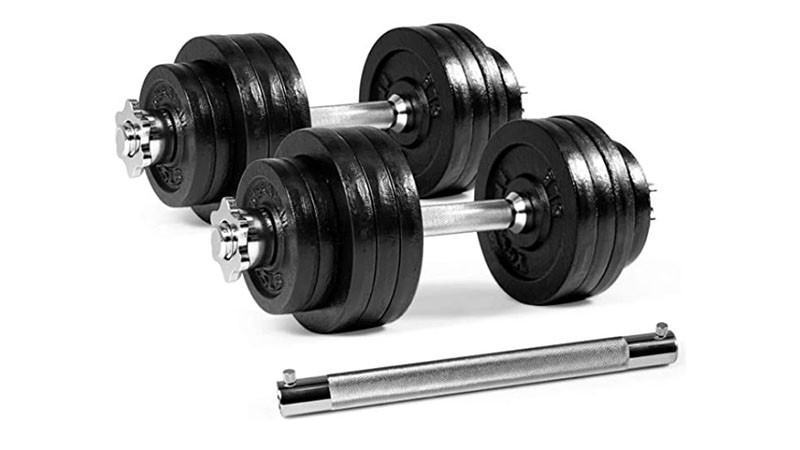 4. PowerBlock Sport 24 Adjustable Dumbbell Set
Switch things up with your workout using the PowerBlock Sport 24 Adjustable Dumbbell Set. You can quickly jump between three pounds to 24 pounds, moving up with three-pound increments. Simply move the selector pin to your preferred weight, and you're ready to pump some iron. One of the best things about the PowerBlock Sport 24, is that each unit is only 10 inches long, and five inches wide. As such, it takes up minimal room in your apartment, gym room, or house. Plus, the design is engineered for balance and control and is also patented, making it truly unique. Finally, the rubberized handles provide a comfortable and safe grip.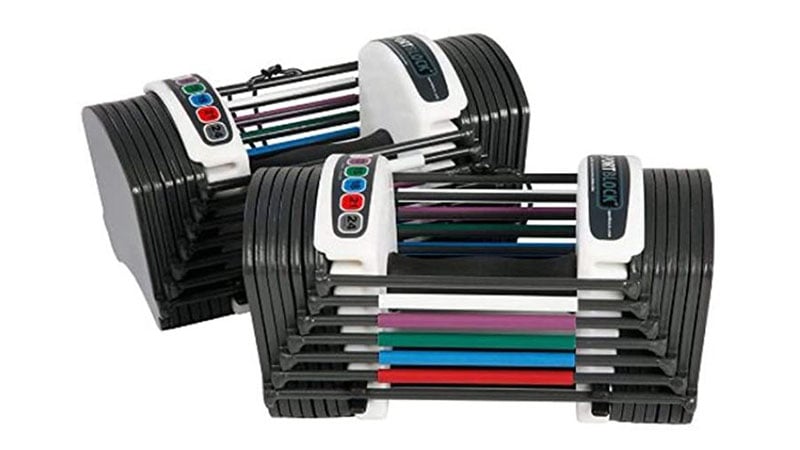 5. Golds Gym Adjustable Dumbbell Set
Why have 30 separate free weights, when you can have just two, very compact adjustable dumbbells? This adjustable dumbbell set from Gold's Gym is perfect for just that. The easy-select system lets you choose weights between 10 and 55 pounds. Consequently, this set is excellent for both lightweight activities such as prone shoulder presses, as well as heavily weighted exercises such as deadlifts. The 12-sided weight plates ensure they won't roll away mid-workout, and the molded grip creates a comfortable hold.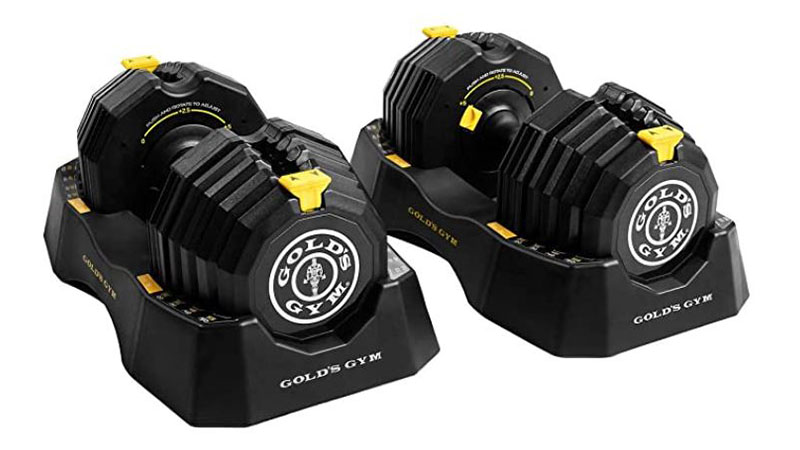 6. Marcy 40 Pound Vinyl Adjustable Dumbbell Set
The Marcy 40 Pound Vinyl Dumbbell Set is perfect for your at-home workouts. The compact design makes tidying up easy and storage a breeze. Each set comes with four two-and-a-half pound plates and four seven-and-a-half pound plates. Secure the plates on the textured handle with the easy-to-use and secure spring clip collars. Another benefit of this adjustable dumbbell set is that it's vinyl coated and rust-resistant. As such, it's durable and will last for years, even throughout the heaviest, sweatiest of workout sessions.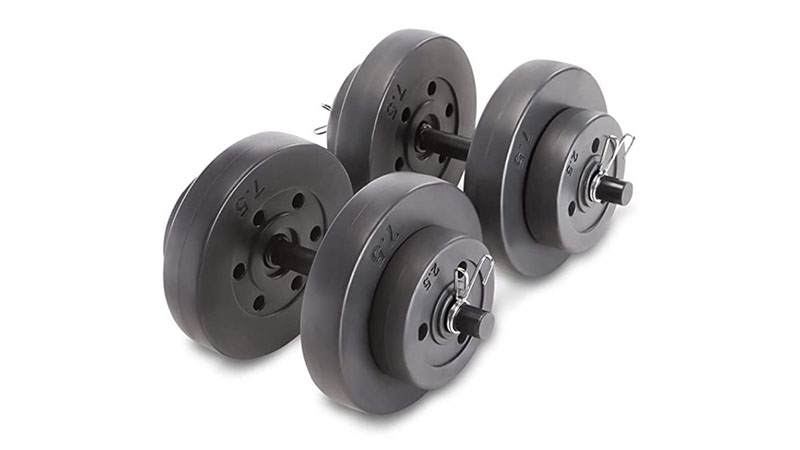 7. NordicTrack Adjustable Dumbbell Set
Select the perfect weight for any exercise with this adjustable dumbbell set from NordicTrack. The selector system is straightforward to use, allowing you to change weights in minimal time. Choose from a low as 10 pounds, all the way up to a whopping 55 pounds. The variation in weight options has you covered for almost every exercise. As such, it's perfect for working out your arms, shoulders, abs, chest, and legs. Store your weights effortlessly with the storage trays, which also allow for easy access during your sweat sessions.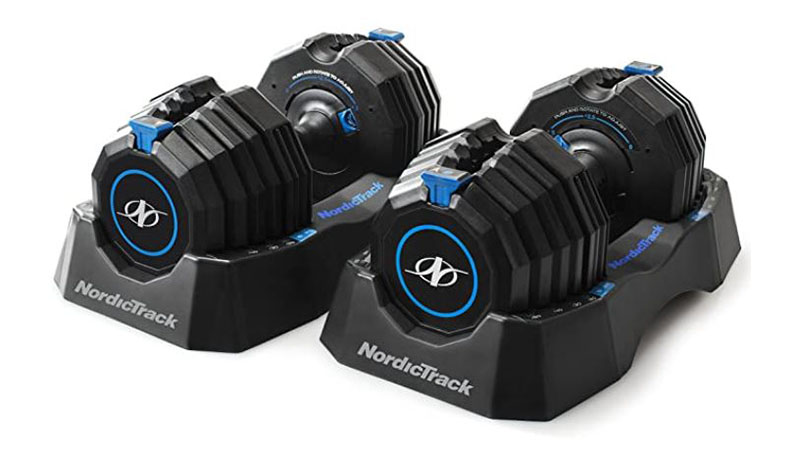 8. Homlpope Adjustable Dumbbells Set
Enjoy the multifunctional design of the Homlpope adjustable dumbbells that can also convert to a barbell. This function allows for exercises such as barbell squats, as well as traditional dumbbell moves such as rows, presses, and curls. The iron powder and cement mix plates are coated with rubber to ensure no damage to the floors or surfaces on which you're using the weights. Both professional athletes and novices can benefit from these easy to use adjustable dumbbells. The handles have a unique, diamond-shaped grip for safe handling, while the barbell extender is covered in a rubber coating. Plus, you can select from multiple maximum weight options, including 23 pounds, 89 pounds, and 111 pounds, so no matter where you are in your fitness journey, there's an option for you.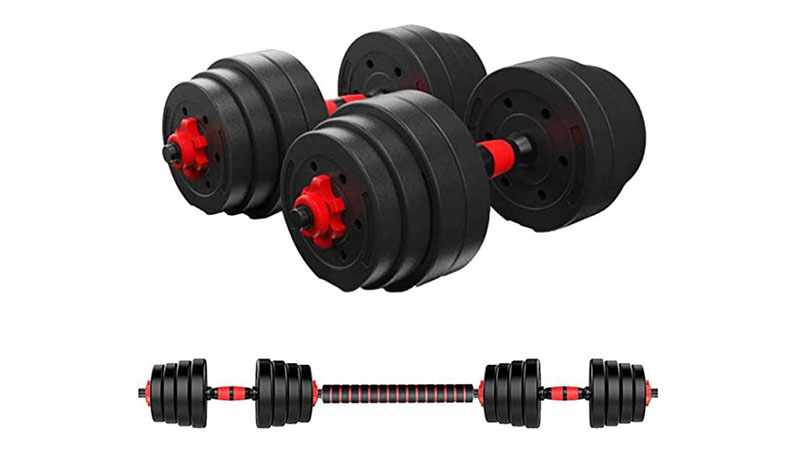 9. Wotefusi Adjustable Dumbbell Set
Upgrade your workout to a professional level with the Wotefusi adjustable cast iron dumbbell set. Choose the set that best matches your strength level and fitness goals. Your options include 33 pounds, 44 pounds, 66 pounds, and a killer 110 pounds. Additionally, no matter which set you choose, all of them come with an extender bar to easily transform your dumbbells into a barbell. The spinlocks keep the plates secure, while the ergonomically designed handles keep your hands secure. Burn fat and get toned, all in the comfort of your home.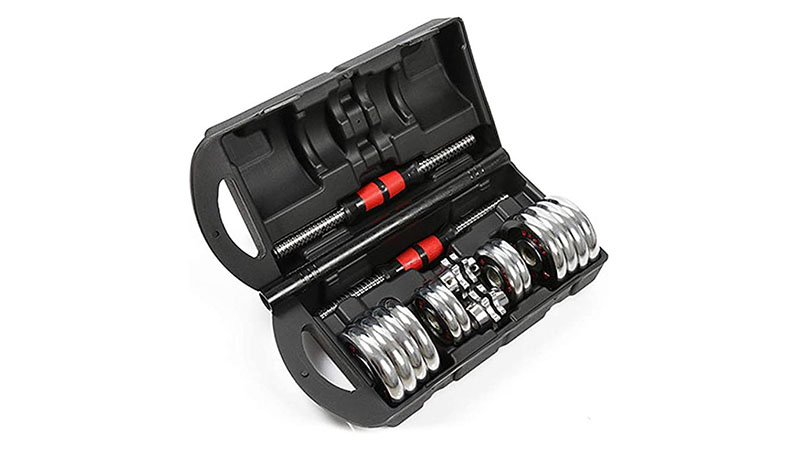 10. ProForm SpaceSaver Adjustable Dumbbell Set
There's no need for heaps of space for your workout kit when you've got the ProForm SpaceSaver Dumbbell. This adjustable dumbbell set is easy to use, with a simple slider that makes changing the weight timely and straightforward. The weight of these steel dumbbells ranges from 5 to 25 pounds. As such, you can add increments of 5 as you get stronger, or use the different weight settings for various exercises. The knurled grip is comfortable to hold, while the sturdy construction means a quieter workout, which is especially handy if you live in an apartment. Store the dumbbell easily in the storage rack, which takes up very little room.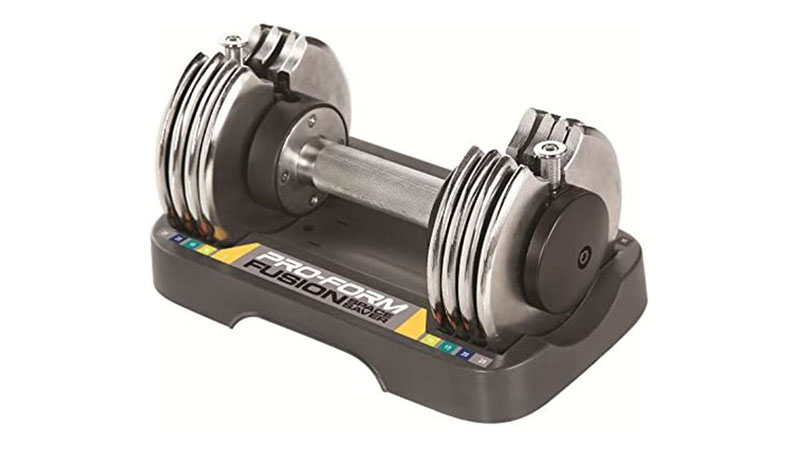 Best Adjustable Dumbbell Sets FAQs
Are adjustable dumbbells better?
There are pros and cons to adjustable dumbbells, just as there are for free weights. Adjustable dumbbells can be both space and cost-efficient. They take up less room than a full free weight set, so they are excellent for apartments or home gyms. They also tend to cost less as well. Plus, pack up, and storage is also straightforward, as the systems are designed to be simple. However, on the downside, they're not always as robust as regular dumbbells, so it can be damaged easier if you don't care for them.
Can you drop adjustable dumbbells?
It's not ideal to drop your adjustable dumbbells, as they're not as robust as regular free weights. Most have a mechanism that keeps the weight plates secure or adjusts between them. These fixtures are the weakest link and can be damaged with impact. If you're big on dropping your weights at the end of a set, it would be better to consider regular dumbbells.
What are the heaviest adjustable dumbbells?
The average top weight for the majority of adjustable dumbbells is 55-60 pounds. Larger sets generally tap out at a maximum of 110 pounds. However, there are a few brands, such as the Yes4All Adjustable Dumbbells, that go up to a whopping 200 pounds.
Why are dumbbells so expensive?
Dumbbells are expensive because of the material they're made of and the weight. Iron or steel are the main components, which themselves are costly. Then, with most manufacturing happening overseas, the cost of shipping such heavy products to their destination country can be very high, and the charge is generally passed onto the customer.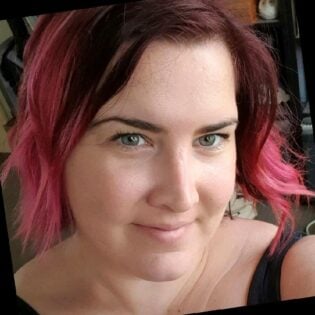 Alexandra Linde is an experienced writer holding a bachelor's degree in Journalism. She is the owner of Alexandra McKiterick Creative and has expertise in travel, fashion, fitness and lifestyle. Alex has previously written for Flightcenter, Travello, and Backpacker Deals.
SUBSCRIBE TO OUR NEWSLETTER
Subscribe to our mailing list and get interesting stuff and updates to your email inbox.