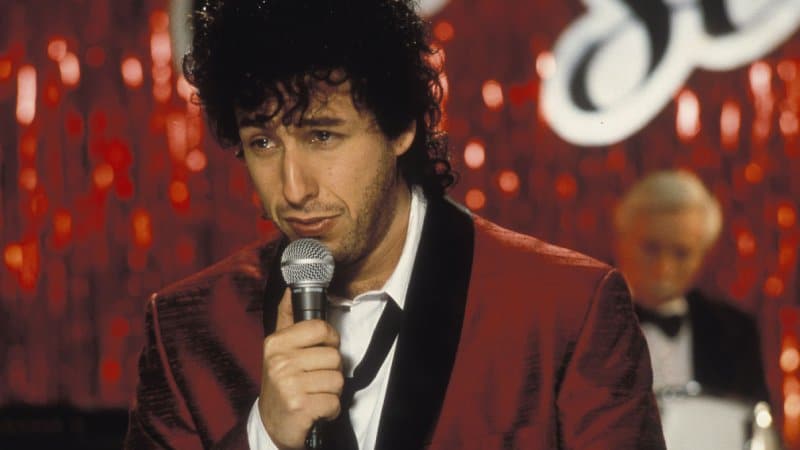 1. The Wedding Singer
The Wedding Singer is a classic romantic comedy movie starring Adam Sandler and Drew Barrymore. The film consists of hilarious scenes, heartfelt moments, and many 80s vibes! It tells the story of Robbie Hart, a wedding singer whose dreams of his own big day are dashed when his fiancée breaks off their engagement at the altar. As he helps other couples through the process of planning their dream weddings, he unexpectedly finds himself being mistaken as the groom-to-be when another woman falls in love with him. This charming movie is sure to keep you laughing and your heart fluttering. Whether it's the comedy, drama, or nostalgia that draws you in, The Wedding Singer is an all-timer romantic favorite for any occasion.
2. Grown Ups
Grown Ups is a funny, lighthearted movie about four friends who reunite after 30 years only to find that despite all the years in between them, they haven't grown up at all. The humor in Grown Ups is derived from the characters' inappropriate ways of dealing with everyday issues such as relationship problems, adult responsibility, and even simple, practical problems. It provides laughs throughout by making fun of their inability to behave like responsible adults. Despite the slapstick comedy and silly pranks, Grown Ups also has tender moments that teach valuable lessons in human relationships and demonstrate how easy it is for people to get along if they try a little bit. This makes Grown Ups a great movie not only for laughs but also for watching with family and friends.
3. 50 First Dates
50 First Dates is an unforgettable romantic comedy starring Adam Sandler and Drew Barrymore. Written by George Wing and directed by Peter Segal, this 2004 classic has become a timeless favorite of rom-com fans. Sandler plays Henry Roth, a veterinarian who falls head over heels for Lucy Whitmore (Barrymore), who suffers from anterograde amnesia — meaning that she cannot form new long-term memories. Fortunately, Henry's love for Lucy is strong enough to withstand the test of time as he works diligently to make her fall in love with him each new day. Uproarious and heartwarming, 50 First Dates shows us just how powerful true love really is.
4. Happy Gilmore
The 1996 comedy film, Happy Gilmore, is one of those cult classics that continues to captivate audiences today. Adam Sandler stars as the title character, a failed hockey player with a remarkable gift for golf. His antics on the course elevate Happy to become an unexpected golf hero and celebrity in his own right. With Heartland Golf tours and generous side help from shooting instructor Chubbs Peterson (Carl Weathers), played authoritatively by the esteemed actor, it becomes increasingly clear how determined Happy is to stop Shooter McGavin from winning the tournament of tournaments. Whether it be his dreams of playing hockey professionally or winning the championship for his dear grandmother, Happy will stop at nothing to prove himself and make everyone proud. In short, this masterpiece of a movie certainly proves that comedy gold can indeed come out of left field!
5. Punch-Drunk Love
Punch-Drunk Love is a 2002 romantic comedy-drama directed by the renowned Paul Thomas Anderson. Barry Egan (Adam Sandler) stars in this funny and touching film about a lonely introvert's search for love. The film is full of visual surprises and absurdist humor, making it one of the most unique films to come out of the 2000s. It isn't a typical Hollywood romance, but its dry wit and earnestness help convey the emotion of Barry's character arc expertly. Though there are definitely darker elements exploring anxiety and his difficult relationship with women, Punch-Drunk Love ultimately shows how Barry finds growth in self-empowerment when he begins to stand up for himself. This cult classic will make you laugh out loud while also showing you the beauty of life and love.
6. Anger Management
Anger Management, released in 2003, is a comedy film starring Adam Sandler as a gentle-natured man charged with assault. After pleading no contest to an altercation on a plane, he is sentenced to attend an anger management program by Dr. Buddy Rydell (Jack Nicholson). While professional individual therapy is often sought for understanding how to manage anger effectively, this movie takes a light-hearted alternative route – with hilarious results! Part of the appeal of Anger Management was that some of the most successful comedians created it in Hollywood. Adam Sandler's fresh comedic performance, Jack Nicholson's dry delivery, and guest appearances from John Turturro rounded off this film in comic perfection. Though nearly two decades have passed since its debut, Anger Management remains one of the most-loved satire films of all time.
7. Funny People
The movie Funny People is a hilarious comedy that follows the story of an aging comedian and his attempts to regain fame and revitalize his career through a reunion concert. Adam Sandler plays George Simmons, a successful yet egotistical famous comedian who must reinvent himself after being told he has developed a rare disease. The movie follows him as he discovers what matters in life and how much more important relationships can be than fame and fortune. This movie gives viewers a taste of the realness of life while providing hilarity along the way with the performances of Sandler, Seth Rogen, and Leslie Mann. It is definitely one you won't want to miss!
8. Big Daddy
Big Daddy is one of the most successful comedy films of all time. It follows Adam Sandler's character, Sonny Koufax, as he embarks on a mission to adopt a little boy in order to prove something to his girlfriend. As expected from an Adam Sandler movie, there are a lot of big laughs and heartwarming moments throughout the movie. Although some may feel that it's cliché or contrived by today's standards, the film is still loved by those who saw it in theaters. Big Daddy is funny and light-hearted but with enough substance to make it stand out from other comedies released at the same time. It's an overall enjoyable experience and highly recommended for anyone who wants some laughs and good times!
9. Waterboy
The Waterboy is a classic movie from the year 1998 starring Adam Sandler as Bobby Boucher, an awkward waterboy for a college football team who has an incredible ability to tackle opposing players. Despite continued mockery from fans and players alike, Bobby discovers a newfound strength and purpose when he takes up tackling on the field himself. With his family's loving support, Bobby bounces between hilarious moments and heartwarming triumphs as he leads his team all the way to the championship game. Ultimately, The Waterboy is a timeless comedy that viewers of all ages continue to enjoy over twenty years later.
10. Billy Madison
Billy Madison, the 1995 comedy classic starring Adam Sandler, is one of the most popular movies of all time. It tells the story of Billy a 27-year-old who is forced to go back to school in order to prove himself capable of taking over his father's company. Despite all the laughs that ensue throughout Billy's unexpected journey, there is also an underlying message about living life with ambition and purpose. The movie teaches us the values of hard work, dedication, and resilience – which will help us reach any goal we set our minds to. All in all, Billy Madison is more than just a movie; it's a portrayal of what happens when you set your sights high and never let anything stand in your way.
11. Uncut Gems
Uncut Gems is a 2019 crime-drama film that has captivated audiences all over the world. It stars Adam Sandler as Howard Ratner, a jewelry store owner, and gambling addict who gets himself caught up in a dangerous situation that he can't control. The suspenseful story of Ratner's journey combines with an excellent soundtrack to put viewers on the edge of their seats. What makes Uncut Gems so compelling is how it balances the high-stakes action with smaller moments that explore the inner workings of Ratner's life, giving viewers both a thrilling ride and something to think about afterward. There's much to appreciate in this striking cinematic experience, making it well worth watching for fans of good drama.
12. The Meyerowitz Stories
The Meyerowitz Stories (New and Selected) is a comedic yet emotional dark-comedy written and directed by Noah Baumbach. The movie follows the story of a fractured family as they grapple with their unique challenges. It stars an all-star cast including Adam Sandler, Ben Stiller, Dustin Hoffman, and Elizabeth Marvel. Despite the sometimes chaotic atmosphere established onscreen, each of the characters are linked together by the shared experience of love and loss in a way that will resonate with any viewer. As expected from Baumbach's work, there are plenty of humorous moments scattered throughout; however, it is ultimately the heartfelt moments between father and sons, mother and daughter, and siblings that provide the film with its true power. The Meyerowitz Stories is an exceptional piece of filmmaking offering viewers a glimpse at real-life family dynamics.
13. Hubie Halloween
Hubie Halloween is a 2020 film that stars Adam Sandler in the leading role as Hubie Dubois, an unassuming resident of Salem, Massachusetts, who tirelessly ensures the town's annual Halloween festivities stay on track. Although Hubie is quite unpopular and often a subject of ridicule among his peers, he has an unshakable love for the holiday which drives him to take up the challenge of discovering who or what is behind a series of strange occurrences and missing persons cases occurring in the town. Having made headlines since its release, Hubie Halloween offers viewers a lighthearted mix of comedy and suspense as Hubie takes on his big responsibility with little help from his friends. This movie is sure to keep everyone in high spirits this fall season!
14. Click
Click is an inspiring movie that will bring a smile to the viewer's face. Through powerful characters and a heartfelt story, it reminds us of the simple comforts and experiences in life that are truly important. Adam Sandler stars as Michael Newman, a hard-working family man heavily entrenched in his career. When he discovers a mysterious remote control with fantastic powers, he embarks on an incredible journey of self-discovery and learns how to balance work and family life with humor and heartwarming emotionality. This film is sure to bring insights into our fast-paced modern world, leaving viewers cherishing moments with loved ones instead of striving for our ever-changing goals every day.
15. Hotel Transylvania
Hotel Transylvania is a fun and lighthearted comedy film, perfect for the whole family. Directed by Genndy Tartakovsky, the movie follows the main character Dracula as he opens his mystical hotel as a safe haven for monsters of all shapes and sizes. It is a charming story about friendship, family, adventure, and understanding. Audiences will be enchanted by its vibrant animation, captivating characters, and amusing storyline that children won't soon forget. What's more, with vocal talent from the likes of Adam Sandler and Steve Buscemi it is sure to have your entire family laughing out loud from start to finish. With so much to offer, it's no surprise that Hotel Transylvania has won numerous awards for "Best Animated Feature".
Adam Sandler Movie List FAQs
What was adam sandler first movie?
Adam Sandler's first movie was the 1989 comedy classic "Going Overboard".
What is Adam Sandler's biggest hit movie?
Earning over $260 million worldwide, Grown Ups was one of the most successful films of its decade.
How many movies did Adam Sandler produce?
Adam Sandler is a versatile actor and comedian who has been producing, writing, and starring in major motion pictures since 1989. To date, the actor has produced 28 feature-length films, all of which have garnered critical attention from audiences around the world.
What made Adam Sandler so famous?
Adam Sandler is a household name, and for many good reasons. While he was born in Brooklyn, New York in 1966, his career really started to take off when he joined Saturday Night Live in 1990. His performance there generated huge laughs from audiences and turned the comedian into a celebrity. From there on out, Sandler has gone on to star in films such as Grown Ups, Waterboy and 50 First Dates that have - in total - grossed over $2 billion at the box office worldwide.
SUBSCRIBE TO OUR NEWSLETTER
Subscribe to our mailing list and get interesting stuff and updates to your email inbox.