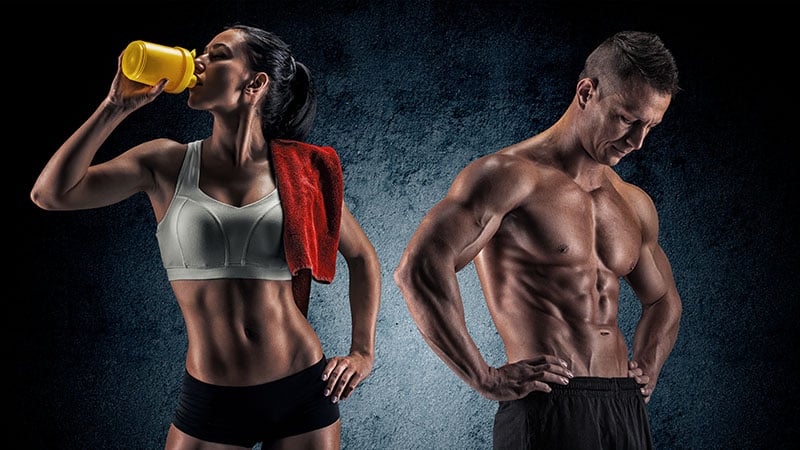 Don't let self-isolation hold you back from your summer body! Ab workouts are some of the easiest to adapt to your routine when you can't go to the gym. Many of the most effective ab exercises use only your body weight for resistance and require no special equipment. Plus, most ab circuits take less than 15 minutes – so you get bang for your buck! Check out these amazing ab workouts from YouTube's best fitness channels and influencers.
1. Athlean-X Six-Pack Progression
To sculpt your abs, you must challenge the muscles from different directions. The all-in-one, six-pack workout from Athlean-X, uses equipment-free and straightforward exercises to get your abs chiseled fast. You'll work through top, bottom, mid-range, and oblique movements in a quick circuit that you can do five or six times per week for great results. Even better, it can be adapted to any fitness level.
2. MadFit 15 Minute Total Core/Ab Routine
Get your core looking flat and fabulous with MadFit's fast, floor-based ab routine. You'll feel your abs burning (in a good way!) as you work your way through the two seven-minute circuits. The video is perfect for those who want more guidance, as trainer Maddie will take you through every exercise in real-time.
3. THENX 6 Pack Abs for Beginners
If you're just getting into your fitness journey, you'll love THENX's 6 Pack Abs for Beginners video. The workout is made up of fat-burning and ab-sculpting exercises that are very effective and easy to follow. Plus, the whole workout uses only bodyweight exercises with no equipment so that you can do it in your bedroom or living room.
4. Fraser Wilson 10-Minute Home Ab Workout
US personal trainer Fraser Wilson has earned more than 700,000 YouTube subscribers with his challenging yet easy to follow workouts that get real results. You can jump straight into his 10-Minute Home Ab Workout – as it's a real-time video, all you have to do is copy Fraser as he demonstrates each movement. Not only will it work your core, but you'll also get a full-body workout too.
5. Bodybuilding.com At Home Core Workout with Ashley Conrad
Looking for an ab workout you can do with your other half? Look no further than the At Home Core Workout from Bodybuilding.com. It's like having a personal trainer in your living room as host Ashley Conrad points out essential form tips and techniques as her assistant demonstrates each exercise. You can also make the workout more intense by adding a medicine ball or dumbbell for some of the movements.
6. Pamela Reif 10 Minute Ab Workout
German trainer Pamela Reif has built a loyal YouTube following with her timed real-time workouts that will get you in killer shape. Ideal for women who want a slim waist and defined core, her 10 Minute Ab Workout is challenging but worth the sweat. Plus, it comes with a motivating soundtrack to keep your blood pumping and your motivation high.
7. Fraser Wilson 10 Minute Morning Workout
Another great abs workout from Fraser Wilson is his 10-minute morning routine. While not specifically focused on abs, it includes several fantastic core exercises combined with a full-body burn. It's the perfect way to get your blood pumping and your abs burning before you pour your morning coffee.
8. Chloe Ting Get Abs in 2 Weeks
Get ripped abs fast with fitness influencer Chloe Ting's two-week challenge. Millions of women around the world have had great results with Chloe's programs, and this ab circuit is no different. Watch Chloe demonstrate each movement as she shares her tips for preventing injuries and getting the most out of each exercise. Do it every day for two weeks and let your glow-up begin!


9. XHIT Daily 3 Ab Favourites
One of the most popular fitness channels on YouTube, XHIT Daily has a massive library of different workouts to choose from that will help you achieve any goal. The 3 Abs Favourites video combines three of the channel's best core-focused routines. Whether you want a simple five-minute circuit or a high-intensity blast, XHIT has you covered.
11. Bowflex The Eight Minute At Home Abs Workout
Feel the burn from four super-effective ab exercises in this video from Bowflex. Focusing on form, rather than speed, you'll build a strong core and flat tummy with excellent definition. While challenging, the workout incorporates rest periods to help you maintain your energy levels and execute every set without injuries.
12. V Shread 8-Minute V Cut Abs
For many men, the fitness Holy Grail is developing the 'v lines' – super defined lower abs and obliques. V Shred trainer Vince demonstrates four simple moves that require only a clear floor space to complete. The workout keeps things slow and steady, with a short rest in between each exercise so you can maintain your form.
13. PopSugar Fitness 5-Minute Ab Workout
Shake up your usual ab routine with PopSugar Fitness' five-minute standing workout. Trainer Anna Renderer will take you through a fun and energetic circuit without a single crunch or sit-up. It's ideal if you don't have much space in your home, and you can easily add resistance by holding a dumbbell or heavy book.
14. Sarahs Day At Home Ab Shredder
Australian trainer Sarah combines fat-burning with ab-defining moves in her Ab Shredder video – a follow up to her hugely popular 15-minute Fat Burner Full Body workout. Sarah's no-nonsense training style is refreshing and easy to follow. Plus, she demonstrates each movement and provides alternatives for those with injuries or different skill levels.
10. Blogilates 12 Minutes to Toned Abs
Part of the Blogilates 12 Minutes To video series, this abs workout is fast but intense. Let host Cassey Ho take you through seven challenging bodyweight moves inspired by Pilates exercises. Her clear instructions and positive attitude will keep you motivated to the end.
15. Austin Dunham Home Abs Workout
Join trainer Austin Dunham for his follow-along, do-anywhere workout that will help strengthen and define your abs. He demonstrates and describes every exercise in detail and gives you tips along the way to ensure you get the best results. Even better, you don't need any equipment to complete the workout.
SUBSCRIBE TO OUR NEWSLETTER
Subscribe to our mailing list and get interesting stuff and updates to your email inbox.