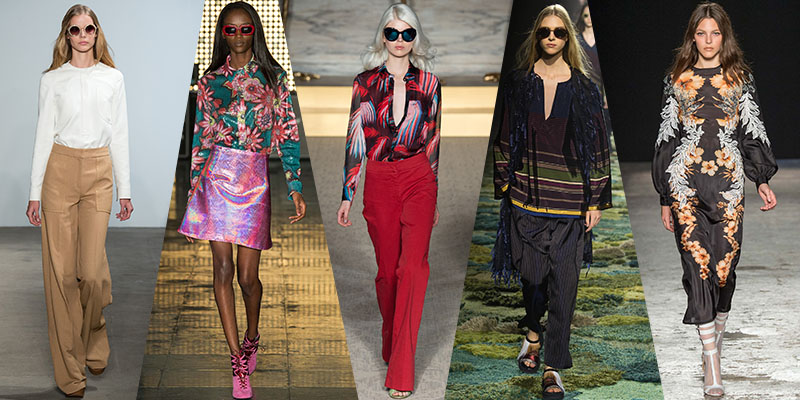 Dear Seventies Fashion Trends,
We have a bone to pick with you.
Over the past few decades you've come in and out of our lives like a revolving door. You've made a habit of waltzing on in with your flares, jumpsuits and knits, only to leave again a few months later. We're quite familiar with the old "if you love something, set it free" proverb but the problem is that you keep a-coming and a-going on quite a regular basis.
This year, you reared your dreadlock-covered head at Fashion Week in Paris, Milan, London and New York. Designers such as Alberta Ferretti, Tommy Hilfiger, Francesco Scognamiglio, Chloe and Dries Van Noten gave you a bohemian spin with billowing peasant dresses, crochet knits, rainbow stripes, patchwork suede and layer upon layer of fringing. You looked pretty cute and made us want to take you to a summer festival.
Seventies, you're quite a chameleon and your presence at Fashion Week didn't stop there. We know you like to work just as much as you like to play and that's why you also stepped out in luxe tailoring. You shimmied down the runway in flared and bell-bottomed pants, elegant jumpsuits, blouses layered under fine knits and belted trench coats. Karen Walker, Gucci, Acne, Emilio Pucci and Derek Lam made you look good… real good.
You didn't stop there, did you Seventies? When the sun went down, you made us want to go dancing on a disco dancefloor. Saint Laurent had you decked out in metallic leopard and peacock prints, glittered platform heels and velvet Hendrix jackets. Henry Holland had you in psychedelic florals and flirty metallics, while Coach thought you looked best in pastel coloured furs.
So, Seventies Fashion Trends, how long are you going to stay for this time? We just want to know if we should pull our suede flares out of the closet or leave them where they are? Stop playing games with our hearts.
Yours in admiration and confusion,
TheTrendSpotter
SUBSCRIBE TO OUR NEWSLETTER
Subscribe to our mailing list and get interesting stuff and updates to your email inbox.