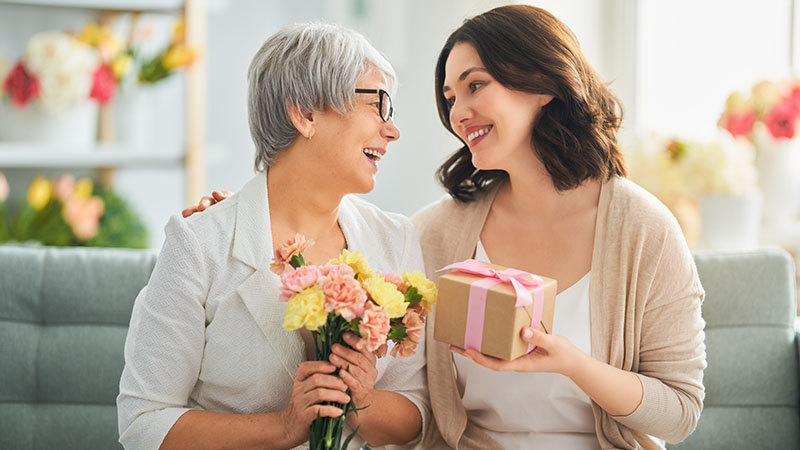 We celebrate many milestone birthdays in our lifetime, but following the 30th, there aren't many as momentous as the 60th. This decadent celebration is all about honoring your immense and incredible life and all of the amazing memories you've made along the way. But what do you buy for someone who is about to celebrate this huge event? Do you stay true to tradition with diamonds, or do you sway away and turn to something more modern like a piece of tech? Have no fear! We've compiled the best 60th birthday gift ideas for women they are going to love!
1. Chanel N°5 Eau De Parfum
There is no scent quite like Chanel NO.5. It is iconic for many reasons and makes for the perfect gift for someone's 60th birthday. A classic in itself, show the woman in your life that she is as elegant and unforgettable as this French fragrance. It offers notes of florals over a woody warm base of vanilla, vetiver, sandalwood, amber, and patchouli. A little goes a long way, too, so she can keep it on the dressing table for longer. Even when it's finished, the statement bottle becomes a beautiful decoration.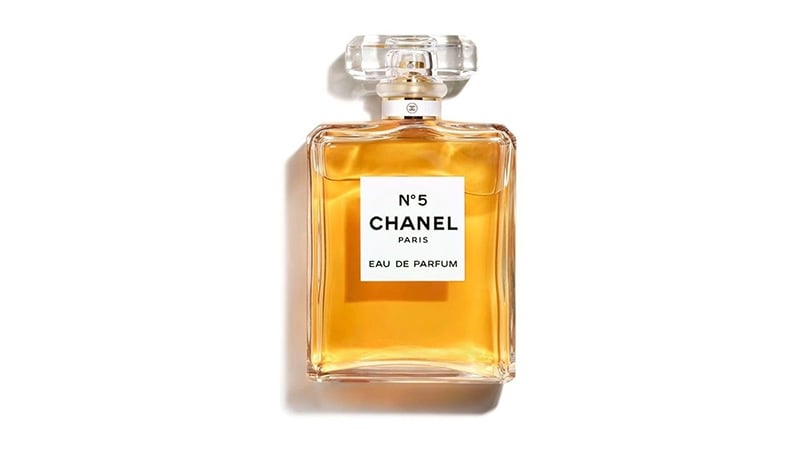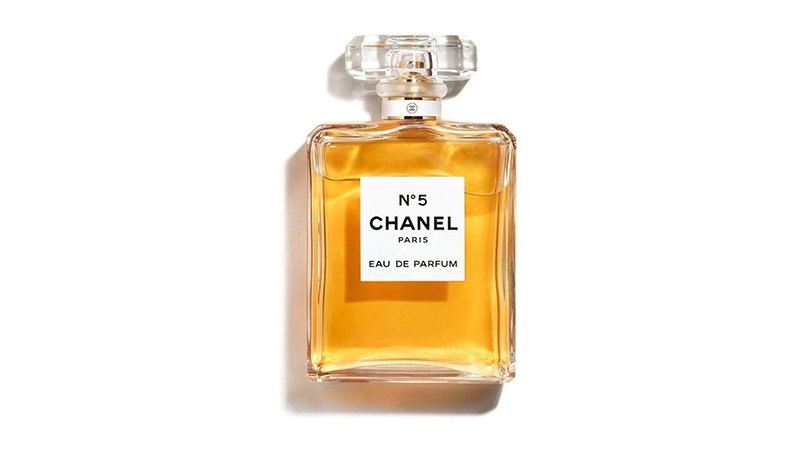 2. Aesop Gift Set
There's nothing quite as luxurious as a gift from Aesop, and this gift set is unforgettable. Featuring their iconic essentials, including the shampoo conditioner, mouth wash, body cleanser, facial cleanser, and toothpaste, her whole bathroom will have an overhaul! All items from Aesop are cruelty-free, vegan, Australian-made, and free from parabens, so it's kind to her skin and the planet.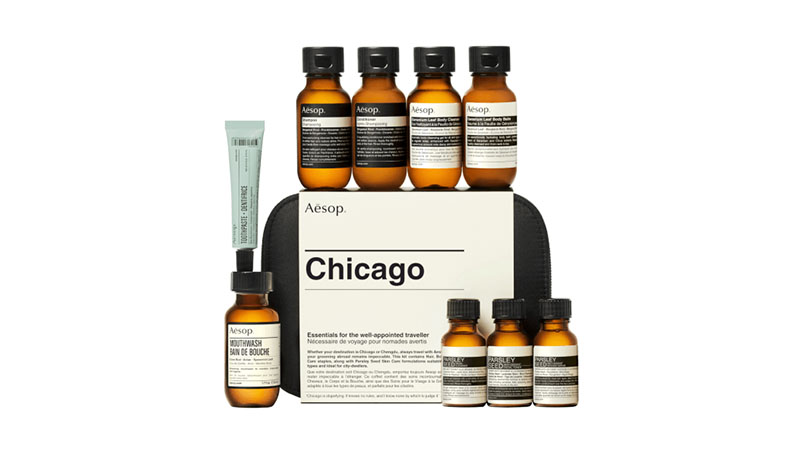 3. Hermès Silk Scarf
While you may not be able to fork out enough for a Birkin or Constance bag, a silk scarf from Hermès is an exquisite gift for her 60th birthday. This vintage Grand Uniforme design is expertly crafted from red and white silk, with a sword motif print with gold accents. There is a solid border along the edge, featuring intricate imagery that suits myriad styles and occasions. Add it as an accessory for a handbag, tie it around the neck or add it to a hairdo for a sophisticated and elegant addition to any outfit.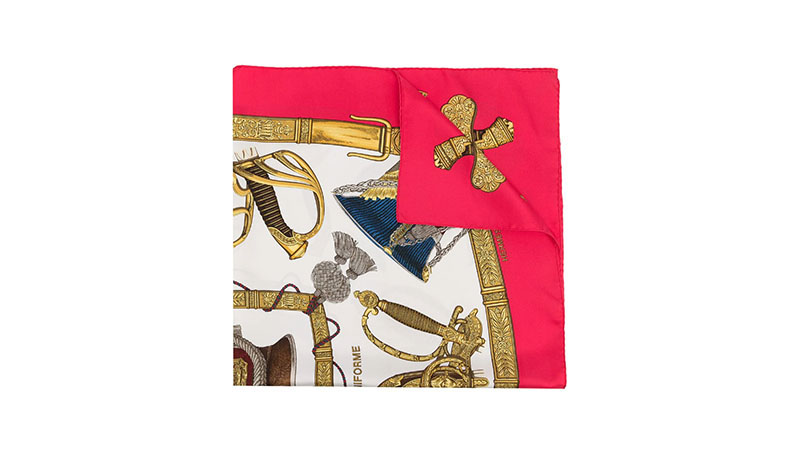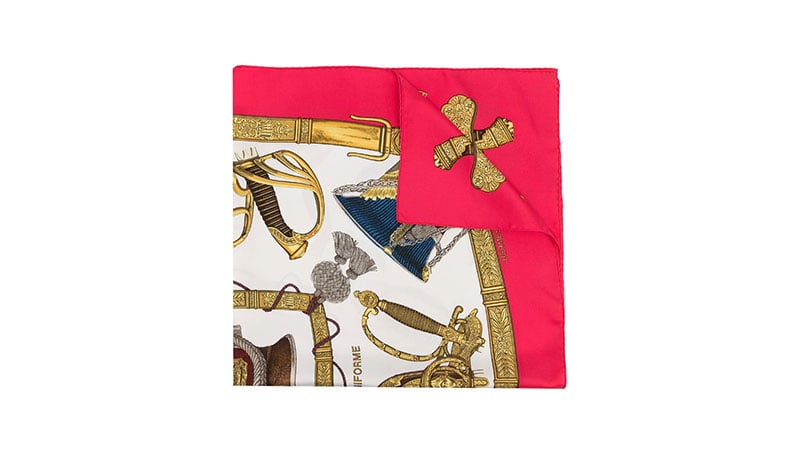 4. Personalized Luxury Towel Set
The perfect 60th birthday gift doesn't have to be something fancy, but these towels are certainly luxurious. The soft and luxe bath set from Peacock Alley is crafted from a blend of cotton and TENCEL Lyocell fibers, leaving a supersoft touch. In this gift pack, you will find a bath sheet, face washer, hand towel, bath mat, and bath towel. These come in a huge range of colors, which will match any bathroom. Plus, you can even get initials embroidered on the edge for a personalized touch.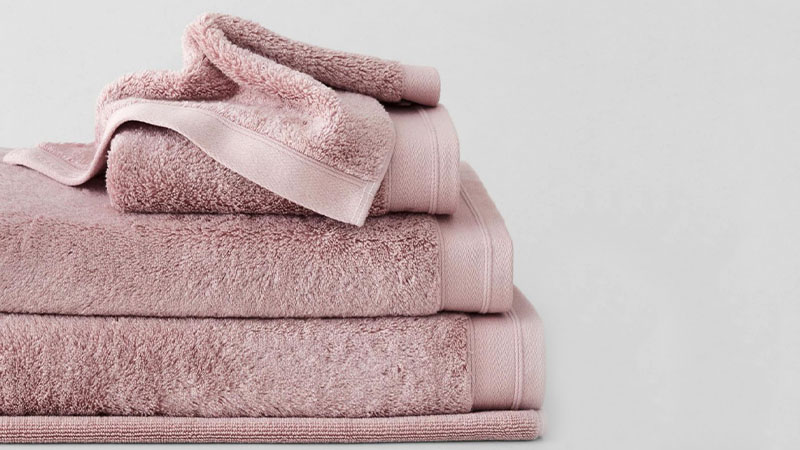 5. Customized Tiffany & Co Jewellery
If she loves jewelry but wants something a bit more personal, there is no better idea than Tiffany & Co. The iconic and timeless brand has brought joy to wearers for decades and is an excellent gift idea. For her 60th birthday, take it to the next level by engraving a piece, such as a pendant, bracelet, or ring. You can engrave, emboss or etch, making a Tiffany design a bit more personal and meaningful to the wearer. If you want something custom, the jeweler also provides a service that lets you design something bespoke. This is the ultimate gift to show how much you care.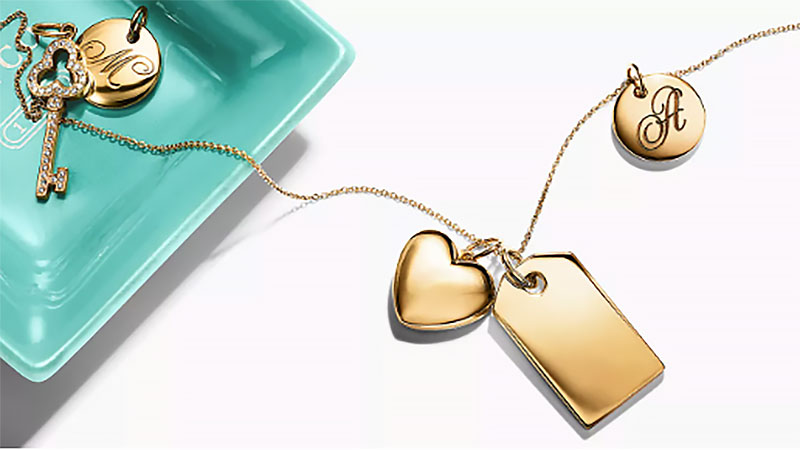 6. Chloe Tote Bag
It's important for every woman to have a designer bag that they can use on a daily basis. For her 60th birthday, opt for the Chloe tote bag. Crafted from cotton canvas, it's sturdy and strong, so she can hold plenty of good in there without fear of tearing or ripping. It has sturdy leather trims and handles, which are beautiful to look at and provide extra resilience. There are a few colors to choose from, so you can match her style perfectly for daily use.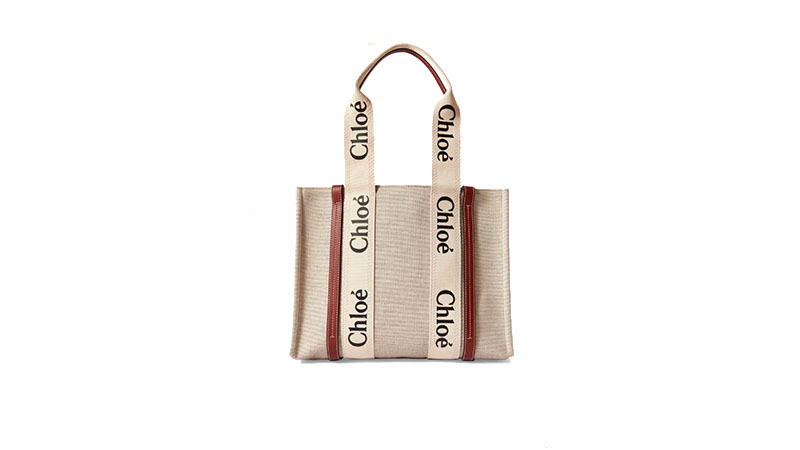 7. Versace Watch
What time is it? It's time to get this watch! The Versace Medusa Secret Bracelet packs plenty of punch. A discreet yet seductive design, it hides the face of the watch underneath a gold-crafted Medusa head with a delicately carved Greek cut-out band. The design underneath is simple and elegant, so she can wear it to any event. For her 60th, this watch is a timeless choice. We guarantee she will garner a few compliments every time she puts it on.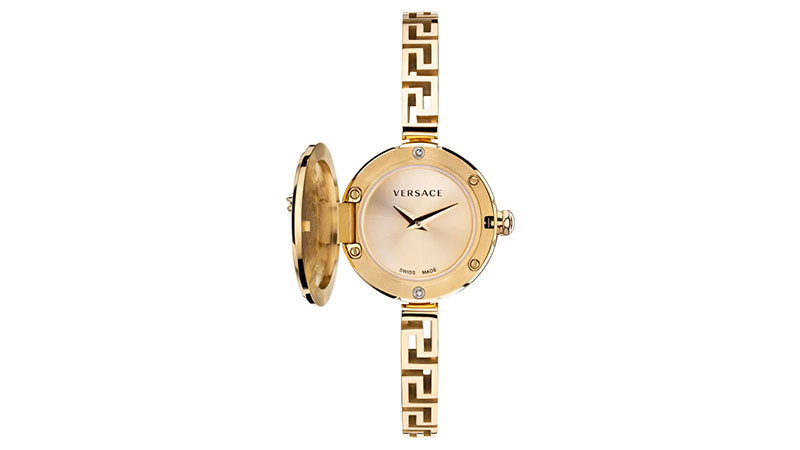 8. Chanel Wallet
For the fashion-conscious woman, you can't go past a Chanel wallet. As one of the most iconic luxury designers in the world, this gift is timeless and unique in many ways. Quilted from caviar leather, it features an iconic and signature motif, the interlocking CC logo, and diamond quilting. It was created during Karl Lagerfeld's era in 2011, with internal slots for cards, IDs, and cash. The silver lining and hardware perfectly complete the accessory, and its effortless beauty makes it perfect for daily use.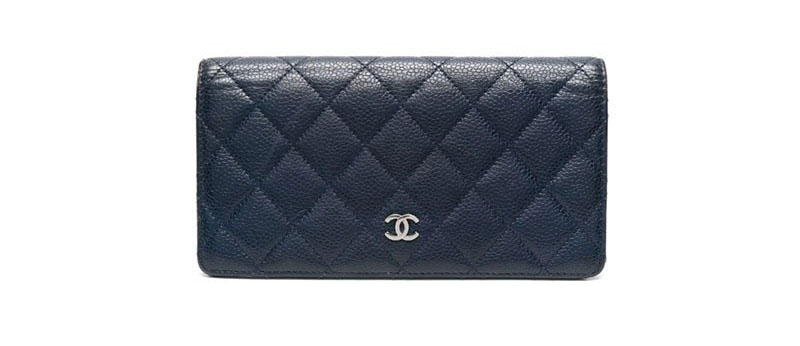 9. YSL Logo Belt
All fashionable women need an iconic designer accessory that they can wear anywhere. Dressing an outfit up has never been easier, thanks to this elegant YSL belt. Capturing the essence of the designer's influential suits from the '70s, this belt is filled with elegance and iconic symbolism, with its recognizable logo on the front near the buckle. It is crafted from soft leather in cream, with an adjustable fit and effortless silhouette. You can wear this with jeans and a T-shirt, a suit, or even as a palate cleanser for a printed dress. The options are endless.

10. Heart Diamond Ring
Show your loved one how much you care with this adorable heart diamond ring. Whether it's your mom, sister, or grandma, this piece of jewelry is sure to make her smile and fill he heart with joy. The ring features a pavé set diamond wrapped in an 18kt gold casing. While it's simple in design, the elegance of the form remains timeless and suits myriad ensembles and occasions. Plus, the traditional gift for a 60th is the diamond – it ties in new and old traditions effortlessly.

11. Estee Lauder Gift Set
Treat her to a cheeky pamper session with this gorgeous gift set from Estee Lauder. The eight-piece set features essential items for any makeup bag, including skincare, lipstick, and lip pencil. Nights in just got a bit better, too, thanks to the Multi-Effectface and neck cream, night repair Synchronized Multi-Recovery Complex, and makeup remover. It all comes in a beautifully-designed pouch with a logo tag. The products will last her a while, and she can enjoy a touch of luxury every time she reaches for the bag.

12. Six Rings Necklace
Turning 60 is a major event, so you should give her a present that represents the decades of her amazing life. This necklace is crafted from sterling silver, featuring six delicate rings. Wrapping around each other, they're small in size but certainly pack a punch. Each ring represents love, strength, protection, and unity, lasting together in infinite loops. This is a wonderful gift idea for someone special in your life – they will think of you every time they wear it.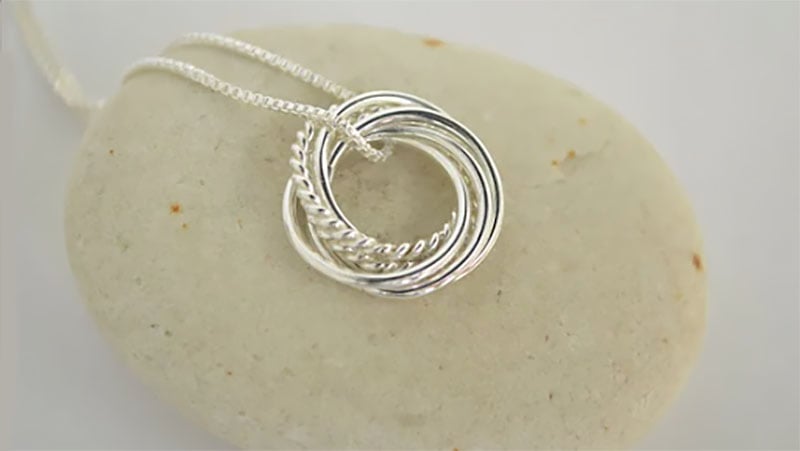 13. Gift Box
Why get a single gift for someone turning 60 when you can get her an entire box of goodies? This hamper features hilarious and quirky items that represent their personality and are worth showing off. There are nine presents in this box, including a necklace with six rings dedicated to each decade, plus a stunning beaded bracelet. They can enjoy a cool glass of wine in the 60 & Fabulous wine tumbler, which keeps beverages cool for up to nine hours or warm for three. Plus, there's a portable makeup mirror and a gorgeous key chain inside. There's also a pair of funny wine socks, a hilarious makeup bag, and quirky wine bags. It's a great choice for the woman who has everything.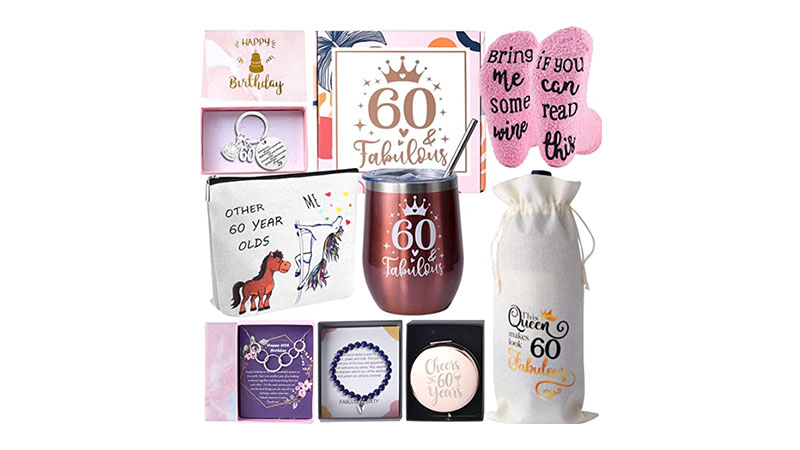 14. Audible Membership
If the person in your life wants to read more books but just cannot find the time, then an Audible membership is a perfect solution. There are thousands of titles available, meaning there is always something new to 'read'! Whether it's an autobiography, self-help book, or a classic piece of literature, there is everything you could possibly want in a single location. She can take a walk, go for a drive or simply stay in her living room – there are no limitations to expanding her audio bookshelf.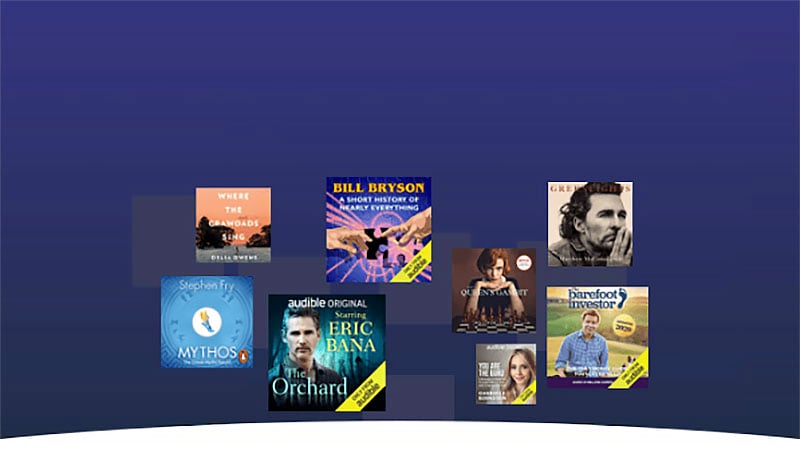 15. 60th Birthday Candle
If you're not sure what to get the woman in your life for her 60th, a perfect gift idea is a candle. But why just choose any candle when you could pick something with a touch of humor? This playful gift features a funny label on the front while presenting a delicious and long-lasting fragrance. With notes of grapefruit, lime, and lemon, it's a zesty and refreshing scent that will fill the room with joy. It's wrapped beautifully with a gold ribbon, so you can hand it to her with pride.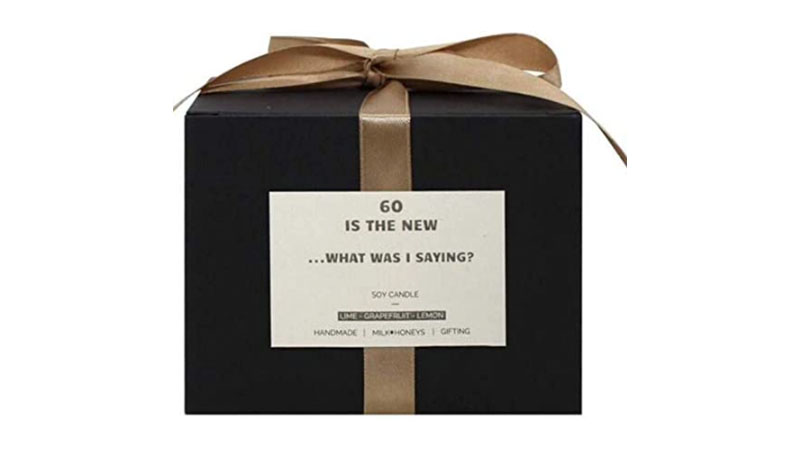 16. Masterclass Subscription
Take learning a new skill to the next level with a gift from Masterclass. With lessons taught by leaders in each field, they will have front seats to the creme de la creme of film, leadership, writing, ballet, cooking, and so much more. Learn from the best, including Natalie Portman, who teaches acting, Annie Leibovitz, who teaches photography, and Diane Von Furstenberg, who teaches how to build a fashion brand. Lessons from these icons are priceless and make for the perfect 60th birthday gift.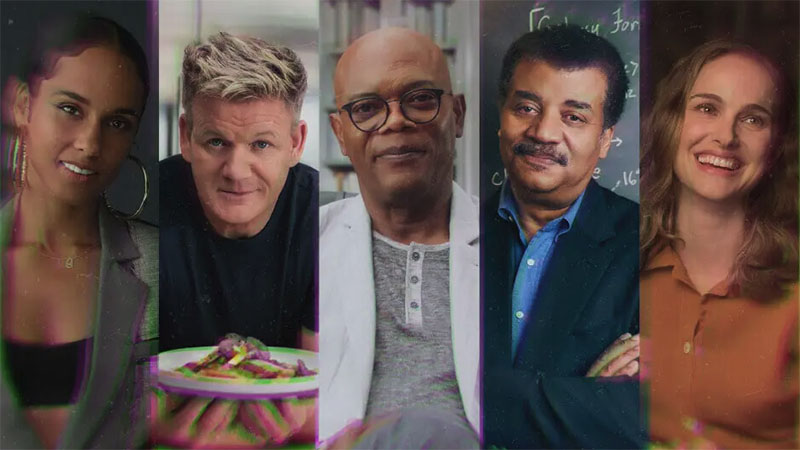 17. Luxe Hamper
Why have a single gift when you can have a luxe gift set? This incredible hamper includes everything she wants for a pampering session, such as a fluffy bathrobe, satin eye mask, bath salts, a scented candle, and an aroma diffuser. That's not all, this box also features delicious white chocolate raspberries, French Earl Gray tea, caramel latte shortbread, milk chocolate raspberry bites, and lots of other tasty treats. She will instantly relax as soon as she opens this gift and will want to run a bath and unwind for her big day.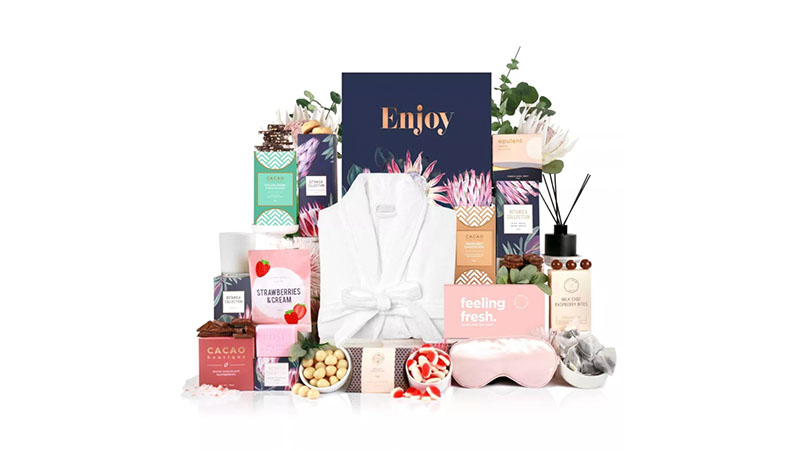 18. What I Love About You Book
Many people don't want 'things' for their birthday; they want something with a bit more meaning. This gift delivered exactly that and more. The 'What I Love About You' book is perfect for a mom, grandmother, or sister, as it highlights all of the things you love about them. There are endless fill-in-the-blank pages with prompts to share what you love about them. This is a unique and thoughtful gift that is irreplaceable and is sure to brighten their day whenever they open the book.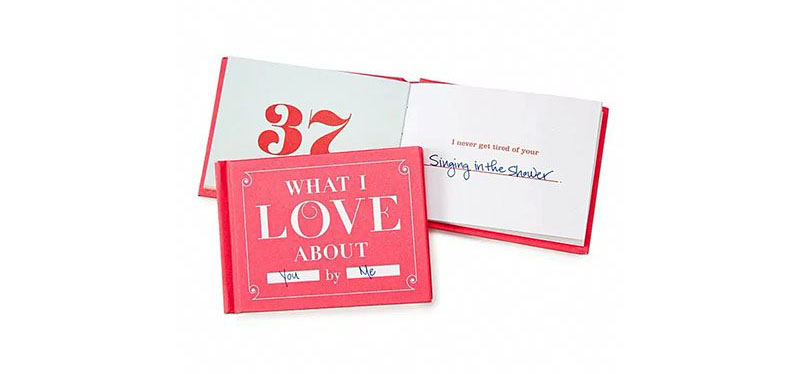 19. Uncommon Experiences
Not every gift has to be something they can hold in their hand. An experience is sometimes far better than a physical presence, and these uncommon experiences are no exception. Try coffee tasting classes, summer painting, flower arranging, or making delicious cocktails from the '80s. These are unlike anything she has tried before, and they can be shared with more than one person. Making memories is the best gift someone can ask for, so why not celebrate her 60th with an adventure she'll never forget?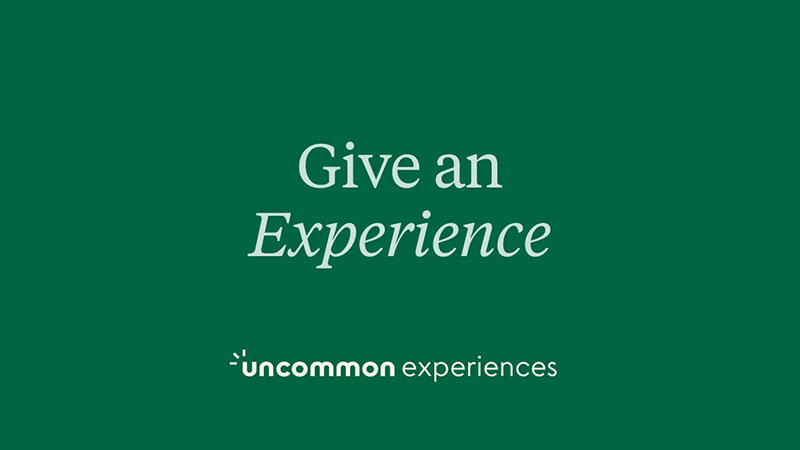 20. 60 Reasons Why We Love You
There are endless reasons why you love someone, but this custom piece of art showcases one reason for every year of her life. This unique and thoughtful gift showcases 60 key reasons why you love this person, whether it's her sense of humor, helpful personality, quirky sides, and everything in between. Send your list to this Etsy store, and they will create the piece of art for you. Choose the color you prefer, your size, and the kind of background you prefer. There's nothing quite like this gift, and it is sure to put a smile on her face!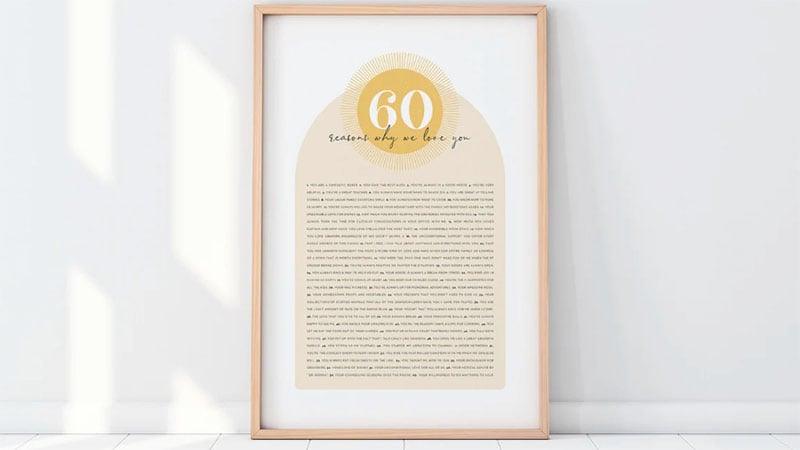 21. Bathtub Neck Pillow
Self-care is a crucial part of life, so for her 60th birthday, why not encourage a more indulgent lifestyle with this bath pillow? Designed to support the neck while relaxing in the bathtub, it offers cushion-soft fabric that is relaxing and calming. It attaches with four suction cups and will be held securely in place for the duration of the bath. It's easy to dry and clean once used, thanks to its in-built hooks and air mesh ventilation. This will instantly give a spa-like experience and will help her relax after a long day.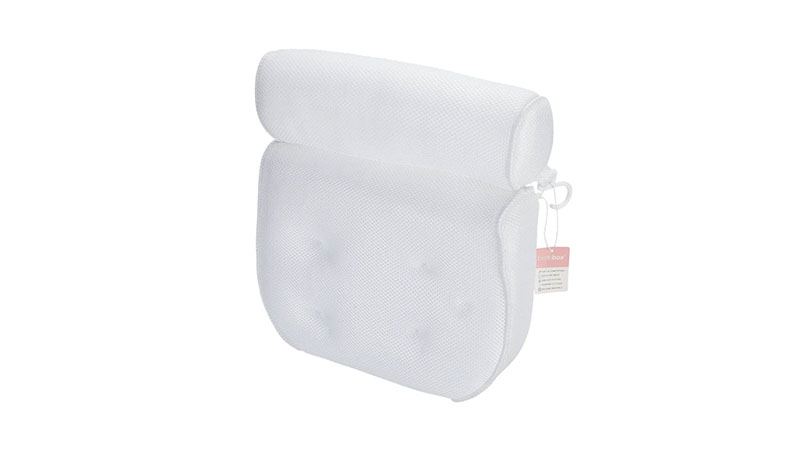 22. Apple Watch
For the woman on the go, the Apple Watch will play an important role in her life. This gift is nifty and useful, tracking health, exercise, and messages as they come through. Instantly elevating a work or daily outfit, she can track her steps, heart rate, and notifications and improve her fitness levels. The SE model is water resistant with a retina display, giving off fantastic visuals and has longer battery life. She can take it swimming, on a hike, or just for a stroll to the grocery store.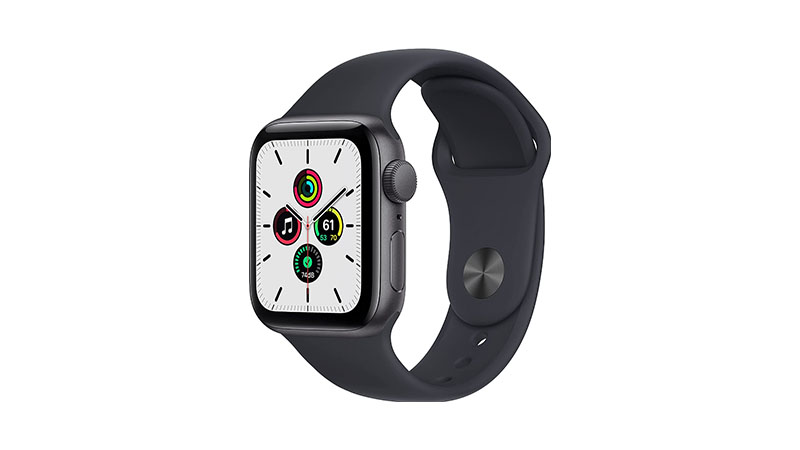 23. With 39 Years of Experience Mug
For her 60th birthday, let out the funny side of turning 60 with this quirky cup. Honestly, no one feels their age, and no truer words could be said than this mug. It's a great gift idea for a colleague or close friend who enjoys a cup of hot tea, and has a great sense of humor. The print on these cups is fantastic, and they can handle hot or cold beverages easily. Watch their eyes light up and crack a smile when they see this gift!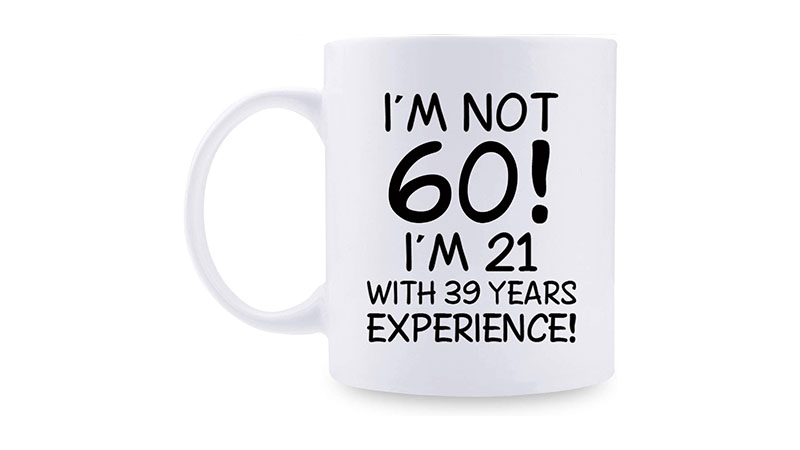 24. Allure Beauty Subscription Box
Why give a gift that they can only open once when she can receive something new every month? This subscription box from Allure features luxury beauty and makeup products that she will adore. All of the products in each box are hand selected by the team at Allure, with a value of $100 in every package. And aside from other subscription services, there aren't just mini or sample items inside. There are three full-size products in every box!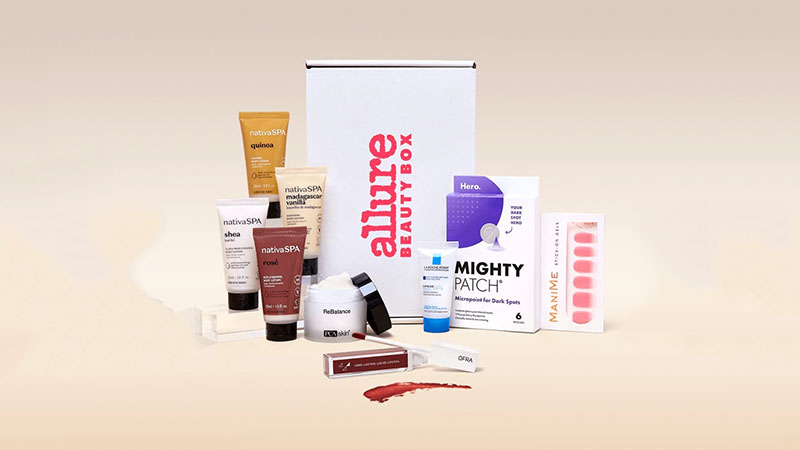 25. Silk Sheet Set
There isn't anything quite like sleeping on silk sheets, and the luxurious feeling is worth giving as a gift for her 60th birthday. Every night is like slipping into a dream of opulence and bliss – the hyper-soft fabric is durable and hypoallergenic, so it's kind to the skin and enhances the bedroom's aesthetic. These sheets will also repel nasties like germs, bacteria, and dust mites, leaving you feeling rested and ready to take on the day. It's crafted from Mulberry silk and comes in a wide range of colors depending on your liking.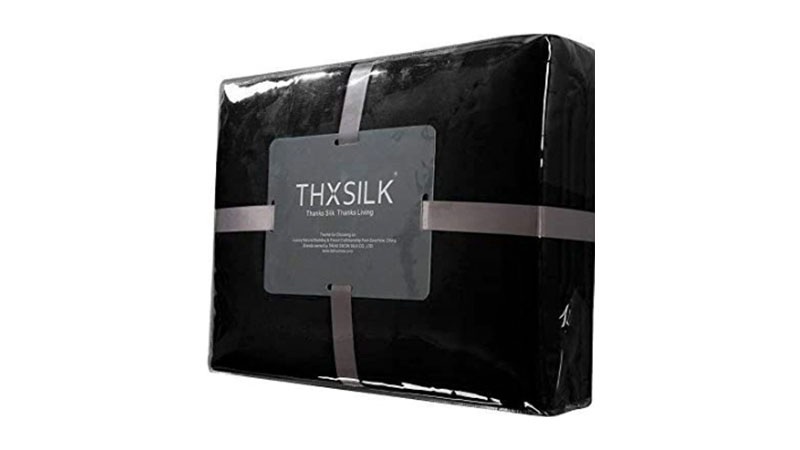 26. Hand Massager
Say goodbye to pain points in the hand and enjoy moments of pure bliss and relaxation with this hand massager. The heated device targets various parts of the hand, providing tissue massaging across the top and bottom parts of the hands. This is ideal for those with stiff joints, finger pain, or who are in need of some extra relaxation after a long day. The heating features help aid in blood circulation, and it will automatically switch off after 15 minutes of use. The long-lasting battery means you can use it for up to 90 minutes on a single charge.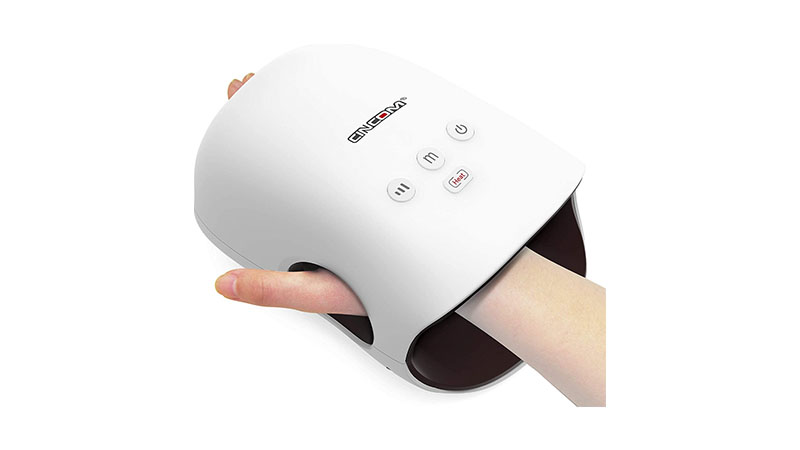 27. Cheese Platter Set
Take Friday night drinks to the next level by gifting this cheese platter. The ideal 60th birthday gift, it offers everything you need for a brilliant night of fine dining. This set comes complete with a wooden cutting tray, a pull-out knife drawer, and steel serving utensils. Of course, you don't have to use it exclusively for cheese and crackers – try a pizza platter or a delicious dessert charcuterie to spice things up a bit. The kit comes with space for ramekins – plus it has mini chalkboards and chalks to label the cheese on display.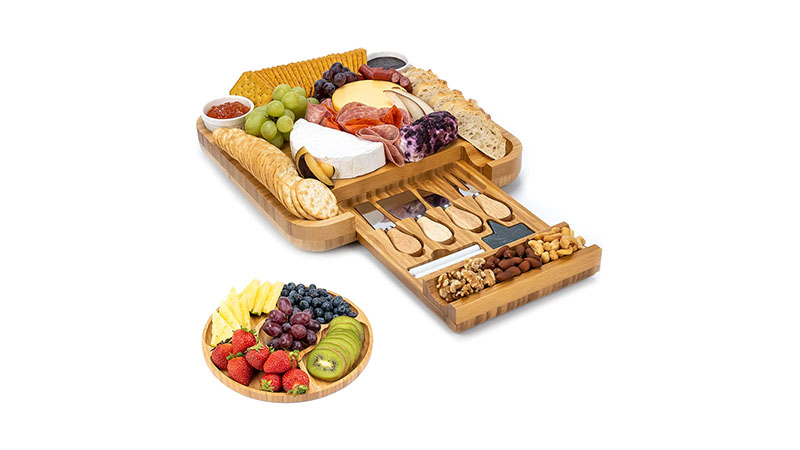 28. Hydroponic Indoor Herb Garden
If her dream has always been to grow her own veggie patch, but she simply hasn't had the room (or the green thumb), then why not try this indoor herb garden? Using hydroponic technology, she can grow her own herbs with the required nutrients for year-round harvesting. This system is five times faster than traditional gardening, and the device is small enough to store inside an apartment or small home. You can grow up to six plants here, with a high-performance lighting system for effective growth. What's more, it doesn't require any soil and requires only water – so there's no mess and minimal set-up required.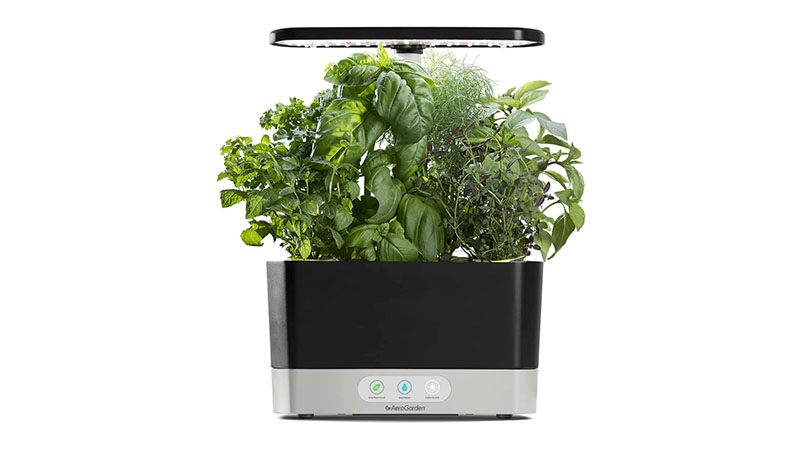 29. Aromatherapy Diffuser & Essential Oil Set
After a long day, there's nothing better than unwinding and settling with a good film or book. For the days when you need to enhance your levels of relaxation, this diffuser is the ideal choice. Improving air quality and aiding in therapeutic ambiance, the device creates feelings of calm and makes the house smell fantastic. Apply a few drops of natural and earth-friendly essential oils to help soothe the throat, enhance sleep quality, or simply relax your muscles after a stressful day. This is a great gift for anyone who wants to feel fantastic at any time of day.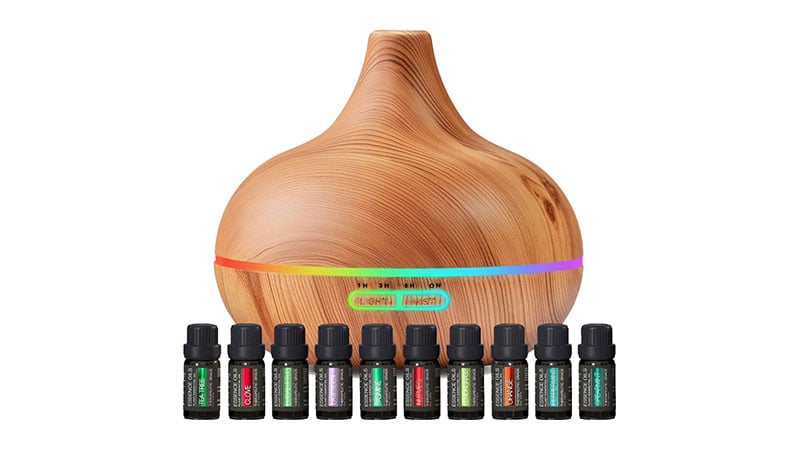 30. Revlon Hair Dryer and Hot Air Brush
If she's always wanted hair like the models of the '70s and '80s, then this hair dryer and hot air brush is the ultimate gift. Using heat, it adds bounce and volume from the root to the end of the hair and lasts all day. The ceramic brush is less damaging to the hair, removing 30% frizz compared to traditional hot irons. There are three heat settings available, with the option for cool for a longer-lasting hold. What's more, it's completely portable, so she can take it with her on holiday or to an event for great hair every day.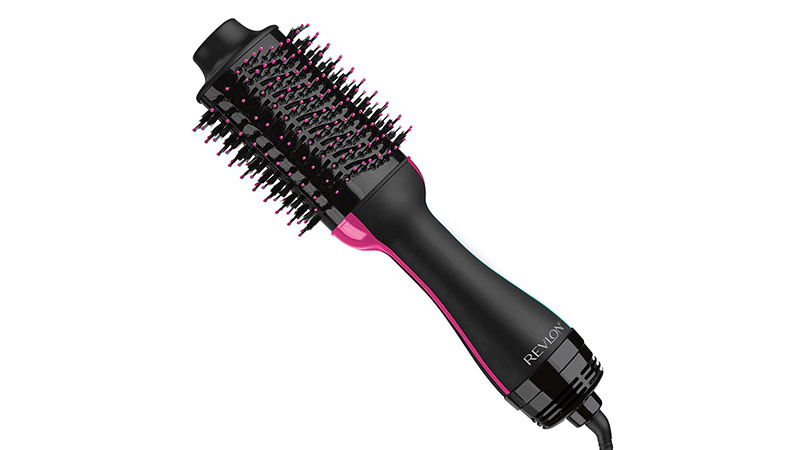 31. Apple iPad Air 2
From watching TV shows on Netflix to playing games or reading, the iPad is a seriously great gift for someone's 60th birthday. It offers all of the best features of the iPhone, all while being triple the size! The iPad Air 2 features two cameras, FaceTime in HD, WiFi connectivity, and a Retina display for ultimate viewing. Plus, it packs a punch in its storage, capable of storing up to 16GB of photos, music, and more.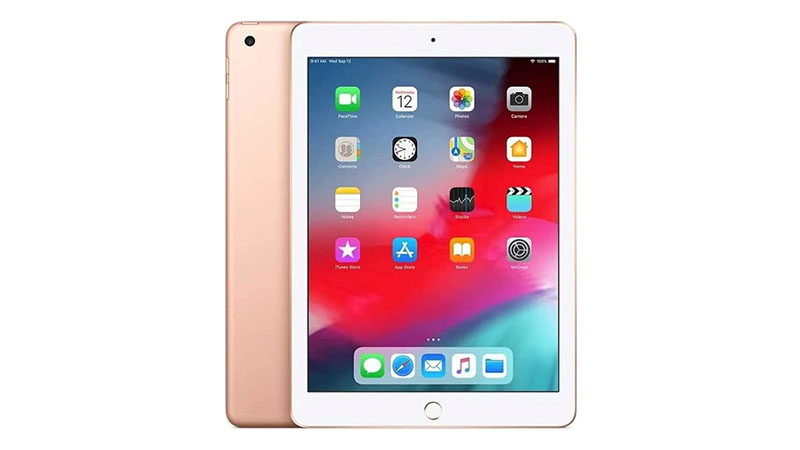 32. Back, Shoulder, and Neck Massager
Say goodbye to the stresses of the day with this all-inclusive back, neck, and shoulder massager. Simply wrap it around the shoulders and let the device do its magic. Using heat and eight roller balls, it provides deep tissue massaging across the body, aiding in unknotting stressed and tense areas of the back. You can even use it along the legs, feet, and arms. It comes with three speeds for various needs and helps regulate blood circulation. This is like getting a Shiatsu massage within the comfort of your own home- what more could you want?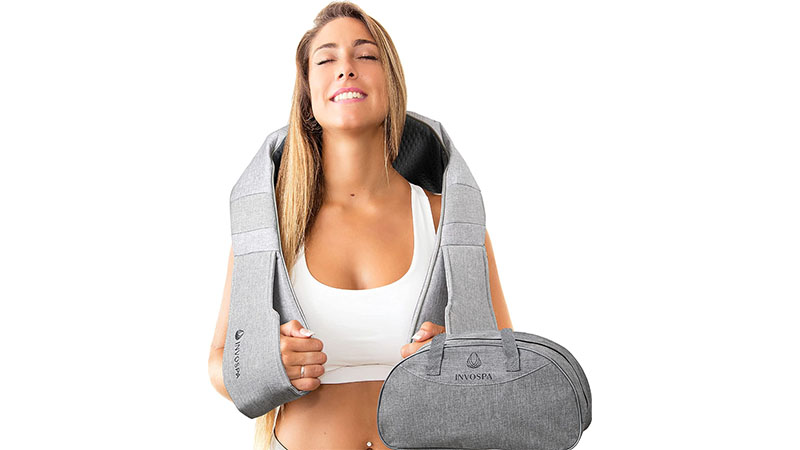 33. Cute UGGs
Who said there was no such thing as a cute pair of Uggs? These slippers aren't just nice to look at, but they also provide serious comfort and relief to feet after a long day. Simply slip into these and unwind, letting loose of all the stress building up from walks and standing. Uggs rely on high-quality sheep's wool, with a suede upper and sheepskin collar, for the perfect feeling against the skin. Whether it's the middle of winter or a hot summer's day, you can count on these house shoes for ultimate comfort.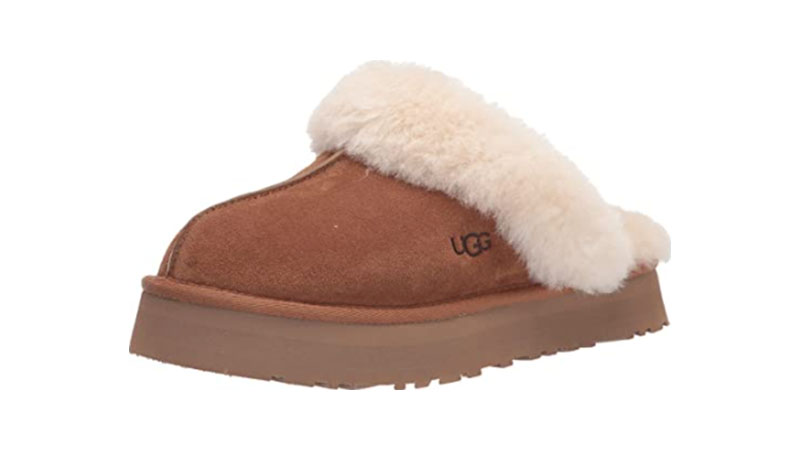 34. Echo Dot
It's time to innovate the home, starting with Echo Dot. This smart device completely changes the game, letting her create timers for cooking, save recipes, and share the weather and news of the day. Plus, it even plays music, just using a few commands. It is compatible with Spotify, Amazon Music, iHeart Radio, and even Uber. What's more, if the receiver has other smart items in the house, such as lights, locks, or thermostats, she can control them all from a single touchpoint. This is the ultimate gift to bring her home into the future.
BUY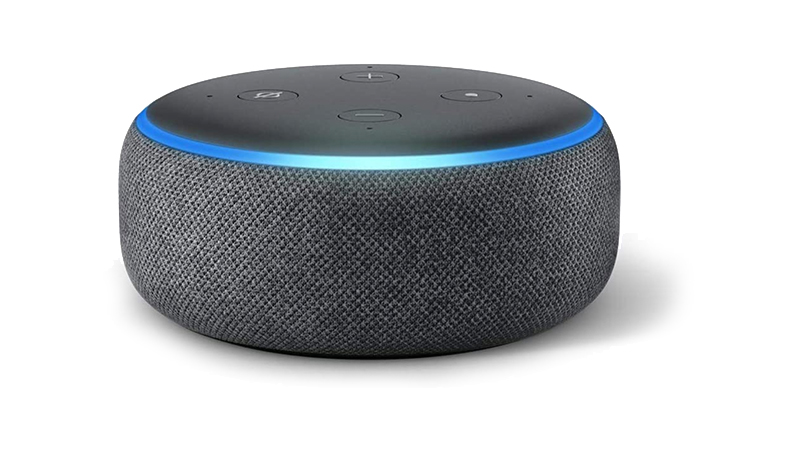 35. Fornasetti Comme Des Forna Otto Scented Candle
A home that relies on design and elegance isn't complete until it features a candle from Fornasetti. This brand features artwork based on the likeness of the opera singer Lina Cavalieri, who was considered one of the greatest beauties of her era. This historic and unique brand creates quirky and artistic renditions of her ace in every design, some with hilarious results. This scented candle features a single wick with thyme, lavender, and cedar wood fragrance. You can leave it as a piece of artwork for the home or light it. Either way, this is a great gift for the woman who loves all things historic and beautiful.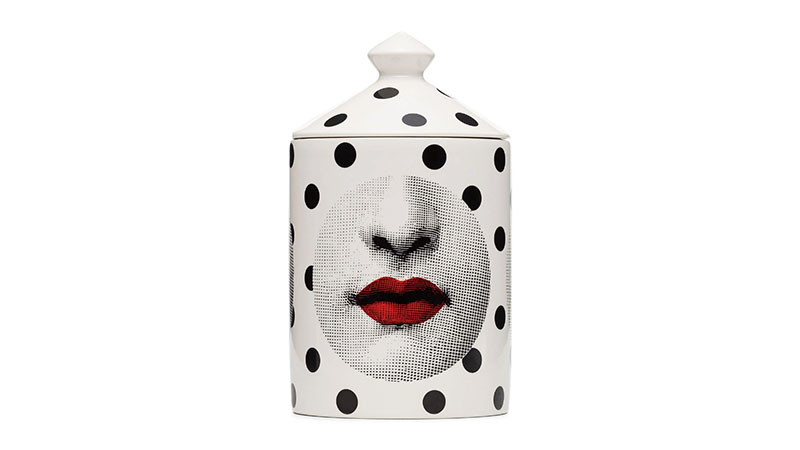 60th Birthday Gift Ideas FAQs
What do women do for their 60th birthday?
Women who are celebrating their 60th birthday are likely to spend the day with friends and family. They can go out for dinner with their loved ones or spend time in their favorite location. This can be by the sea, hiking, trying something new, visiting an art gallery, or simply having a laugh with their oldest friends. 
What do you buy a woman for her 60th birthday?
A milestone as important as the 60th birthday should be gifted with care. Traditionally, you would give a woman a diamond-related gift, but many are unable to afford such a luxury. So for her birthday, gift her something she would truly love. Be it an iPad, tickets to a Broadway show, or a designer bag, there are many beautiful choices to celebrate her amazing life. 
What is the traditional gift for a 60th birthday?
Traditionally, recipients of gifts for a 60th birthday will receive something with a diamond.
What can I do for my wife's 60th birthday?
First and foremost, you should get her something that she will genuinely enjoy. While this may be a diamond necklace, a beautiful bag, or new shoes, it doesn't have to necessarily be a physical item. Sometimes the best gifts are experiences. Why not go wine tasting, try an art class or spend the day exploring a new city? The memories she will make are just as valuable as a gift with a diamond. 
What is the color for a 60th birthday?
Just as the traditional gift for a 60th birthday suggests, the color for this momentous year is diamond. Specifically, it is diamond white. So when choosing a gift, opt for something that features this shade. This can be in the form of a piece of jewelry, item of clothing, or artwork. 
What does a 60th birthday symbolize?
The 60th birthday means many different things in various cultures. In Western countries, it is a diamond celebration, shared with the precious gem as a celebration of life. In China, it represents a full life cycle, and they will celebrate this event with special food such as peaches and noodles.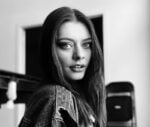 Alexandra Feiam is an experienced fashion writer who holds a degree in journalism. She has an impressive portfolio and expertise working as the Editor at Power Retail and Commercial Content Editor at Newscorp. Ally has been writing for The TrendSpotter since 2018, and her work has been featured in notable publications such as The Herald Sun, Arirang TV South Korea, Kidspot, The House of Wellness, and The Daily Telegraph.
SUBSCRIBE TO OUR NEWSLETTER
Subscribe to our mailing list and get interesting stuff and updates to your email inbox.