Want to keep up to date with all the latest fashion news? Discover the latest campaigns and industry news, including the sister acts that star in the smouldering Fall 2015 Balmain campaign, and which very famous actor's daughter is now the new face of Chanel; below are the five fashion stories of the week that you definitely did not want to miss.
1.
Kylie and Kendall Team Up For The Most Epic Balmain Ad
By now you've probably caught a glimpse of the Jenner sisters' latest collaboration, but if you haven't this is one fashion campaign not to be missed. Kylie and Kendall look almost identical as they pose in Olivier Rousteing's Autumn/Winter 2015 campaign for Balmain, wearing some strikingly beautiful sequined designs.
And this fall Balmain is all about the sister act, as the campaign, shot by famed photographer Mario Sorrenti, also features model of the moment Gigi and her sister Bella Hadid, and Joan and Erika Smalls. And for the menswear campaign, the fashion house has featured Armando Cabral and his brother Fernando Cabral.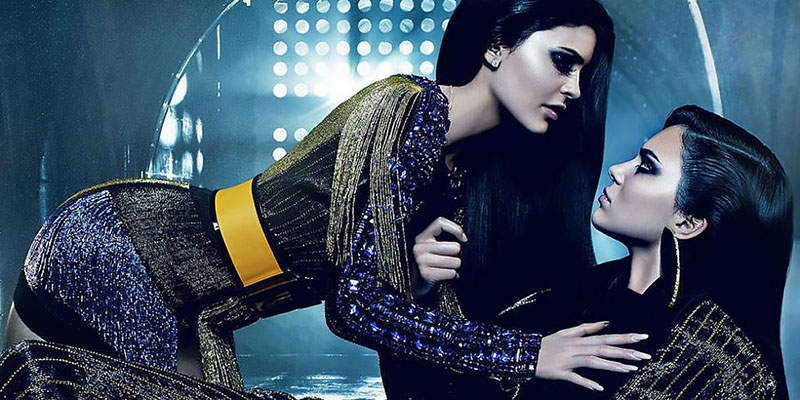 2.
Johnny Depp's Daughter Lily Rose is The New Face of Chanel
Pretty much every fashion-loving woman would kill to be the face of Chanel, but Johnny Depp's 16-year-old daughter, Lily Rose is the latest lady to be granted that honour. The teen is the new face of the French fashion house's Pearl eyewear range, and can be seen posing in a cream three-quarter sleeve button-down, complete with a gold lace peterpan collar, a gorgeous pair of pearl encrusted sunglasses, and the perfect tousled blonde bob, making everything about this picture glamourous and sophisticated.
"Lily-Rose is stunning, she's a young girl from a new generation with all the qualities of a star," said Karl Lagerfeld (who shot the campaign himself) via press release – and we have to agree with him.
3.
Katy Perry and H&M Team Up For Their 2015 Holiday Collection
Katy Perry is really making a name for herself in the fashion world. Shortly after being revealed as the face of Moschino's 2015 Fall Ad campaign and Jeremy Scott's new muse, the brunette beauty has secured yet another fashion campaign, and this time with one of our favourite high street brands, H&M.
Perry is the newest face of H&M's 2015 holiday collection – the brand has previously featured some of the hottest names in the music business including Lana Del Rey and Beyonce – and she's a great fit. Having previously paired up with the retailer for their 2009 Fashion Against Aids collection, Perry has been a longtime fan of the Swedish retailer.
Speaking to WWD, Perry told them that "H&M was one of the places where I first began cultivating my personal style. I have continued to love integrating H&M pieces into my wardrobe throughout the years."
4.
Kate Moss and George Clooney For Vivienne Westwood
The fashion industry is one of the most wasteful and causes a lot of environmental damage, so it's great when designers use their fame and their clothes to campaign for something important.
That's just what British designer Vivienne Westwood has been doing – her latest campaign is Save the Arctic, and she's managed to recruit some of the top celebrities (including Kate Moss and George Clooney) to help raise awareness and support for the cause.
Looking dapper in a black tux, Clooney dons a Superman pose as he rips open his shirt and exposes his Save the Arctic shirt. Miss Moss can be seen wearing the same shirt, but she has teamed hers with a black leather jacket and black skinny jeans. The Profits from the t-shirt sales are donated to Greenpeace and they are crafted using organic, unbleached cotton. These are great t-shirts, but it's an even better cause, and you can buy them here.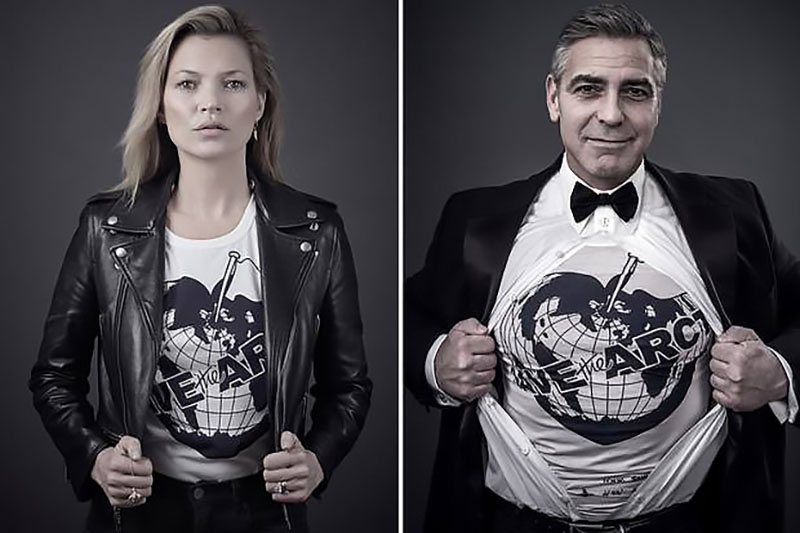 5.
Sam Smith Lands His First Fashion Campaign
Sam Smith is the new face of Balenciaga's Autumn/Winter Menswear Campaign. Alexander Wang, the brand's creative director, selected the 23-year-old singer to be the front man for the men's range, and was very happy to get him onboard.
Smith was very excited to be part of the campaign and took to Instagram to share his joy as he posted a few teaser shots from behind the scenes. He also took to Twitter to inform his fans that he would be starring in his first ever fashion campaign – and who wouldn't be excited about that?
Smith also posted a video which he captioned, "Ladies and gentlemen. The time has come for my first ever collaboration with a fashion house. You ready?"
SUBSCRIBE TO OUR NEWSLETTER
Subscribe to our mailing list and get interesting stuff and updates to your email inbox.