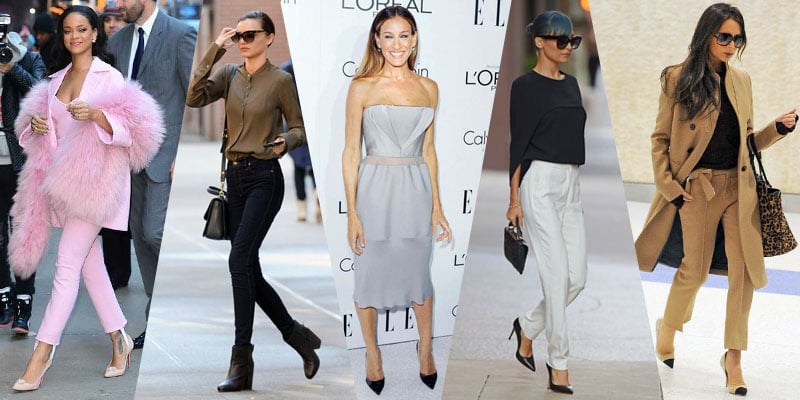 Putting together an outfit is harder then it seems. But a great way to make sure your outfit is on point and on trend is to covert looks from the celebrities who always get it right. There is a lot to learn from these fashion forward celebrity style icons and we can apply their lessons to our own style mantra's for a winning outfit every time.
1.

Miranda Kerr – Stick to What Works
While Miranda Kerr is the Queen of the catwalk, it's her street style that has us bowing down. With an effortless cool mix of polished pieces and laid-back essentials, Miranda's simple, sophisticated and elegant sense of style makes running errands look ultra glamourous. There are no diva antics from this model's wardrobe when she is off duty. Her signature go-to look consists of jeans, t-shirt, blazer and flats. Miranda keeps it simple and dresses her outfits up with classic pumps and replaces her t-shirt for a sheer peasant blouse. This Aussie style icon rocks skinny jeans like nobody's business and shows us just how versatile they can be. Whatever Miranda wears is simple but the impact is very chic and classy and she shows us that you don't need a lot of makeup or amazing hair to look polished. Miranda truly epitomizes the most important style lesson of all and that is that less is always more.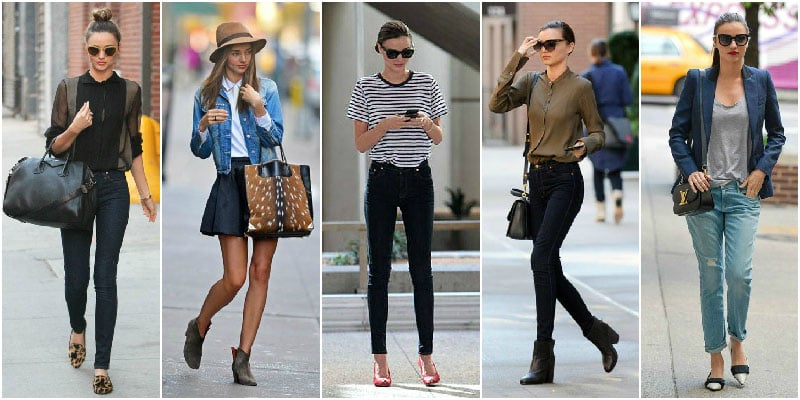 2.

Rihanna – If You've Got it, Flaunt it
If there is one thing Rihanna has taught us, it's that fashion rules were made to be broken. Rihanna embraces any and all trends and pulls them off effortlessly every time. Onstage Rihanna's fashion choices have us expecting the unexpected, but off stage her street style is just as fierce. Rihanna reigns supreme of the grunge glamour look rocking all black everything and she shows us how to pull off slick leather with pearls and tracksuit pants with stilettos. This pop star's badass attitude and avant-garde style combinations are simply unmatched. From her denim on denim pairings to her sporty separates and underwear worn as outerwear, Rihanna's risqué trademark ensembles prove that a little S&M goes a long way. Rihanna glams up any outfit by making sure her lips always match her clothes while her accessories prove that its all in the details. Rihanna isn't afraid to borrow looks from the boys and layers up each outfit with an item even crazier then the last. We love her fearless approach to fashion, but as much as we envy and try to emulate her style, we have to admit that there are some looks that only Rihanna can pull off (the no pants look being one of them), because nobody does it like RiRi.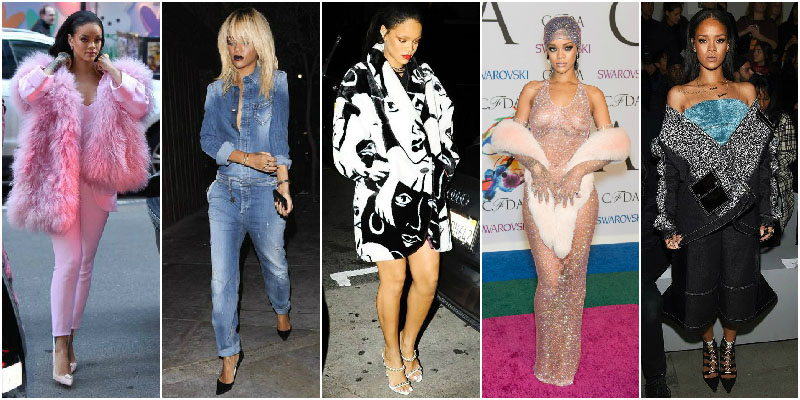 3.

Victoria Beckham – Play With Proportions
Victoria Beckham has come a long way since her former Spice Girl days. As her career has evolved, so too has her style and we think it just keeps getting better with time. This fashion lover turned designer's sense of personal style never lets us down and her outfit choices are always timeless but on trend, streamlined but far from boring. Victoria has nailed her impeccably chic signature look of pencil skirt, oversized sunglasses and sky-high heels. Her monochromatic ensembles, LBD's and figure cutting power suits put her on another level style wise. Victoria's sophisticated and elegant approach to fashion takes ladylike dressing to new heights and she has become a bonafide style icon rightly so. Victoria knows how to keep it classic and plays with proportions like rocking a midi skirt with over the knee leather boots to keep her look current. She has taught us that black always looks fantastic with the right accessories and clean lines should be your best friend, along with a good tailor. This is one woman who knows what shapes work best for her, like her wide leg pants and classic white shirt ensembles, that prove it is all about the silhouette. This former Posh Spice is polished with a capital P.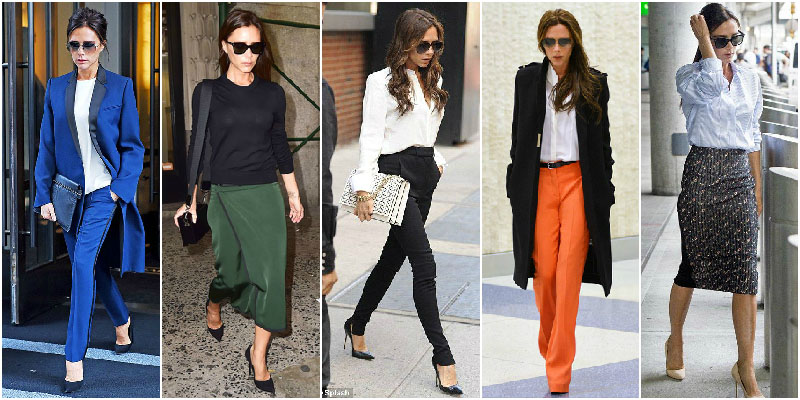 4.

Nicole Richie – Be Yourself
When it comes to Nicole Richie there are no style rules. Nicole never puts a fashion foot wrong and seems to have a knack for pulling together an outfit and tackling the hardest fashion looks like nobody else can. This reality star turned designer's red carpet style has never let us down, but its her impeccable every day attire that has us taking notes. Apart from her penchant for layering, Nicole doesn't really have a signature look as she is always experimenting when it comes to fashion. Nicole also pushes the boundaries when it comes to beauty, switching her hair colour up regularly in a range of rainbow hues. This style icon looks put together no matter what and her casual Californian glamour and boho chic style exudes a certain effortless that only Nicole Richie can. The biggest lesson we can take from Nicole Richie's style is that a relaxed approach is the best approach and that vintage pieces can look expensive when styled right, but above all – don't be afraid to be yourself.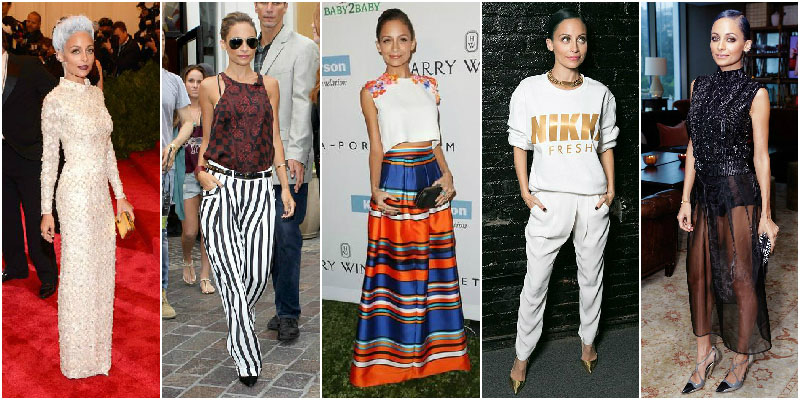 5.

Sarah Jessica Parker – The bigger The Better
No style list would be complete without Sarah Jessica Parker, the ultimate fashionista and experimental Queen who is not afraid to take a fashion risk or two. While it seems SJP and her on screen character Carrie have somehow blended to become the same person, when it comes to iconic fashion moments, collectively they can't be beaten. But SJP is a style chameleon in her own right with her quirky elegance and avant-garde red carpet looks that are in a class of their own, proving that there are some things only SJP can wear, for example; mohawk headpieces and draped tartan. Off the red carpet she maintains a stylish façade wherever she goes and epitomizes New York style with the perfect mix of comfort, designer and high fashion pieces with her fresh approach and creativity that breaks the rules every time. We love SJP for inspiring us to have fun with fashion and to be playful with our approach to style, through her unexpected combinations and dramatic couture ensembles. The biggest lesson SJP has taught us is that if you don't take fashion too seriously, you will always appear effortless. Oh, and of course that shoes can make an outfit.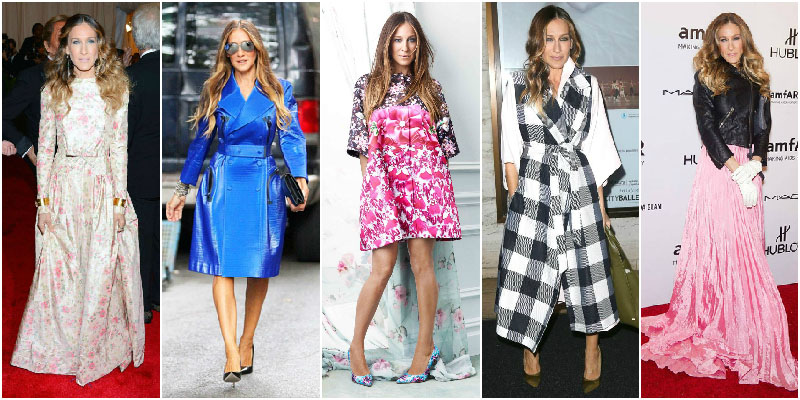 SUBSCRIBE TO OUR NEWSLETTER
Subscribe to our mailing list and get interesting stuff and updates to your email inbox.