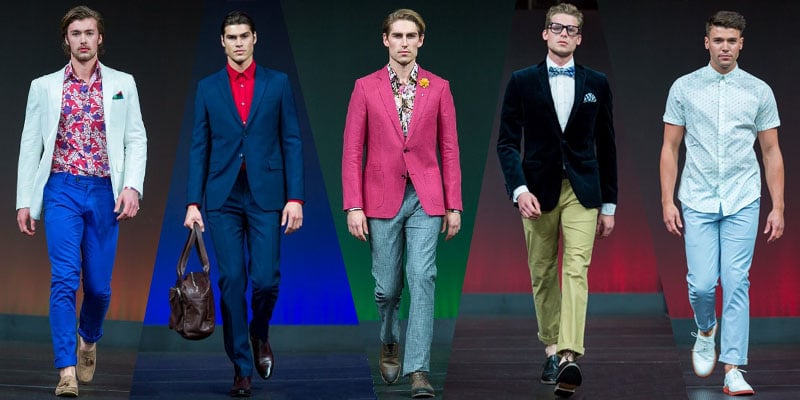 Mr Runway took over the MSFW Hub, with excellent style both on and off the catwalk. The styles ranged from casual to super smart, proving that fine fit and tailoring have a place no matter what the occasion.
1. Colour Contrast Trend
Colour was a big hit of the collections, with the suits in scarlet red, midnight blue, marble grey, mustard and khaki. The important message here was contrast, with the most striking look coming from Aquila's pairing of navy and red, which made the ensemble interesting and bold.
2. Single Colour Trend
Perhaps taking even more risk than colour contrast is wearing one colour from head to toe. While it may have been drummed into us as a big fashion no-no, when done correctly it can be even more striking than a brightly coloured look. So don't be afraid to wear a single-colour look – just choose pieces in different tones (like lighter coloured pants and a darker jacket) and mix print with plain
3. Statement Digital Prints Trend
Another dominant trend from the runway was the statement digital prints. We've seen it a lot in the women's collections, but it was a welcome addition for the men. Instead of spending hours working out which tie goes with which shirt, add quirk to your style with a clashing shirt and tie. Follow a similar rule to colour here, by choosing contrasting colours for an eye-catching effect or matching tonally. MJ Bale did it very well here, creating a look that was stylish and fresh.
4. Floral Trend
Florals for men? It may be a little more groundbreaking than Meryl let on. Floral prints were everywhere on the Mr Runway, particularly at Autonomy with a graphic flowery print shirt the perfect addition to a block colour suit. If you're not feeling quite so brave, try the barely visible dark black and inky blue floral print of Aquila, to ease you in slowly.
The Mr Runway also demonstrated the sartorial power of thoughtful details. Brogues with no socks add a summery touch, pocket squares are non-negotiable and a fun way to express personality while matching your shirt to your backpack is also encouraged.
And just for fun – Hawaiian shirts are certainly making their way back from Dad territory, with Autonomy and Dangerfield proving the outlandish prints can be done with taste and style.
SUBSCRIBE TO OUR NEWSLETTER
Subscribe to our mailing list and get interesting stuff and updates to your email inbox.