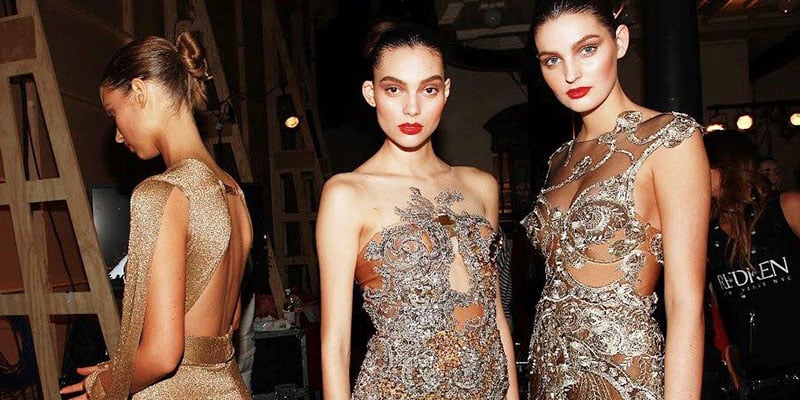 Do you want runway ready hair? We have spoken to some of Australia's top hair stylists to get all the tips and tricks from Mercedes-Benz Fashion Festival Sydney 2015.
Backstage at the festival was a mist of hairspray haze that could have been mistaken for a dreamy movie set. Bright lights and the hum of creative buzz in the room saw the hair geniuses at work. Three REDKEN hair directors Kristy Hodgson, Paloma Rose Garcia and Rozlyn Thomas showed us why it's just as much about the hair as it is about the threads.
1.
Glamour Braid – Chic Modernity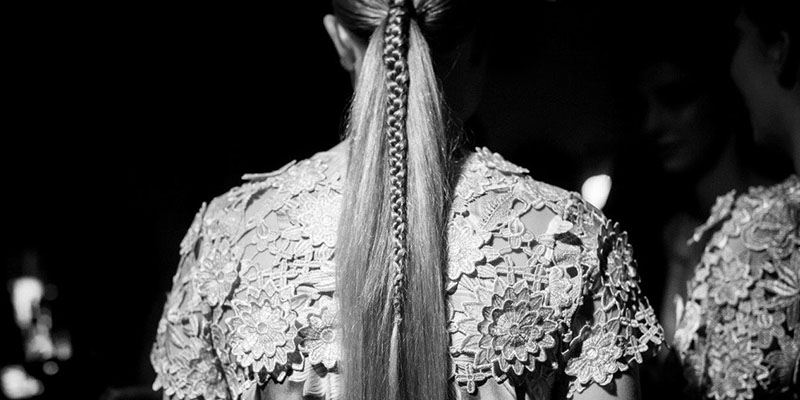 A high-glamour ponytail opened the Ready-to-Wear runway show, which was anchored by a meticulous back braid. The sleek ponytail was constructed by Paloma Rose Garcia who emphasised the need to ensure hair is nourished and hydrated at all times and this is achieved through the use of good products and regular conditioning. She explained, "the sleek ponytail that I created for the Ready-to-Wear runway showcased a fusion of classic elegance and chic modernity." The look matched bold and striking geometric prints from Romance Was Born that showed Australian fashion at its finest. Asymmetrical patterns, structured fabrics and monochromatic outfits from Ten Pieces captured the essence of chic modernity by keeping it simple and elegant.

Create The Look:
1. On clean hair, create a centre part followed by a diamond section at the crown through to the nape for the braid.
2. Apply BRAID AID 03 Braid Defining Lotion to the braid section and create a classic French braid. Lightly fix the braid with FORCEFUL 23 Strength Finishing Spray.
3. Apply ROOTFUL 06 Root Lifting Spray through the remaining section of loose hair and blow- dry to create a sleek and smooth finish.
4. Lightly brush hair with a soft bristle brush.
5. Pull all the hair with inclusive braid into a low ponytail.
6. Remove fly-aways with FORCEFUL 23 Strength Finishing Spray.
7. For a finishing touch, spread 2-3 drops of DIAMOND OIL Shatterproof Shine through the mid-lengths and ends to create multifaceted shine.
2.
Street Symphony Ponytail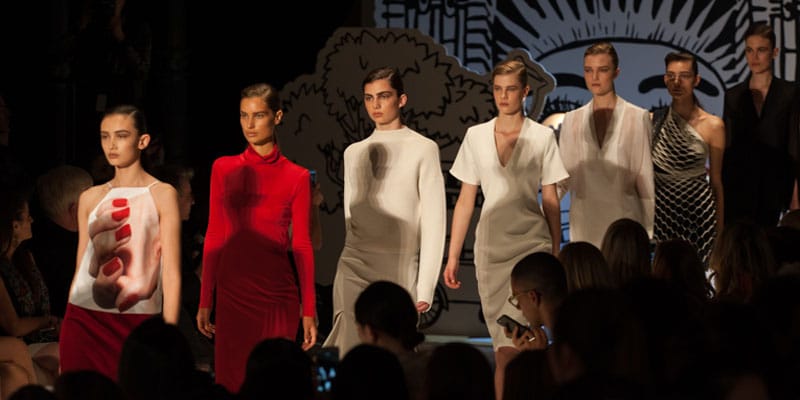 A street symphony was created with modern, street-inspired ponytail for the Australian Luxe Show. And a symphony it was! Sydney singer Ngaiire closed the show with a performance that was both electric and powerful and gave a new dimension to street fashion. Some of Australia's biggest designers displayed their new season looks. There were delicate and sophisticated cut out details from Dion Lee, floral print and elegant lace from Ginger and Smart and bold reds from Karla Spetic. It was a classic show with a strong feminine edge capturing the spirit of the modern day multi-faceted woman. Complimenting the gowns perfectly was REDKEN Hair Director Kristy Hodgson's seductive nocturnal up-do creation with metallic silver highlights.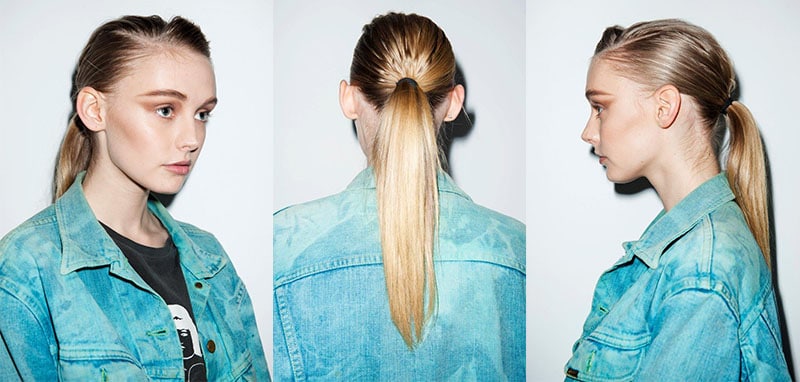 Create The Look:
1. On clean hair, create a deep left part and separate a front tri-section to create the quiff.
2. Apply ROOTFUL 06 Root Lifting Spray to the roots and mid-lengths and blow-dry directionally away from the face to create a sleek and smooth finish.
3. Create a ponytail and tie off at the nape.
4. Apply a 10 cent size amount of STAY HIGH 18 High-Hold Gel To Mousse to the quiff section.
5. Roll the quiff section onto a bristle brush and blow-dry forward, upward and back.
6. Spray the hair with FASHION WORK 12 Versatile Working Spray to create hold and workable control.
7. To complete the look, gently pinch out sections of hair behind the crown to create subtle volume. Re-spray this section with a mist of FASHION WORK 12 Versatile Working Spray.
3.
Moonlight Allure Up-Do Hairstyle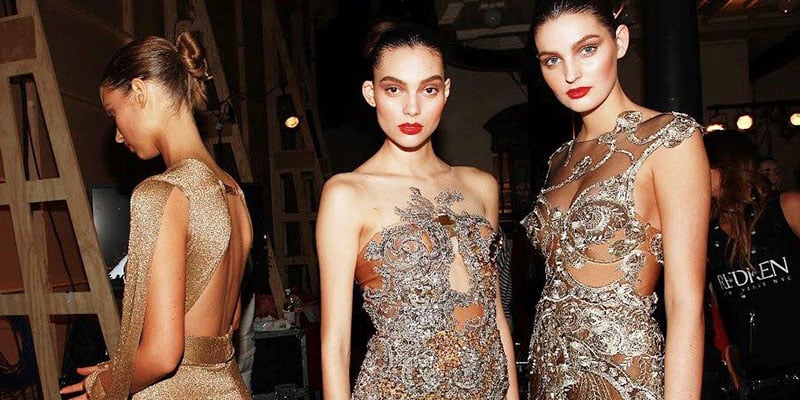 As confetti rained down on the catwalk for the final Red Carpet Runway Show at MBFFS 2015, evening gowns glistened with the grandeur seen in an old Hollywood classics. The show featured intricate embroidery, fine silks and lace, structured classic silhouettes and complex pattern work. Who would have thought that a simple ponytail twist and slicked back hair could compliment such opulence but Rozlyn Thomas manages to achieve just this. The closing show-stopper was a remarkable wedding gown from the ever inspiring Steven Khalil. Simple, classic and breathtakingly beautiful, the final gown and the contemporary hairstyle were the crowd-pleasing finale to the magnificent showcase.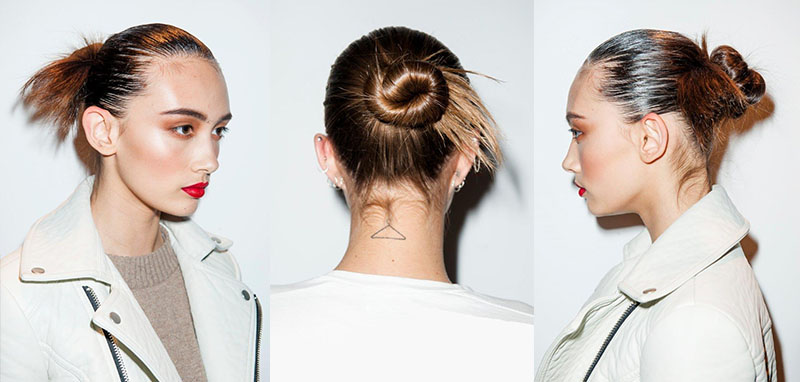 Create the Look:
1. Prep clean hair with ROOTFUL 06 Root Lifting Spray and blow-dry until completely dry.
2. Pull all the hair with a horizontal directive and tie just under the occipital bone.
3. Twist the tail and rotate clockwise into a tight bun leaving the end exposed on one side.
4. Apply a 10 cent size amount of SHAPE FACTOR 22 to palms, rub Sculpting Cream-Paste together and sculpt hair back off the face to create a smooth finish.
5. Apply METAL FIX 08 onto fingers and sweep across the Silver Metallic Liquid Pomade crown starting at the hairline to create a frizz-free, moonlit sheen.
6. Complete the look with a spray of FORCEFUL 23 to create Super Strength Finishing Spray lasting hold and texturise the exposed loose end.
SUBSCRIBE TO OUR NEWSLETTER
Subscribe to our mailing list and get interesting stuff and updates to your email inbox.