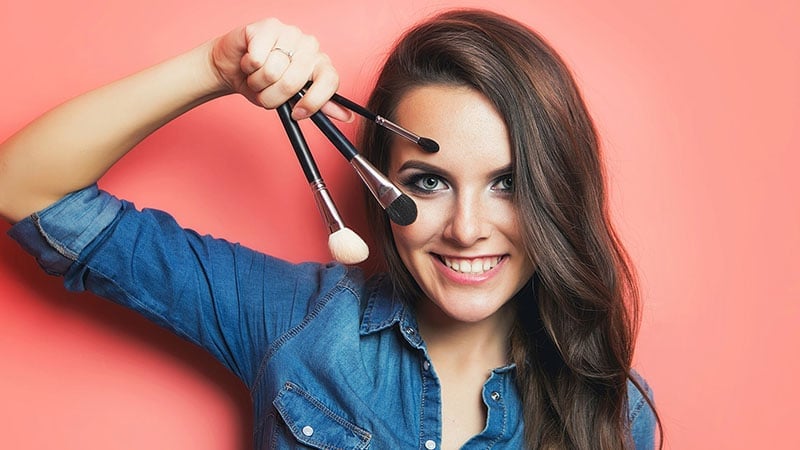 You may be surprised to learn just how dirty makeup brushes can get and how much it can affect your face. When you use makeup brushes, particles of makeup, oil, dirt, skin, and even bacteria become trapped in the bristles. This means that unclean brushes can lead to clogged pores, blemishes and breakouts, not to mention your makeup will be harder to apply and won't look as nice! It's a fact that clean brushes are a lot more effective than dirty ones. So, to have great makeup you need to clean your brushes regularly and correctly. Luckily, cleaning makeup brushes is actually quite quick and easy, so adding this step into your regular beauty routine is much more simple than it sounds.
Top Tips for Cleaning Makeup Brushes
Make washing your brushes a regular part of your beauty routine.
After each use, apply a daily brush cleaner to your makeup brushes.
Depending on how much you use your brushes, do a proper cleanse or shampoo between once a week and once a month.
Wash your brushes before bed so they have ample time to dry.
Use the right brush for each type of makeup to ensure your brushes don't get excess build-up from multiple products.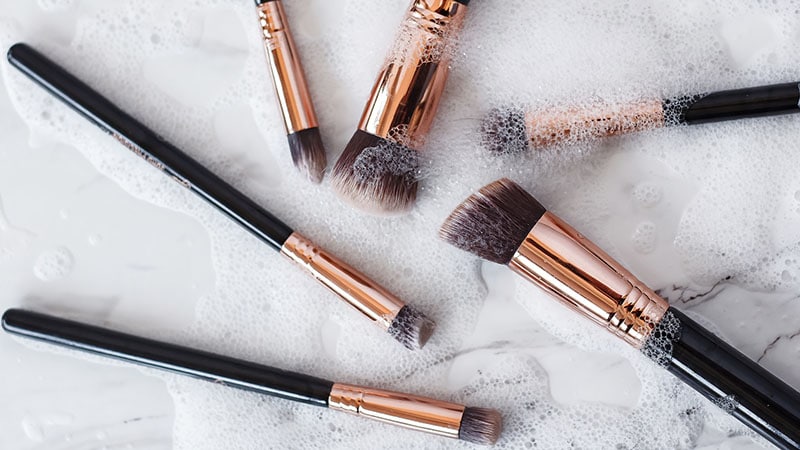 How to Clean Makeup Brushes
Cleaning makeup brushes needn't be time-consuming or difficult. While there are different ways you can tackle the task, they are all relatively simple and speedy. Opting for a quick daily clean of brushes and adding in a proper cleanse once a week will keep your brushes in tip-top shape. As well as prolonging the life of your brushes, doing so will also make your makeup and skin look significantly better.
Quick Brush Cleanse
If your brushes need cleaning but you're low on time, try this quick cleanse.
Start by wetting the bristles of your brush by rinsing them under running water. Make sure to concentrate the water only on the bristles and not on the handle. If you do wet the handle, it could loosen the glue over time and cause bristles to fall out.
Apply some

Clinique

Makeup Brush Cleanser

to the bristles and gently massage. If you have multiple brushes to wash, set each brush aside after cleaning.
Rinse your brush under running water. Once again, be careful not to get the handle wet.
Gently squeeze out excess water from bristles with hands.
Allow the brush to dry by laying it flat on a towel on the edge of a table. Leave the brush overnight.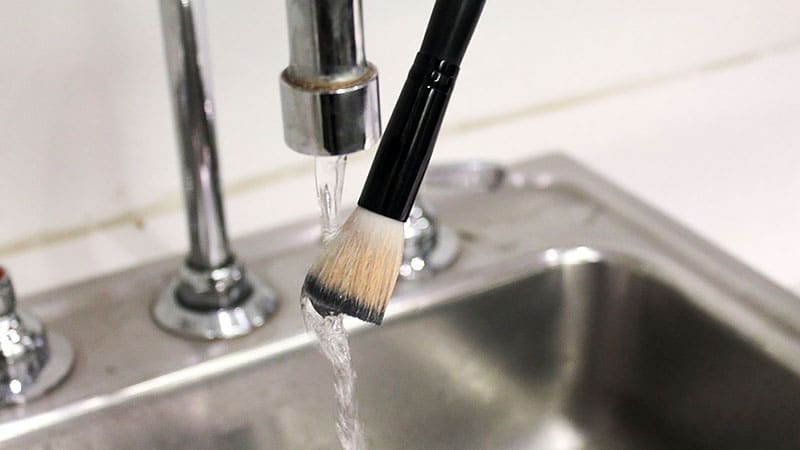 Thorough Brush Cleanse
This thorough cleanse is perfect for brushes that require a deep clean.
Run brushes under lukewarm water to rinse out residual makeup left in the bristles. Focus the water on only the bristles and avoid the handle.
Fill a shallow bowl with lukewarm water and mix in some Ecotools Makeup Brush Cleansing Shampoo.
Swirl your brush tip around in the water and, if needed, swirl it in the palm of your hand to work up a lather.
Rinse the brush under running water.
Repeat this cleaning process until the water runs clear from the brush.
Use a clean cloth to wipe off excess water and gently reshape the bristles.
Lay the brush flat on a cloth to dry.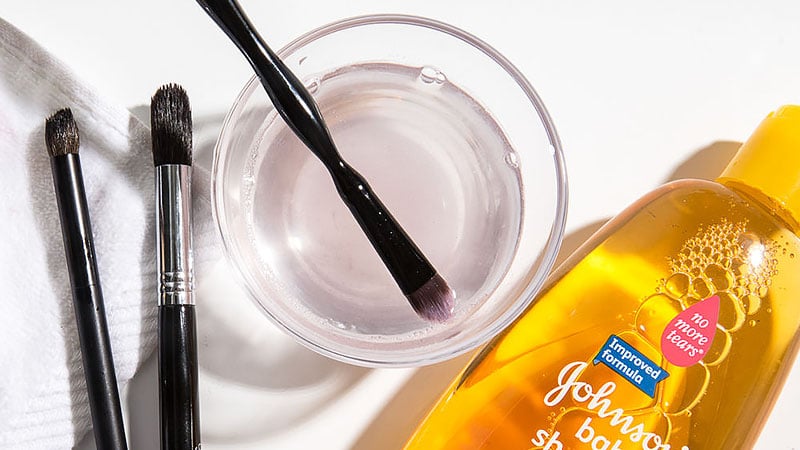 Daily Brush Cleanse
Daily care is essential to maintaining your makeup brushes.
After using your brushes, spray some Bobbi Brown Brush Cleaning Spray onto a tissue. You can also use a hand sanitizer for this step if you have synthetic brushes.
Gently sweep the bristles back and forth across the tissue until the brush is clean.
Allow brush to dry before using.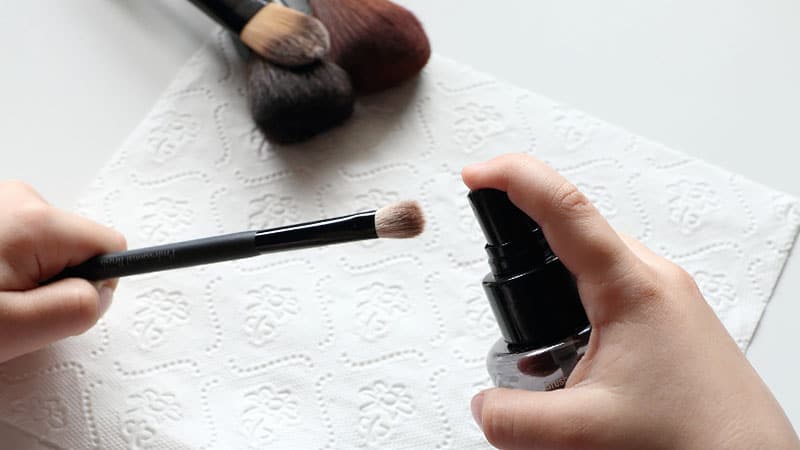 Bar Soap Brush Cleanse
Using bar soap to cleanse your brushes is an excellent way to target stubborn stains.
Wet the bristles of your brush with water.
Stroke the brush over a bar of Beautyblender Solid Cleaning Soap.
Rinse the brush well under running water and remove any soap residue.
Squeeze out excess water and allow brushes to air dry.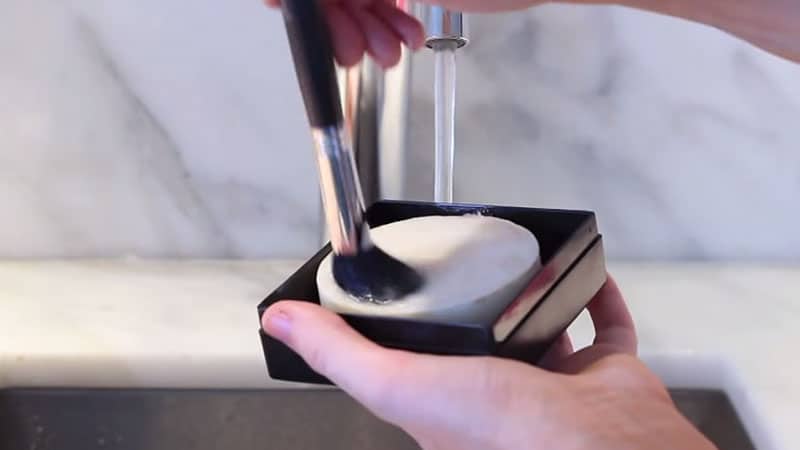 Water-Free Brush Cleanse
A water-free cleanse is a fantastic way to clean your brushes if you're worried about losing bristles.
Pour some Estee Lauder Makeup Brush Cleanser, into a small bowl or glass.
Dip the bristles of the brush into the solution and swirl around to dissolve dirt.
Use tissues or paper towel to soak up most of the cleanser from the bristles.
Allow the brush to dry flat on a towel.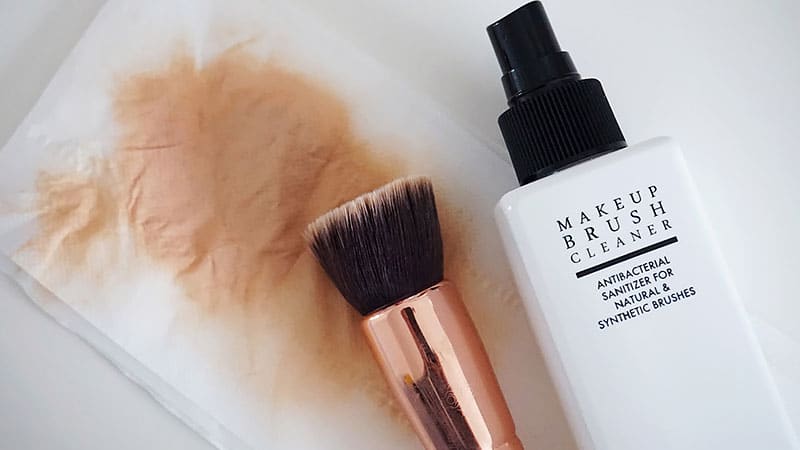 Different Types of Makeup Brushes
There's no one-size-fits-all solution when it comes to using makeup brushes. Whether you're contouring, concealing, applying bronzer or blush, you'll need a different brush to achieve the best results. As it can be confusing to decipher exactly which brush is best for which purpose, follow this simple guide.
Related: Top Contouring Makeup Products for Different Skin Colours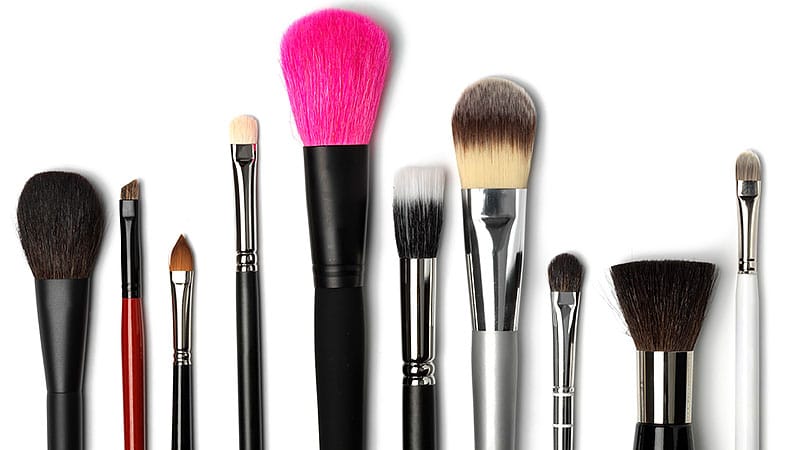 Foundation Brush
Foundation brushes are designed to make applying your base foundation smooth and easy. A good quality brush will ensure a seamless application for a natural look.
Recommended Products
Concealer Brush
Concealer brushes are smaller and tailored to creating perfect spot correction. Use this brush to gently pat and even out concealer on troubled areas of skin.
Recommended Products
Powder Brush
Powder brushes are designed to be used all over your face when dusting with loose or compact powder. A high-quality powder brush will work well and perfectly set your makeup without smudging or looking unnatural.
Recommended Products
Contour Brush
Contour brushes have firmer bristles than typical blush brushes and a more contoured tip. This allows for accurate targeting of the areas you want to contour to avoid looking overdone.
Recommended Products
Highlight Fan Brush
The fan-shaped bristles of a highlight fan brush are designed to pick up only a small amount of product. The highlight can then be lightly dusted over cheekbones and other areas that require highlighting.
Recommended Products
Eyeliner Brush
Eyeliner brushes are the hero tool to creating the perfect cat eye look. They're designed to pick up the exact right amount of product and give you maximum control to achieve a precise line.
Recommended Products
Eyeshadow Brush
The best eyeshadow brushes are designed to pick up plenty of product and apply it precisely to the eyelid with minimal fallout.
Recommended Products
Bronzer Brush
A good bronzer brush should be big, rounded, and fluffy. This brush style is perfect for evenly distributing bronzer and creating a natural, sun-kissed look.
Recommended Products
Blush Brush
Blush brushes are like powder brushes, except they're more rounded and compact. Their bristles are designed to pick up the blush pigment and blend it perfectly over cheeks.
Recommended Products