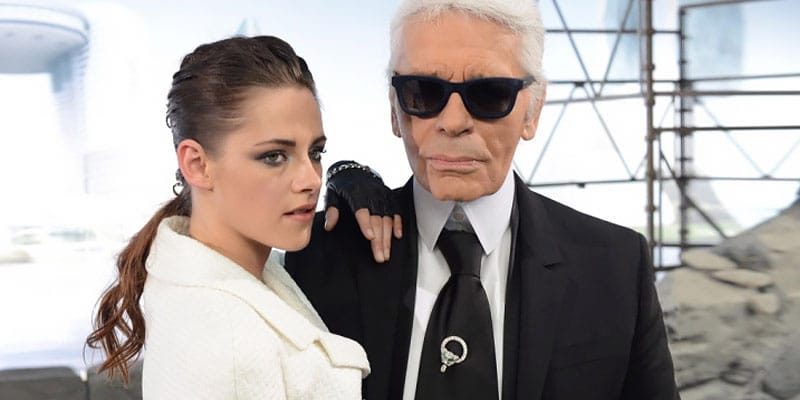 Discover what's been happening in the fashion world this week, including Karl Lagerfeld and Kristen Stewart's exciting new venture, Cara Delevingne's near-nude shoot, and Antonio Banderas' new foray into fashion design.
Kristen Stewart and Karl Lagerfeld Team Up
Kristen Stewart has an exciting new film role, but the director is probably not someone who you'd expect.
Kristen Stewart has long been a fan of Chanel, and she and Karl Lagerfeld have now taken their collaboration to the next level. Stewart will be appearing in a short film for Chanel which will screen at the 11th Métiers d'Art show on Dec 1st 2015.
The story, both conceived and directed by Karl Lagerfeld, will see Stewart play the role of an actress impersonating Gabrielle Chanel (the French fashion house's founder) as a young woman, in a fictional behind-the-scenes look at the making of her biopic.
Cara Delevingne's YSL Shoot Wearing Nothing But Lipstick (Almost)
Just when you thought Cara Delevigne had left the modelling world, she's come back stronger than ever.
YSL Beauté brand ambassador Cara Delevingne has posed for the brand in a sexy new campaign ad for its Rouge Pur Couture line of lip products. She has recently expressed a desire to get out of modelling, and is unlikely to be doing too much more work in future, but hopefully we'll catch her pretty face in a movie someday soon!
Cindy Crawford's Model Reunion
Cindy Crawford has aged elegantly, as evidenced by a recent shoot with fellow supermodels from her 90s heydays. The former supermodel is now approaching 50, said photographer Peter Lindbergh. She has an amazing ability to see the beauty in mature women, and even add to it.
The project also included former supermodels Karen Alexander, Eva Herzigova, Helena Christensen, Tatjana Patitz, and Nadja Auermann, who all looked positively radiant.
Antonio Banderas is Studying Fashion Design
Central St. Martins has a new attendee in the form of Banderas, who is currently enrolled in a four week bespoke tailoring course at the legendary institution.
Antonio Banderas is a man of many talents, but he is now expanding his skillset and embracing the fashion world. Will a fashion line be following suit? The answer to that question is a resounding yes, although at this time it is unclear whether the actor will focus on menswear or womenswear. However, his personal style is tasteful and sophisticated, and will no doubt inspire his line.
Candice Swanepoel's Nude Shoot For Lui Magazine
Candice Swanepoel recently posed nude for Lui Magazine, and released some teaser pics on Instagram for her fans. Being the good girl that she is, her nipples were censored in accordance with Instagram policy, but her Instagram fans didn't seem to mind the sneak peak. In the past, the magazine has featured the likes of Gisele Bundchen, Madonna, Jane Birkin, Brigitte Bardot and Jane Fonda.