If your movie memory is sound, you'll be fairly familiar with the cool factor of United States Naval Aviator Lieutenant Pete 'Maverick' Mitchell, in the 80's cult classic that is 'Top Gun'.

Whether or not you can actually pilot a navy plane is irrelevant, point is, the pantsuit and silky bomber jacket is back – and this time with a vengeance. While Tom Cruise gave the full aviator get up all kinds of street cred, the pantsuit slumped into oblivion following Top Gun's on-trend triumph.
Since, our favourite man-onesie has been pulled out for painting the house or sported strictly by grease monkeys and mechanics. But this season's Fall runway shows reaffirmed what we'd all been hoping would happened: the glorious return of the cool-casual pantsuit and all things military. Retro Ray bans entirely optional.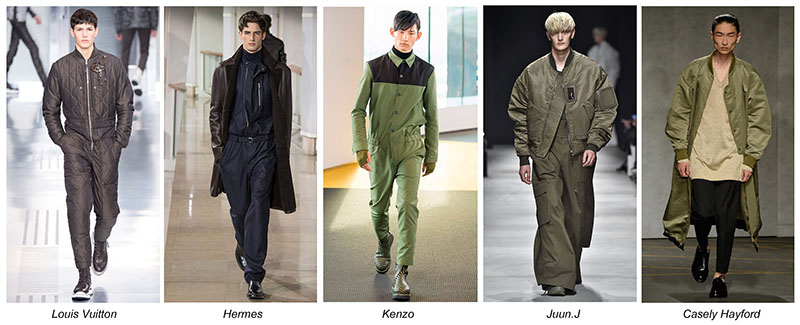 1.
Louis Vuitton 'Top Gun' A/W 15 Casual Look
Louis Vuitton nailed the 'Top Gun' tailoring directive this season and boy, oh boy are we grateful. From emblem jackets that wore patches with pride, to full pantsuits in quilted navy, beige and washes of cargo; Aviation has never looked better.

Get the look: An army-casual jacket with emblems can feel a little fussy, so be conscious of how you're wearing it. A minimal, navy cashmere sweater is not only super snug, but will provide the perfect basic, underneath a statement piece.


2.
Hermes 
'Top Gun' A/W 15 Casual Look
The team at Hermes followed suit (quite literally) with the full pantsuit. Sporting a dress shirt and skinny tie underneath a navy pantsuit may not seem like the most obvious ensemble, but the super-spy appeal certainly works. A classic roll neck also boasts an entirely new level of cool-factor.
Get the look: Mixing boardroom best with casual street pieces has sparked something of a revolution in menswear. Gone are our sartorial shackles as we're encouraged to keep it current and mix things up. Pair it over a button up and tie for a quirky-cool appeal.

3.
Kenzo 
'Top Gun' A/W 15 Casual Look
Sure, we haven't seen a pantsuit this practical since Cruise took to the open skies donning aviators but if we're completely honest, Kenzo is right on the money. Those bold enough to sport it won't regret it.
Get the look: Colour blocking, even neutrals like navy, grey and khaki is a great way to break up an outfit and add dimension to your look. This kind of jacket will look just as great over slacks as it does with sweats.
4.
Juun.J 
'Top Gun' A/W 15 Casual Look
It was full-force on the Juun.J runway this season, showcasing silk sheen bombers and oversized cargo pants. Much like denim on denim, don't be afraid to double up on the khaki.
Get the look: An army green bomber will hold its own among the best of your blue denim jackets, guaranteed. Opt for a minimal cut, little fuss and simple Chinese collar to maximize wear during jacket season. Pair it over a patterned shirt to keep the look cool and current.
5.
Casely-Hayford 
'Top Gun' A/W 15 Casual Look
New York newcomer Casely-Hayford, upped the urban in his army green collection. Full-length bomber-style cut coats were paired with spit-shined dress shoes and slick slacks. The lighter shade of khaki donned underneath makes for a tidy and balanced look.
Get the look: The casualty of army green needn't be reserved strictly for off-duty weekend wear. Dress down your dress shoes with a long cut jacket and don't be afraid to sport a pair of tailored trousers. How's that for versatility?