Closing the week's Designer runways in spectacular fashion, Runway 4 was all about celebrating the quirks of Melbourne, thrusting local talent into the spotlight (literally!)
As we've seen both on the street and the international catwalks, casual fabrics for easy dressing have been a huge trend. Bul stepped it up a notch, with luxurious basics that let the craftsmanship speak for itself. Chorus also went for loose and luxurious, but with bursts of orange and fuschia, as well as clever neon plastic embellishment around the neck.
Livid Arena showed a much more feminine collection, carrying on the sport luxe trend with touches of pastel pink and grey silks. It was certainly clever – ruched strap detailing referenced the elastic bottoms of joggers, while even the most stylish of jackets featured the draw string tags of a hoodie. At Above. monochrome ruled the runway, with their shirt dresses and wide trousers stealing the show.
In contrast to the block colour basics, the popularity of prints shows no sign of wavering. It was all about nature-inspired prints a plenty, and in signature Melbourne style were fun and quirky. Having fun with the concept of making your legs look longer, Gorman brought out giraffe print jumpsuit, while Limedrop's focus was on gemstones, sewn onto tops and printed on delicate sheer bombers and dresses. For quirky label Leonard St, only pandas would suffice as well as cheerful summer prints in red and green. Layering tips could also be picked up here – a long printed shirt dress looked doubley effective layered under a clashing cami and skirt combo.
The contrast of tough and delicate was echoed throughout the show. Things were very sheer at TETTMAN.DOUST, with dark and delicate harem pants, inky watercolour prints and whispy cobweb lace over black layers. Kuwaii also put own painterly inspired prints, with crisp white pieces methodically painted with stripes and bush strokes.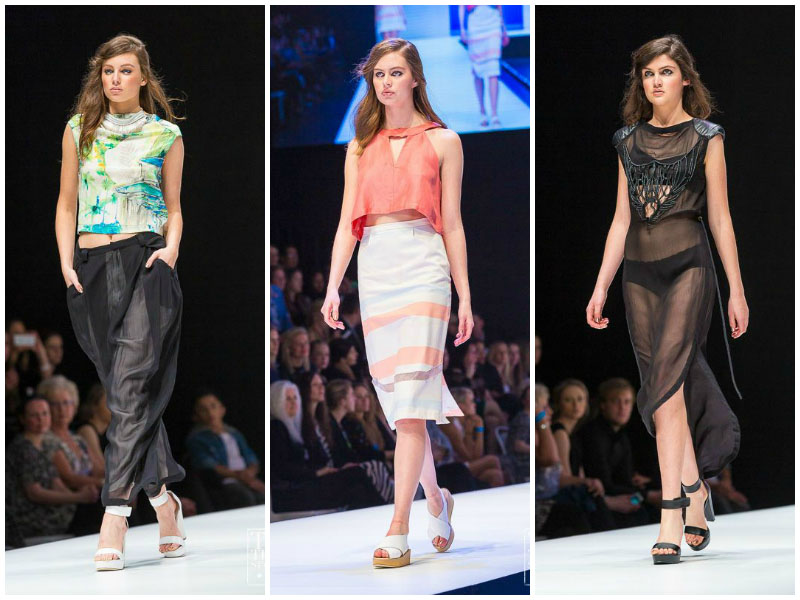 The star and finale of the show, Matcho Suba, perfectly summed up what is so great about the Melbourne fashion scene. Fresh off the sneak peak  his collection was edgy and daring. Dark mesh leather, high cut leotards, blood red fringing and bursts of neon orange offered a stylish interpretation of his inspirations. And just in case you'd forgotten what city you were in, his huge clutch emblazoned with 'MELBS' came as a handy reminder.