White Nails Trend
The stark white nail beauty trend is something fresh and fun and the perfect colour for spring 2014 for its modern yet neutral effect! We love this minimalist trend, which has been gaining momentum since last year, because sometimes simple, well-manicured nails are all that we need.
White nails complimented the styles of the runways adding a classic and feminine touch to the looks—creating a light and contemporary appearance for the spring creations.
The runways toned down their nails. Designers like Carolina Herrera embraced milky nude colours, Calla and Band of Outsiders also tapped into this trend and at Nanette Lepore we saw models with short classic white nails in Blanc by Essie.
The trend has swiftly translated to the streets and celebrities worldwide have adopted white nails, including fashion icons Rihanna, Scarlett Johansson, Alexa Chung and Jennifer Lopez.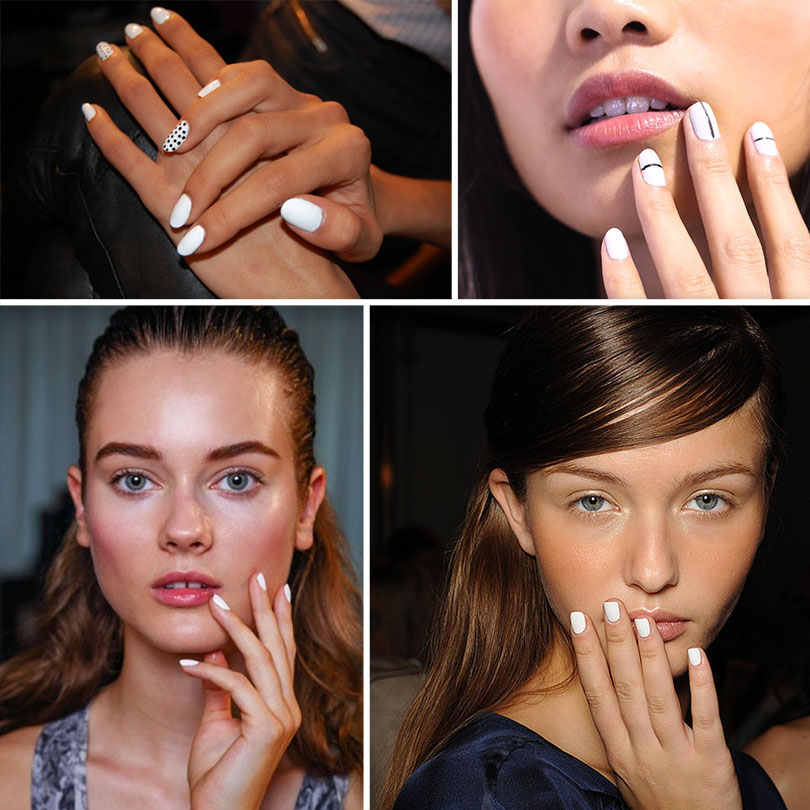 Orange Lips Trend
One of the hottest beauty trends emerging from New York, London, Milan and Paris Fashion Weeks was undeniably the orange lips! From matte orange to electric neon tangerine, say goodbye to red lipstick and hello to the orange hues that are designed to wake you up for the spring season!
Rag & Bone are known for their edgy designs and they once again made history by debuting the first-ever matte orange lip, in collaboration with Revlon Global Artistic Director Gucci Westman. The trend clearly set for the looks to come.
Orange lips were the brightest accessory on the spring 2014 runways, complimenting the models complexions and adding a pop of colour to the fashion. Approved by designers like Prabal Gurung, DKNY, Suno , Marissa Webb, John Galliano all joined the orange wave and Creatures of the Wind contrasted the orange lip with green eyeshadow.
What we love about orange lips is that you don't just have to wear it with base tones, as the designer's paired it with everything from neutral basics to extravagant floral prints.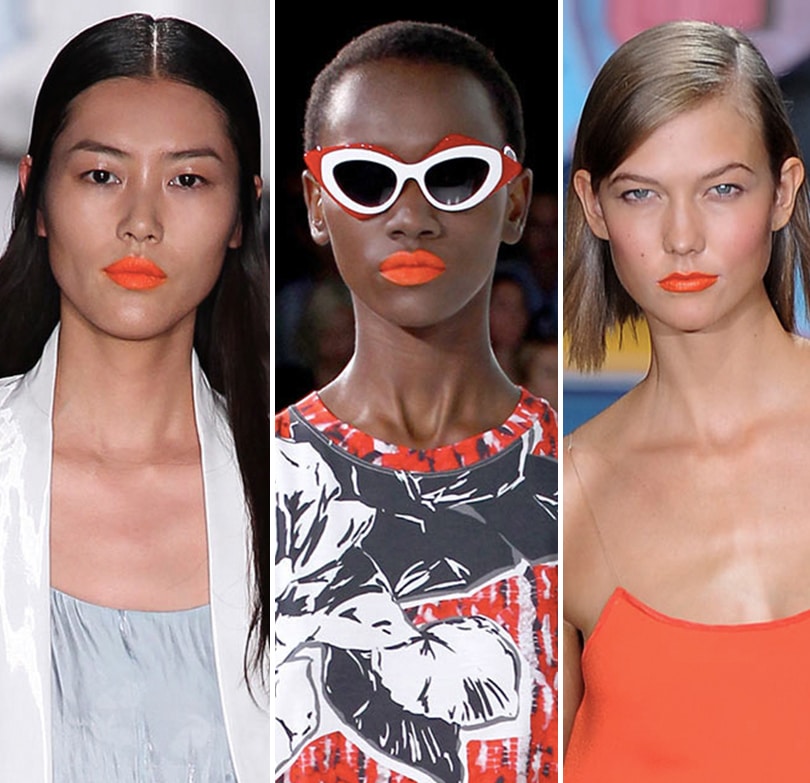 Wet Hair Look Trend
We cannot forget the hair trends for the Spring/Summer 14 runways and it's the Wet Hair Look, as seen on the runways of Phillip Lim, Band Of Outsiders, Herve Ledger and Theyskens Theory, that truly stood out.
There is something edgy yet effortless about this style – not only does it look like you have been enjoying the sea-spray on the beach; you're still able to retain the modernity and stylishness of the catwalk.
The effortlessness to this look is what is so appealing and why it has been adopted as one of the hottest trends on the streets! Why? The look is versatile and can be worn in a variety of ways, to best suit your style – from textured to slick, cute curls and twists, side partings, low ponytails and even completely swept back looks.
The best part about this trend is that it can work for just about any hair length as well, and will compliment your makeup, because your hair will not be demanding all of the attention, like so many hairstyles these days do.
Just remember that there is a fine line between greasy hair and the "wet look" so don't take this as an opportunity to be lazy and not wash your hair, or overuse the gel. Take inspiration from celebrities such as Penelope Cruz, Emma Watson, Amanda Seyfried, Rihanna, and Zoe Saldana, who have conquered this style perfectly, for a nonchalantly cool look.
Get that gel ready fashionista's, because the wet-look is a street-friendly trend that is here to stay.