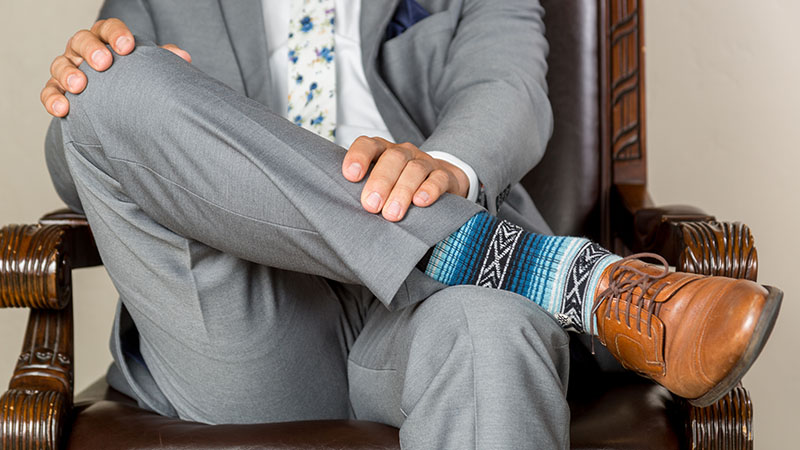 Men's socks may well be the most underrated component of a stylish gent's wardrobe. They're often one of the last elements considered, but if you choose the wrong pair, it can really dampen your whole day. Thankfully, there are plenty of great options around. From dress and business socks to casual and sports styles, these are some of the best in terms of comfort, fashion, and appropriateness for purpose.
Best Men's Socks
1. Gucci Logo-intarsia Cotton-blend Socks
Sometimes simple is best. That's the philosophy behind these men's socks from Gucci. The white cotton blend contrasts excellently with the black logo intarsia and striped trim. Enjoy both a sporty and preppy vibe, that thanks to the mid-calf rise, that looks excellent worn with shorts and loafers, or even (somewhat controversially) with slides.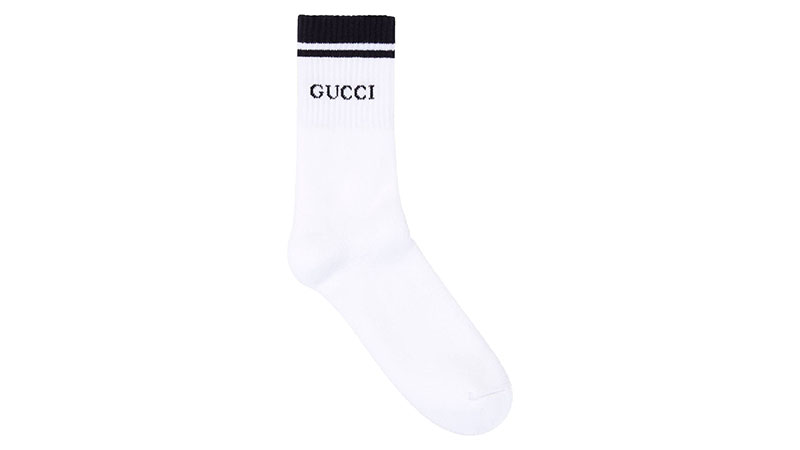 2. Hugo Boss Striped Mercerised Cotton-Blend Socks
Add a bit of pizzazz to your navy suit with these cotton-blend men's socks from Hugo Boss. The tonal blue stripes are refined without being over the top. Enjoy the benefit of an Egyptian mercerized cotton-blend with reinforced high-stress zones to keep you comfortable and to stop your socks from wearing through too quickly. These are perfect worn with dress shoes such Oxfords, Derbys, or monk straps.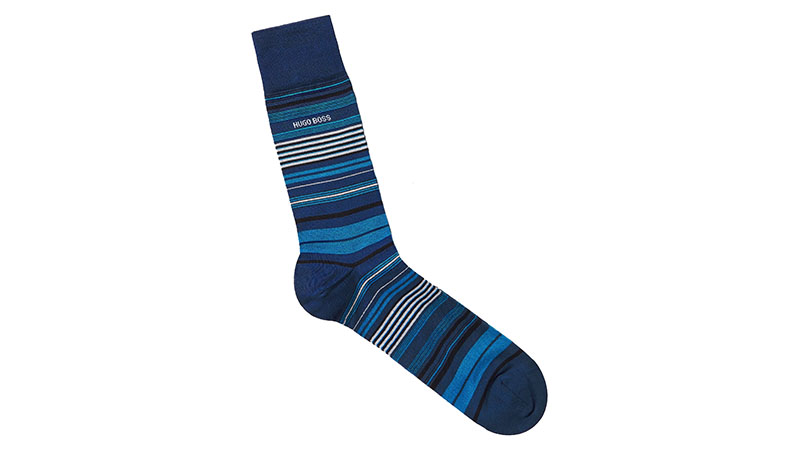 3. The North Face x Gucci Cotton Socks
Iconic outdoor brand, The North Face, has teamed up with luxury fashion house Gucci in a collection that celebrates the spirit of exploration. These cotton-blend men's socks feature both companies' logos in tonal shades. Meanwhile, the ivory tone of the main body of the sock makes it ideal for casual wear. Team these with your favorite sneakers and a pair of shorts for an effortlessly stylish, street-ready look.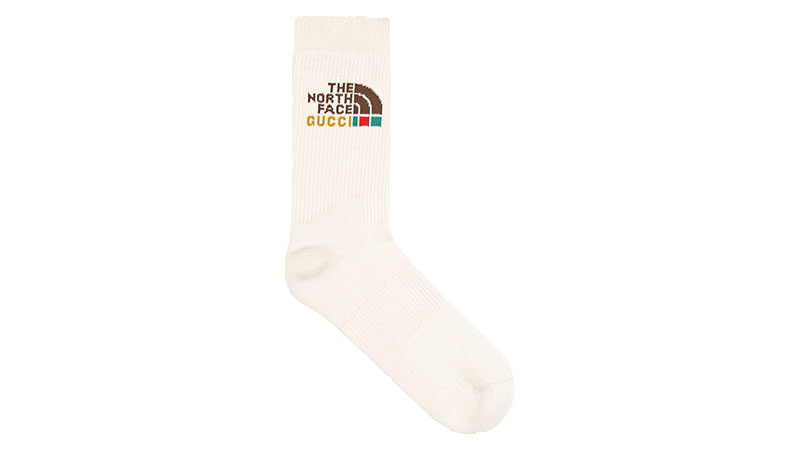 4. Burberry Striped Cotton Blend Socks
Add some boarding school vibes to your wardrobe with these striped socks from Burberry. The ribbed cotton blend is extra comfortable and stays up all day, so you don't need to worry about them bunching around your ankles by midday. They're also calf length, which makes them great for wearing under your trousers to the office. Of course, you can also rock them with a pair of loafers, chino shorts, and polo for a preppy, day-at-the-rowing feel.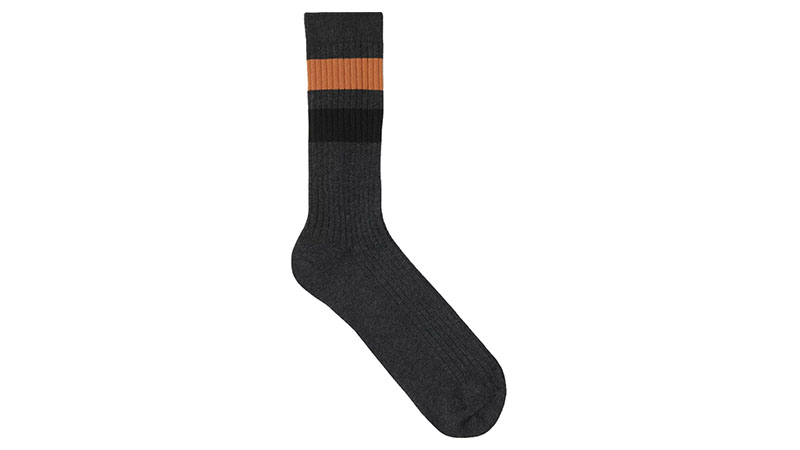 5. Hanes Men's Max Cushion Double Tough Crew Socks
If you're looking for hardwearing socks for your work boots that won't break the budget, these Double Touch Crew Socks from Hanes are a great choice. Features include FreshIQ™ advanced odor protection technology to prevent a build-up of bacteria and smells, plus maximum cushioning throughout your foot to alleviate fatigue. When it comes to the materials, the ComfortBlend® fabric is soft, smooth, and durable, plus has Cool Comfort™ for sweat-wicking and breathability. Finally, they come in the option of white and black to suit most wardrobes.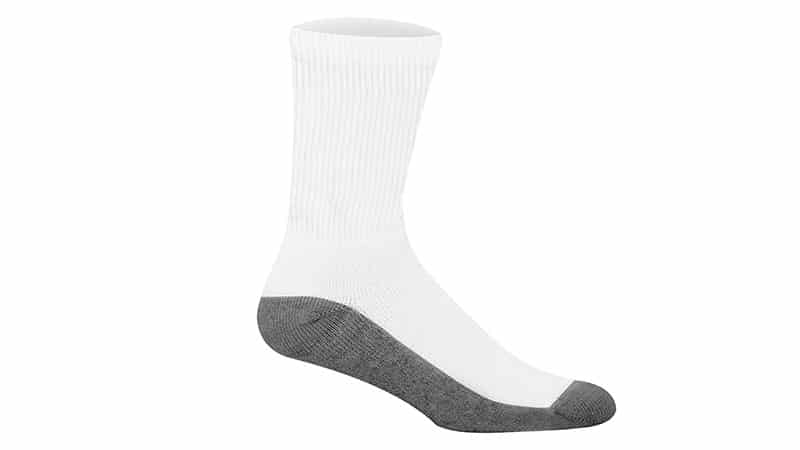 6. Salvatore Ferragamo Signature Socks
Treat yourself to a luxurious pair of silk socks, and feel like you're walking among the clouds. The Signature Sock from Salvator Ferragamo is a silk blend and features just a small logo on the back, keeping the styling elegant. A thin profile makes these men's socks ideal for wearing with dress shoes, such as Oxfords and brogues. Choose classic black, a wardrobe staple, or opt for one of the seasonal shades to add a discreet pop of color to your outfit.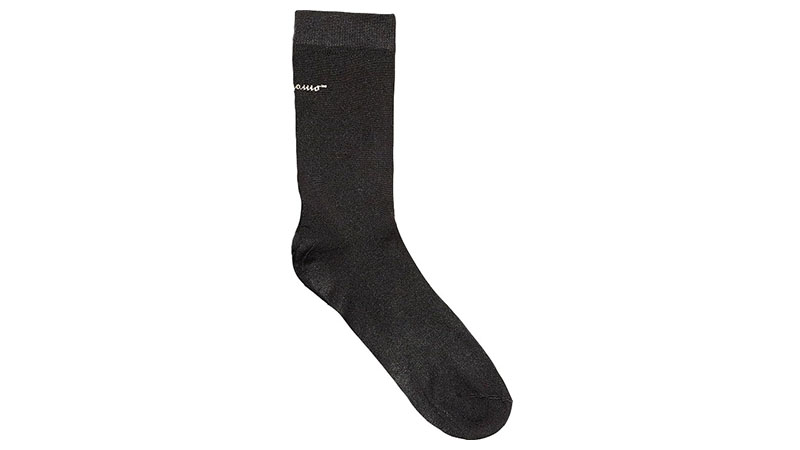 7. Palm Angles White Broken Logo Socks
Take your street style to another level with the upscale, skate-inspired line of menswear from Palm Angles. Enjoy the comfort of stretch cotton in these calf-high socks with broken logo details. It's a fun twist on the classic crew sock and looks great matched with your favorite pair of Vans or sneakers. Plus, the ribbed knit helps them stay up all day because saggy socks definitely won't earn you any fashion street cred.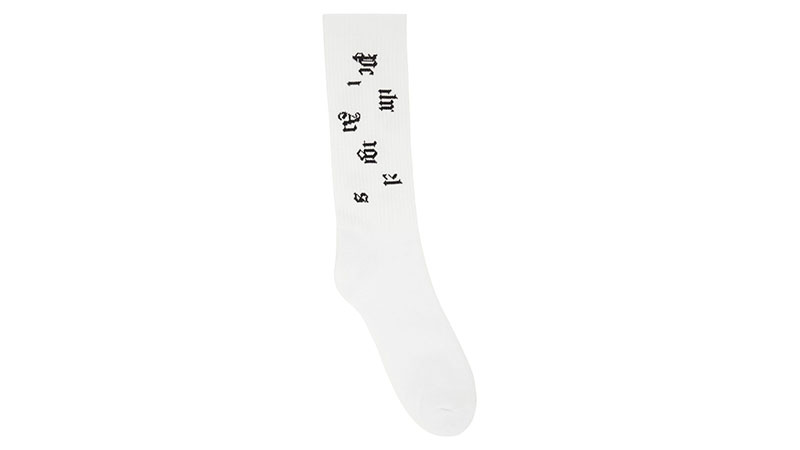 8. Nike Everyday Cushion Low Training Socks
Nike brings all of its knowledge and innovative technology to these low-cut training socks. The iconic Dri-FIT technology wicks away sweat and moisture, keeping your feet dry and cool. Plus, there are breathable mesh panels in the top to assist in airflow and ventilation. An arch band locks the foot comfortably in and contours the sock to the curves of your feet for an excellent fit. Lastly, a terry sole provides additional comfort while the friction yarns prevent your foot from slipping around in your shoe during your workout, which is one of the leading causes of dreaded blisters.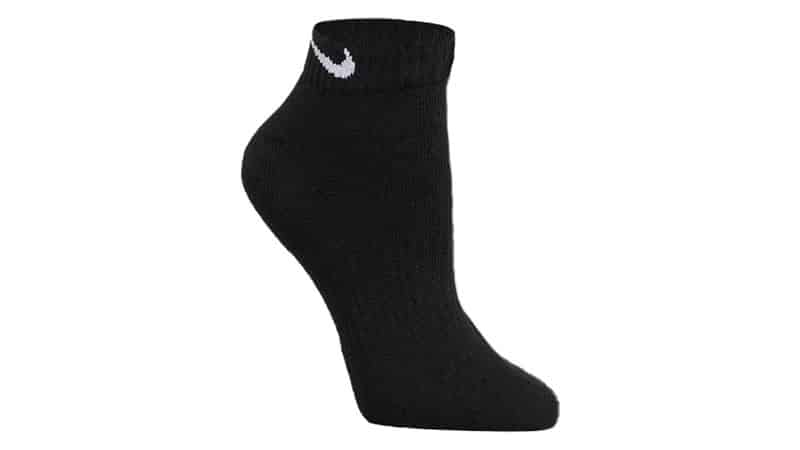 9. Y-3 Logo Intarsia Socks
Keep it classic and sporty with these crew socks from Y-3. This collaboration between Adidas and Yohji Yamamoto brings together a sportswear aesthetic with Yohji's sartorial designs. The cotton elastane blend is extra comfortable and stays up all day. Wear these socks casually with a cool pair of sneakers, classic shorts, and an oversized Adidas tee-shirt. It's the perfect blend of streets and sports.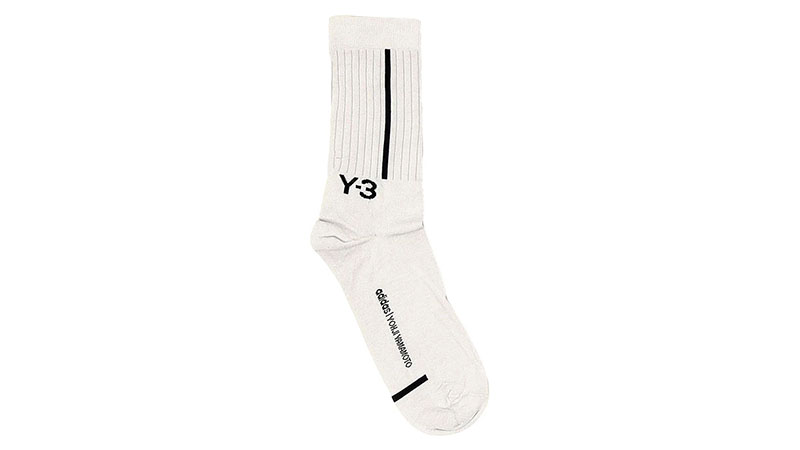 10. Lululemon Power Stride Ankle Sock Stripe
Whether you're working, sweating, or resting, the Power Stride men's socks from Lululemon will keep you comfortable. As a sport sock, it boasts a lot of high-tech advancements to improve your performance. Enjoy PerformaHeel™ 3D knit, which provides stretch and micro-cushioning, plus a secure and comfortable fit. You won't have to suffer blisters thanks to seamless toe construction, and you get extra stability with 360-degree arch support. Finally, ErgoToes™ design gives you the benefit of a custom fit for both your left and right feet.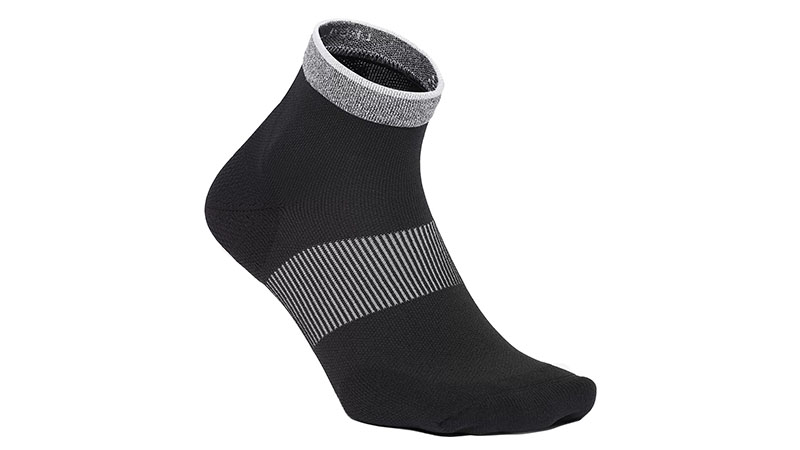 11. Thom Browne Athletic Striped Mid-calf Socks
Head to the gym or track in style with Thom Browne's Athletic Striped Mid-calf Socks. They're made from 100% cotton, so they're exceptionally breathable and will keep your feet cool and comfortable, no matter how strenuous your workout. The design also features ribbed details, a stretch design, and the brand's iconic tri-color stripe motif. Outside of the gym, these work just as well with low-top sneakers and a hoodie for a casual look.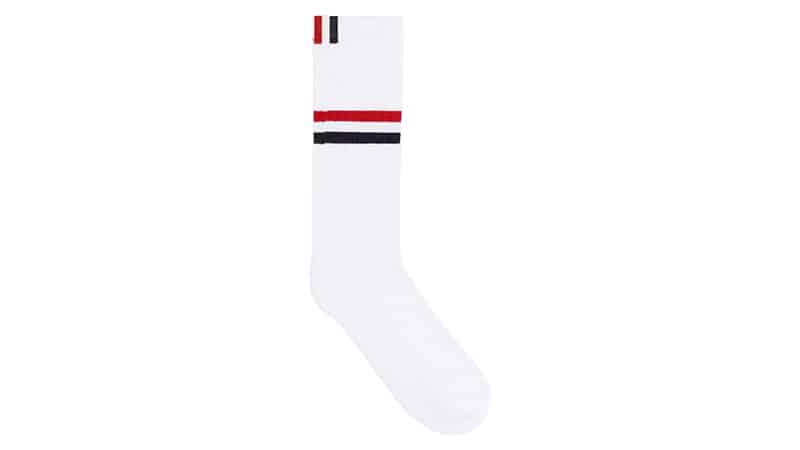 12. Puma Men's No show Sport Socks
Indulge in some extra cushioning and arch support when you wear a pair of these men's socks from Puma. They feature mesh ventilation panels to keep you cool, plus moisture-wicking capabilities to stop sweat from building up around your feet. The low profile is also great for wearing low-cut sneakers in both sports and street styles.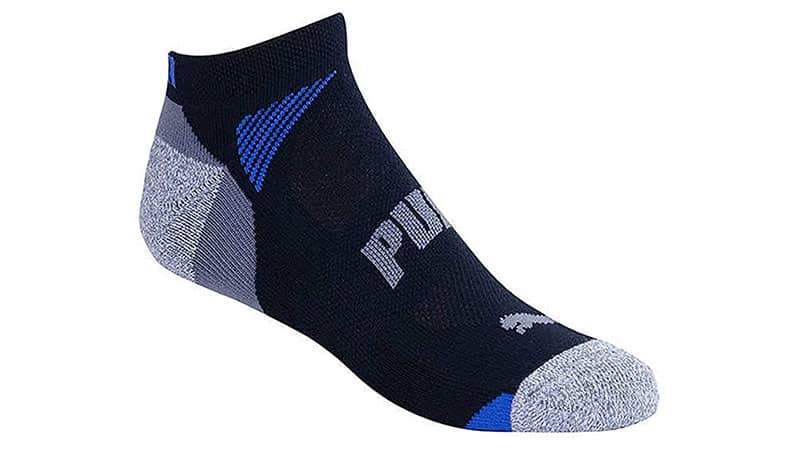 13. Saucony Men's Mesh Ventilating Comfort Fit Performance No-Show Socks
Saucony is well known for its running shoes, so it makes sense that the brand also has a great selection of men's sport socks. These no-show socks are ideal for wearing with your trainers. They're made with moisture-wicking materials, air mesh venting, and targeted arch compression, which not only supports the foot but prevents the sock from slipping down. Enjoy light cushioning along the bottom to reduce run impact and foot fatigue. Finally, if you're keen to put a little pep in your step, there's also a range of great colors, including bright greens, yellows, and oranges which are sure to give you an energy boost.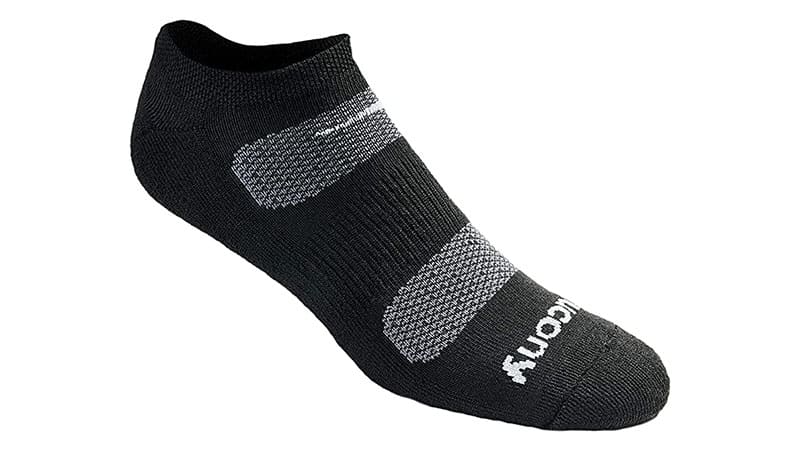 14. Champion Men's Double Dry Moisture Wicking Logo Crew Socks
Keep your feet cool, dry, and sweat-free with these socks from sportswear brand Champion. They feature double dry wicking to draw moisture away from your skin and arch support for an excellent fit. The bottom of the foot also boasts extra cushioning for increased comfort and to reduce foot impact while walking, running, or playing sports. Plus, at less than $20 for a pack of six, this is a brilliant, budget-friendly option, especially if you're hard-wearing on your sports socks.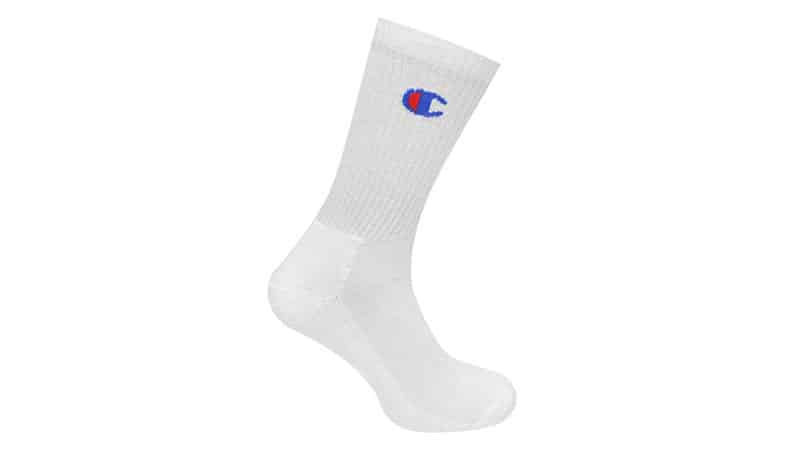 15. Off-White Arrows Crew Socks
You'll definitely want to show off these men's arrow crew socks from Off-White. They're classically comfortable, featuring a mix of cotton, polyamide, and elastane, and are made in Italy. However, it's the street cred you get with wearing them that makes them most appealing. Virgil Abloh's brand has a cult-following thanks to his celebrity devotees, collaborations with big brands, and continued use of pop-culture and irony in his designs.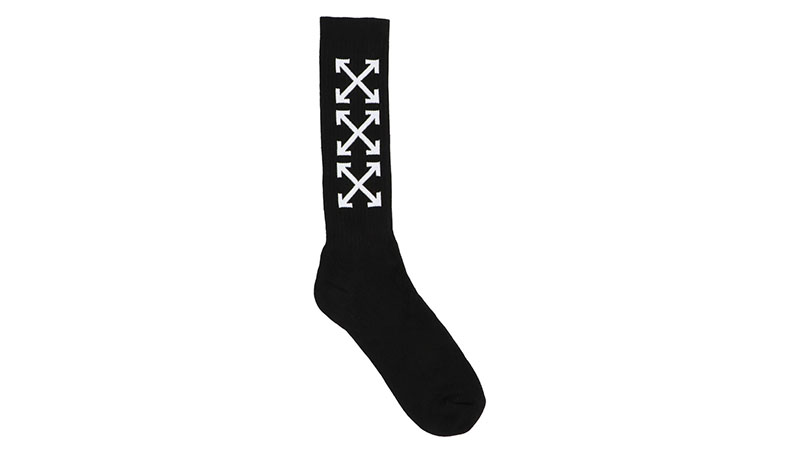 16. Cooplus Men's Ankle Socks
Select a budget-friendly option with these ankle socks from Cooplus. You can get a six-pack for around $20, which is a total bargain, and great if you wear through your socks quickly (or have a dog who likes to steal them!). This design features breathable mesh panels, a convenient heel tab that makes it easier to pull on, and a reinforced heel and toe for excellent durability. You'll also appreciate the cushioning, moisture-wicking yarn, and arch support that will make your workout much more comfortable.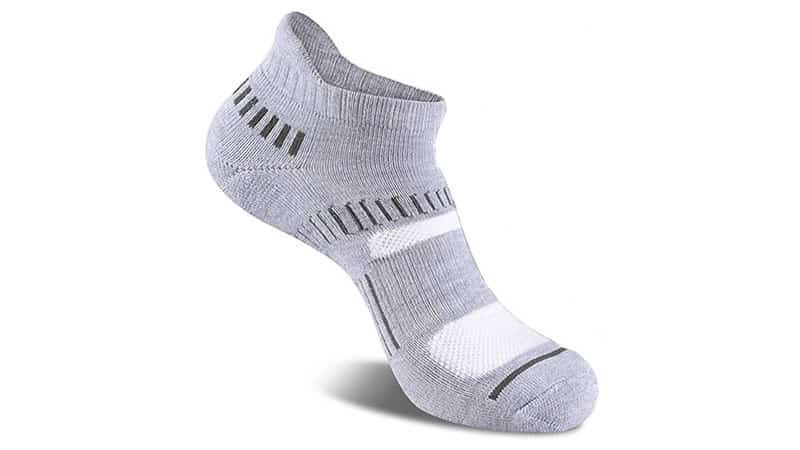 17. Balenciaga Logo Tennis Socks
Hit the court in style with this pair of men's tennis socks. Balenciaga keeps the styling clean and straightforward, with a black base and a contrast white logo embroidery across the upper ankle. If the black is too heavy a look for you, there is also a white option for a crisper aesthetic. Of course, you can wear this beyond the tennis court or gym by pairing them with casual sneakers and a bomber jacket.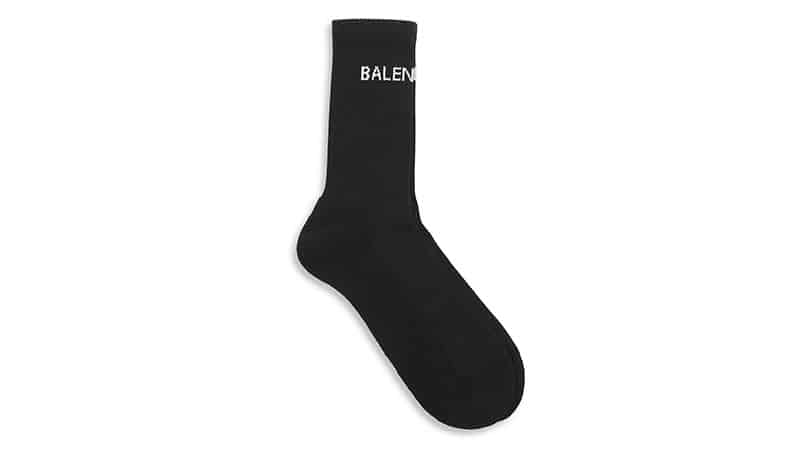 18. Versace Baroque Print Cotton-blend Socks
Just because you're at work doesn't mean your socks can't be a little bit fun. Versace incorporates their signature baroque styling into this pair of men's socks with a bold, golden print. They use a cotton blend for the ultimate balance of stretch, comfort, and breathability. There's also a stretch cuff to help hold it in place throughout the day. This is the perfect splash for color to add to any corporate wardrobe.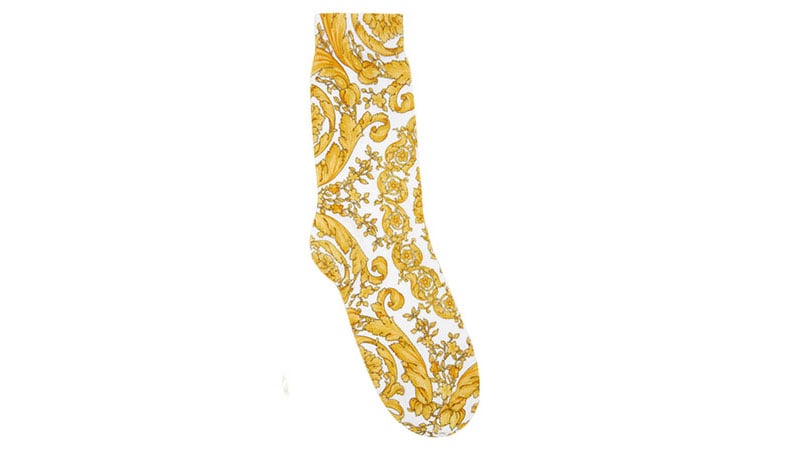 19. Pantherella Mid-Calf Stretch-Lisle Dress Socks
It's business as usual with a pair of Pantherella Mid-Calf Stretch-Lisle Dress Socks. The stretch-lisle uses long-staple cotton and nylon, tightly twisted into a smooth thread. This means it's an exceptionally soft and luxurious feeling fabric. A ribbed body and banded cuff give you the confidence of a comfortable and stable fit, making them ideal for long days in the office. The English brand is built on 70 years of tradition, offering luxuriously woven socks since 1937.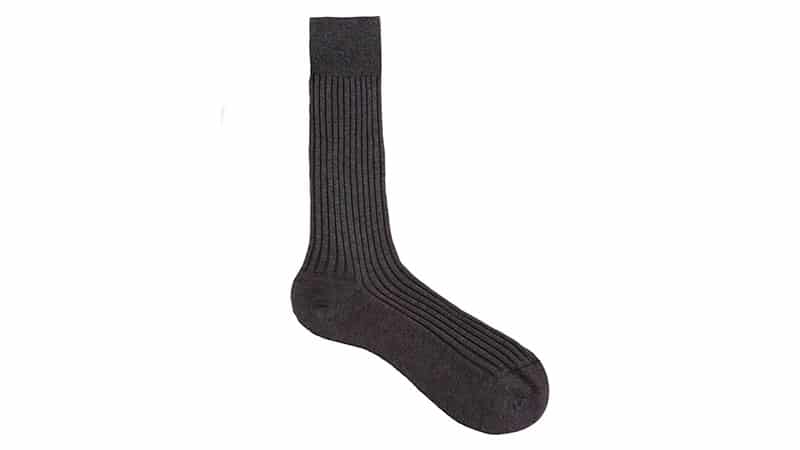 20. Adidas Men's Athletic Cushioned Low Cut Socks
Adidas are leaders in sportswear, and their socks are no exception. This low-cut style sits at the ankle bone and is excellent for sports sneakers and low-cut street shoes such as Stan Smiths. These socks feature full-footbed cushioning for extra comfort with every step. Plus, they're also made with arch compression for support and moisture-wicking yarn that draws sweat away from the skin.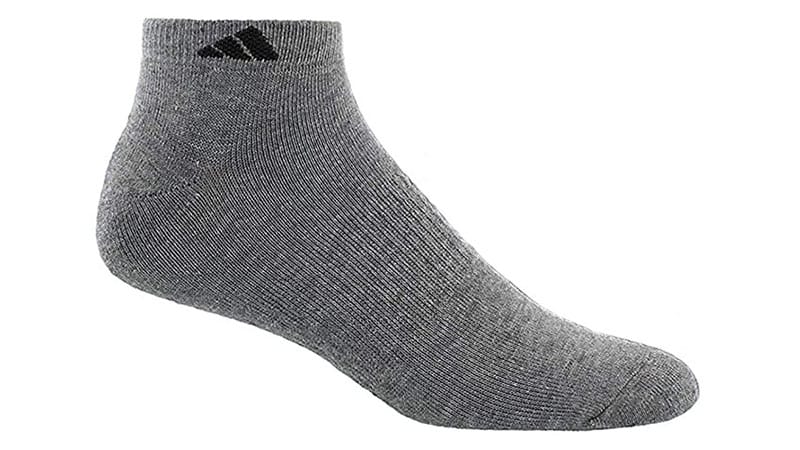 How to Choose Men's Socks?
Sock Length
Sock length will be determined by what you're wearing the sock for and with. Mid-calf socks are ideal for under trousers, as they will stay up all day and won't create bulk under the pant leg. Then, crew socks, which sit between the ankle and knee, are most commonly used in casual settings and for sports, however, you can also get dress socks in this length. Ankle socks are best for athletic endeavors as they keep your lower legs cool and look sleek with runners. Finally, no-show socks are ideal for wearing with traditionally sockless shoes such as boat shoes and loafers. They sit below the ankle bone and aren't meant to be seen. You can also wear them with low-cut sneakers such as Stan Smiths if you prefer a no sock look.
Material
Similar to length, the material you choose for your socks will depend on the intended use. Dress socks are best made with thinner, natural fabrics such as cotton or silk with a small amount of elastic fiber blended in. During the cold months and for work boots, it's best to wear warm woolen socks that cushion your feet and protect you from the elements. Finally, for daily wear and sporting endeavors, performance fabrics are the way to go. These generally have moisture-wicking properties to draw sweat away from your skin and odor control technology to keep smells at bay.
Purpose
There are different socks for different occasions; there's no one-sock-fits-all. At the gym or doing sports, you'll want a style that helps keep your feet dry and won't rub or cause blisters. As such, sports socks are designed using more technical materials to help prevent these common issues. On the other hand, dress shoes require a thinner, more formal-looking sock that will blend in with your suit and better fit into more rigid leather shoes. Opt for natural fabrics such as cotton, silk, or thin wool. If you spend all day on your feet in work boots, look for socks that have plenty of underfoot cushioning and arch support to alleviate pain and fatigue. Finally, for casual socks it's all about the look. It's good to have a few styles in different colors on hand so you can mix and match the best option for the outfit of the day.
Colour
Color is also important when choosing socks. If you're dressed formally in a suit or tailored trousers, your socks should ideally match or tone in with your pants, not your shoes. This is the most refined look and doesn't break up your profile. Sports-wise, it matters less (unless your only at the gym to take pictures for the 'gram), and it's more important to focus on performance. Lastly, casual or fashion socks are the most flexible when it comes to color. You can rock almost any shade sock with shorts, depending on the rest of the outfit, though white and black are the most common. Novelty socks, of course, are also meant to be bright and attention-grabbing; just make sure you're only wearing them in appropriate situations!
FAQs
How many socks does a man need?
On average, a man should own between 10 and 20 pairs of socks. Ideally, you'll want at least one pair for every workday, plus four or five gym or running socks, depending on your fitness regime. Next, you'll need at least three pairs of nice dress socks in colors that match your more formal trousers, so often that's black, grey, or navy. Finally, most gents will probably have a couple of pairs of miscellaneous socks, such as hiking, woolen winter socks, or other activity-specific options.
What brand of socks is the best?
The best brands will vary depending on the kind of sock you need; however, all will combine comfort with quality and style. Sports socks are best from brands like Nike, Adidas, and Saucony, while socks from designers like Pantherella, Hugo Boss, and Versace are ideal for wearing with your dress shoes.
Can guys wear women's socks?
Guys can wear women's socks if they fit, as there are fewer design differences in socks than shoes. However, women's socks don't tend to run as large, so finding big sizes might be challenging.
What brands of socks last the longest?
Socks that last the longest are designed to be hard-wearing. As such, sports styles and socks designed for work boots will be the best best, as they use advanced technology and fabrics to endure better. Look for brands like Nike, Adidas, Darn Tough, and Bombas.
What are the most comfortable men's socks?
The most comfortable men's socks will be warm, breathable, and cushioned. Look for natural materials such as cotton and wool and extra padding under the foot and support through the arch.
Should my socks match my shoes or my trousers?
Generally, your socks should match (or at least tone with) your trousers, not your shoes. This elongates the leg and looks more refined. The exception is when dressing casually, especially in shorts. In those cases, you can choose whatever color works best with your ensemble. Another exception is novelty socks, which are designed to stand out. However, if you're donning a pair of these, just make sure they suit the mood of the occasion, as they can be a bit too over the top for some circumstances.
SUBSCRIBE TO OUR NEWSLETTER
Subscribe to our mailing list and get interesting stuff and updates to your email inbox.