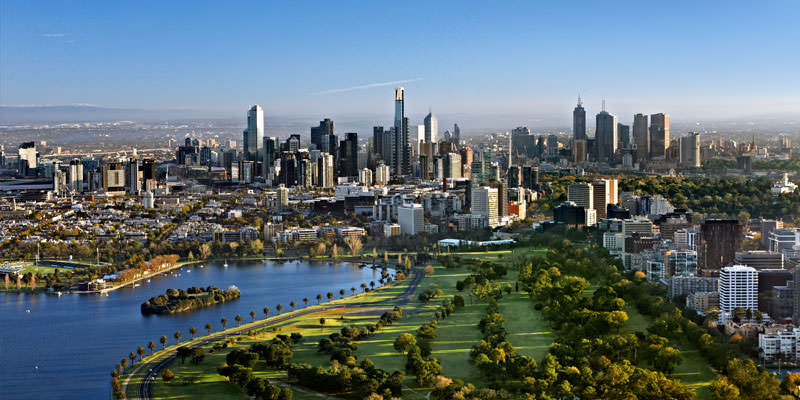 Want to make the most of this summer and enjoy everything that Melbourne has to offer? This list is your go-to guide for all things fun and festive this sunny season. From festivals and exhibitions to concerts and parades we've tracked down the best things to occupy your time for every weekend until autumn rolls in. Relax with a movie under the stars, enjoy the sun with a picnic on the Peninsula or explore the minds and work of Andy Warhol and Ai Weiwei, whatever your style, this list is guaranteed to inspire you to get out and active.
1. Andy Warhol and Ai Weiwei Exhibition
If there's one thing you do this summer, visit the Andy Warhol and Ai Weiwei exhibition at the NGV. Featuring works from these two industry giants, this international exhibition explores the tremendous influence they have had on modern art and contemporary life.
When: Dec 15 – Apr 24th
Time: Close 8pm
Where: 180 St Kilda Rd, Melbourne, Australia
Website: www.ngv.vic.gov.au
Cost:  Adult $26.00
2. Australian Open Festival
This year, the Australian Open is bringing a festival along with its tennis. Taste delicious foods from Mamasita, Combi, Huxtaburger and more, in the open-air setting of Birrarung Marr as you get in to the spirit of the Grand Slam.
When: Jan 18th –  Jan 31st
Time: 7am to 11pm
Website: https://www.facebook.com/events/909589859089248
Where: Birrarung Marr, Batman Ave, Melbourne, Australia
Cost: Free entry
3. Australia Day Parade
Head in to the city this Australia Day and watch as the Australia Day Parade makes its way down Swanston Street and into St Kilda Road. See over 100 community and cultural groups come together in a colourful celebration of our nation.
When: Jan 26th 
Time: 11:00-12:00pm
Where: Swanston Street into St Kilda Road, Melbourne, Australia
Website: www.www.australiaday.vic.gov.au
Cost: Free
4. CATS the Musical
Take in a show this summer and see Andrew Lloyd Webber's classic musical, CATS. Featuring Delta Goodrem, this legendary show is playing at the Regent Theatre and is a must-see for theatre regulars and rookies.
When:  Jan 24 
Where: Regent Theatre
Website: www.catsthemusical.com
Cost: Paid
5. St Jerome's Laneway Festival
Get down to St Jerome's Laneway Festival for good tunes and a good time. Catch acts such as Chvches, Flume, Grimes and more while relaxing on the river's edge.
When: Feb 13th
Time: 11:30am
Website: www.melbourne.lanewayfestival.com
Where: The Maribyrnong River, Melbourne, Australia
Cost: $165
6. White Night
Grab a group of friends together and head in to the city for an unforgettable night. From dusk until dawn explore over 80 free events encompassing music, art, film, light displays and more at Melbourne's White Night
When: Feb 20th
Time: 7:00pm – 7:00am
Website: www.whitenightmelbourne.com.au
Where: Melbourne Precinct
Cost: Free
7. St Kilda Festival
The St Kilda Festival has been a favourite amongst Melburnians for many years, and for good reason. Enjoy performances, dance classes, live wrestling and so much more at Australia's largest free music festival this Valentine's Day.
When: Feb 14th
Time: 9:00am – 6:00pm
Website: www.stkildafestival.com.au
Where: St kilda Melbourne, Australia
Cost: Free
8. Pause Festival
Pause Festival sees an annual convergence of visionaries and creatives to Melbourne in order to share ideas, gain knowledge and collaborate across industries and roles. This week-long digital conference is one of a kind and will have you bursting with inspiration in the fields of creativity, technology and business.
When: Feb 8th – Feb 14th
Time: 9:00-6:00pm
Website: www.pausefest.com.au
Where: Corner Swanston St & Flinders St Melbourne, Australia
Cost: $350
9. Chinese New Year Celebrations
Chinese New Year celebrations take place all across Melbourne throughout the month of February to festively ring in the Year of the Monkey. Expect fireworks, food, performances and dragon dances in a range of locations from Federation Square to Docklands.
When: Feb 6th – Feb 21st
Time: 10:00am – 10:00pm
Website: www.chinesenewyear.com.au
Where:  Melbourne, Australia
Cost: Free
10. Sidney Myer Free Concerts
Let the Sidney Myer Free Concerts provide you with the perfect soundtrack to this summer. Take in three concerts over separate nights and listen to the enchanting music of the Melbourne Symphony Orchestra.
When: Feb 17th – Feb 27th
Time: 7:30pm
Where:  Sidney Myer Music Bowl, melbourne, Australia
Website: www.chinesenewyear.com.au
Cost: Free
11. Rooftop Cinema
Inject a bit of romance in to your night and catch a film under the stars with your special someone. Whether it's an old favourite or a new flick, Rooftop Cinema has something for everyone's taste.
When: Jan 1st – April 1st
Time: Visit website
Where: Curtin House, 252 Swanston Street, Melbourne, Australia
Website: www.rooftopcinema.com.au
Cost: $25.50
12. Sustainable Living Festival
Interested in finding out the leading solutions to the ecological and social challenges we face, including climate change? Head to the Sustainable Living Festival this summer which, as the name suggests, aims to accelerate the uptake of sustainable living.
When: Feb 12th – Feb 28th
Where: Federation Square Corner of Swanston & Flinders Streets Melbourne, Australia
Website: www.slf.org.au
Cost: Free
13. South Melbourne Night Market
Spend Thursday nights enjoying food, music and entertainment as you explore unique stalls at the South Melbourne Night Market this summer.
When: Jan 7th – March 10th
Time: Thursdays 5:30pm
Where: Coventry St & Cecil Street, South Melbourne, Australia
Website: www.southmelbournenightmarket.com.au
Cost: Free
14. The Peninsula Picnic
Summer just wouldn't be complete without a picnic so make sure you keep March 20th free to head down to Mornington for the Peninsula Picnic. Pack the picnic rug and get ready to snack on the best local produce, sip on the most delicious wines and relax to the calming voices of Missy Higgins and Kim Churchill.
When: March 20th
Time: 11:30am
Where: Mornington Racecourse, VIC
Website: www.peninsulapicnic.com.au
Cost: $78.50
15. Orry-Kelly: Dressing Hollywood
Discover the incredible career and life of Academy Award winning costume designer Orry-Kelly at ACMI. This prolific Australian worked with many of Hollywood's biggest stars on classic films, from Some Like it Hot to Casablanca.
When:  Jan 17th – Aug 18th 
Website: www.acmi.net.au
Where: ACMI
Cost: Free
SUBSCRIBE TO OUR NEWSLETTER
Subscribe to our mailing list and get interesting stuff and updates to your email inbox.