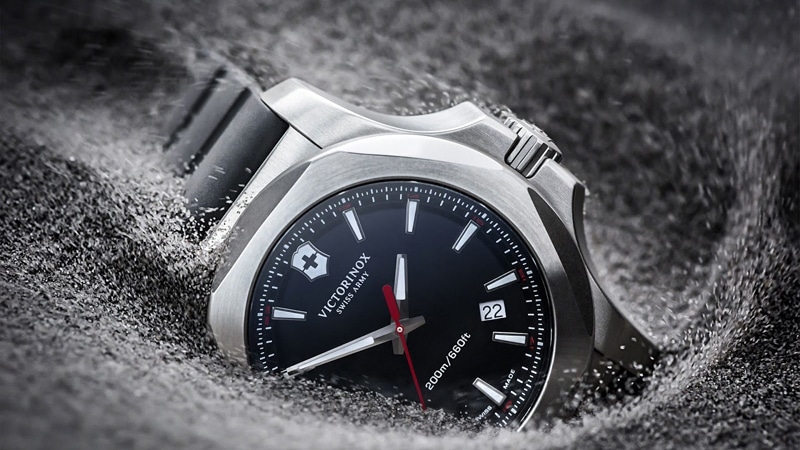 In 1793, a German chemist discovered a shining, silvery metal that he defined as "the incarnation of natural strength". As a result of this durability and high strength to weight ratio, he named it Titanium, after the mythological Greek Titans. Throughout history, the properties of this metal have made it highly favoured in aerospace, industrial and medical industries. In addition to this, it has become a coveted component in the world of men's watches. By incorporating titanium into their timepieces, designers are able to make sleek, lightweight, and highly durable watches. In recognition of this, we're here to present the best titanium watches for men.
1. Citizen Men's BM7170-53L Eco-Drive Titanium Watch
As strong as it is sleek, this silver Citizen Eco-Drive Titanium Watch model features a deep blue dial and luminous silver markers. Built for endurance, it boasts a 43mm titanium case and an anti-reflective sapphire dial window. Additionally, it is water-resistant to 100m. One of its most popular features, however, is its Eco-Drive technology. By harnessing the energy of any and all light sources, the watch recharges itself without any batteries or winding, ensuring that it will expertly measure the time until time itself stops.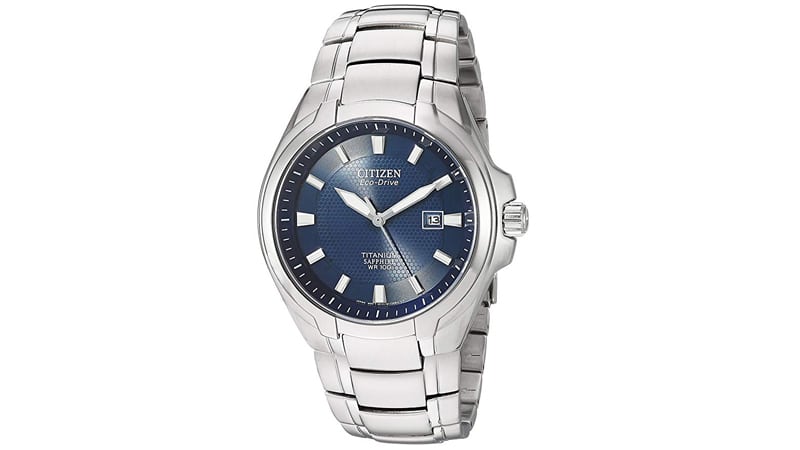 2. Seiko Men's SGG711 Titanium Watch
Since its inception over 125 years ago in a humble Tokyo clock shop, Seiko has been responsible for pioneering some of the most important developments in timekeeping. Responsible for the invention of the first quartz wristwatch and of kinetic technology, they continue to push boundaries. This watch is no exception. The SGG711 Seiko men's timepiece features a bold round black dial with a durable hardlex crystal dial window. A 37mm titanium case and three-link bracelet make this watch a classic, sophisticated piece for any man.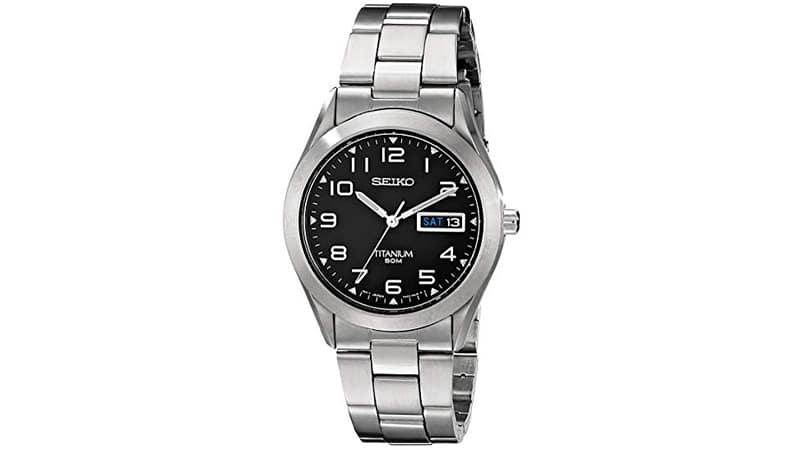 4. Pro-Trek Men's PAG240T-7 Titanium Watch
The ultimate companion for the adventurous man, the Pro-Trek Men's PAG240T-7 provides all of the functions and features required to get you out of the office and into the wilderness. This solar-powered timepiece features a sturdy titanium bracelet with a double-locking foldover clasp as well as a stainless steel case with a mineral dial window. Dive down deep with water resistance to 100m or trek after dark with its glowing backlight. This expertly crafted watch also incorporates low-temperature resistance, a barometer, a digital compass, and world times, as well as sunrise and sunset time displays.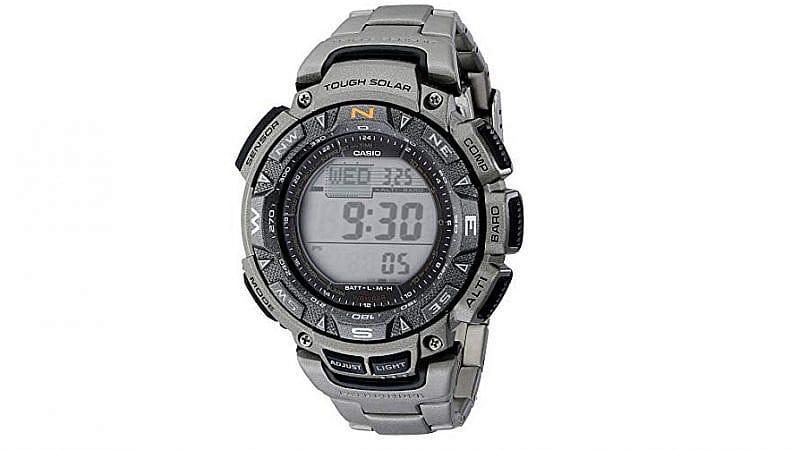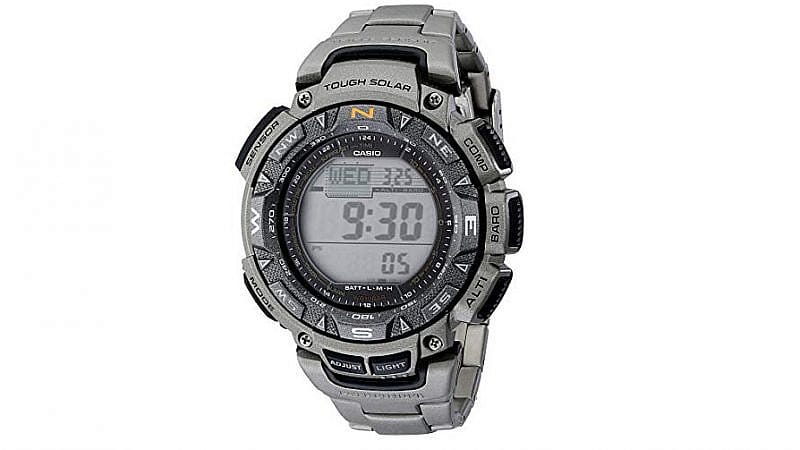 5. Invicta Men's 'Pro Diver' Automatic Titanium Diving Watch
Plunge deep beneath the ocean's surface with the Invicta Men's Pro-Diver Automatic Titanium Diving Watch. With a 50mm titanium case, titanium band and bezel, as well as water resistance to 200m, this silver-toned timepiece is any diver's new best friend. Back on dry land, this watch also remains stylish and durable with a blue dial window and mineral crystal dial window.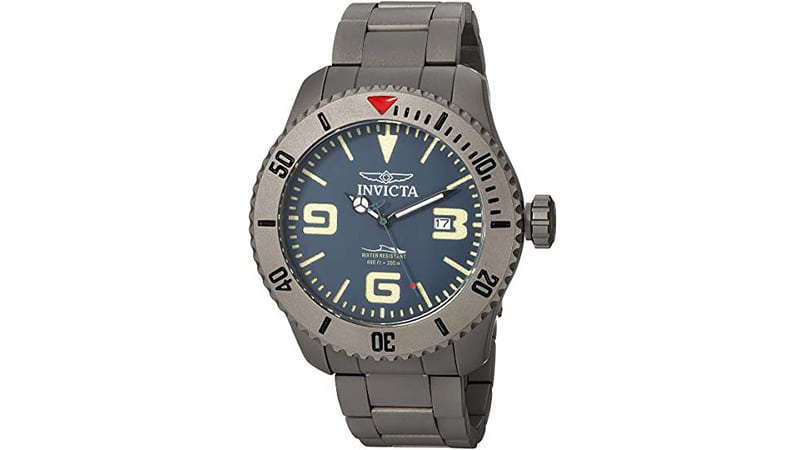 6. Victorinox Swiss Army I.N.O.X. Titanium Watch
Looking for a watch that can withstand two hours in the washing machine, being driven over by a 64-tonne tank or a dive down to 200m? How about a watch that is resistant to fire, water, salt, and countless acidic substances? Having survived over 130 durability and resistance tests, the Victorinox Swiss Army I.N.O.X has emerged as the watch world's victorious gladiator. Not only will this watch survive virtually any terrain or environment, but it will look sophisticated and stylish while doing so. Aesthetic features include a black dial and a strong brown leather strap to accompany the lightweight but durable titanium case. It also includes a removable bumper that makes the watch shock-resistant and a compass to keep you on track and on time.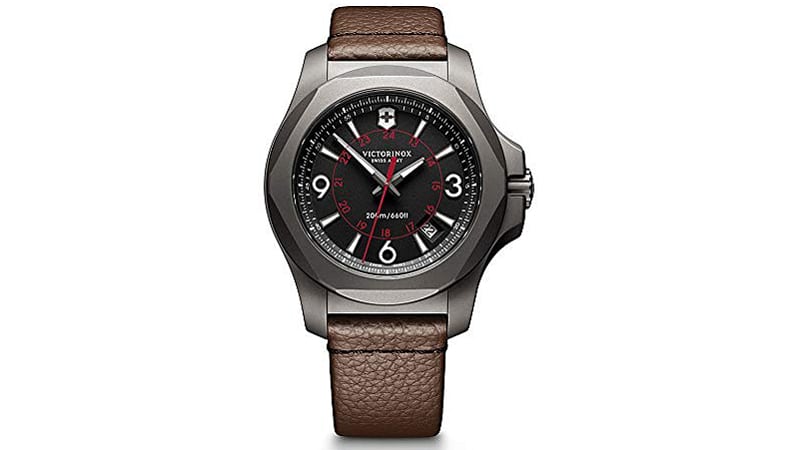 7. Tissot Men's T-Touch Expert Titanium Watch
Take your timepiece game to new heights with a titanium watch that surpasses its competitors in quality and durability, as well as technological features. Tissot's Men's T-Touch Expert Titanium Watch features a 44mm titanium case, titanium bracelet, and bi-directional bezel as well as a rugged, textured black dial. Harnessing a Swiss quartz movement, this lightweight, hypoallergenic piece is water-resistant to 100m and has a scratch-resistant sapphire crystal dial window. In addition to these durable features, it has an LCD backlight, digital display alarm, chronograph, thermometer, and barometer. Essentially, this is the ideal timepiece for the sophisticated adventurous man.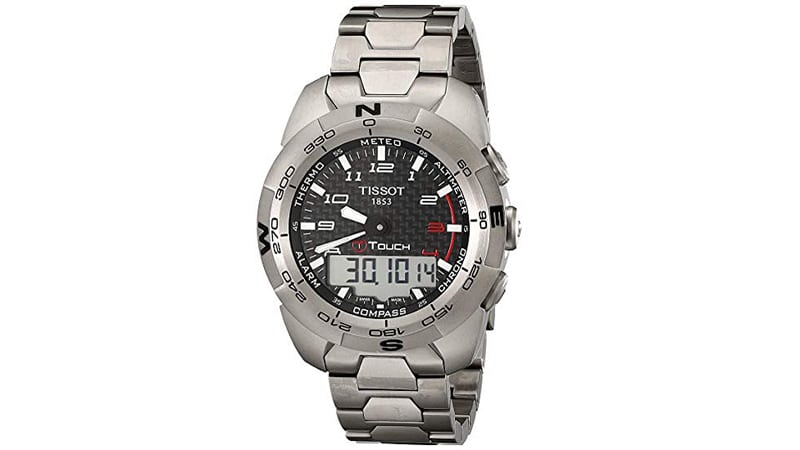 8. Orient M-Force Automatic Titanium Diver Watch
Shining silver and smokey black elements come together to create this elegant Orient M-Force Automatic Titanium Dive Watch. This piece commands attention with a 47mm titanium case and a black rubber dive strap. Meanwhile, behind a scratch-resistant sapphire crystal dial window, luminous hour markers stand out against the smoldering black face. With a Japanese automatic movement and water resistance to 200m, this watch will continue to operate smoothly and silently both above and below sea level.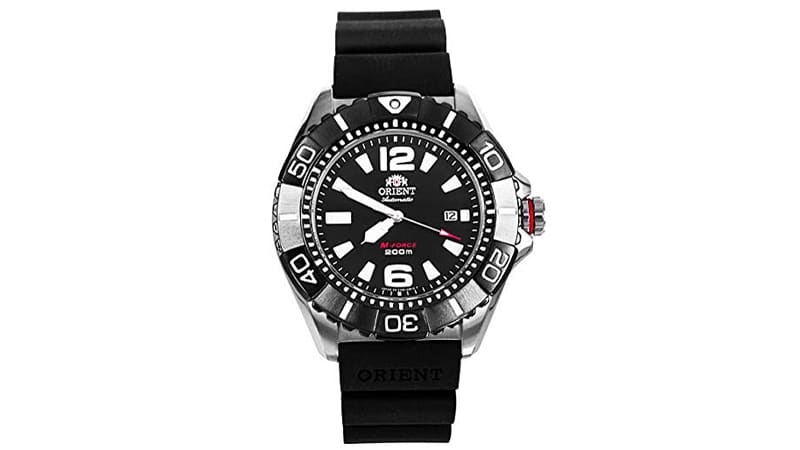 9. Omega Men's 'Seamaster150' Swiss Automatic Titanium Watch
Sailors, snorkelers, and surfers will be instantly attracted to the aquatic colors of the Omega Seamaster 150's navy nylon fabric band and crisp white dial. With water resistance to 150m, it is the perfect accessory for all adventures both below the waves and up on deck. Notable features include the polished titanium case, as well as distinct blue-toned hands and hour markers. Finally, its self-winding Swiss-automatic movement and 60-hour power reserve ensure longevity alongside its durability.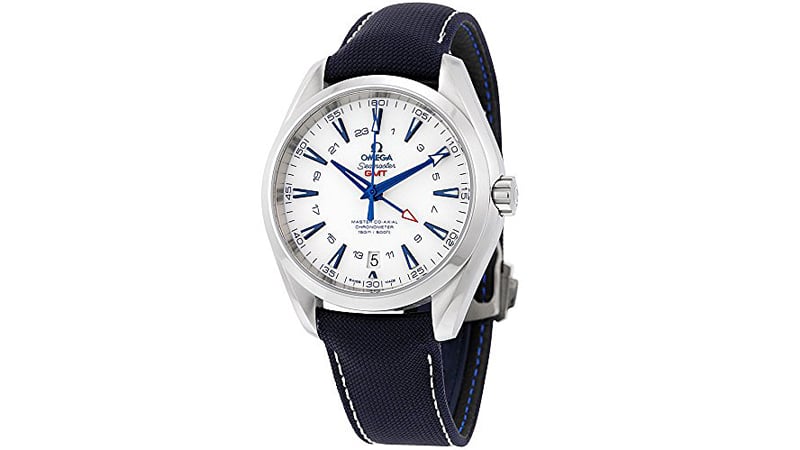 2. Skagen Men's Grey Mesh Titanium Watch
For the man who loves to look sharp in a suit and tie, Skagen's titanium watch is the ultimate accessory for any occasion. Slim, strong, and incredibly lightweight, this stylish piece features a 38mm titanium case and matching bezel as well as a gunmetal grey face. Encircling the wrist, a 22mm titanium mesh bracelet makes this timepiece a pleasure to wear. Finally, the quartz movement and water resistance to 30m will make this one watch you won't want to take off.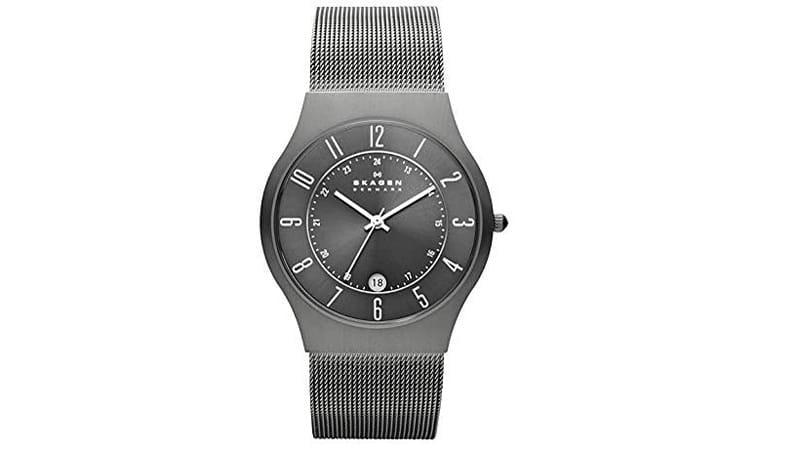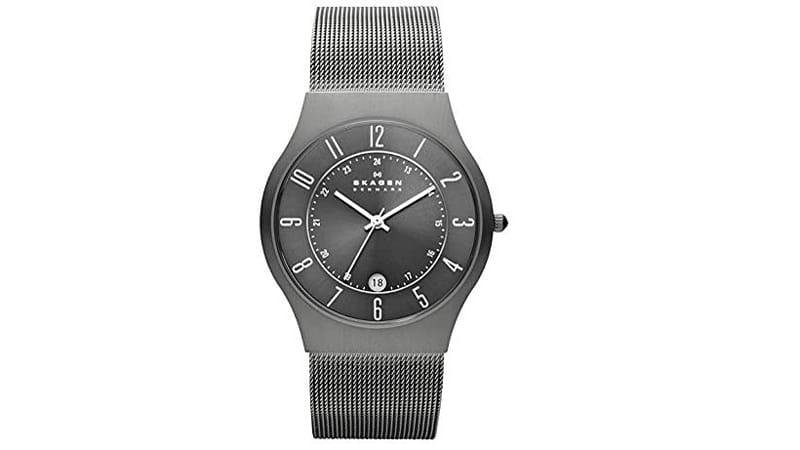 10. Nixon 51-30 TI Watch Titanium
Channel the strength of the Titans and the ruggedness of the rocky mountains with Nixon's 51-30 TI titanium watch. The wide 51mm round titanium case is paired with a solid titanium band, making it an exceptionally strong, yet lightweight sports watch. Designed to survive, scratch-resistant mineral crystal protects the smokey grey dial with its camouflage numbers and skeletonized sword hands. Finally, if you're ready to leave dry land and explore the underwater world, the 51-30 TI is ready for the challenge with water resistance to 200m.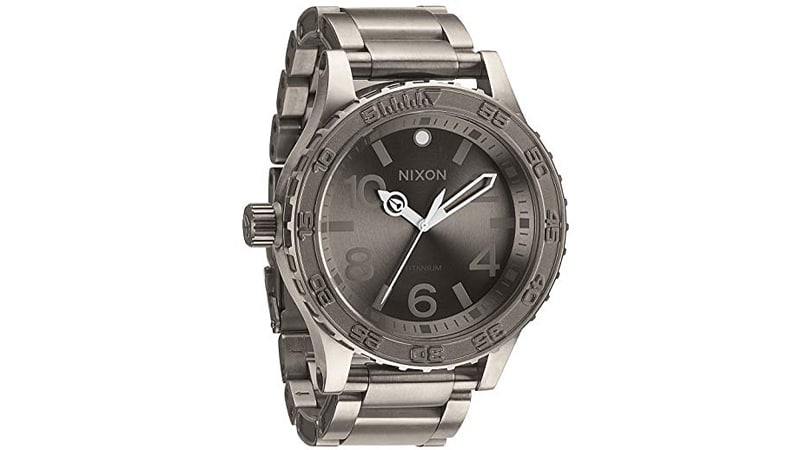 11. Hamilton Men's Khaki Field Black Dial Titanium Watch
Although its name evokes the khaki, camouflage uniform of soldiers, this stylish watch does anything but blend in. With a titanium case and titanium band, it is undeniably built to endure action and adventure. A prominent black dial contrasts against the dark silver features, while luminous hands and numbers shine behind a durable sapphire crystal dial window. Additionally, it has the ability to plunge to depths up to 100m and harnesses an automatic self-winding movement. All of these factors designate Hamilton's Khaki Field Black Dial Watch as a highly versatile, stylish piece.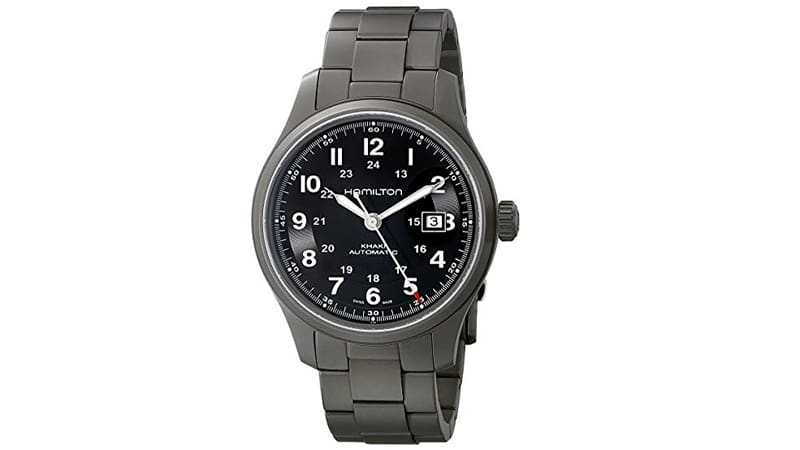 12. Tag Heuer Carrera Men's Automatic Chronograph Titanium Watch
For a watch that evokes power and strength, Tag Heuer's Carrera Men's Automatic Chronograph Titanium watch is the dark knight of timepieces. This onyx-toned sports watch features a brushed titanium case and black, embossed alligator leather strap, with contrasting, bold red stitching. Additionally, a scratch-resistant sapphire crystal dial contributes to the exemplary durability of this piece, which is as reliable as it is functional. As well as telling time, the watch is water-resistant to 100m and includes a chronograph and tachymeter.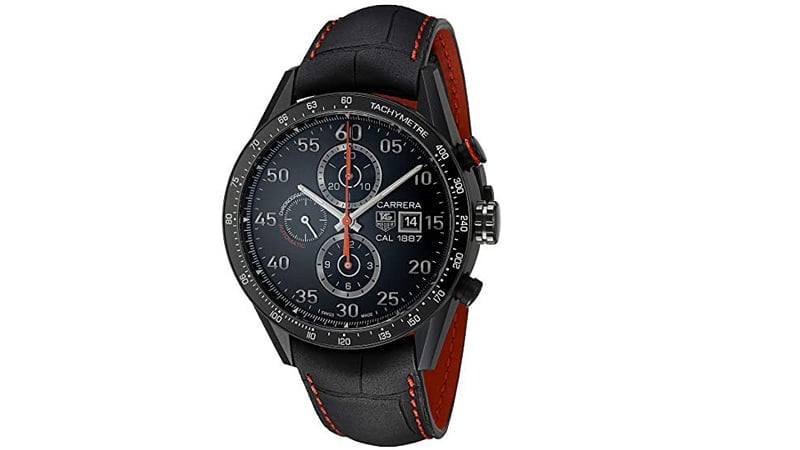 13. Citizen Men's Eco-Drive Titanium WR100 Watch
When it comes to Citizen's Eco-Drive titanium timepieces, each model is in a unique league of its own. The WR100 model is a refined, elegant option for men seeking a stylish and durable watch. Powered by light and a Japanese quartz movement, it requires no batteries to keep the luminous hands ticking smoothly. Luxury is redefined by the simplicity of this piece with its polished black dial. Additionally, it features a silver titanium 44mm case and silver titanium bracelet.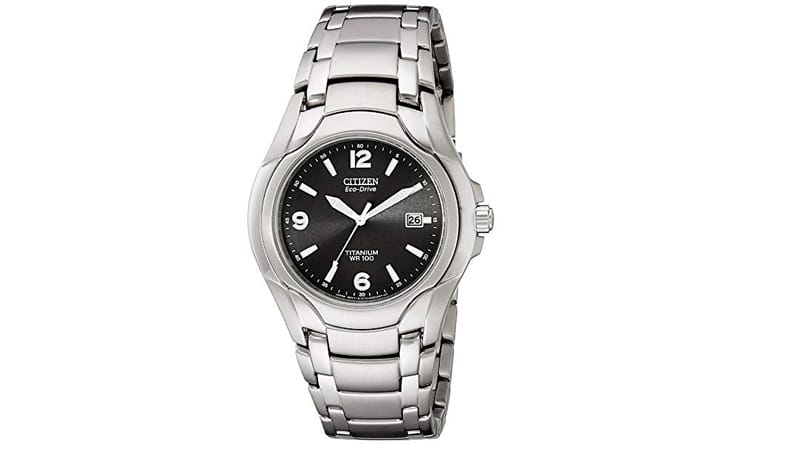 14. Movado Men's Bold Analog Display Titanium Watch
Since its inception in 1881, Swiss watch company Movado has succeeded in building a legacy of innovation. Following this tradition of excellence, this piece includes a 46mm sandblasted, black ion-plated titanium case, as well as a sleek black honeycomb textured dial. Orange and grey accents shine against the darker features, exemplifying Movado's signature fusion of modernity and tradition. The black titanium link bracelet further strengthens the watch, which is water-resistant to 100m.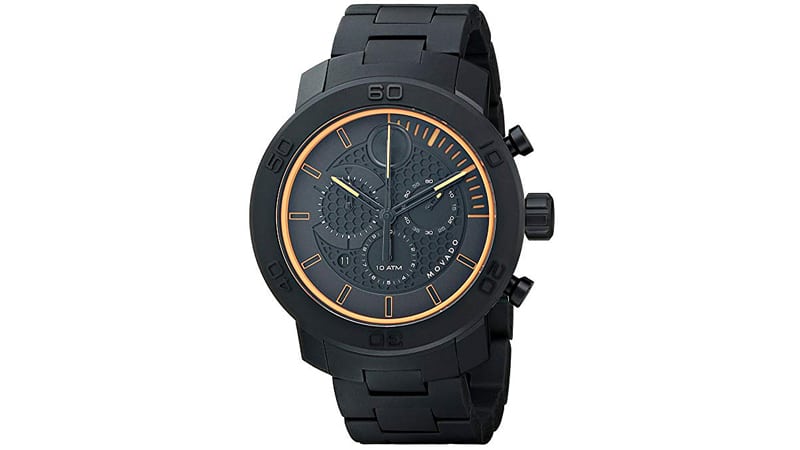 FAQs
Are titanium watches good?
Titanium watches are great because they're durable, lightweight, and stylish. They may not be as dressy as watches that use precious metals such as gold, but they make an excellent choice for daily wear.
What is the advantage of a titanium watch?
The light weight and strength of titanium are the two main advantages. It doesn't crack under pressure or corrode with exposure to saltwater. Titanium watches can also be really comfortable to wear because they are lighter and don't feel heavy or clunky on. It's also a good choice if you're prone to allergic reactions to certain metals.
Is titanium better than stainless steel?
It depends on what you're looking for as to whether titanium is better than stainless steel. Titanium is three to four times stronger than stainless steel, is hypoallergenic, and is less prone to warping, shattering, and corrosion. However, it can scratch easier and tends not to be as shiny. On the other hand, stainless steel is very scratch resistant, shinier, and more affordable than titanium. However, it can rust when exposed to wet conditions.
Can you polish a titanium watch?
You can polish titanium using metal polish and a soft cloth. This works well for fixing scratches, but due to the metal's nature, it's unlikely you'll get a super shiny finish. You can also polish brushed titanium using a refinishing pad that restores the original look.
Do titanium watches scratch easily?
Yes, while titanium is exceptionally strong, it has a lower hardness level, so it scratches more easily than other metals such as stainless steel.
SUBSCRIBE TO OUR NEWSLETTER
Subscribe to our mailing list and get interesting stuff and updates to your email inbox.