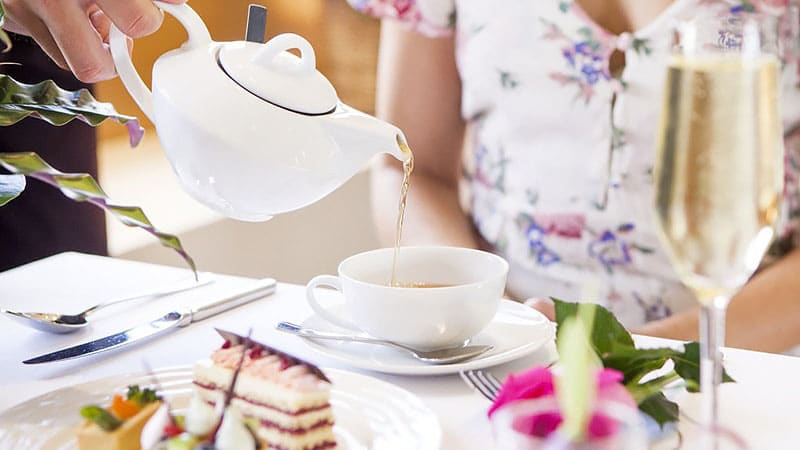 Who says grown-ups can't have tea parties too? After all there is nothing wrong with indulging in the finer things life has to offer once in a while. High tea is the perfect way to treat yourself, and your favourite pals. What could be better than a day spent sipping endless tea, bubbly, and coffee while snacking on scones and decadent desserts? Whether you want an afternoon of classic indulgence or like to discover something a little different, we have put together a list of best places to have high tea in Brisbane to satisfy your sweet tooth.
1. Room with Roses
Vintage decor, delicious food, and a high tea experience to remember; these are just some of the things you will find at Room with Roses. Located in the heritage-listed Brisbane Arcade, the cafe is one of the best in the city and prides itself on its friendly service; we all know great service makes all the difference. There are several high tea options to choose from, including the Deluxe High Tea, Chocolate High Tea, and Ultimate Chocolate Fondue High Tea; each choice has its own selection of treats, and prices vary. Room of Roses is open Monday to Saturday.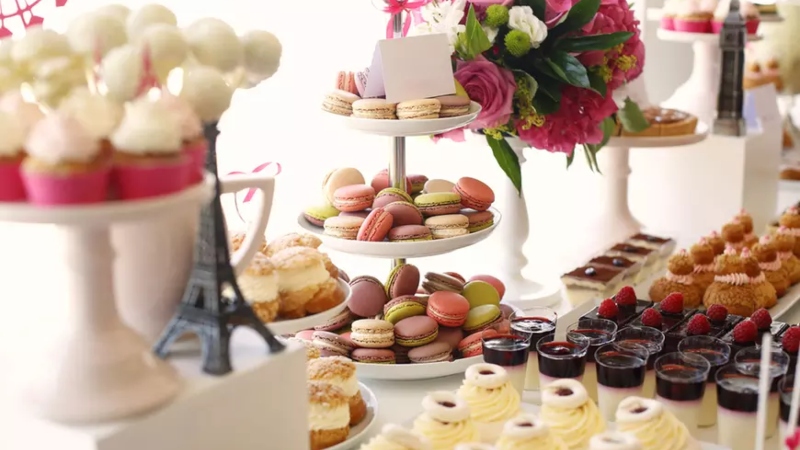 2. Oxley Cafe
Oxley Cafe has diner-style booths with a simple but quaint vibe. High tea here will be delivered with a smile as the company, which is family-run, prides itself on its friendly service and good food. You will be given a selection of treats and can sip on a delicious glass of sparkling wine during the experience, which will hopefully be memorable. Who knows, this may be your new favorite spot?!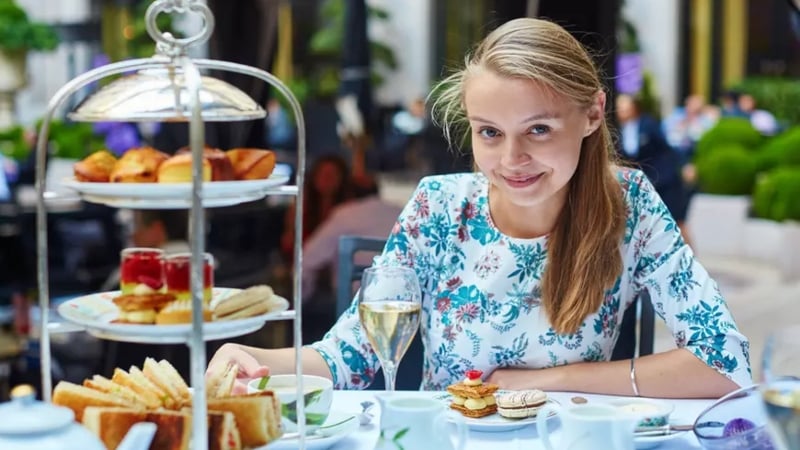 3. Shingle Inn City Hall
If you are looking for a great place to experience a traditional high tea in Brisbane, then let us introduce you to Shingle Inn City Hall. The appeal of this location is that it is one of the city's oldest cafes, established in 1936, and with its age comes an interesting history and charm. A selection of tasty treats is available, which are created daily onsite, including ribbon sandwiches and scones with clotted cream and preserves. The high tea also includes a selection of tea and coffee, and you will be welcomed with a refreshing glass of sparkling wine. Take your time and spend at least 90 minutes enjoying your high tea experience at Shingle Inn.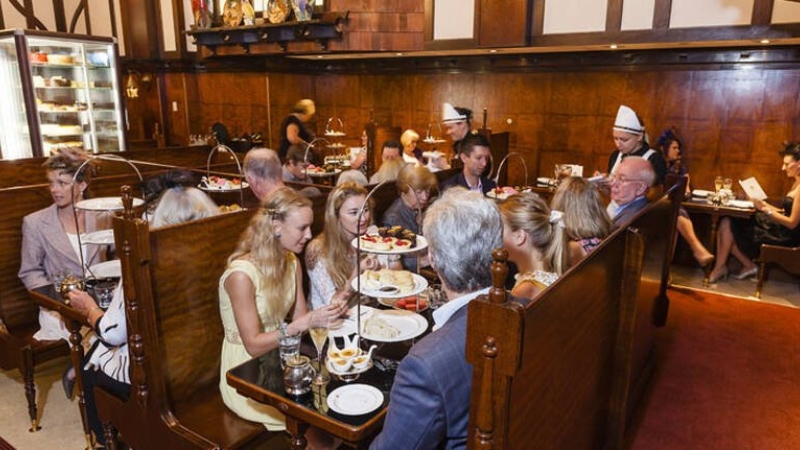 4. Cakes by Judy C
Located in Waterworks Road, Ashgrove, Cakes by Judy C is a specialty cake shop run by Judy Cook and her skilled team. It is a favorite location, highly rated by those who have visited. This shop may not be the fanciest on the list, but high tea will be delicious and great value for money. Munch on the Chef's selection of petit fours, sweet scones, and savory quiches while enjoying your favorite tea. This is high tea done right and will be a memorable and thoroughly enjoyable experience.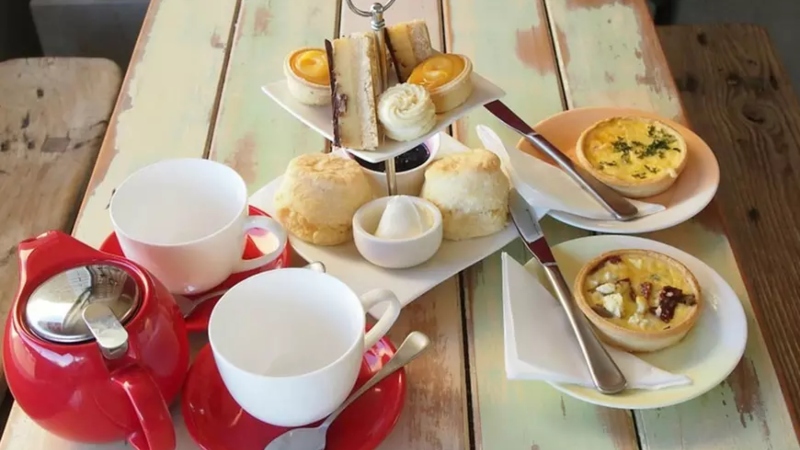 5. Sweet & Bitter Chocolate Boutique
Sweet & Bitter Chocolate Boutique is located in Queen's Plaza in Brisbane CBD and is the perfect location for lovers of sweet things. Highlights of the experience include a signature hot chocolate tasting, sampler chocolates, and macaroons. It is an opportunity to tantalize your taste buds and try some of the most delectable selection of treats. Plus, there are plenty of products to purchase to bring home with you.
VISIT: Sweet & Bitter Chocolate Boutique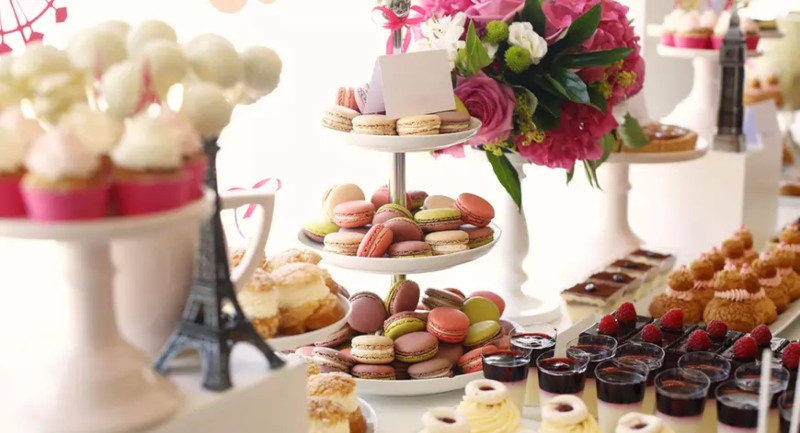 6. Darling & Co.
Darlings, high tea isn't simply about cascading sandwiches and scones with jam and cream. Get down to the stunning surrounds of Paddington's Darling & Co to rediscover the decadence of high tea. Indulge in the vast selection of yummy finger foods paired with your choice of local teas by West End Tea Co, or for something a little different try the Tanqueray G&T high tea set. Darling & Co's grown-up tea party lets you and your closest darlings enjoy four different gin-based cocktails alongside their menu of high tea bites. Tea bookings require a minimum of ten people.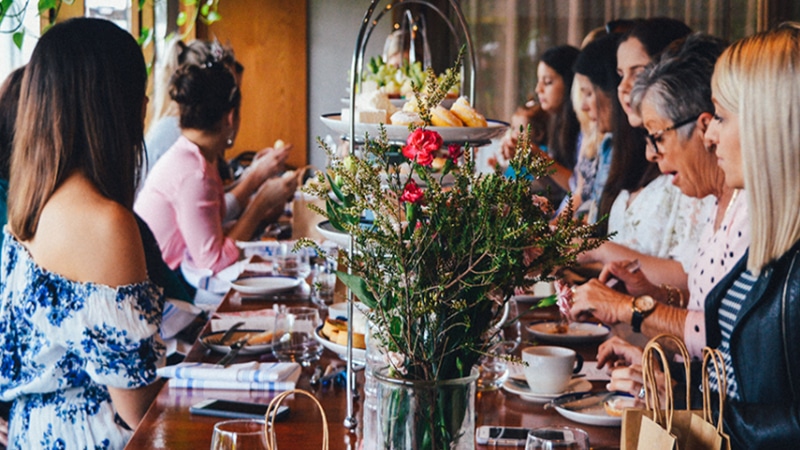 7. Customs House
Brissy's Customs House offers one of the most glamorous high tea experiences in the city. Nibble on dreamy scones, bite-sized desserts, and savoury snacks while sipping bubbly during their special Champagne High Tea Party. If a boozy brunch isn't your style, there are two other more traditional high tea options available, one being a special bridal party menu. So book your next hens day, birthday, work function, or girls day in the stunning art deco surrounds of customs house. Served on the restaurant's iconic terrace, you will also be treated to one of the best views Brisbane has to offer, as well as some of the best petite eats.
8. Sofitel Brisbane Central
While taking in the beautiful Brisbane views from Sofitel Brisbane Central, you can indulge in their signature high tea. Their menu boasts a decadent combination of classic snacks such as sones and ribbon sandwiches as well as some innovative French dessert by pastry chef, Joel Helot. The exclusive high tea is served daily from 11 am to 3 pm in Club Sofitel Lounge on the 30th floor and also in Cuvée Lounge Bar from 11 am to 4 pm but bookings are essential.
VISIT: Sofitel Brisbane Central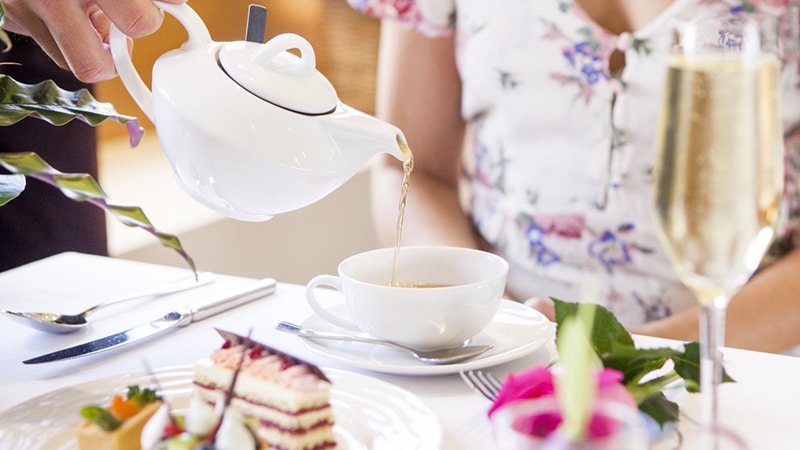 9. Passiontree Velvet
With one of the most affordable menus, Passiontree Velvet offers high tea starting at just $13.50 per person. Their mission is to revive the decadent pass time in honour of its inventor, Anne Maria Russel, and make it accessible for everyone. They have crafted their range of goodies and menus to suit every occasion and group size. Choose from the simple selection of scones with jam and cream served with classic British tea or the more extravagant Duchess Full High Tea. This includes ribbon finger sandwiches, warm baked scones with jam and cream, and an array of High Tea fancies for $34.95 per person. They also offer the adorable Teddy Bears Picnic for the little ones.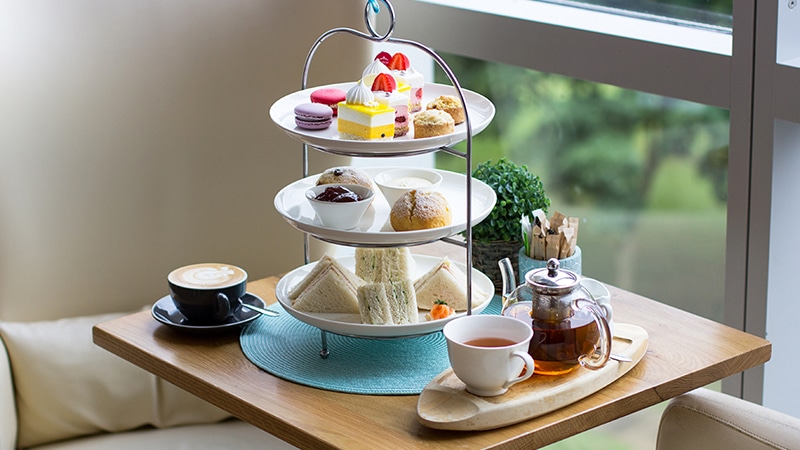 10. Room With Roses
Nestled away above the heritage-listed Brisbane Arcade is high tea specialists, Room With Roses. The iconic cafe offers the most individual dessert experience in the sunny city. You can choose from the Deluxe High Tea for $42 per person, Chocolate High Tea for $45 per person, and the Ultimate Chocolate High Tea for $49 per person. For an extra $8 you can also add a glass of Tatachilla Premium Brut High Tea Bubbles to any of the menus. And for an additional $4, you can also choose from a selection of yummy vegetarian and gluten-free eats. Room With Roses also sells High Tea Picnic Hampers which include a bottle of bubbles, disposable napkins, plates, cutlery, and champagne flutes.
11. Dandelion and Driftwood
Dandelion & Driftwood is a whimsical cafe that specialises in creating delicious, house-made coffee and tea blends. So you know their high tea will be unique. They offer two menu options, one entirely sweet and one with both sweet and savoury foods. Each is served with your choice of a pot of tea or cup of coffee. Including a range of scones, tarts, cakes, and macarons, their sweets menu starts at $25 per person. While the combined menu, which offers four ribbon sandwiches and other savoury snacks, starts at $35 per person.
VISIT: Dandelion and Driftwood
12. Stamford Plaza
Whether you're sipping sweet tea in the lobby lounge or soaking up the sun in the Brasserie marquee overlooking panoramic river views the Stamford Plaza's high tea will not disappoint. Known for its unique take on traditional high tea, the Stamford Plaza's menu is inspired by the tastes of Queensland and Australia and is fit for a queen. Her Majesty Queen Elizabeth II, in fact, sampled it during her most recent trip to Brissy. The two-hour-long Aussie-inspired high tea features sweet and savoury treats including a fancy lamington, sugarcane shortbread, scones served with cheese and vegemite, and petite Daintree barramundi, leek, and dill quiche.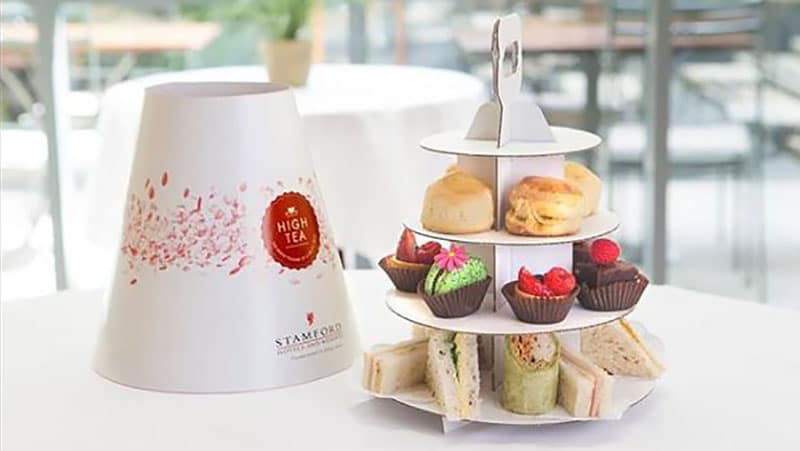 13. Treasury Hotel Brisbane
Treasury hotel lets you experience traditional English high tea minus the derriere whether right here in the heart of sunny Brisbane. With bottomless La Maison Du Thé French tea, a favourite blend of leaves among tea lovers, the lavish luncheon is situated in the Treasury Hotel's The Lab. If you're unfamiliar, The Lab is the hotel's luxurious and multi-award-winning restaurant. Head chef Steven Jones mastered the art of high tea while living in London. The menu boasts a dreamy selection of mouth-watering macarons, sandwiches, and other decadent desserts. If you're really looking to treat yourself, you can upgrade to the Premium Pairs Package which includes a bottle of Moët & Chandon.
VISIT: Treasury Hotel Brisbane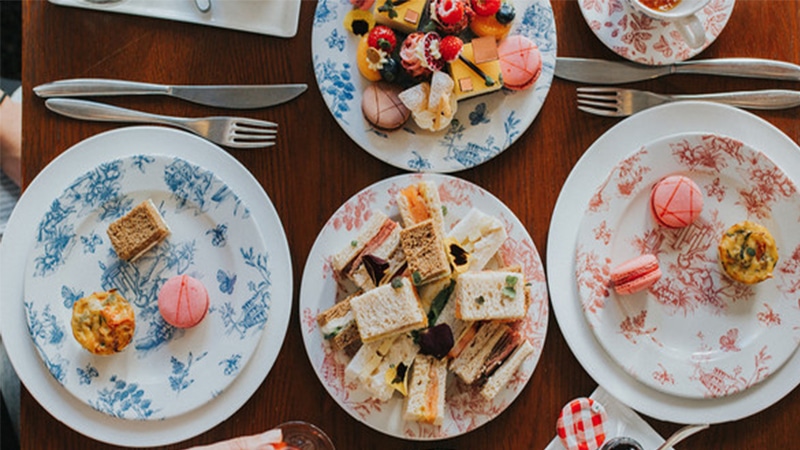 14. The Balfour Kitchen
From chocolate coated seasonal fruits to simply delicious slices and the inventive Earl Grey ganache tartlets, Balfour Kitchen offers a high tea experience, not to be missed. They boast a traditional menu as well as their signature style high tea come complete with your choice of bubbly or cuppa. The menu is seasonal and subject to change but some of their delicious eats include honey pattie on charcoal brioche, Pumpkin and labneh tart, and sweets like Lindt choc chip cookies, lemon myrtle tarts, and chocolate brownies.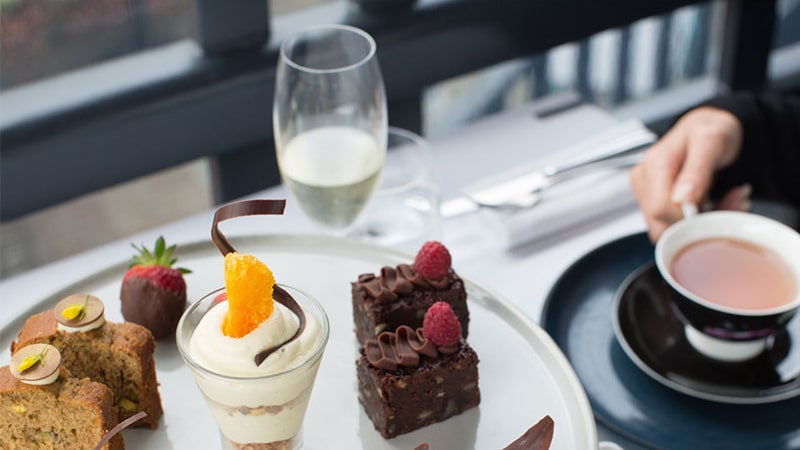 15. Bacchus
Perched atop the podium of Rydges South Bank sits multi-award-winning restaurant, Bacchus. The home of Dom Perignon, Bacchus offers an unbeatable dining and high tea experience. Diners range from four different high tea options including the Quintessential High Tea which boasts freshly baked treats and gourmet teas for just $38 per person. They also offer the Chandon Sparkling High Tea, Moët Champagne High Tea, and the Dom Pérignon Champagne High Tea which range between $53 to $89 per person. With to die for salted caramel macarons, the Passionfruit Meringue Tartlet and savoury selections like Black Brioche with Chicken & Celery, Smoked Salmon & Dill Cream Cheese Cone and ribbon sandwiches, you will undoubtedly leave feeling satisfied.
FAQs
Where can I get high tea in Brisbane?
There are lots of places in Brisbane where you can indulge in delicious high tea. Try Darling & Co., Customs House, or Sofitel Brisbane Central.
What can I expect at high tea?
High tea is a perfect refined social occasion for a group of friends, with fancy crockery, teaware, napkins, and silverware. Upon arrival, you'll get to choose your tea of preference. Most places offer classic black teas such as Assam, Orange Pekoe, and Earl Grey but might also have herbal options or even unique blends. You'll then be served a selection of small sweet and savory treats, often on a serving tower.
A high tea menu generally consists of a mix of sweet and savory treats. This might include finger sandwiches, quiches, mini-tarts, vol-au-vents, scones with jam and cream, cupcakes, macarons, slices, and mini-cheesecakes. The food will be accompanied by a pot of tea, with Assam, Orange Pekoe, and Earl Grey the most common. Some venues might also serve it with a glass of sparkling wine for something extra special.
SUBSCRIBE TO OUR NEWSLETTER
Subscribe to our mailing list and get interesting stuff and updates to your email inbox.