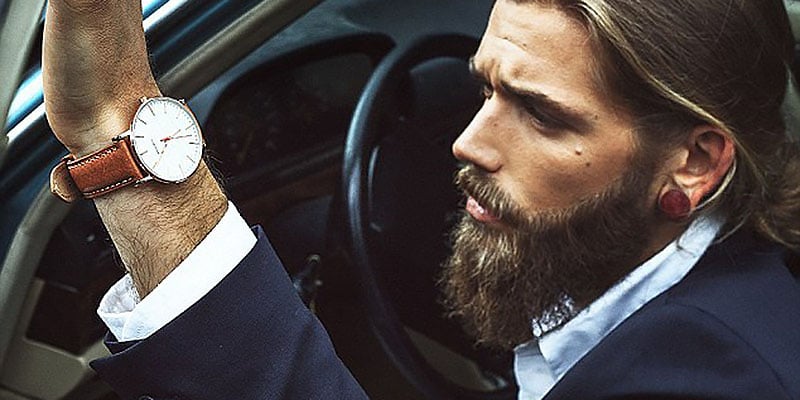 Most men want a practical, stylish watch and versatile enough to wear with any outfit. So, where do you find something that fits the bill and the budget? With some money in the bank, we have found this season's best men's watches under $500.
1. Nixon Timeteller Watch
The Nixon Time Teller offers classic sophistication with a modern twist. The sleek silhouette is perfect for expressing your unique aesthetic, while its 100m /10 ATM water rating ensures that no matter the environment – you're covered! You can choose from several finishes to collaborate with whatever style suits you best and enjoy special features like jewelry-style sliding buckles or leather band buckles. Accurate Japanese quartz 3-hand movement rounds off this piece of timeless heritage which Nixon has so beautifully crafted into an icon.
Brand: Nixon
Size: 40 mm
Movement: Miyota Japanese quartz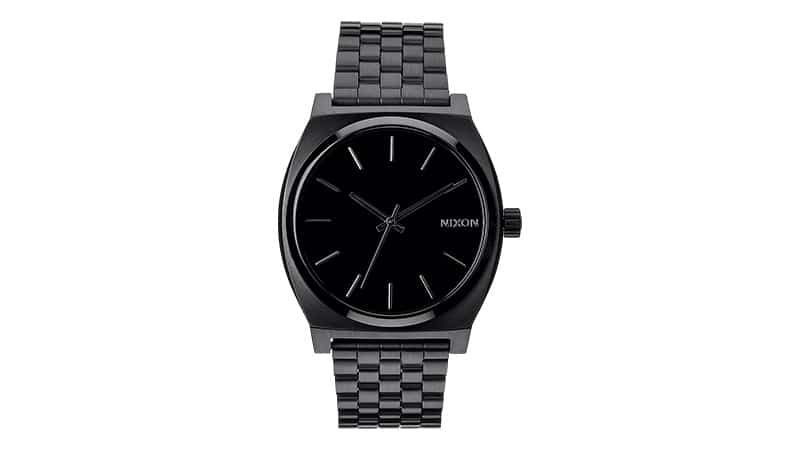 2. Orient Triton Automatic Blue Dial Pepsi Bezel Men's Watch
By combining Japanese expertise in design with eloquence, the Orient Triton Automatic is the watch of timeless styling and mechanical finesse. As another stainless-steel case and bracelet dive watch, watch collectors have sought this timepiece for its unique and luxe-looking character — it continues to stand the test of time. Moreover, its uni-directional rotating stainless steel bezel, blue dial, and is touched up with 22 glittering jewels will have heads turning.

Brand: Orient
Size: 43.4 mm
Movement: Automatic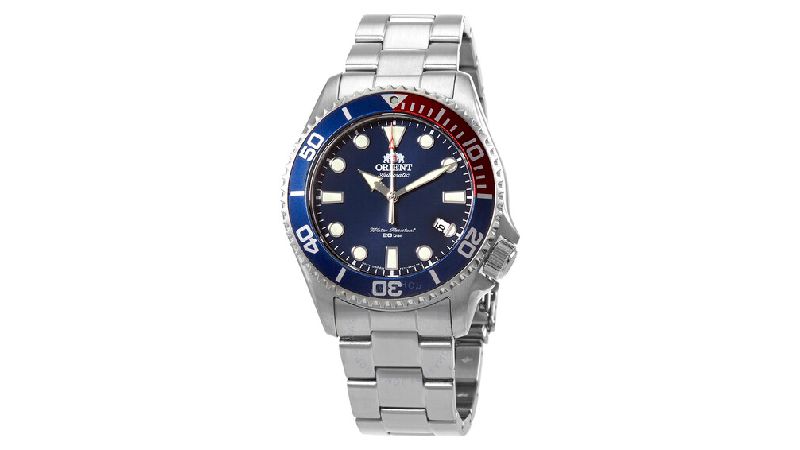 3. Tissot T-Race Swissmatic Automatic Blue Dial Men's Watch
Embodying Swiss quality and innovation since 1853, Tissot has cemented itself as one of the biggest watch brands in the world. Swaggering a stainless-steel case with a blue leather strap, blue dial, silver-tone hands, and markers decorated with 19 jewels, the Swissmatic movement is a true innovation in the watch-making industry.

Brand: Tissot
Size: 45 mm
Movement: Automatic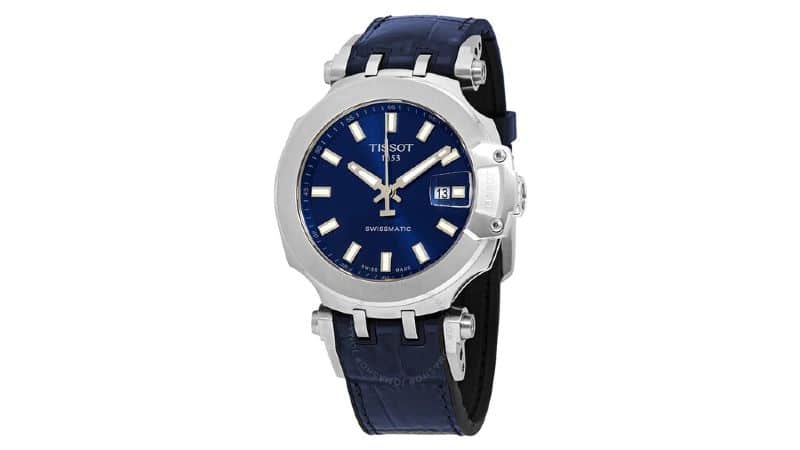 4. Shinola Canfield Chronograph Quartz White Dial Men's Watch
Classic chronograph with a twist. The Canfield Chrono is a unique timepiece with a top-loaded case construction for a larger face and clearer view. From the neatly framed date window to the smooth dark leather strap, its craftsmen believe details weren't meant to be overlooked; they were meant to be celebrated. Addedly flaunting silver-tone hands and a classic profile, the Canfield can accentuate even the least stylized of men.

Brand: Shinola
Size: 40 mm
Movement: Quartz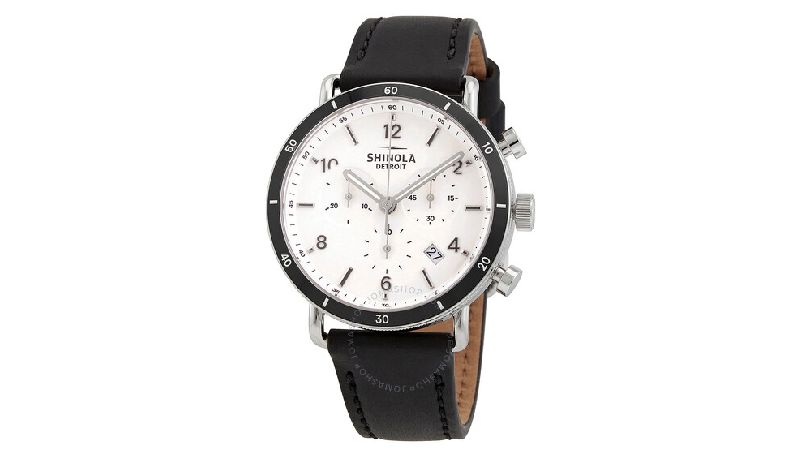 5. Timex Intelligent Quartz Chrono Timer Black Dial Men's Watch
Smooth and sophisticated, this stainless-steel stalwart is the stylish sports timepiece that'll complete any man's chronograph collection. The watch is forged from stainless steel and bears a black dial that oozes masculinity. Boasting a count-down timer to auto-start chronograph, perpetual calendar and day of the week sub-dial, the Chrono is easily one of the high-quality wristwatches for this price compartment manufactured by the best in the world.

Brand: Timex
Size: 46 mm
Movement: Quartz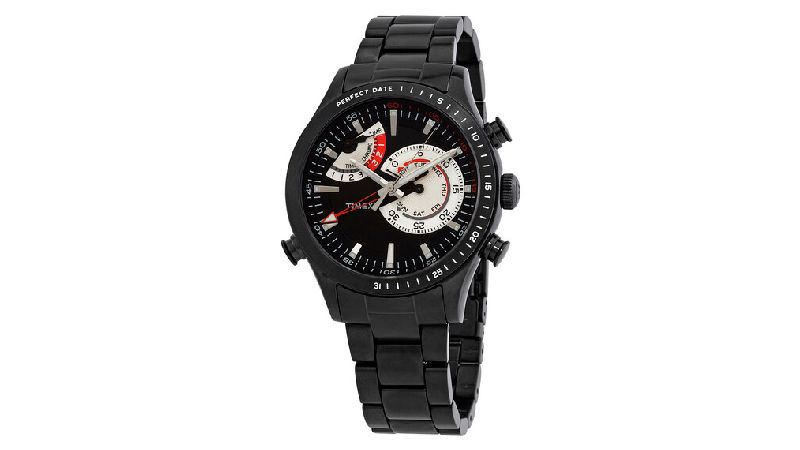 6. Victorinox I.N.O.X. Quartz Black Dial Men's Watch
Victorinox's consistent focus has been on tradition, quality, and innovation. The I.N.O.X. watch is made to endure a life of daring and has been forged for those who love the outdoors. Distinctly being 200 meters water-resistant, consisting of a black carbon case with a black textile strap, black dial gunmetal hands, and Arabic numeral hour markers make the timepiece designed for demanding environments. It's been labeled a casual watch style but is fitted for the maverick man type.

Brand: Victorinox
Size: 43 mm
Movement: Quartz

BUY: Jomashop BUY: Amazon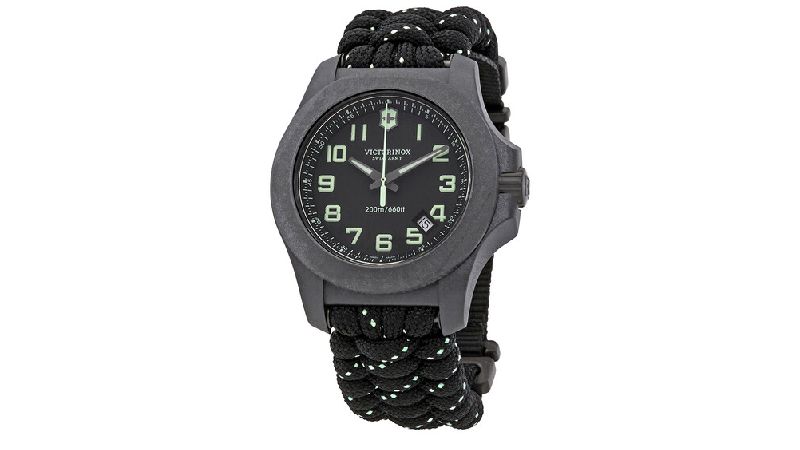 7. Versace Essential Quartz Silver Dial Men's Watch
Exuding a classic sense of refinement, the Essential timepiece is a stand-out by dint of its pizzazz and well-known brand cues. With its iconic Silver Medusa Head dial, silver-tone hands, and stainless steel case with a black and green leather strap, this casual and contemporary piece is the essence of strong fashion features. The luxe trapping is an essential accessory for urban men with a timeless sense of style.

Brand: Versace
Size: 40 mm
Movement: Quartz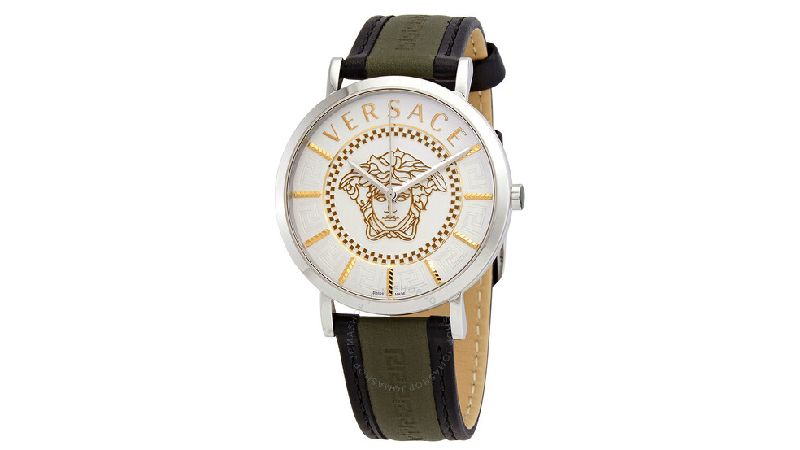 8. Heritor Atlas Blue Dial Men's Watch
Every Heritor ticks a precision-crafted mechanism. The Atlas Blue Dial is fashioned from top-grade stainless steel. It flaunts an arresting blue dial with transparent yellow gold-tone hands, ensuring the intricate workings of the automatic movements are shamelessly shown. While remixing vintage and modern style cues, expect the Heritor Atlas to grant a lived-in feel and state-of-the-art functionality on par with performance-driven alternatives. Slip on the Heritor watch with any office outfit.

Brand: Heritor
Size: 44 mm
Movement: Automatic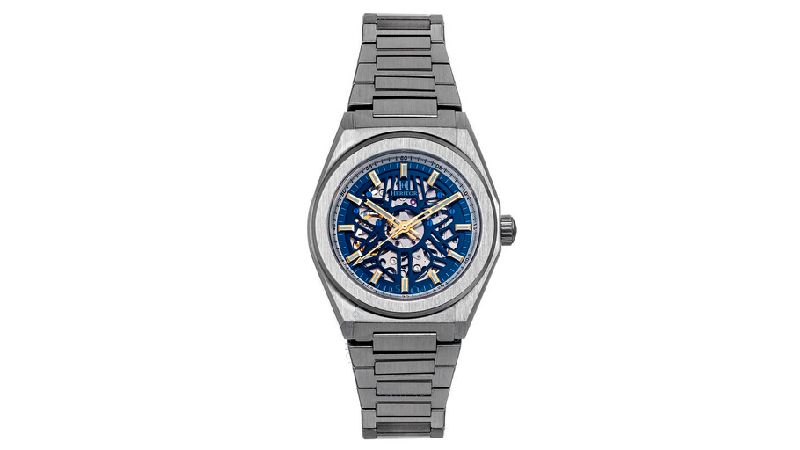 9. Philip Stein Prestige Quartz Men's Watch
A sassy design by Stein. The almost all-black timepiece is a casual watch style and makes its presence known on any wrist. The dial features a sub-second sub-dial coupled with the day of the month display. A stainless-steel case with a scratch-resistant sapphire crystal ensures the prestige handles adverse conditions accordingly, and a leather band makes for comfy wear. The Philip Stein Prestige quartz watch is a smart-looking timepiece for any occasion.
Brand: Philip Stein
Size: 47 mm
Movement: Quartz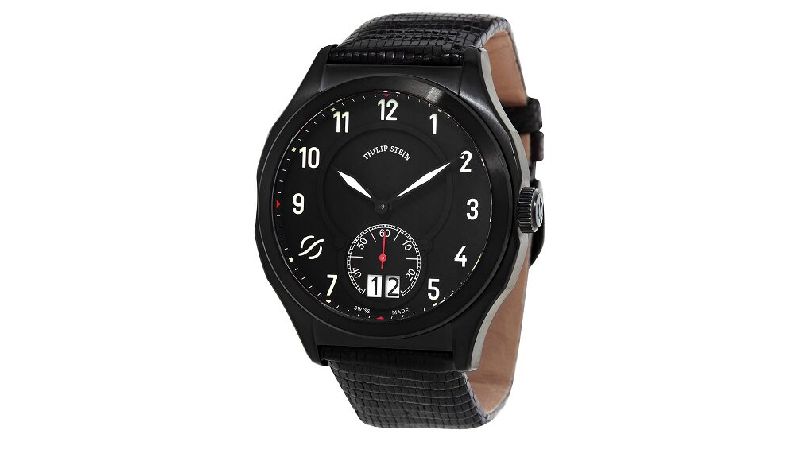 10. Heritor Open Box Carter Silver Skeleton Dial Black Men's Watch
The Heritor Carter Silver Skeleton is a premium design complete with high-quality materials. The timepiece has a sleek analog display with a black dial and a genuine crocodile-embossed leather strap with a buckle clasp to give a precise fit. The masterwork resonates well with the essence of Heritor Armstrong watches as it comes with impeccable design, engineering, and execution. The Carter guarantees you'll look better no matter how sleek your outfit looks.

Brand: Heritor
Size: 42 mm
Movement: Automatic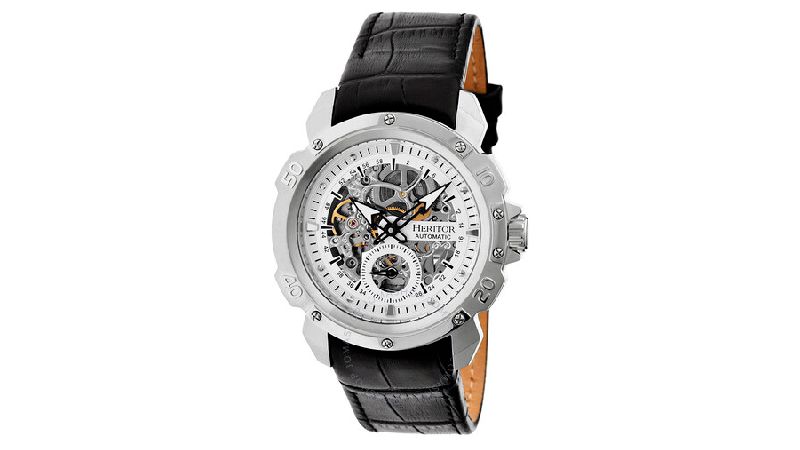 11. Citizen Eco-Drive Men's AT4010-50E Watch
In 1995, Citizen revolutionized how watches were created when they released their first light-powered Eco-Drive watch. This technology, which is used in their new Eco-Drive Titanium Perpetual Chrono A-T model, harnesses power from any artificial or natural light source. This light is then converted into energy that is stored in a lithium-ion cell so that the watch may recharge itself on light indefinitely. In conjunction with a sharply masculine design, the watch's materials ensure it is durable and water-resistant to 200m. Sleek silver titanium forms the watch's chain link band, case, and bezel. Additionally, the dial window incorporates anti-reflective sapphire crystal making it scratch resistant. Synchronized to the atomic clock and featuring a Japanese quartz movement, this highly accurate watch will ensure that its owner will never be a second late.
Brand: Citizen
Size: 42 mm
Movement: Japanese Quartz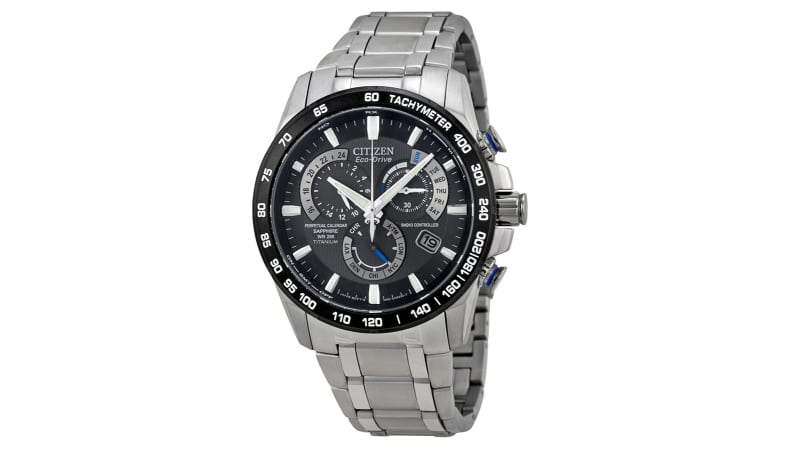 12. Invicta Men's 8928OB Pro Diver Automatic Watch
Reminiscent of deep blue waters and sunken treasure, this two-tone watch delivers a luxury design that is guaranteed to capture the attention of onlookers. A stainless steel three-link bracelet is accentuated with 23K gold plating, matching the 40mm gold plated round case. Adding further refinement, the luminous hands are crafted into the shapes of a sword, breguet, and a Mercedes logo. Powered by Japanese automatic movement, the mechanisms of this self-winding watch may be further admired through the skeleton case back. This classic, sophisticated piece is water-resistant to 200m and features a resilient mineral crystal face, making it the perfect watch for the land, the sea, or the boardroom.
Brand: Invicta
Size: 40 mm
Movement: Automatic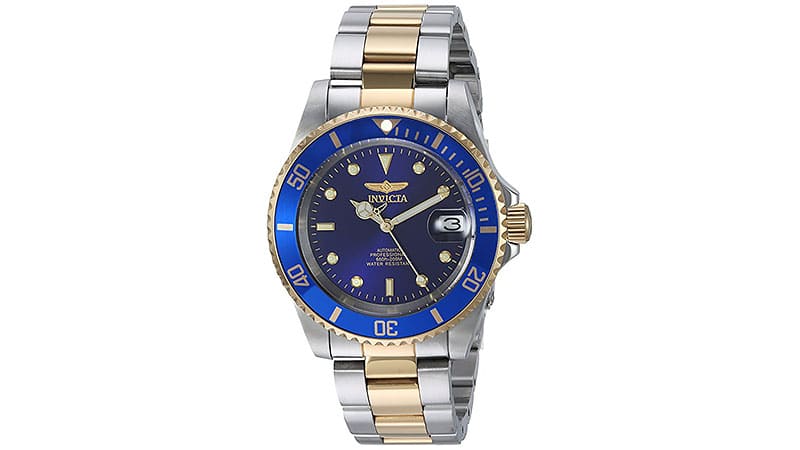 13. Seiko Men's SNN241 Stainless Steel Watch
The rich, deep hues of oak and the polished finish of stainless steel come together in Seiko's quintessential men's watch. Lightness and darkness complement one another in this timeless piece, which features a brown leather band and a 42mm stainless steel case. Encased beneath scratch-resistant Hardlex crystal, the dark brown dial is illuminated by white detailing. This includes two subdials, a date window, and luminous hands and hour markers. This chronographic watch uses a Japanese quartz movement and is water-resistant to 100m, making it suitable for any occasion.
Brand: Seiko
Size: 43 mm
Movement: Japanese Quartz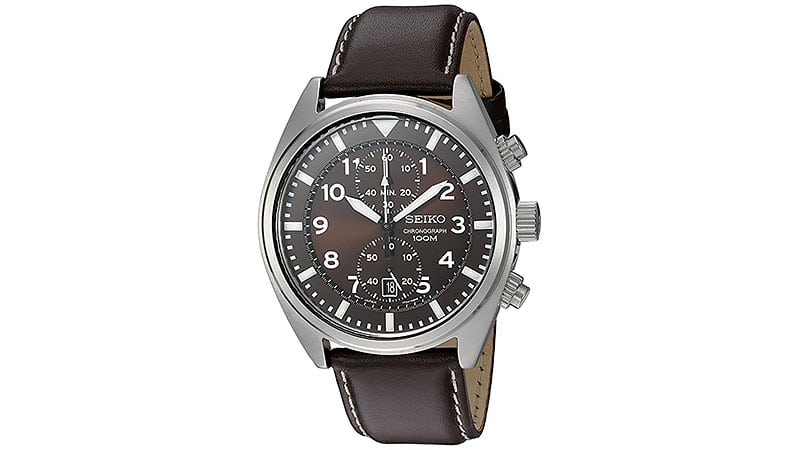 14. Orient Men's FAA02005D9 Ray 2 Analog Watch
Dive deep into the ocean with Orient's Men's Ray 2 Watch, which is water-resistant for up to 200m. With a stainless steel band and a deep-sea blue dial, this robust watch is essential for the adventurous man. The elegant design of the Orient Ray 2 makes it the perfect timepiece to tackle the crisp ocean waters or to complement a sharp-looking suit. This timeless mechanical watch harnesses the Japanese automatic movement and is powered by the wearer's body movement. The self-winding function means that it will never require a battery; however, it can also be powered through hand-winding or hacks. Additionally, the mechanical movement ensures that the sound of its hands is a smooth, sweeping silence, as opposed to the ticking of a quartz movement.
Brand: Orient
Size: 41 mm
Movement: Automatic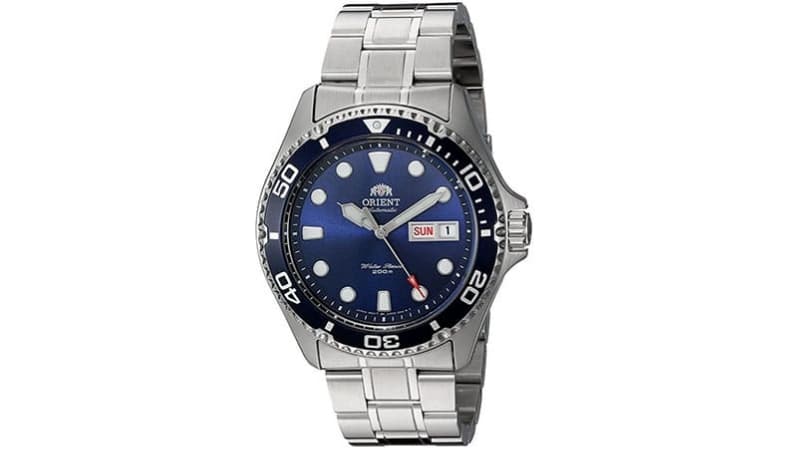 15. Jack Mason

Aviator Chronograph
The Jack Mason Aviator Chronograph watch combines classic style with modern features. The navy sunray dial is complemented by the Italian brown leather strap and is comfortable for everyday wear. Harnessing a Japanese Quartz movement, this timepiece is water-resistant up to 100m. The watch is compatible with any 22mm straps, so you can dress your watch for any occasion.
Brand: Jack Mason
Size: 42 mm
Movement: Automatic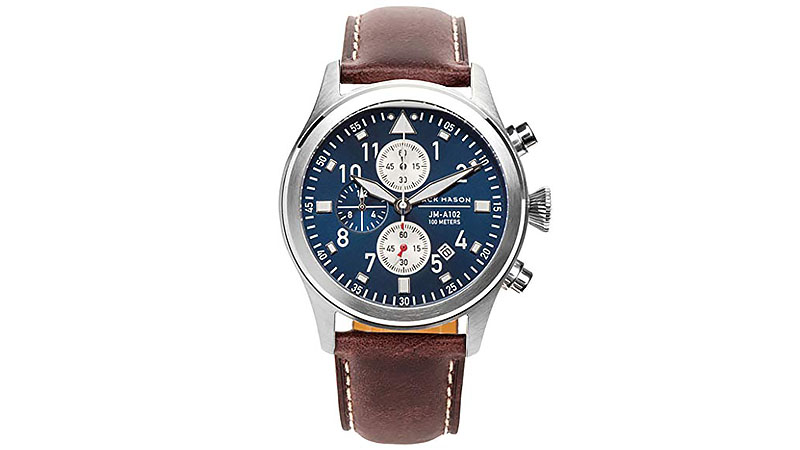 16. Hamilton Men's Stainless Steel Automatic Watch
For men looking for an added air of distinction, Hamilton's Khaki Field Stainless Steel Automatic watch provides the answer. The versatile watch combines the timeless, luxurious feel of a deep brown calfskin leather band with the modern refinement of a stainless steel case. Harnessing an automatic self-winding movement, it is water-resistant to 100m with a scratch-resistant, anti-reflective sapphire dial window. It, therefore, excels not only in sophisticated aesthetic design but also in its functionality and durability. A black dial ensures increased luminosity of the watch's silver hands, numbers, and date display.
Brand: Hamilton
Size: 42 mm
Movement: Automatic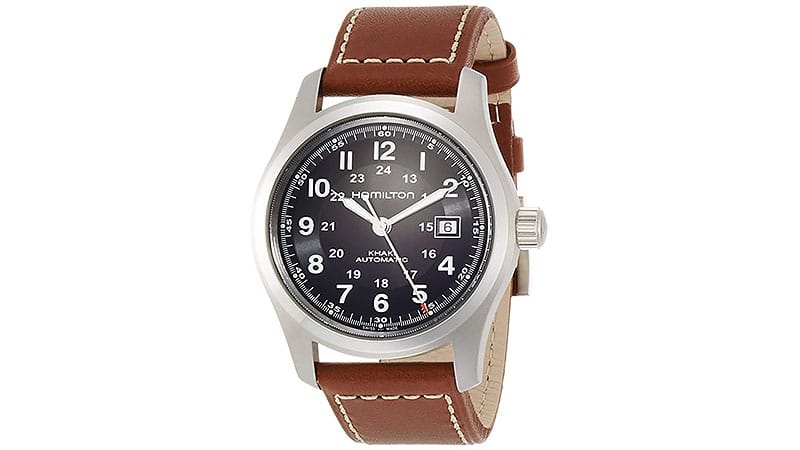 17. Daniel Wellington, Classic Bristol 40mm
The Daniel Wellington, Classic Bristol watch, is the quintessential watch for men. It is simple, elegant, and classic with its brown leather band, eggshell white round dial, and silver-toned detailing. This watch will suit anyone and is appropriate for any occasion making it the perfect choice for any man.
Brand: Daniel Wellington
Size: 40mm
Movement: Japanese Quartz
BUY: The Iconic BUY: Daniel Wellington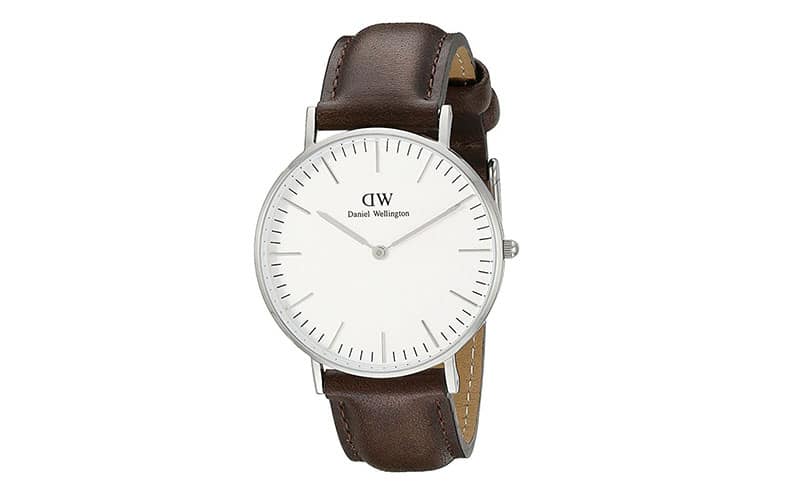 18. TRIWA Nevil Quartz Black Dial Black
The Triwa Nevil Quartz Black Dial Black watch has a genuine leather strap, a stainless steel sunray dial with silver chronograph sub-dials, and a high contrast second hand. This timepiece features a hand-cut acetate case, push buttons on the side, and a silver-toned bezel.
Brand: Triwa
Size: 42 mm
Movement: Quarts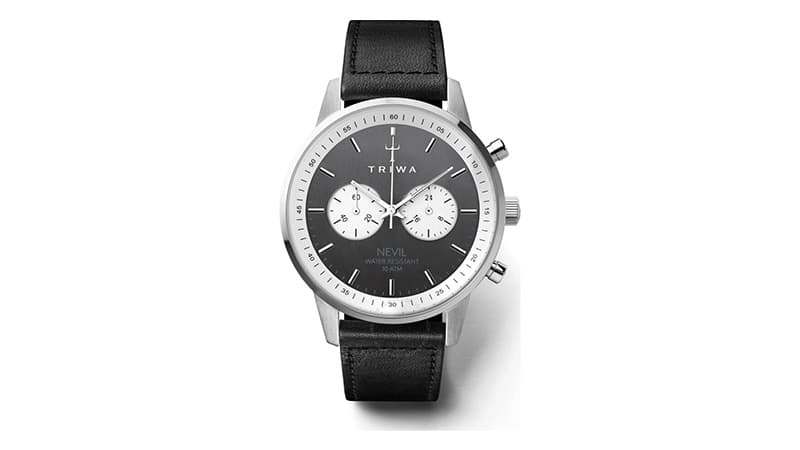 19. Calvin Klein Time Quartz Silver Dial Watch
The Calvin Klein Time Quartz Silver Dial watch is all luxury with a classic round white dial and has a date function. It will look good with a work suit, at a black-tie event, or with a simple button-down and chinos on the weekend. The pure elegance of this watch will match any occasion.
Brand: Calvin Klein
Size: 40 mm
Movement: Quartz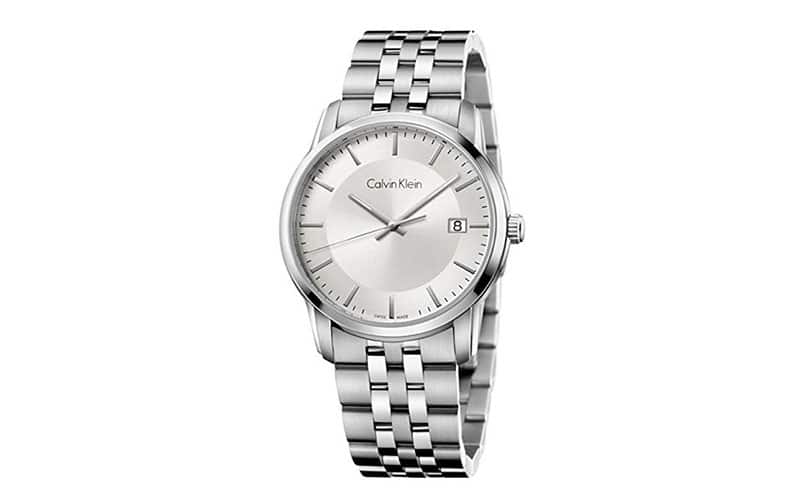 20. Emporio Armani Kappa Black Dial Watch
Just like Armani, a black leather watch will never go out of style. This classic piece features a textured leather strap, pin buckle fastening, chronograph detail, and a round face with Roman numeral dials and Armani brand. It is a classic watch appropriate for work and the weekend.
Brand: Emporio Armani
Size: 42 mm
Movement: Quartz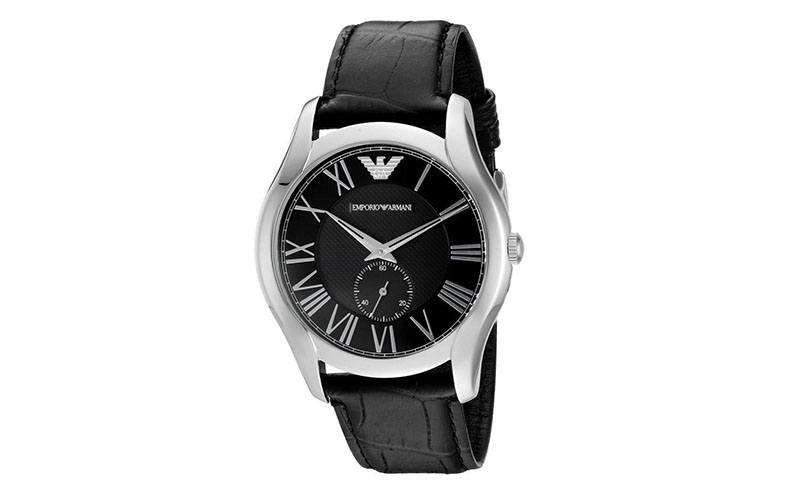 21. Citizen Men's BM8180-03E Eco-Drive Analog Watch
This military-inspired design is another essential men's watch created by the innovators at Citizen. Eco-Drive technology allows its Japanese quartz movement to be powered by light. Whether worn in the office or in the wilderness, it will convert any light into energy. Perfect for adventurous explorers, it features a woven khaki canvas band with stitch detailing and a stainless steel case and black dial. Additionally, this rugged watch is water-resistant to 100m with a durable crystal dial window.
Brand: Citizen
Size: 37mm
Movement: Eco Drive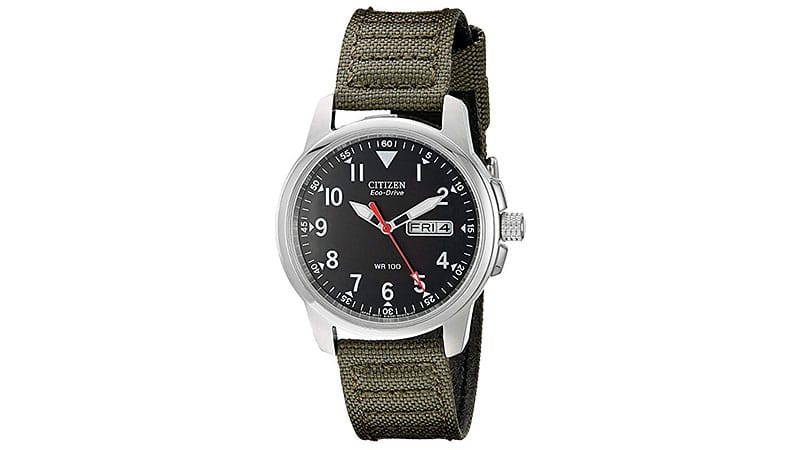 22. Casio Men's 'G-Shock' Quartz Resin Sport Watch
Casio's timeless, heavy-duty sports watch is necessary for athletic men. Bringing timepieces into the digital age, this watch features a digital display instead of the traditional analog. Perfect for competitive or aspiring sportsmen, this design ensures that the accompanying countdown timer and stopwatch can be followed to the millisecond. With added features of shock resistance, water resistance to 200m, and an afterglow EL backlight on the dial, this watch is built for endurance and exploration. The black resin band and casing may be brightened with red, yellow, or grey side detailing. The Casio Sports Watch is also available in a strong, all-black design for men looking for a single-colored watch.
Brand: Casio
Size: 43 mm
Movement: Japanese Quartz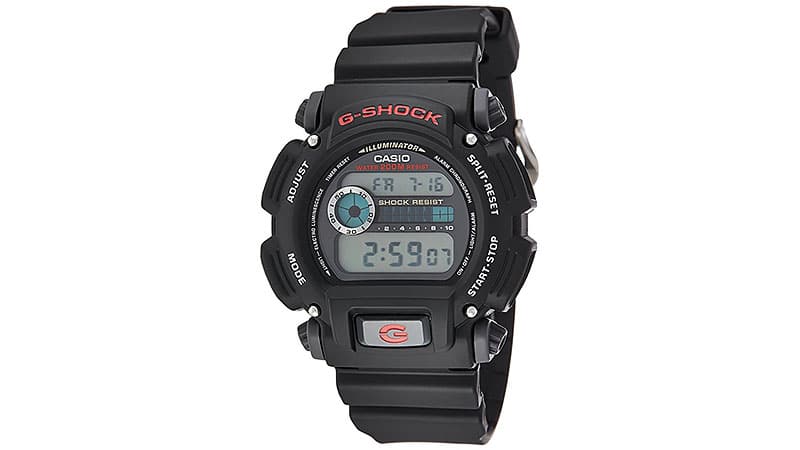 23. Skagen Men's Titanium Watch
Refined and unique, Skagen's Titanium Watch uses bold orange accents to create the ideal accessory for businessmen. A simple stainless steel mesh band and silver titanium case provide a streamlined, professional look. Additionally, the grey dial features a ring of orange that functionally measures seconds while also expressing the wearer's style and creativity through this subtle burst of color. This versatile watch grew from Skagen's desire to combine Danish design with contemporary innovation. It uses a quartz movement and is water-resistant to 50m.
Brand: Skagen
Size: 40 mm
Movement: Quartz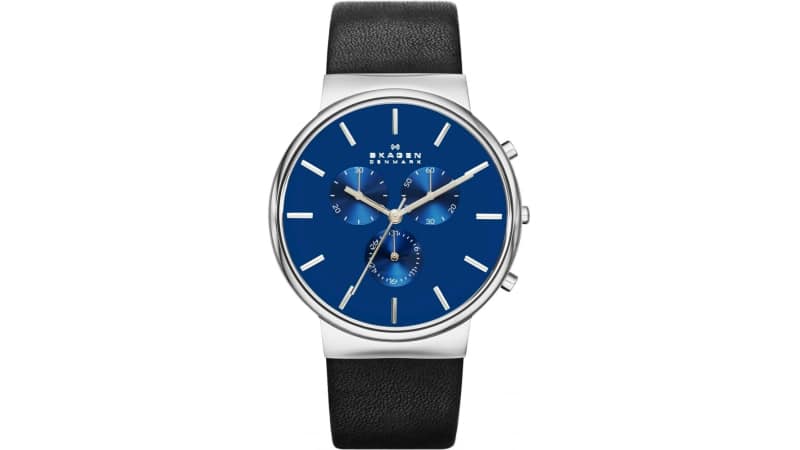 24. Armani Exchange Men's Classic Stainless Steel Watch
Armani is a respected brand in the fashion industry, but they also make great accessories, like watches. The Armani Exchange, stainless steel watch, comes in various colors, including solid black. The design features a mineral dial window and ribbed hour track and uses the Quartz movement with an analog display. It's a stylish piece and an excellent gift for yourself or a loved one.
Brand: Armani
Size: 46 mm
Movement: Quartz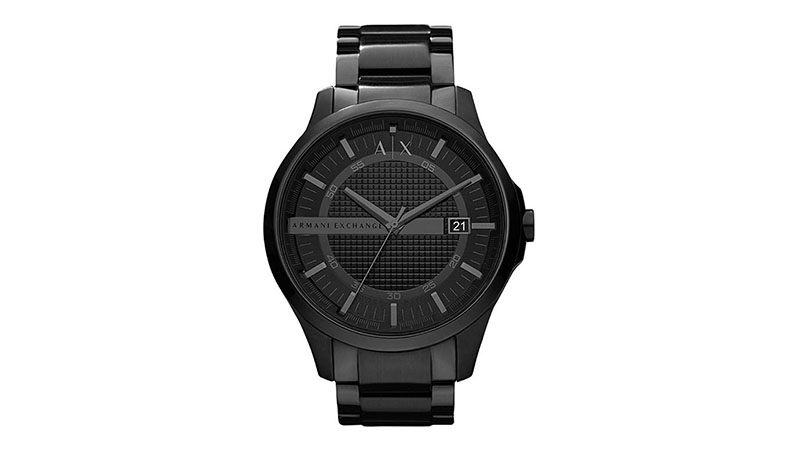 25. Fossil Men's Grant Stainless Steel Quartz Watch
Fossil wants to create watches that work well and are fashionable and fun. It's safe to say they succeeded with the Grant Stainless Steel and Leather Chronograph Quartz Watch. The intricate blue dial features Roman numerals and three separate dials to monitor hours, minutes, and seconds over 24 hours. The contrast of the dial with the brown leather band makes it an eye-catching watch — the bands are also interchangeable — that can be worn for short periods during showering or recreational swimming.
Brand: Fossil
Size: 44 mm
Movement: Quartz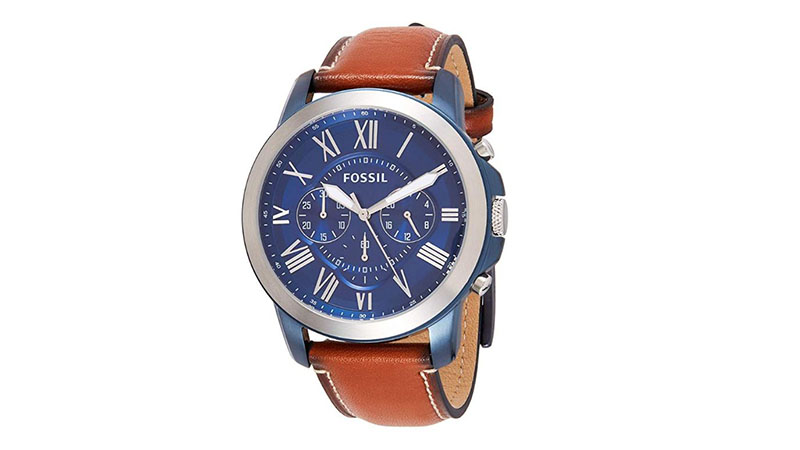 26. Timex Men's Weekender 40mm Watch
You don't need to spend much money on a good watch. Despite the Timex Men's Weekender 40mm Watch being at the lower end of the price range, it's still able to compete with the more expensive watches out there. The design is simple, featuring a black Indiglo light-up dial with Arabic numerals and 24-hour military time. The leather strap is adjustable and offers quick-release spring bars for easy use.
Brand: Timex
Size: 40 mm
Movement: Quartz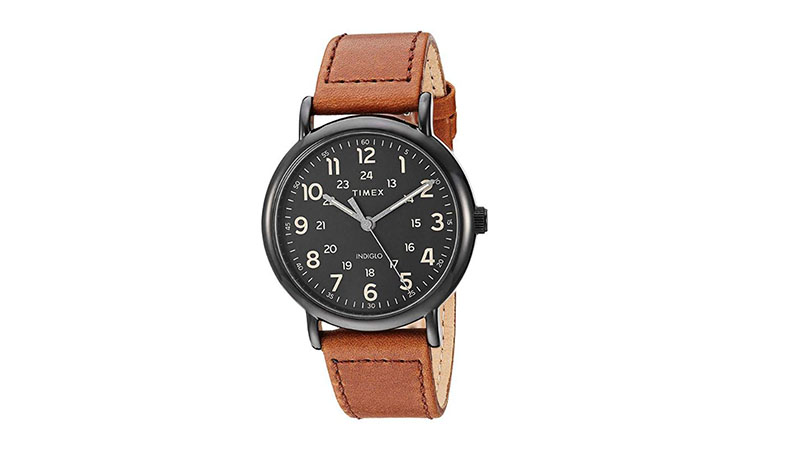 27. Skagen SKW6105 Ancher Watch
Dark calfskin leather and shining stainless steel combine to form Skagen's Ancher Black Leather Watch. With a minimalist, clean aesthetic inspired by Danish design, this piece is both versatile and timeless. A refined 40mm stainless steel cases frame a dusk blue dial with luminescent silver hour markers and three sunray subdials. With water resistance to 30m and chronographic, time recording functions, this watch is perfect for athletic men interested in swimming or other sports. Featuring a quartz movement, the Ancher is therefore sleek and sophisticated and focuses on functionality.
Brand: Skagen
Size: 40mm
Movement: Quartz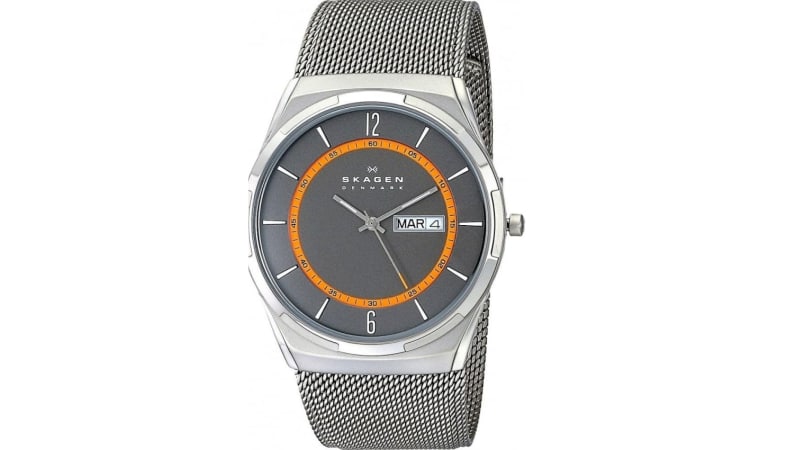 28. Orient Men's 'Ray II' Japanese Automatic Stainless Steel Diving Watch
Orient has manufactured watches since 1950, and their Ray II collection has been upgraded in several ways, including 120 clicks for improved precision. The timepiece uses the Japanese-automatic movement and is considered by Orient to be a great alternative to some of their other dive watches. Celebrated for its brightness and long-lasting, the Ray II is also water-resistant for 200 meters.
Brand: Orient
Size: 41 mm
Movement: Automatic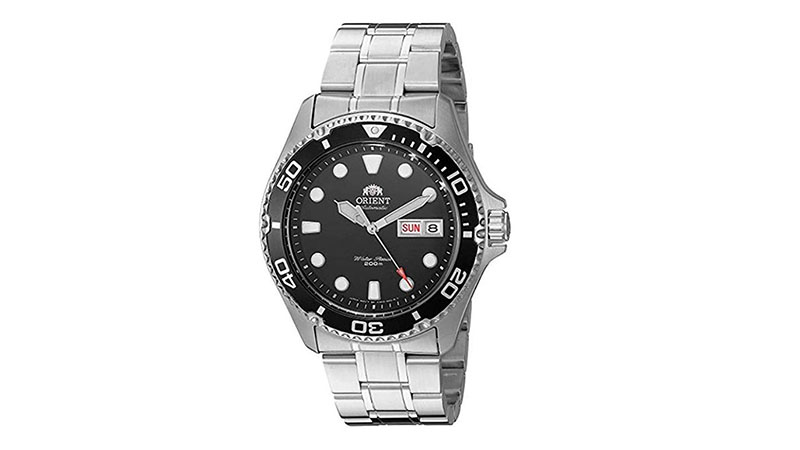 Watches Under $500 FAQs
What are the best watches under $500?
Some of the best watches under $500 include Citizen Eco-Drive Men's AT4010-50E Watch, Invicta Men's 8928OB Pro Diver Automatic Watch, and Seiko Men's SNN241 Stainless Steel Watch.
What are some affordable watches brands?
Some of the best affordable watch brands include Citizen, Timex, Alpina, Invicta, Victorinox, Seiko, Hamilton, Nixon, Stuhrling, Casio, Tissot, and Jack Mason.
What is the cheapest luxury watch brand?
Brands like TAG Heuer, Cartier, and Omega balance luxury features with a lower price point. However, many high-end luxury watch brands have lead-in models that can cost anywhere between $2000-$5000, which is affordable in the scheme of luxury watches. Examples include the Breitling Colt, Rolex Oyster, and Chopard Mille Miglia. Lastly, buying a second-hand watch is also a great option if you're looking for a cheaper luxury timepiece.
Will A Watch Under $500 Look Cheap?
Watches that sit under $500 are generally pretty good at balancing quality and price. As long as the materials used are good and the watch's construction is solid, then more affordable watches won't look cheap. Of course, some watch enthusiasts might be able to tell. However, as long as you're happy with the look and feel, and it tells the time, then there's no problem with buying less expensive watches. 
SUBSCRIBE TO OUR NEWSLETTER
Subscribe to our mailing list and get interesting stuff and updates to your email inbox.