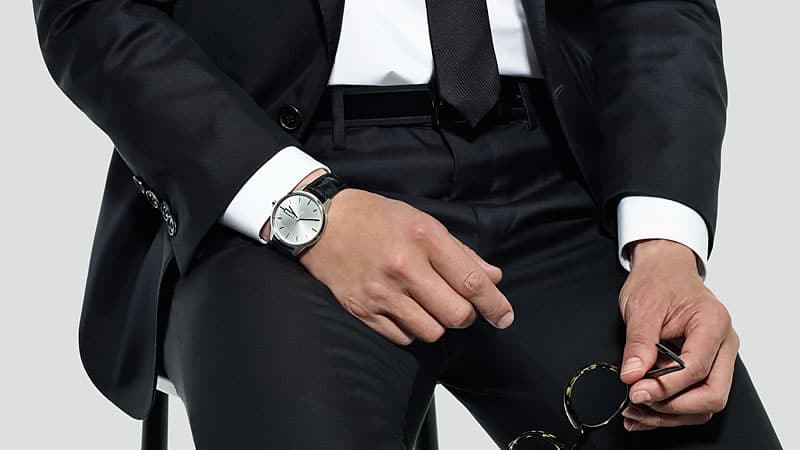 An automatic watch is a logical choice for every gent who'd prefer to let their arm provide the energy to wind their timepiece rather than rely on a battery. But, with more automatic watches hitting the market every day, it can be difficult to choose just one. So, to help make your shopping experience easier, we've done the research for you. Here are the top ten affordable automatic watches for men.
1.

Hamilton Khaki King Automatic Watch
A reinvention of the traditional Hamilton military watch, the Khaki King Automatic is the ultimate explorer's timepiece. Comprising of 40mm case with anti-reflective sapphire dial window, water-resistant to 50m, and round black dial with day/date display at 12 o'clock, it's a favorable purchase. Its practicality is also found in its easy to read day and date display.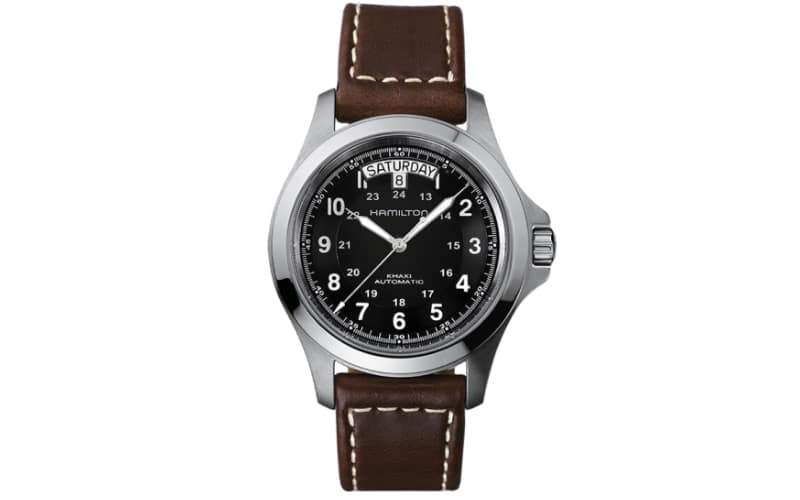 2.

Victorinox 'Alliance' Swiss Automatic Watch
With its Swiss-made automatic functioning, the Victorinox 'Alliance' Swiss Automatic is a sleek, modern, and novel watch. A steely silver wristband aligns with the dusty dark grey dial perfectly. Other features include a polished stainless 40mm steel case, anti-reflection sapphire crystal, screw-in and see-through case back, military time, self-winding movement, and date functioning. It is also silent and won't annoy you with an incessant ticking.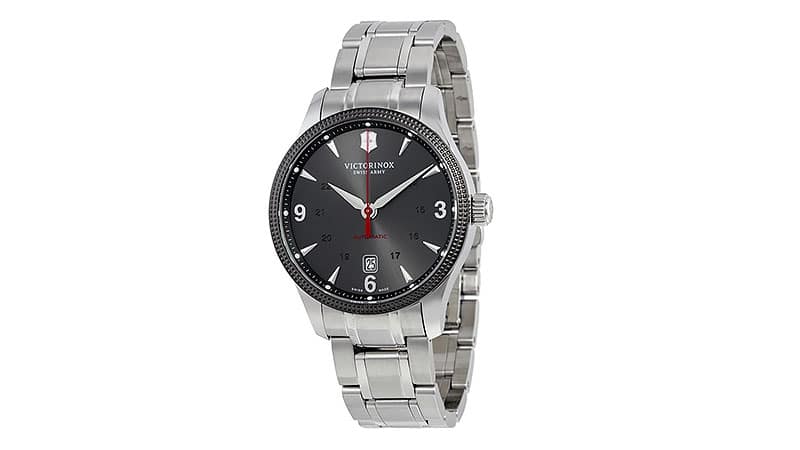 3. Seiko 5 Black Dial Automatic Watch
The bold aesthetic of the Seiko 5 Black Dial Automatic is unique and true to the modern branding of the Seiko company. The vivid black dial works well with the silver wristband. Features include a stainless steel case and band with push-button deployment clasp and safety lock feature, day/date display, luminous markers, water-resistance of 100m, and Hardlex crystal for durability and a unidirectional bezel.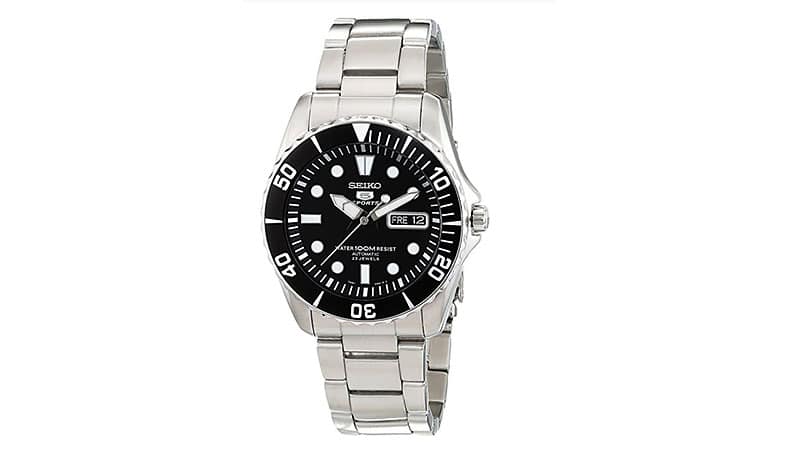 4. Invicta 8932 Pro Diver Automatic Watch
Invicta 8932 Pro Diver Automatic hits new heights with its flame fusion crystal elements. With a water resistance of 200m, stainless steel case, screw-down crown, and diver buckle this model is a worthy choice. For aesthetics, it is as classic as they come, with a black and silver combination that will afford you a lot of versatility. The Pro Driver also comes at a great price, making it a worthy investment that won't break the bank.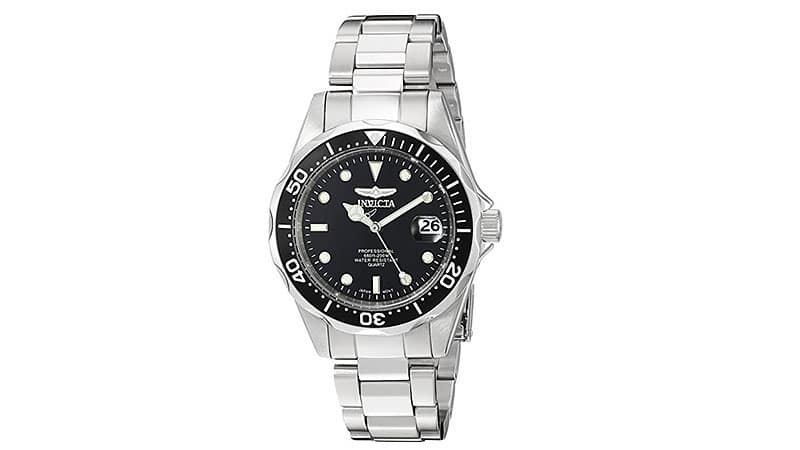 5. Orient Mako II Automatic Diving Watch
The Mako II from Japanese manufacturer Orient is one of the best affordable dive watches available on the market. It combines an upgraded F6922 caliber and a 120-click bezel with a mineral crystal face, 40-hour power reserve, and water resistance to 200m. Its case retains the sleek yet masculine look of the original Mako I model, with a brushed steel finish and 41.5mm dial. However the Mako II is not just about functionality; it's a versatile watch that you can wear anywhere, from the boat to the boardroom.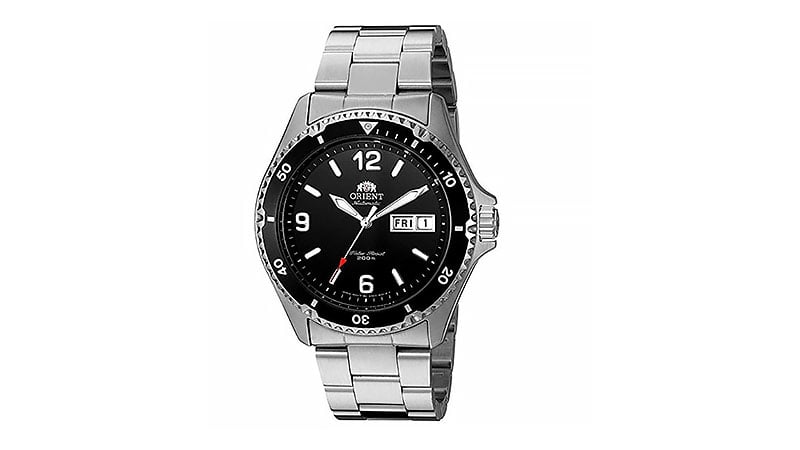 6. Oris Classic Date Black Dial Automatic Watch
The Classic Date watch from Oris combines Swiss quality with timeless style. Its slim 37mm stainless steel case and matching linked strap, paired with a textured black face and Roman numeral hour markers, give the timepiece a refined, professional look. As a result, the Classic Date is the perfect accessory when you're suited up for that important meeting. A sought-after piece in the Oris range, it's the ideal addition to your watch collection.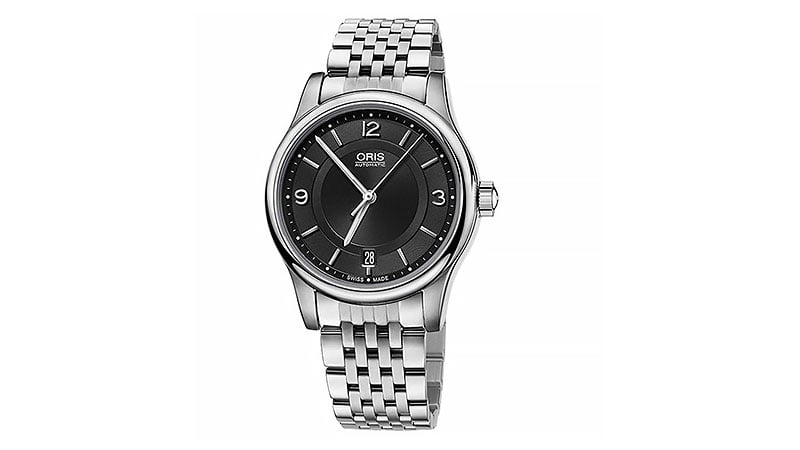 7. Frédérique Constant Classics Index Automatic Watch
Frédérique Constant was founded on a philosophy of affordable luxury, and the men's Classics Index watch fulfills that objective. As its name suggests, the watch has a timeless and elevated aesthetic, making it ideal for formal occasions. Combining a smooth black face with a high-polish stainless steel case and matching strap, the Classics Index timepiece looks far more expensive than it is. Perfect for those wanting to upgrade to their first Swiss-made dress watch, without over-spending.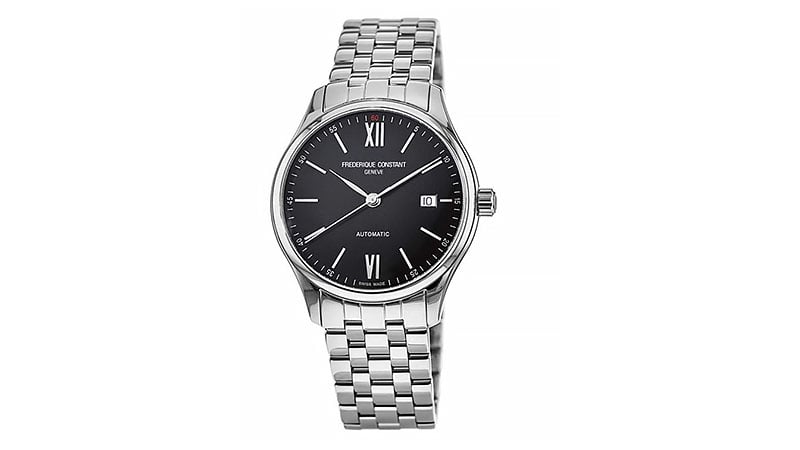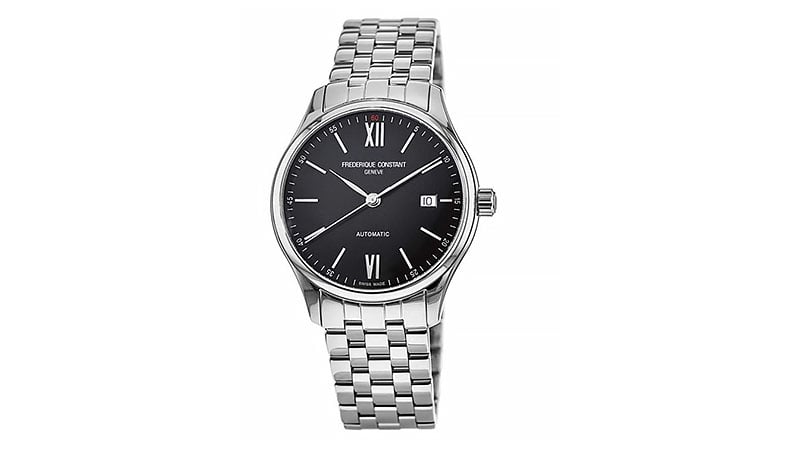 8. Tissot Heritage Visodate Automatic Watch
The Tissot Heritage Visodate is based on an original Tissot model from the 1950s, giving it retro charm and personality. The smooth, polished stainless steel-and-black version has a sporty feel while retaining its stylish finish – which is also elevated by the crocodile-effect leather strap. Meanwhile, the domed sapphire crystal case makes the date and time easy to read, so it is ideal for everyday wear.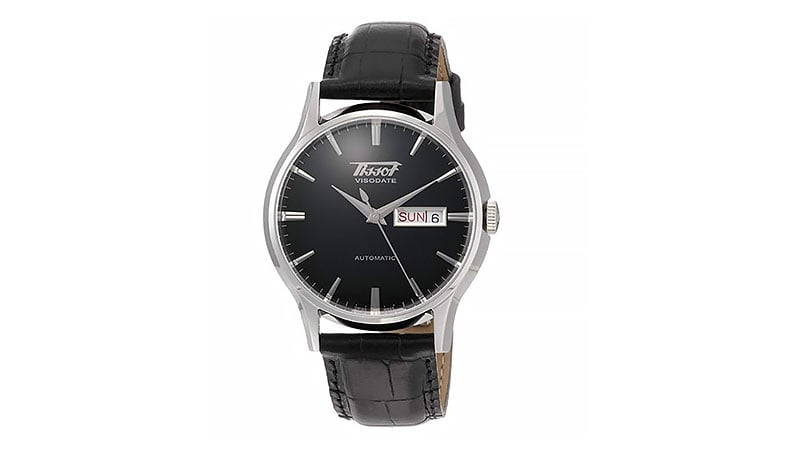 9. Alpina Startimer Pilot Automatic Watch
Alpina was founded in Geneva in 1883, and has a long history supplying aviation watches to militaries across Europe. As a result, its timepieces are extremely precise, reliable, and easy to read. The Startimer Pilot collection continues this tradition, combining hard-wearing technical features with a stylish finish. This model has a gold-toned stainless steel case with matching hands and hour markers, paired with a brown leather strap and white dial. It also has a 38-hour power reserve, a scratch-resistant sapphire crystal face, and is water-resistant to 100m.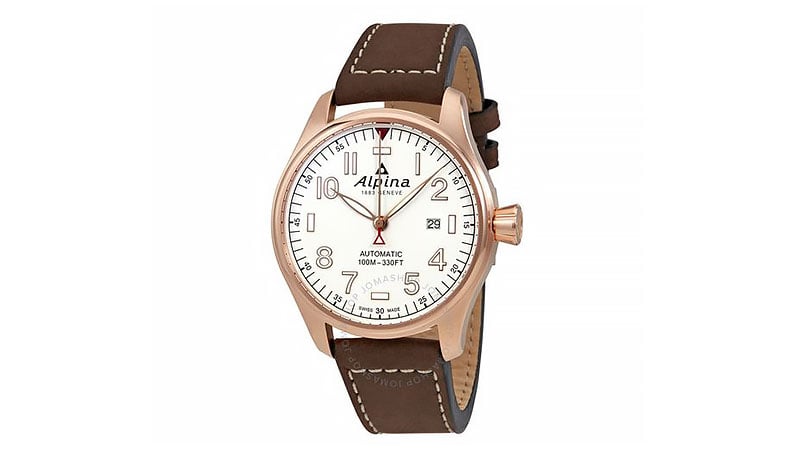 10. Bulova 97A109 Automatic Watch
From the self-winding mechanical collection, the Bulova 97A109 Automatic possesses a 21-jewel movement visible through on-dial aperture and exhibition case back. Other nifty features include its stainless steel and rose-gold finish, domed crystal, patterned black dial, rose-gold accents, luminous hands and markers, a second hand, a screw-back case, and a traditionalist brown leather strap. This Bulova model also comes with a 3-year limited warranty and a water resistance of 30m.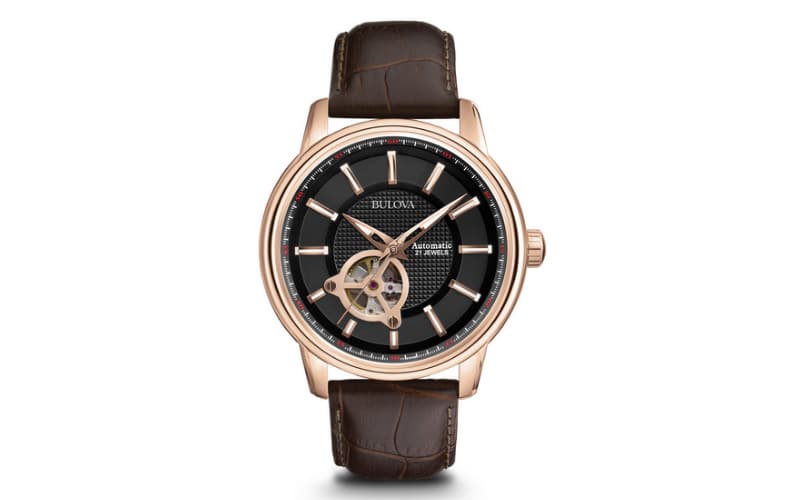 FAQs
How do automatic watches work?
Automatic watches use the body's natural movement to power the rotor. Each time the wearer moves their arm, the rotor spins, which transfers energy to wind the mainspring, where power is stored. Many styles have a power reserve, which can keep the watch ticking for a day or so without wear; however, if you don't wear the watch for a few days, it will stop ticking. In that case, you just need to manually wind it with the crown.
What are the best automatic watches?
Some of the best and most affordable automatic watches include the Hamilton Khaki King Automatic Watch, Victorinox 'Alliance' Swiss Automatic Watch, and Seiko 5 Black Dial Automatic Watch.
How long do automatic watches last?
Most automatic watches have a power reserve that lasts around 48 hours. In terms of the watch's lifespan, with regular maintenance and looking after it well, an excellent automatic watch will serve you well for years.
Do you have to wear an automatic watch every day?
Ideally, you should wear your automatic watch every day to keep it powered and on time. However, most power reserves last around 48 hours. If you don't wear your watch longer than that, and it runs out of power, you'll just need to manually wind it with the crown to put the kinetic energy back into the mainspring.
SUBSCRIBE TO OUR NEWSLETTER
Subscribe to our mailing list and get interesting stuff and updates to your email inbox.