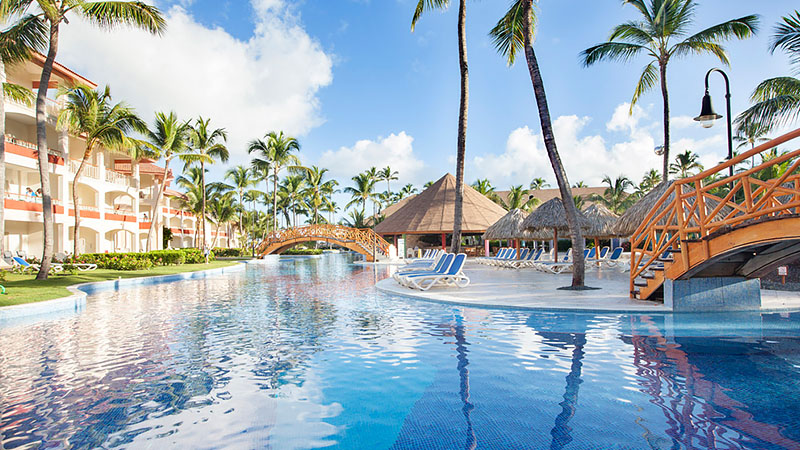 When you're looking for a holiday that'll let you leave your worries behind, you can't go past an all-inclusive resort. From service and cuisine to amenities and activities, all-inclusive resorts allow you to enjoy your holiday to the full extent without having to count dollars and set budgets. Like any type of travel, however, this low-maintenance option is only good if you can get a good deal. Maximum luxury for minimum cost doesn't always come easily, but these days there is a growing number of top-notch, all-inclusive resorts vying for your business. All you need to know is which ones will offer you the most for your money, and go from there.
1. Meliá Caribe Tropical, Punta Cana, Dominican Republic
Punta Cana in the Dominican Republic is one of the best resort destinations in the world, and Melia Caribe Tropical is one of its top affordable all-inclusives. Ideal for families, couples, and groups, this sprawling resort offers guests all they could possibly need. Not only is it situated on a gorgeous stretch of beach, but the resort also features nine outdoor pools, eight tennis courts, a fully-equipped gym, spa, and casino.
Website: www.melia.com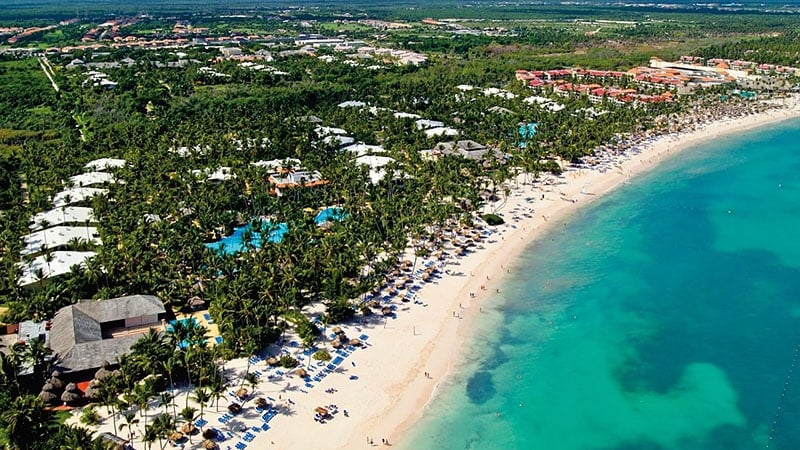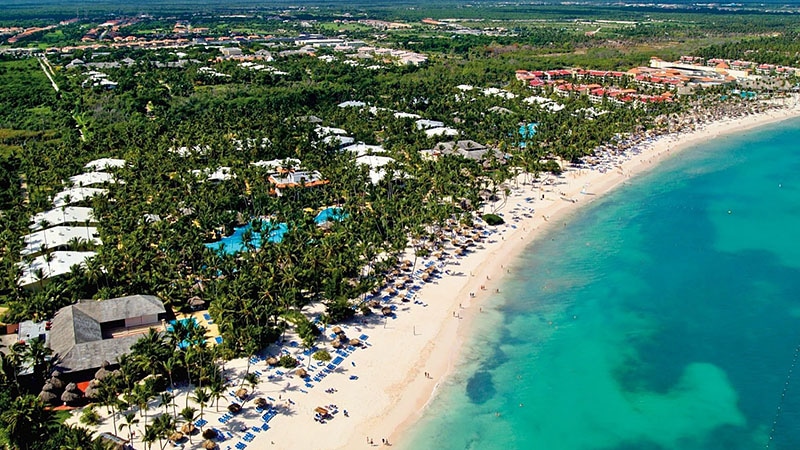 2. Coconut Bay Beach Resort & Spa, St. Lucia
While Coconut Bay Beach Resort and Spa is perfectly fine for singles and couples, it really excels as a family-friendly resort. Located along the exotic southern coast of St. Lucia, this 85-acre resort includes the island's largest waterpark. While that'll no doubt keep the young and young-at-heart entertained, there's also plenty for the adults. Four restaurants, six bars, five pools and a complete fitness centre are also on offer as well as yoga, water aerobics, and adult-only pool parties.
Website: www.cbayresort.com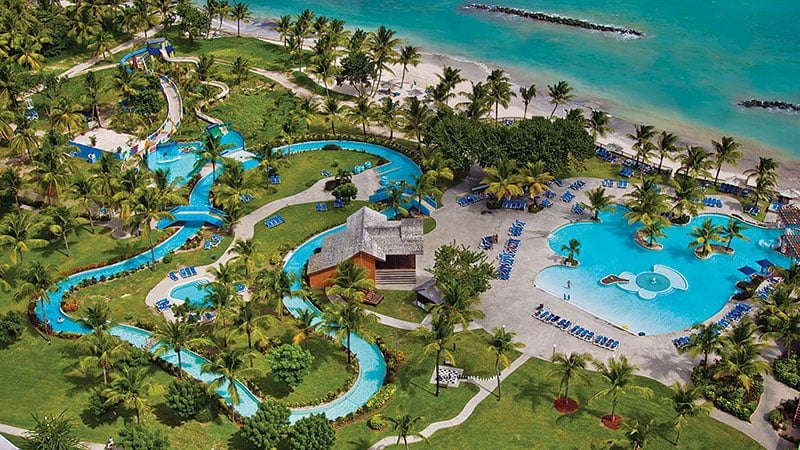 3. Divi Aruba and Tamarijn Aruba, Oranjestad, Aruba
Divi Aruba and Tamarijn Aruba are sister resorts located next to each other in Oranjestad, Aruba. At both of these stunning locations, you'll find all-inclusive luxury at a very reasonable price. Perfect for those who can't get enough of the beach, this picturesque location has incredibly clear, aqua-tinted water. When you're not basking in the warm waters or relaxing on the sand, you can indulge in the fantastic amenities that are shared by these neighbouring resorts, including pools, bars, restaurants, and a 30-foot rock climbing wall!
Website: www.tamarijnaruba.com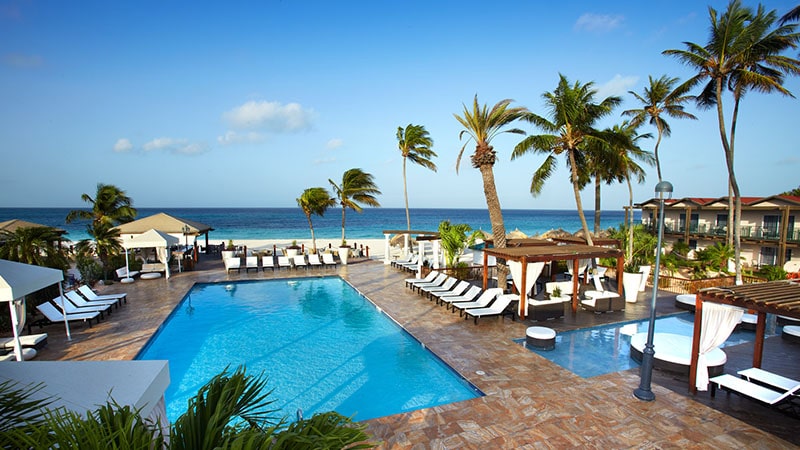 4. Casa Velas, Puerto Vallarta, Mexico
The lush, all-inclusive Casa Velas resort is the perfect adults-only retreat in Puerto Vallarta, Mexico. Rated as one of Mexico's best hotels, this well-priced getaway is one that keeps guests coming back. Following your arrival at this top resort, you'll promptly fall in love with its tropical gardens, plush cabanas, oversized swimming pool, and tranquil koi ponds. Ideal for a romantic getaway, Casa Velas also offers luxurious suites complete with their very own personal plunge pools.
Website: www.hotelcasavelas.com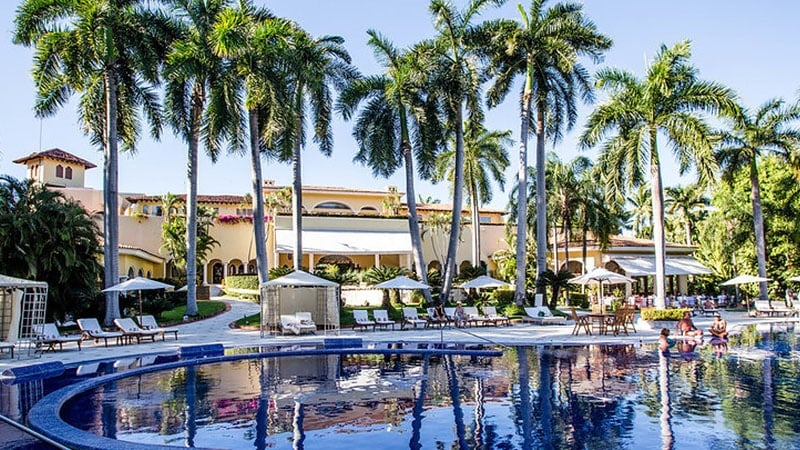 5. Riu Palace Paradise Island All-Inclusive, Bahamas
Situated on the best beach of Paradise Island in the Bahamas, the Riu Palace Paradise resort is the ideal place to relax and recharge. The 24-hour all-inclusive resort features a swimming pool with swim-up bar, jacuzzi, and spa and beauty centre, all for your pleasure. Then, once the sun goes down, head on over to one of the resorts fun theme restaurants for a unique dining experience or head into town and try your luck at the Atlantis Casino.
Website: www.riu.com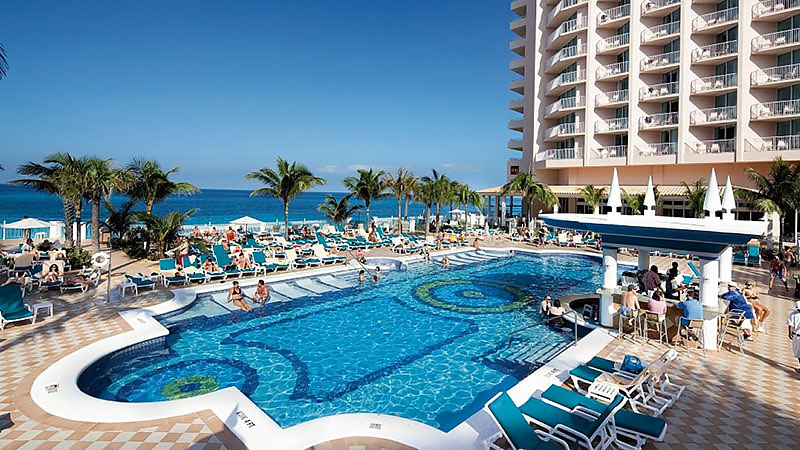 6. Copamarina Beach Resort, Guanica, Puerto Rico
If you're looking for a little peace and serenity for your next vacation, the Copamarina Beach Resort in Puerto Rico might just be the place for you. This wonderful holiday destination is a world away (two hours) from the hustle and bustle of San Juan and the perfect spot to escape. While the resort is reasonably priced and won't break your budget, you can still choose from different all-inclusive packages to suit your needs.
Website: www.copamarina.com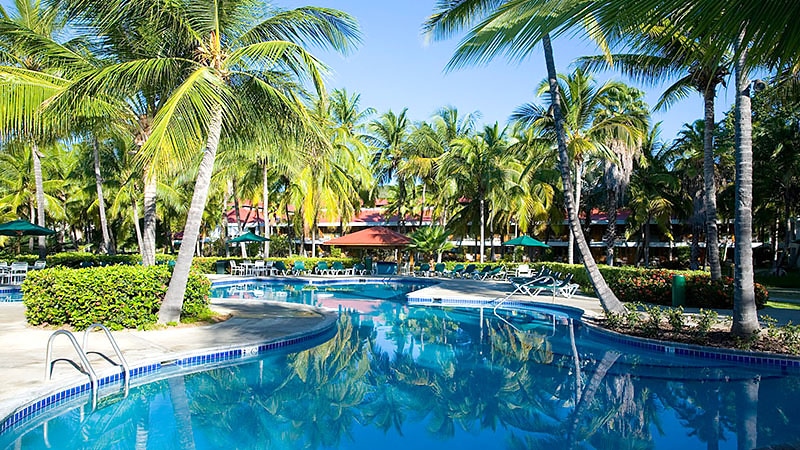 7. Majestic Colonial, Punta Cana, Dominican Rebulic
The Majestic Colonial is an impressive, 658 room, beach-side resort located in Punta Cana. While the affordable price may leave you to think that amenities and activities are minimal, you'd be wrong. The all-inclusive program features countless options to keep the fun rolling and the indulgence happening. From a 400-metre long swimming pool and disco to six restaurants and 11 bars, the Majestic Colonial has everything a great holiday needs.
Website: www.majesticcolonialresort.com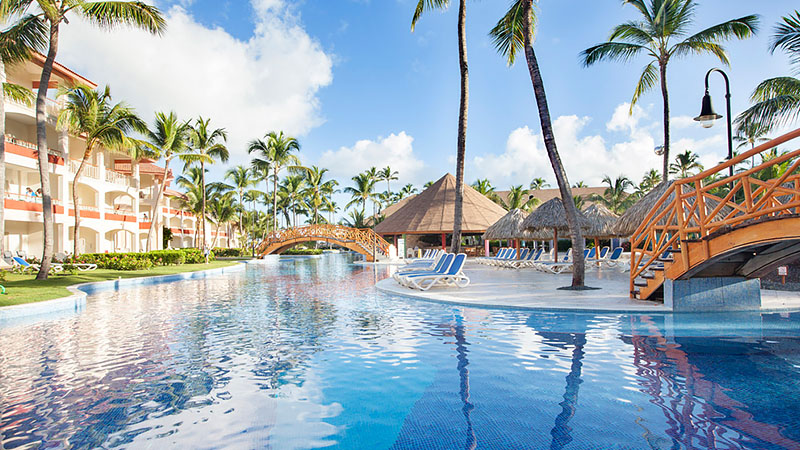 8. Belizean Dreams Resort, Hopkins, Belize
Belizean Dreams Resort is a locally owned and managed resort in Hopkins, Belize, which offers some of the best service in the country. While the service is superb, the amenities and activities on offer are also remarkable. The resort's customised adventure tours are not to be missed and include options such as visiting Mayan ruins, taking a jungle hike or going caving. For those who aren't into adventure, however, you can always hang out at the beachfront tiki bar.
Website: www.belizeandreams.com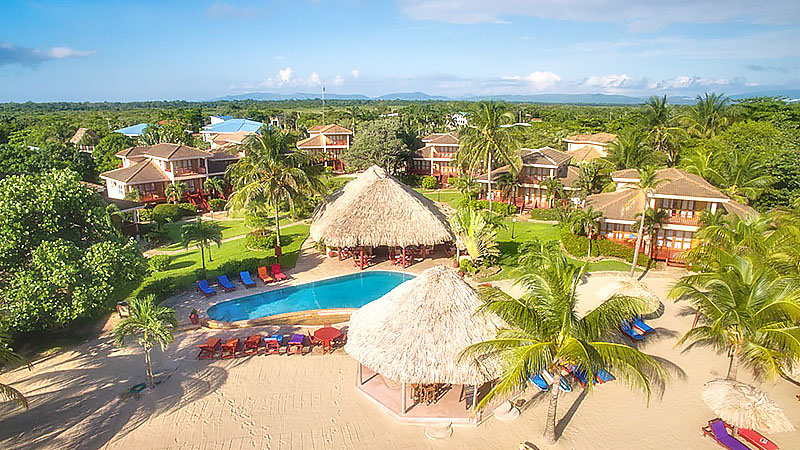 9. Mango Bay, Holetown, Barbados
While many all-inclusive resorts don't offer much in the way of a cultural experience, Mangobay in Holetown, Barbados will immerse you in the local scene. The small and friendly resort invites you to explore the island it calls home and get to know the Barbadian culture. When you're not out exploring the lively town, you can indulge in some of the resort's activities, including water-skiing, kayaking, snorkelling, and complimentary scuba diving lessons.
Website: www.mangobaybarbados.com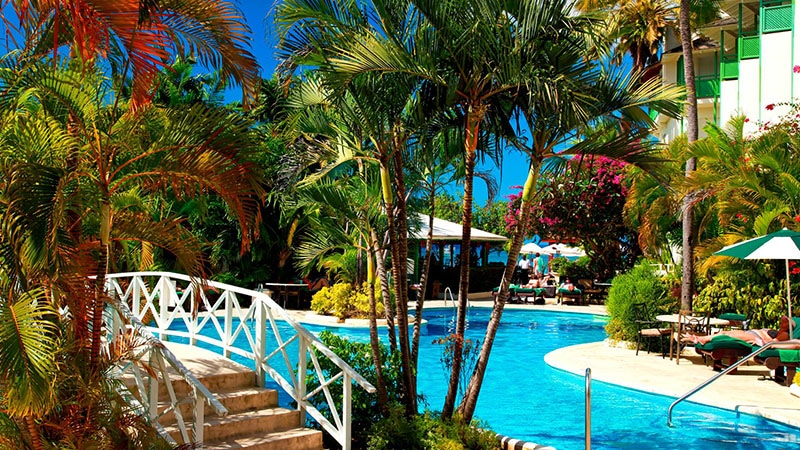 10. Excellence, Punta Cana, Dominican Republic
Excellence, located in Punta Cana, Dominican Republic, is a five-star resort that's surprisingly affordable. Perfect for couples looking for a little romance, this luxurious location will make the rest of the world disappear. Spend your days at Excellence having drinks served to you on the beach, dining at one of the nine world-class resort restaurants on offer, or learning how to scuba dive. Then, relax at night as you enjoy a cultural show from some of the Dominican Republic's top performers.
Website: www.excellenceresorts.com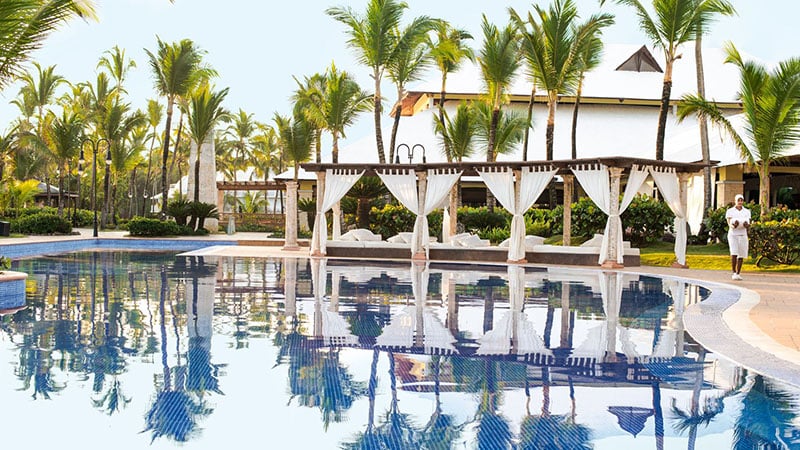 11. Couples Sans Souci, Ocho Rios, Jamaica
Couples Sans Souci turns romance into an indulgent luxury. Travel to this all-inclusive Jamaican resort with your significant other for an unbeatable vacation experience. The natural beauty of this island destination is only part of this resort's charm; the rest lies in its fantastic service and amenities. Although it may set you back a little more than some other affordable all-inclusives in the area, it's worth the extra money if you can swing it.
Website: www.couples.com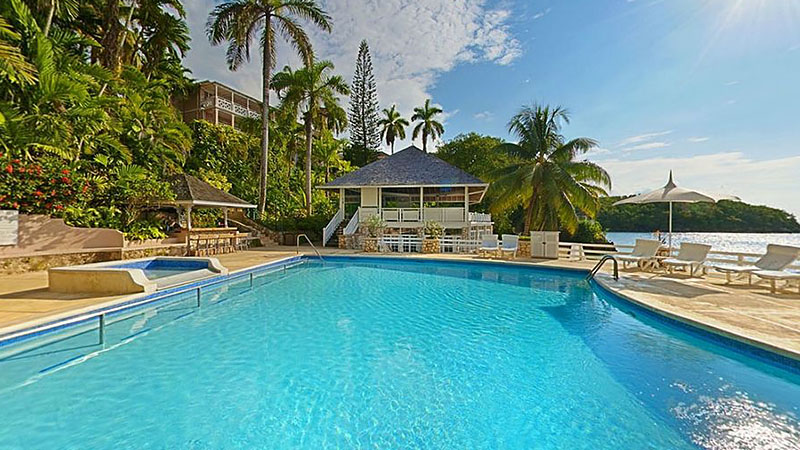 12. Beaches Turks & Caicos Resort Villages & Spa
With luxury rooms starting from $308 per person, Beaches Resort in Turks and Caicos lands on the high side for affordable, all-inclusive resorts. If it's within your budget, however, it's well worth the money. The family-friendly resort continually reinvents itself to stay at the height of modern luxury. From the massive waterpark and 19 restaurants to the four magnificent villages and pristine white sand beach, this luxurious resort will make you never want to leave.
Website: www.beaches.com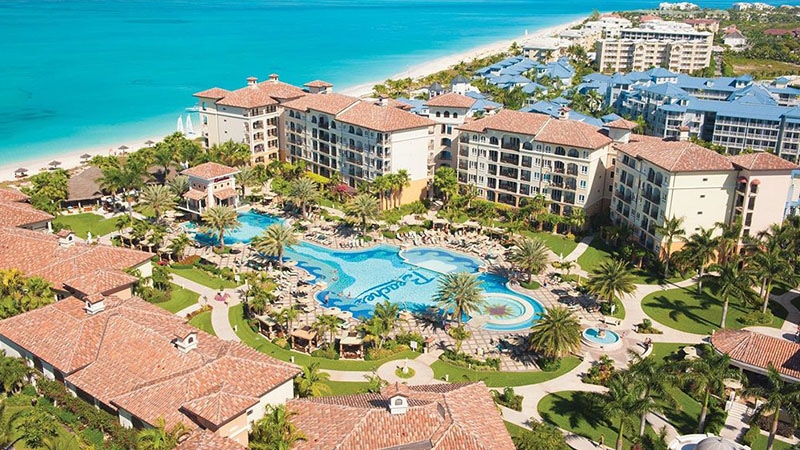 13. Sirata Beach Resort, St. Petersburg, Florida, U.S.
Sirata Beach Resort in St. Petersburg, Florida is one of the best, affordable, all-inclusives in the U.S. This family-friendly beachfront resort, invites you to lie on its sparkling white sand and take in its magnificent ocean views as you relax and unwind. When it's time to have some fun, there's an option for everyone. Whether you want to take a dip in the pool or whirlpool, have a bonfire on the beach or play some volleyball, you'll be able to do it all at Sirata.
Website: www.sirata.com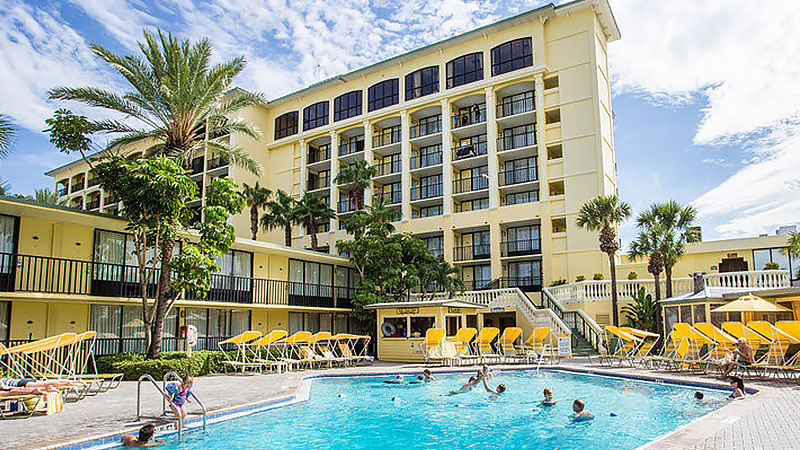 SUBSCRIBE TO OUR NEWSLETTER
Subscribe to our mailing list and get interesting stuff and updates to your email inbox.